Car Review
2002-2005 Honda Civic Si: Used Car Review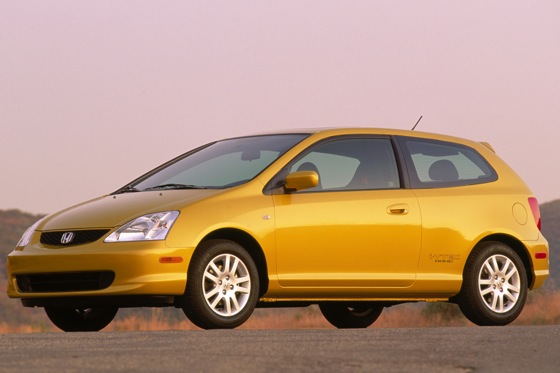 While the Volkswagen GTI might have introduced America to the idea of a sporty, fast and fun compact coupe, Honda successfully stole some of the Germans' thunder when it created its own sporty two-door, the Civic Si. Those familiar with the current Civic Si know it as a sporty sedan, but the 2002-2005 Civic Si was initially offered only as a three-door model. With its large and versatile hatchback, high-output four-cylinder engine and specially designed interior, the Civic Si proved to be every bit the match for the GTI (as well as a number of domestic rivals, including the Ford Focus).
Why You Want It
The 2002-2005 Honda Civic Si has the sporty appeal of the VW GTI, while also offering a nearly flawless reputation for dependability, low maintenance costs and excellent fuel economy. This plus its excellent resale value makes it the ideal compact sports car for the budget-conscious enthusiast.
The Si's three-door design allows all manner of sporting gear or cargo to easily fit inside the car, while its formfitting sport seats, unique console-mounted shifter and white-faced gauges help it stand apart from the more pedestrian Civic models.
This car isn't for everyone, however, because Honda didn't offer the Civic Si with an automatic transmission. If you don't know how to drive a stick, you're out of luck. And while some might find this version of the Civic Si to be somewhat bland, plentiful parts and accessories allows owners to customize the Civic Si however they see fit.
Which brings us to the rub: due to its very low production numbers, finding a stock Civic Si might be a challenge. A good place to start is on AutoTrader.com where you can specify your search by distance, model year and price range.
Notable Features & Options
In typical Honda fashion, the 2002-2005 Honda Civic Si comes fully loaded with only a few options. The three-door Si is powered by a 160-horsepower 2.0-liter i-VTEC engine teamed to a five-speed manual transmission. Standard equipment includes a mesh grille, rear spoiler, sport springs, large anti-sway bars, 15-inch wheels (upgraded to 16-inch in 2004), high-performance four-wheel disc brakes and performance tires.
Inside, the Civic Si offers a power glass moonroof; sport seats with red stitching; sport steering wheel; air conditioning; power windows, locks and mirrors; an AM/FM/CD stereo with high output speakers; remote keyless entry; cruise control; intermittent wipers; a rear wiper with rear defroster and auto-off headlamps.
Standard safety equipment includes four-wheel anti-lock disc brakes and front airbags. The only options for the Civic Si are side-impact airbags and some dealer-installed accessories.
Model Milestones
2003: No major changes.
2004: The Civic Si received new front- and rear-end styling, new side sill trim and larger, 16-inch alloy wheels.
2005: There were no major changes as this was the last year for the three-door Civic Si.
Engines & Performance
The 2002-2005 Honda Civic Si is powered by a 2.0-liter four-cylinder engine equipped with Honda's i-VTEC (the "i" stands for intelligent) engine management system. Where the VTEC setup regulates the opening duration of the valves, i-VTEC adds a feature that continually advances or delays the engine's timing. The i-VTEC setup maximizes torque across the rpm band while simultaneously minimizing emission and delivering the best possible fuel economy. Thanks to i-VTEC technology, the Civic Si produces 160 hp and 130 ft-lbs of torque, yet still returns an EPA estimated 22 mpg city and 28 mpg highway.
While the Civic Si's engine is peppy, getting the most from it requires the tachometer to be pushed high into the rpm band. Passing slower moving traffic requires constant downshifts, but once the Si's power comes online you'll find the car is plenty quick.
The taut suspension and stiff springs help keep the Civic Si from leaning hard into the curves, but the rather small 15-inch wheels on the 2002 and 2003 models howl loudly in protest and the can lose grip often when pressed too hard. The larger 16-inchers on the 2004 and later models help considerably, and they look better too.
About the only gripe we have with the Civic Si is its electric power steering, which, while not completely numb, doesn't deliver the level of feedback and heft we expect from a performance car.
Recalls, Safety Ratings & Warranties
The National Highway Traffic Safety Administration (NHTSA) has issued the following recalls for the 2002-05 Honda Civic Si.
2004-2005: A recall was issued for an incorrect washer possibly being used to anchor the front seat belt assembly, which can restrict anchor movement. As a result, the seatbelt might not fit certain occupants properly.
Recall repairs are required by law even if the vehicle is out of warranty. Your dealer can check to see if the repairs were performed and if not, he'll fix the car at no charge to you.
As for safety, NHTSA gives the 2002-2005 Honda Civic Si five out of five stars in its front-end crash test, four out of five in the front passenger and driver side-impact test and four out of five stars in the rollover test. NHTSA didn't test the Civic Si with the available side airbags. The Insurance Institute for Highway Safety (IIHS) didn't test the 2002-2005 Honda Civic Si.
The 2002-2005 Honda Civic came with a 3-year/36,000-mile basic and drivetrain warranty. This model is too old to qualify for Honda Certified Pre-Owned program.
Word on the Web
Despite its limited overall production numbers, there are quite a few positive accolades to be found regarding the 2002-2005 Honda Civic Si. Enthusiast sites such as ClubSi.com and Civicforums.com are filled with glowing comments about the Civic Si. Owners like the comfortable ride, the supportive seats and the easily modifiable engine and suspension.
Consumer Reports gives the Civic Si fairly strong marks with the exception of a less-than-average score for the 2002-2003 models regarding minor transmission problems and complaints about the exhaust.
Competitive Set
In the years ranging from 2002 to 2005, there are a number of compact competitors worthy of comparison shopping. The supercharged Mini Cooper S offers similar fuel economy and horsepower figures, but it can be a quite a bit more expensive and the car's early repair history is somewhat sketchy.
The Ford Focus SVT is also a rival worth looking into, with more horsepower and a five-door option. But, like the Mini Cooper, the Focus SVT doesn't have a strong reliability history, and its resale figures are far below those of the Honda Civic Si.
The Volkswagen GTI offers more power, more room and a more upscale interior, but the 2002-2005 models have more than their fair share of electrical and engine problems (so says J.D. Powers), and they're quite costly to repair. It's a similar story with the Nissan Sentra SE-R Spec-V, which offers four doors, great performance and good fuel economy, but only marginal reliability scores.
AutoTrader Recommendation
The first thing we advise is to find a Civic Si that hasn't been modified. Cars that have been lowered can have suspension and axle problems, while heavily modified engines hint at a life of hard driving and an engine pushed to its limits.
There are many Honda owners who have taken good care of their cars and kept them in top running shape. Try to find a car with its original owner, or if it's the second owner, ask if he has all the paperwork relating to repairs and regular maintenance.
As for our preference, we'd go for a 2004 or 2005 model due to the larger wheels and tire package, and the improved looks.