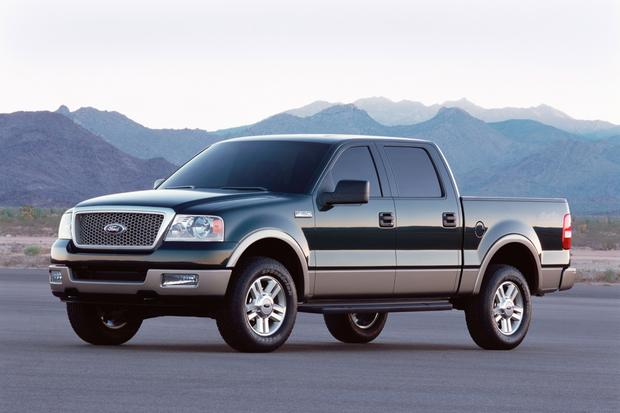 The 2004-2008 Ford F-150 marks a dramatic shift in the design of America's best selling pickup truck, providing a larger cab, more interior space and most importantly, vastly better crash test and reliability ratings than the previous generation. Other improvements for this model include a deeper and wider bed, a more car-like interior and a new, three-valve per cylinder V8. Also new is the first all-wheel-drive F-150, and option offered on the Harley-Davidson Edition, and the addition of rear half-doors on the Regular Cab model. It should be noted that the previous generation F-150 was sold for the 2004 model year alongside the new F-150 under the name F-150 Heritage. This review does not cover the Heritage model.
Why You Want It
As work trucks go, Ford's 2004-2008 F-150 ranks as one of the best. Vast improvements in the suspension and interior quality mean that even though the truck may take a beating, you don't have to. And, Ford offers such a dizzying array of models and trims that there is literally an F-150 for just about every need. Bed lengths of 5 1/2, 6 ½ and 8- feet should meet most needs, although the tall bed walls do make reaching into the bed a bit difficult for all but the very tall. Fuel economy on the V6 models is at the better end of the full-size pickup truck range, but its power and acceleration are woefully inadequate for most pickup buyer's needs.
Notable Features & Options
The 2004-2008 Ford F-150 comes in variety of models, from the basic XL to the mainstream XLT. The plush Lariat and King Ranch models should appeal to the country club set, while the sporty Harley Davidson Edition should hold appeal to bikers and fans of bikers. Off road fans will want the beefed up suspension and wheels of the FX4. If you opt for an automatic transmission, it will be of the four-speed variety, the only automatic offered with the 2004-2008 F-150, although a five-speed manual is standard on some trucks.
Available features for the F-150 include a 5.4-liter V8 engine, power extendable side mirrors, keypad lock/unlock feature, DVD navigation, full leather interior, power sliding rear window, a number of trailering and tow packages, a limited-slip rear differential, mechanical or automatic shift-on-the-fly four-wheel drive, power adjustable pedals, a rear seat DVD entertainment system, 35-gallon fuel tank and power adjustable pedals. In 2008, Ford offered a factory-installed cargo management system for the bed, as well as a rear backup camera. Missing from the available equipment list are side impact and side curtain airbags as well as electronic stability control.
Model Milestones
2005 - A new 4.2-liter V6 is introduced to the base truck, while the plush King Ranch debuts as the flagship trim. The Heritage model is discontinued.
2006 - The Harley-Davidson Edition returns, offering AWD as an option. Also new is a Super Crew model with a 6 ½ foot bed. Traction control also becomes available on V8-powered 4x2 models.
2007 - An auxiliary audio input jack is added to STX, XLT and FX trims, while a new FX2 off-road package is offered for the two-wheel drive model. New options include satellite radio and DVD navigation and a new 5-year/60,000 mile warranty is made standard.
2008 - A mid-box cargo storage system that fits between the cab and the bed is offered to fleet customers. New options include a factory-installed cargo management system, rear-view camera and remote start.
Engines and Performance
Ford offers three engine choices on the 2004-2008 F-150. The base engine is a 4.2-liter V6 capable of 202 horsepower and 260 lb-ft of torque. EPA fuel economy figures for this engine stand at 14 mpg city and 19 mpg highway regardless of transmission choice. Next is a 4.6-liter V8 making 248 horsepower and 294 lb-ft of torque. Fuel economy for the 2WD models is rated at 13/18 mpg, while 4WD models earn 13/17 mpg. This engine is not terribly powerful, nor popular. Most F-150s in the higher trim range will be equipped with the 5.4-liter Triton V8 which makes 300 horsepower and 365 lb-ft of torque. This engine is also E85 compatible. Fuel economy figures of 13/18 mpg for 2WD and 12/16 mpg for 4WD are about in line with similar rivals from Ford and Chevy.
While we don't find the 4.2 and 4.6-liter engines to be very inspiring, the 5.4-liter V8 with its three-valve-per-cylinder design delivers both power to pass and pull, and it does so with ease. On the road, we found the F-150 to be a refined ride with good handling and minimal bounce. Credit the front coil-over shocks and rack and pinion steering (previous F-150s used a torsion bar front suspension that was crude by comparison.)
Recalls, Safety Ratings and Warranties
The National Highway Traffic Safety Administration, or NHTSA, has issued the following recalls for the 2004-2008 Ford F-150.
2004 - A recall was issued for a possible indentation in the fuel tank that could lead to the check engine light illuminating or a possible leak.
2004-06 - A recall was issued for a possible defect in the driver' s airbag that could cause it to deploy without warning.
2005-06 - Recalls were issued for possible premature tire wear, a possible defective ABS warning light that fails to illuminate and for a possible defective brake hose that could come loose and cause diminished braking.
2006 - A recall was issued pertaining to insufficient grease applied to the windshield wiper motor output shaft that could lead to failure of the wiper's operation.
2007 - Another recall for possible depression in the fuel tank that could lead to a leak and possible fire.
Recall repairs are required by law even if the vehicle is out of warranty. Your dealer can check to see if the repairs were performed and if not, will fix the car at no charge to you.
As for safety, NHTSA gives the 2004-2008 Ford F-150 five stars for the driver and passenger in the frontal crash test, and four out of five stars in the rollover test. The Insurance Institute for Highway Safety (IIHS) give the F-150 it's highest rating of GOOD in the offset frontal crash test. Neither agency performed a side impact crash test.
From 2004 to 2006, the Ford F-150 was covered by a 3-year/36,000 mile warranty. In 2007, the terms changed to 5-year/60,000 mile for the powertrain and 3/36 for the basic warranty. If you're looking for a late model F-150 less than six years old, you might want to consider buying a Certified Pre-Owned (CPO) car from your local Ford dealer. CPO vehicles undergo a stringent 172-point inspection, come with a free Carfax report and 24-hour roadside assistance. Qualifying CPO vehicles have a 12-month/12,000 mile comprehensive warranty and a 7-year/100,000 mile powertrain warranty effective from the date the vehicle first entered service.
Word on the Web
Consumer Reports gives the 2004-08 F-150 pretty good marks for the 2WD V6 and V8 trucks, but slightly lower scores for the 4WD models, namely in the area of driveline and brakes. Some known issues mention on F-150 owner sites include spark plugs that break when being removed, cam phasers problems on the 5.7-liter V8, power window switches that fail, and a leaky third brake light. Some 05 models had injector problems for which Ford extended the warranty. Most owners seem very pleased with the F-150 noting its smooth ride, lengthy feature content and good dealer experiences. Many are repeat customers.
Competitive Set
Dodge Ram - The Ram offers as many configurations and trims as the F-150, although it has nothing to match the specialty models like the Harley-Davidson. On the flip side, the Ram offers a Mega Cab model with an enormous passenger cabin and a more powerful HEMI V8 engine.
Chevy Silverado - The Silverado doesn't offer the wide variation of models and trims, but it does best the F-150 in power on the V8 front. The Silverado also comes with extras like OnStar and even offers a hybrid model.
Nissan Titan - The Titan comes standard with powerful V8 engine and its smallest cab is extended model, meaning you get more truck for about the same price. The Titan also has a number of cool options such as its Utili-Track cargo management system and side-curtain airbags for front and rear passengers.
Auto Trader Recommendations
We like the Super Crew for its added room and comfort. But, if you have a big load to haul, you're going to need the 8-foot bed found only on the Regular and Super Cab models. We prefer the 2008 best, but 2006 and on generally have good reviews and repair histories as well. The most common trim is likely the XL and XLT, meaning you'll be able to drive a better bargain with so many available.