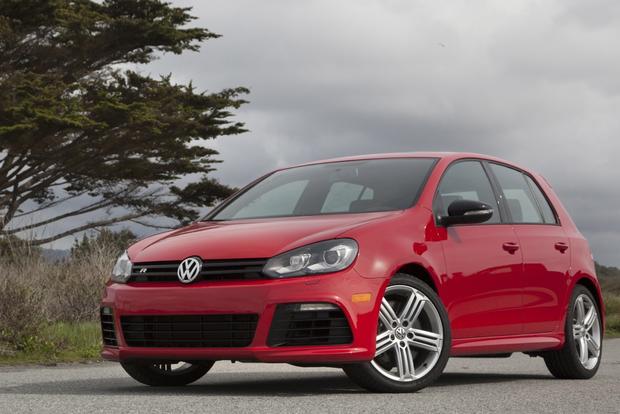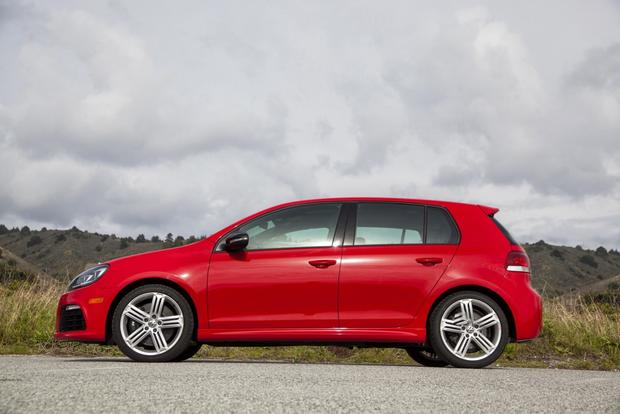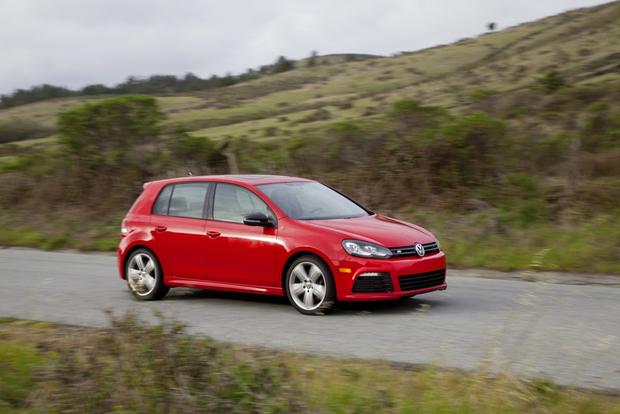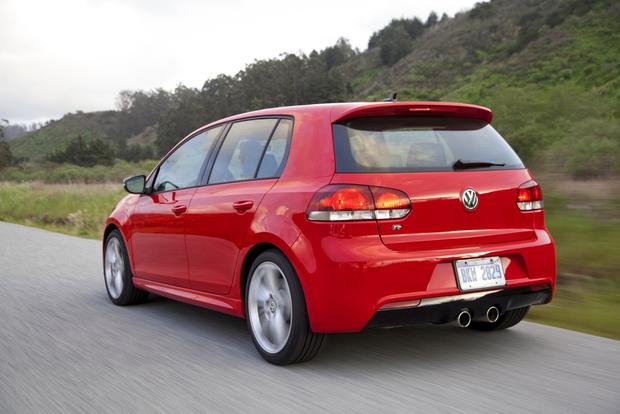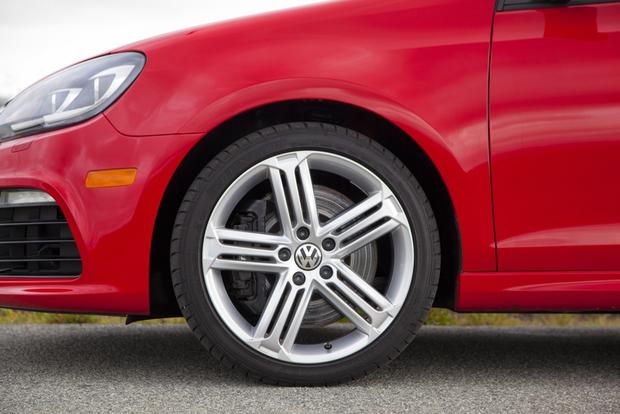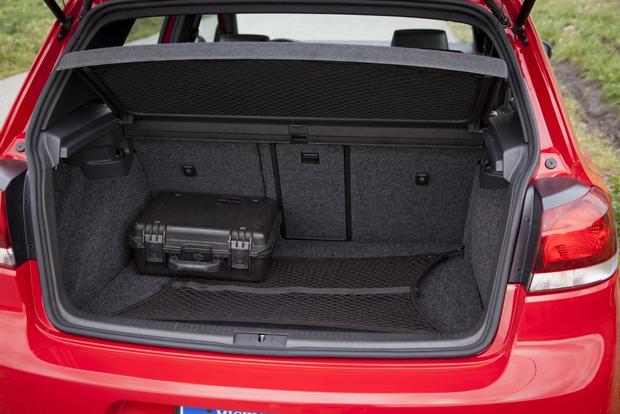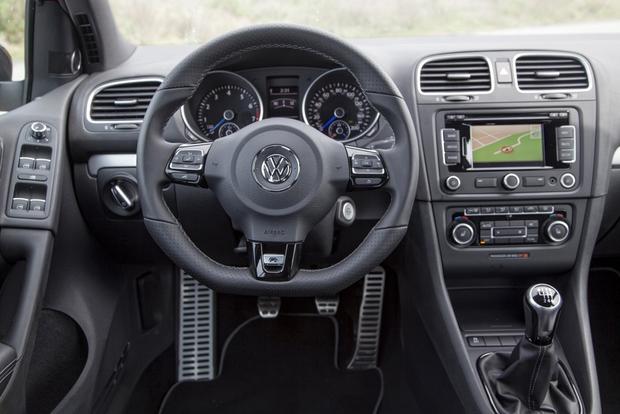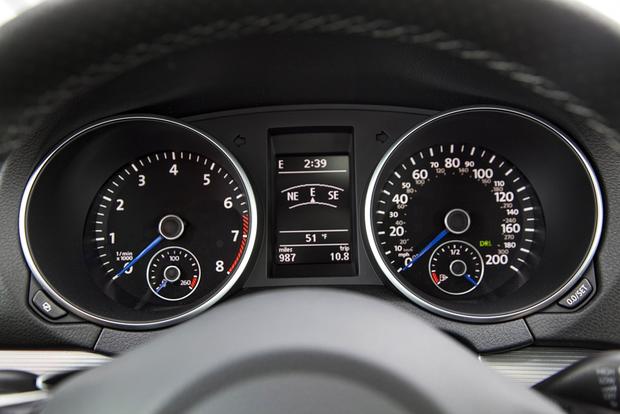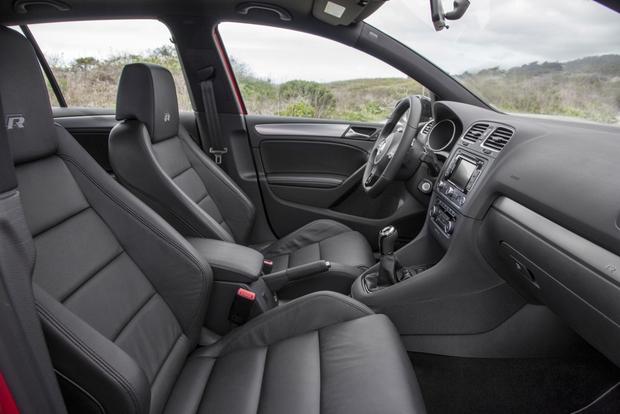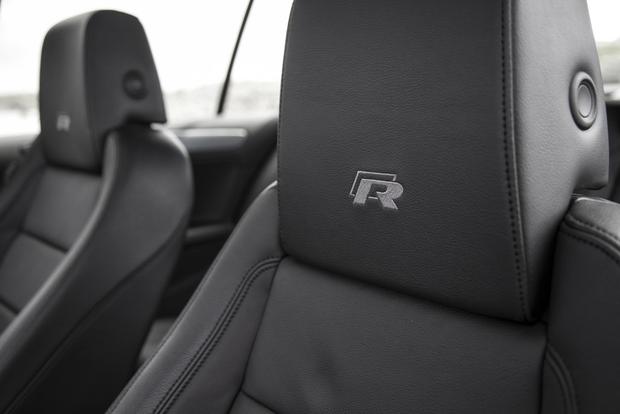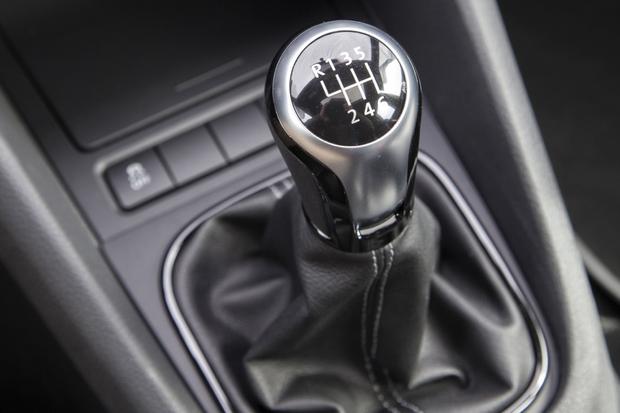 Pros: Engaging turbocharged engine; AWD-enhanced handling; premium interior; highway champ
Cons: Pricey; not significantly faster than the GTI; stickshift only; firm ride
What's New: The Golf R was brand new to the U.S. for 2012, and carries on unchanged for 2013.
Introduction
Back by popular demand, the limited-production, all-wheel-drive 2013 Volkswagen Golf R defies conventional analysis. Sporty hatchbacks with front-wheel-drive origins don't usually cost $35,000, and when they do, they're usually faster than this. So what gives? We've already had one year of Golf R production; why is the market hungry for more?
The answer is that the Golf R is a total package kind of car. Sure, there's more power available for the price, but can you get it with all-wheel drive? A premium interior? Seating for four adults? A handy hatchback cargo area? A true shift-it-yourself manual transmission?
Plus, enthusiasts know that there are plenty of unadvertised horses locked up inside the R's turbocharged engine, just waiting to be liberated by one aftermarket chip or another. We'd put it on our calendar for the day the warranty expires. It gives owners a little something extra to look forward to.
Yes, we know that the similar GTI is roughly $10,000 less expensive, but it doesn't offer all-wheel drive, and the R has a bunch of exclusive performance upgrades, too. Conventional wisdom may hold that 35 large (and up) is a lot for a Volkswagen, but that's a price we'd gladly pay for a car as capable as the 2013 Golf R.
Comfort & Utility
The Golf R hatchback comes with either two or four doors. The 2-door-only standard Golf R comes well-equipped, featuring 18-inch alloy wheels, xenon headlamps, a tilt-telescopic steering wheel, dual-zone automatic climate control, leather-wrapped steering wheel, sport seats, leather upholstery, cruise control, trip computer, Bluetooth connectivity and an 8-speaker touch-screen audio system with satellite radio, 6-CD changer, iPod integration and an auxiliary input.
The only option for the Golf R is the Sunroof and Navigation package, which adds a sunroof, keyless entry with push-button ignition, a partial power driver's seat, a 300-watt Dynaudio sound system and an SD-based navigation system. This is the only way the 4-door model is offered.
The Golf R's interior is mostly carried over from the GTI, but there are some R-specific flourishes, including R badging on the doorsills and seats, blue needles for the gauges, and aluminum trim for the dashboard, doors, and pedals. The leather-trimmed front seats are borrowed from the GTI Autobahn, which means American customers don't get the awesome Euro-spec sport seats with race-ready side bolsters.
Like the rest of the Golf lineup, the R offers remarkably generous accommodations for rear passengers. The high rear bench provides good thigh support and promotes an upright seating position that requires less legroom; meanwhile, headroom is excellent thanks to the breadbox-shaped cabin. The result is that a 6-foot passenger can sit behind a 6-foot driver without much difficulty.
Cargo capacity is unchanged from other Golfs with 15.2 cu-ft behind the rear seatbacks and a healthy 46 cu-ft with the seatbacks folded.
Technology
As you'd expect at this price point, the Golf R comes standard with a bunch of high-tech features, including iPod/Bluetooth connectivity, satellite radio and an intuitive touch-screen interface. The audio system includes an SD-card slot, but a USB port is unavailable, so you can't listen to mp3s on your flash drive or USB-compatible mp3 player.
The available navigation system is SD-based, so it doesn't feature hard-drive music storage. But opting for the Sunroof and Navigation package also gets you push-button start and the fantastic Dynaudio sound system.
Performance & Fuel Economy
The all-wheel-drive Golf R is powered by a slightly different version of the GTI's turbocharged 2.0-liter inline-4. Upgrades include a reinforced cylinder block and stronger connecting rods, as well as a higher-pressure turbocharger. Consequently, output rises to 256 horsepower and 243 lb-ft of torque; for reference, the base GTI is rated at 200 hp and 207 lb-ft. Unlike the GTI, the Golf R is available with only one transmission, a conventional 6-speed manual.
Thanks to its added power and all-wheel-drive traction, the Golf R gets off the line a good bit quicker than the front-wheel-drive GTI. Acceleration at speed doesn't feel dramatically improved, but the Golf R's motor has an engaging character, providing serious low-end torque without skimping on high-rpm enthusiasm. The 6-speed manual has the same precise yet easy-shifting nature as the GTI's shifter, though we're surprised VW didn't see fit to offer its dual-clutch automated manual transmission as well.
Predictably, more power and weight add up to less efficiency for the Golf R. Fuel economy is estimated at 19/27 mpg compared to 21/31 mpg for the manual GTI.


Safety
The 2013 Volkswagen Golf R comes with standard stability control, 4-wheel antilock disc brakes that are bigger and more powerful than the GTI's brakes, and six airbags (front, front side and full-length side-curtain).
The Golf R hasn't been crash-tested, but the independent Insurance Institute for Highway Safety (IIHS) gave the 4-door regular Golf its highest rating of Good in every crash-test category.
Driving Impressions
The Golf R's AWD system makes a real difference when you're powering through sharp bends. Whereas the GTI sometimes wants to understeer wide of your intended course, the Golf R gives you that familiar invisible hand sensation of all four wheels working to keep the car in line. The R is completely composed at high speeds, and its exclusive upgraded brakes provide all-day stopping power without fade. The ride is noticeably stiffer than the regular GTI's, however, so make sure it's to your liking.
Other Cars to Consider
BMW 328i: It's in a different category, but if you think about it, the 328i is a premium German performance car with a turbo 4 under the hood, and it starts at about $35,000, just like the Golf R.
Ford Focus ST: The ST comes only with front-wheel drive, but its handling is excellent, and there's some serious turbocharged punch under the hood.
Volkswagen GTI: Take a GTI for a spin to see if it might meet your needs. Grumpy journalists like us love to criticize the GTI's handling, but here's the truth: For all but the most skilled drivers, the lesser VW's capabilities are more than enough.
AutoTrader Recommends
The $1,500 or so that VW wants for the Golf R's Sunroof and Navigation package seems like a small price to pay when you're already in the mid-$30s anyway. We'd also fork over the extra $600 or so to get the 4-door model. If you're prepared to pay Golf R money for a car, you might as well add all the bells and whistles.