Editor's note: You may also want to read more of Autotrader's model vs. model car comparison reviews as well as the 2015 Audi A3 review and the 2015 Audi A4 review.
If you're interested in an entry-level luxury car, we bet that Audi is on your shopping list. After all, the brand makes two great models, the 2015 Audi A3 and the 2015 Audi A4, both of which offer modern styling, lots of equipment, fuel-efficient engines and available all-wheel drive. But what exactly is the difference between the A3 and the A4, aside from one number in their names? We've rounded up all the key differences to help you understand what separates the two cars, and to help you decide which one is better for you.
Exterior
Although the A3 was once only offered as a hatchback, the latest model is most popular in sedan guise — just like the A4 — though a convertible version is also available. If you compare exterior styling between the A3 sedan and the A4, you'll notice some major similarities, which is a common trend with Audi models. But there are also a few major differences, including, most notably, the fact that the A3 is shorter in length than its larger A4 stablemate. Other changes are more subtle, such as different wheel designs, different front bumpers, altered headlights and taillights, and rearview mirrors mounted on the A3's door panels, compared to the A4's A-pillar. See the 2015 Audi A4 models for sale near you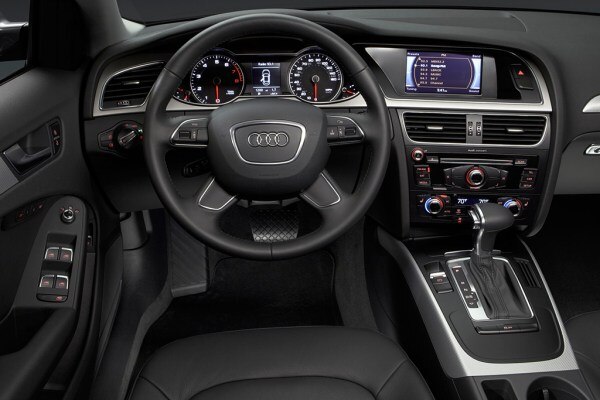 Interior
The A3 and the A4 offer more changes on the inside than on the outside. Yes, the two cars use a lot of the same materials and the same general interior design, but the A3's rounded vents, pop-up infotainment screen, 3-spoke steering wheel and smaller center control stack give it the appearance of a "junior" luxury car, compared to the A4's more "grown-up" luxury car interior look. Of course, the A4 also has more interior space, especially in back, where its legroom trumps the A3's, and in the trunk, where it offers more cargo room. See the 2015 Audi A3 models for sale near you
Mechanicals
The A4 offers only one engine: a 2.0-liter turbocharged 4-cylinder that makes 220 horsepower and 258 lb-ft of torque. Front-wheel drive and a continuously variable automatic transmission are standard, while all-wheel drive is offered with either an 8-speed automatic or 6-speed manual.
Meanwhile, the A3 offers three engine options. Sedan and convertible models come standard in front-wheel drive guise with a 170-hp 1.8-liter turbocharged 4-cylinder, while adding all-wheel drive bumps things up to the A4's 220-hp 2.0-liter turbo 4-cylinder engine. Sedan models also offer a more efficient engine option for drivers looking to save money on fuel: a 150-hp 2.0-liter turbodiesel 4-cylinder engine returns an excellent 31 miles per gallon in the city and 43 mpg on the highway.
Features & Technology
Although you'd normally expect the more expensive A4 to offer more equipment than the A3, the A3's newer design means that these two cars are roughly on par when it comes to features, gadgets and technology.
For example, both cars offer blind spot monitoring systems, backup cameras, Audi's MMI interface with a large center screen, adaptive cruise control, a navigation system, voice controls, forward-collision warning, adaptive headlights and more. Our take: If you're a technophile, you won't find much difference between the A3 and the A4, and you'll likely be happy with both cars.
Driving Experience
Although Audi used to be among the best in terms of driving pleasure, the brand seems to have gone a bit soft in recent years, and the A3 and A4 are good examples of that phenomenon. While neither car offers sloppy handling or uncommunicative steering, both models seem to focus a bit more on comfort rather than performance, leaving their high-performance S versions to appeal to drivers who want to have fun on the road. As a result, expect a stable, confident driving experience from the A3 and A4, but not especially fast acceleration, especially nimble steering, or an especially sport-tuned suspension.
It's worth noting, however, that Audi still offers those features to drivers who want them. As we mentioned, both the S3 and the S4 appeal to shoppers looking for more performance, and they succeed at their mission, touting excellent acceleration, sharp handling and handsome sports-car styling.
Safety
Both the A3 and the A4 earned a perfect 5-star overall safety rating from the federal government's National Highway Traffic Safety Administration. In testing carried out by the nonprofit Insurance Institute for Highway Safety (IIHS), however, the two cars offer wildly divergent scores. The A3 earned the firm's excellent Top Safety Pick+ rating, while the older-design A4 took home a troubling Poor rating in IIHS's challenging small front-overlap crash tests. As a result, we suspect that the A3 offers a little better crashworthiness than the A4.
As for safety features, however, both cars are roughly identical, offering all the same equipment: forward-collision warning with brake priming, adaptive cruise control, a blind spot warning system, front and rear parking sensors, and more. The A3 also offers a few additional items, such as a lane departure warning system and an automated parallel parking system.
Conclusions
The 2015 Audi A3 and A4 are a lot alike, save for a few key areas where the A3 seems to outshine its larger sibling. Most notably, the A3 is a little smaller inside and a little less grown-up than the A4, which is no surprise considering its lower base price. The A3 also offers a diesel powerplant and a convertible body style, neither of which the A4 can claim. And then there's the case of the A3's improved crash-test ratings and extra safety features. As a result, we'd pick the A3 over its larger stablemate, unless you really need the extra space. Find a Audi A3 for sale or Find a 2015 Audi A4 for sale