Car Comparison
2015 Toyota Camry vs. 2015 Hyundai Sonata: Which is Better?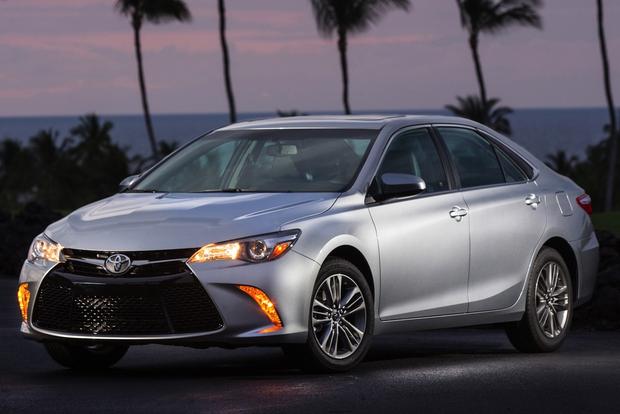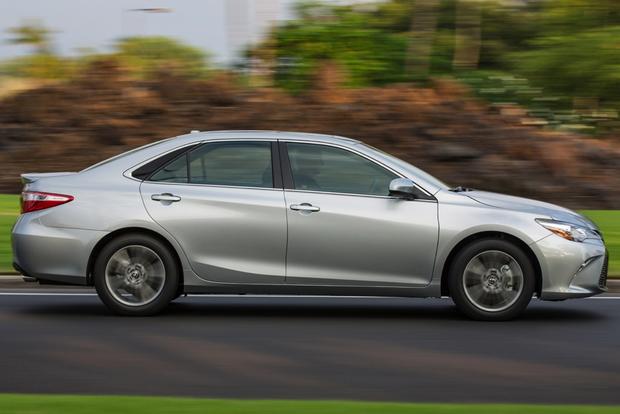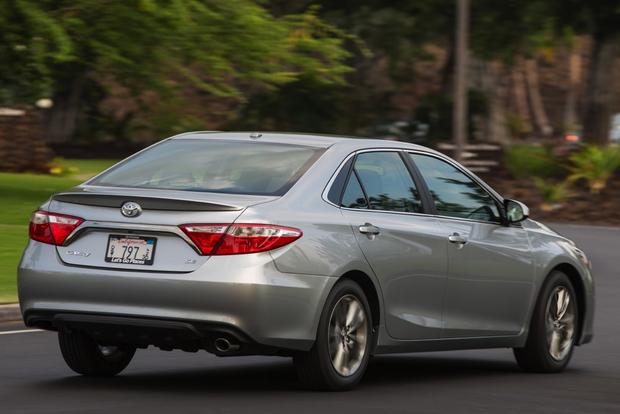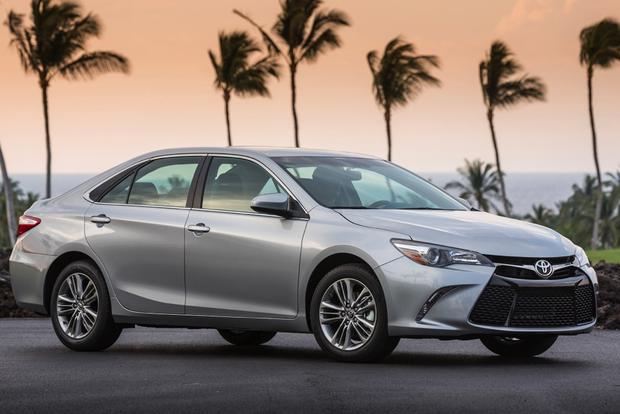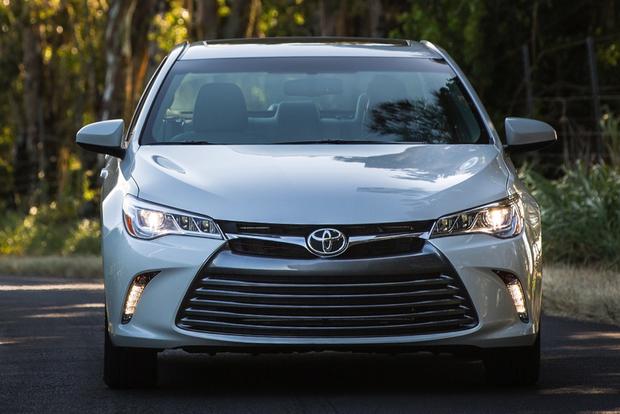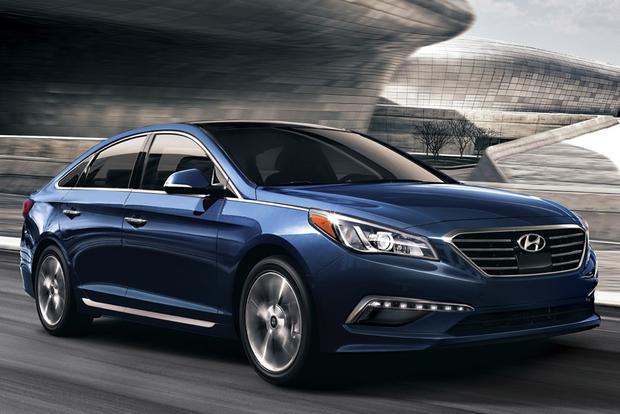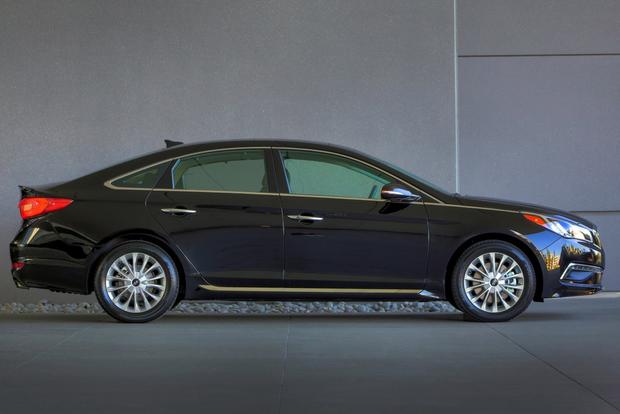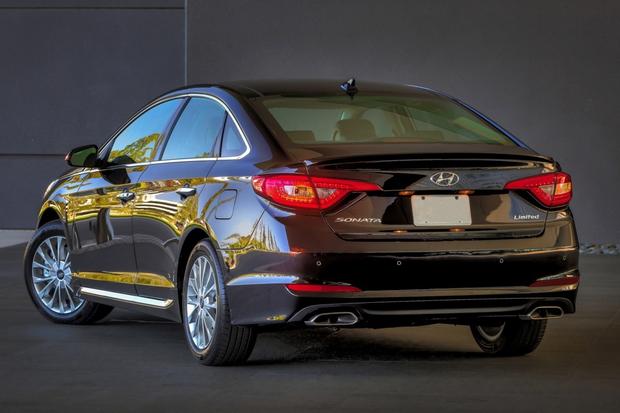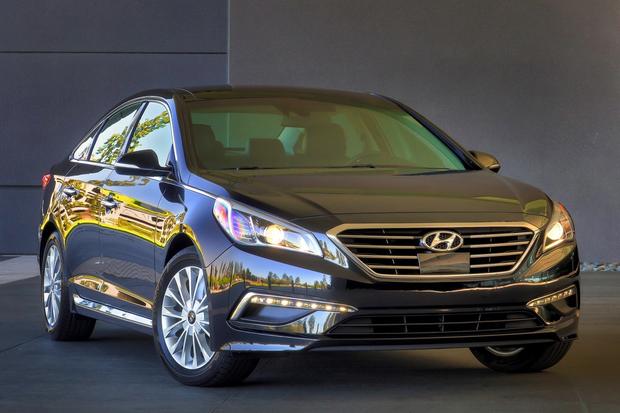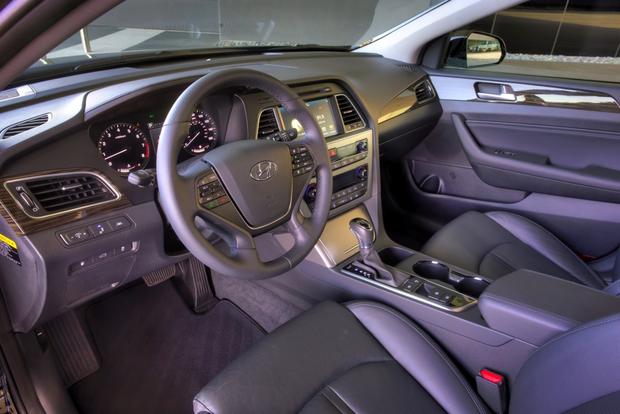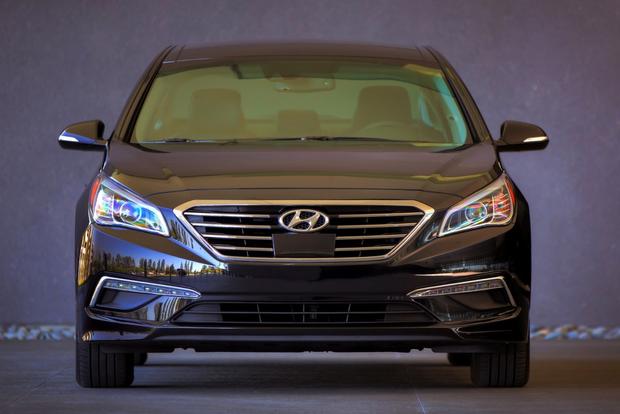 Among today's highly competitive crop of midsize sedans, the two newest models are the 2015 Toyota Camry and the 2015 Hyundai Sonata -- both of which are substantially updated for the latest model year. Which of the two sedans is better? To find out, we took an in-depth, side-by-side look at the two cars in a variety of categories, and we've reported the results below. But first, let's see what's new with both cars for the 2015 model year.
2015 Toyota Camry
Although the Toyota Camry isn't fully redesigned for 2015, it's substantially updated. Interior and exterior styling are all new, while trim levels are shuffled. Driving experience is also improved; the latest Camry offers better handling and reduced road noise compared to its predecessor.
2015 Hyundai Sonata
The Hyundai Sonata is completely redesigned for the 2015 model year. Although hybrid models still use last year's design, gas-powered Sonata models boast a totally new look both inside and out. The Sonata also offers revised powertrains, new features and a new Eco engine for those especially focused on gas mileage.
Reliability
Although it's impossible to predict reliability for totally new vehicles, J.D. Power Ratings for outgoing versions of both the Camry and Sonata rate the vehicles as being neck and neck. Each earned a 4-circle rating in the firm's Power Circle Ratings, indicating better than average reliability.
In terms of warranty coverage, the Sonata pulls way ahead: Its legendary 10-year/100,000-mile powertrain warranty trumps the Camry's 5-year/60,000-mile warranty, while the Sonata's 5-year, 60,000-mile bumper-to-bumper coverage outshines the Toyota's 3-year, 36,000-mile plan.
Although we'd like to wait for updated numbers from J.D. Power, our initial thought is that the Sonata deserves this category. It's likely that both cars will be highly reliable, but the Hyundai boasts an especially assuring warranty.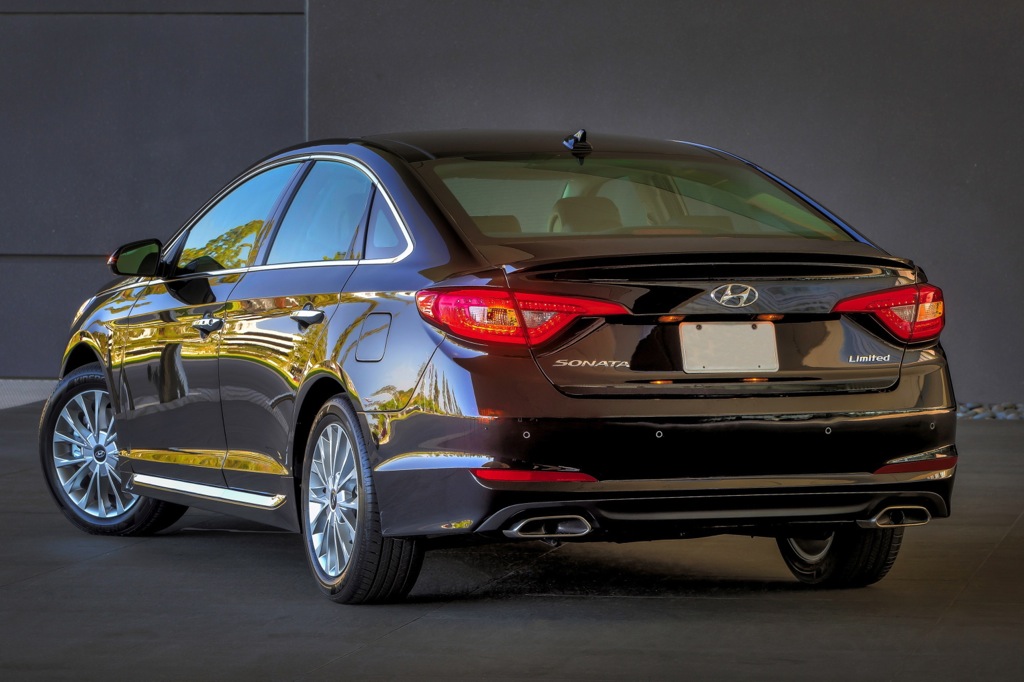 Fuel Economy
Comparing base-level 4-cylinder engines, fuel economy is about the same in the cars: The Camry's 178-horsepower 2.5-liter engine returns 25 miles per gallon in the city and 35 mpg on the highway, while the Sonata's 185-hp 2.4-liter returns 25 mpg city/37 mpg hwy in SE guise, or 24 mpg city/35 mpg hwy in Sport or Limited trims.
Both cars also offer a more powerful engine option. In the Camry, it's a 268-hp 3.5-liter V6, which returns 21 mpg city/31 mpg hwy. The Sonata's 2.0-liter turbocharged 4-cylinder gets better mileage (23 mpg city/32 mpg hwy) but makes just 245 hp.
Although the Sonata Hybrid has not yet been redesigned, the latest Sonata offers a new, less-expensive alternative: the new Sonata Eco, which makes 177 hp and returns 28 mpg city/38 mpg hwy. Unfortunately, it's no match for the highly efficient Camry Hybrid, which returns an impressive 43 mpg city/39 mpg hwy.
If fuel economy is your thing, the Camry Hybrid is your pick. For drivers who don't want a hybrid model, the Sonata Eco may be worth a look. It offers excellent mileage without the hybrid price premium. For most buyers -- who choose either the standard 4-cylinder or the more powerful optional engine -- fuel economy is largely a toss-up.
Safety
Although the 2015 Camry has not yet been crash-tested by the National Highway Traffic Safety Administration (NHTSA), outgoing 2014 models, which use the same basic structure as the latest Camry, boasted a 5-star overall safety rating. The 2015 Sonata also earned a 5-star overall rating from NHTSA.
When it comes to safety features, both the Camry and Sonata largely offer the same level of equipment. Standard items include side-curtain airbags, anti-lock brakes and traction control, for instance. Options include a blind spot monitoring system, rear cross-traffic alert, forward-collision warning and adaptive cruise control.
Admittedly, both cars offer some slight advantages. The Camry's forward-collision system will help to stop the car, for instance, while Hyundai's Blue Link system offers programmable speed limits, geo-fencing and stolen-vehicle assistance. In general, we think these two midsize sedans are neck and neck in terms of safety.
Technology
As with safety, the Camry and Sonata are relatively close competitors in terms of technology. With that said, we think the Camry has a slight advantage. It offers a standard 6.1-inch touchscreen, for example -- compared to an optional 5-in screen in the Hyundai. The Camry also includes a standard backup camera, while the feature is optional in the Sonata. We're impressed that Toyota engineered the Camry's forward-collision alert system to help apply the brakes in the event of an impending collision, compared to the Sonata's alert-only setup. Admittedly, the Sonata also has a few impressive unique features, such as the excellent Blue Link suite and a power-closing trunk, but the Camry is still our first choice when it comes to gadgets.
Value
With a base price of around $22,000 with shipping, the Sonata starts around $1,700 less than the Camry. But that doesn't tell the whole story: Base-level Sonata models don't offer the level of equipment that comes standard in the base-level Camry, missing out on features such as a backup camera and a standard touchscreen. Add in those extras, and you'll find that the Camry and Sonata offer almost the exact same pricing -- and they carry that similar pricing throughout the entire trim level lineup.
If price is your only consideration, you'll want to choose the cheaper Sonata. If you approach value from a features-per-dollar standpoint, you'll find that these two cars are very similar in nearly every respect.
AutoTrader's Advice
Choosing between the 2015 Toyota Camry and the 2015 Hyundai Sonata is difficult. Both are excellent midsize sedans, and both seem to be at the top of their game, offering an impressive level of dependability, fuel economy, interior room, equipment and safety. It's rare that we don't award an overall winner, but that's exactly what we're doing here. Instead, we suggest that drivers looking for a dependable car with a notoriously long warranty -- or those looking for the best price -- choose the Sonata, while gadget-focused drivers -- or those who prioritize fuel economy -- should pick the Camry. No matter which car you choose, however, we suspect that you'll be happy with your choice.