Editor's note: You may want to read more of Autotrader's model vs. model comparison car reviews as well as the 2016 Ford Focus review and the 2016 Ford Focus ST review.

The hot-hatchback segment is really taking off, and it's especially apparent in the Ford Focus lineup, which now offers two different performance variants: the ultra-high-performance 2016 Ford Focus RS and the sporty front-wheel-drive Focus ST. But what exactly is the difference between these two models, and which one should you get? In order to help you decide, we've created a close comparison between the Focus ST and the totally new Focus RS. See 2016 Ford Focus models for sale near you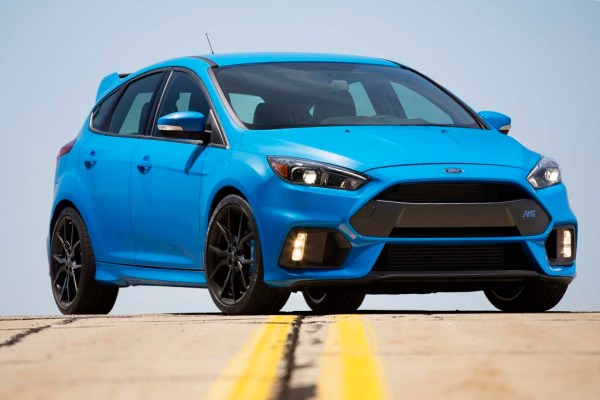 Exterior
Despite sharing similar architecture and a basic overall shape, the Focus RS and ST offer very different styling that's immediately apparent the moment you first look at the two models. Specifically, the Focus ST offers a relatively subdued look, with only a small spoiler and a fairly tame body kit, along with large — but not enormous — wheels. The Focus RS dials everything up a notch, touting larger wheels, a more aggressive grille, a huge rear wing and a more obvious body kit. While the ST and RS offer a similar design, we suspect few car enthusiasts will mistake the two models in a parking lot.
Interior
The Focus RS and the Focus ST look a lot more similar on the inside than they do on the outside. Specifically, the two models share virtually all controls and switchgear, including their steering wheels, gauge cluster, center control stack and more. The only major differences are seats — predictably, the RS has more bolstering for better grip around corners — and a slightly revised shift lever. Otherwise, don't expect too many interior differences between the ST and the RS — or between either model and a well-equipped version of the standard Focus.
Mechanicals
The front-wheel-drive Focus ST uses a 2.0-liter turbocharged 4-cylinder, which is mated to a 6-speed manual transmission. It returns 252 horsepower and 270 lb-ft of torque. Fuel economy is 23 miles per gallon in the city and 31 mpg on the highway, while going from a standstill to 60 miles per hour comes in the low- to mid-6-second range.
Meanwhile, the Focus RS comes with standard all-wheel drive. It touts a 2.3-liter turbocharged 4-cylinder that makes an impressive 350 hp and 350 lb-ft of torque. Fuel economy is expected to be around 20 mpg city/30 mpg hwy, while the hatchback's 0-to-60 time is in the high 4-second range.
Features & Technology
When it comes to comfort and convenience equipment, the Focus ST and Focus RS share virtually everything. Both models offer an 8-inch touchscreen, for instance, along with Ford's excellent MyFord Touch system, leather upholstery, heated seats and more. Of course, the Focus RS offers more of this equipment standard than the ST does, owing to their price difference: The RS starts at $36,600 with shipping, while the ST is available from $25,500.
The Focus RS's real benefit, however, comes in performance features and equipment. The RS offers larger wheels than the ST, along with grippier tires, an adjustable suspension, improved brakes and better sport seats. As we've mentioned, the RS also justifies its higher price point with more power and standard all-wheel drive. In other words, if you're paying extra for the RS in order to get more comfort or convenience features, save your money and go with the ST. The RS's price premium almost solely consists of extra performance equipment.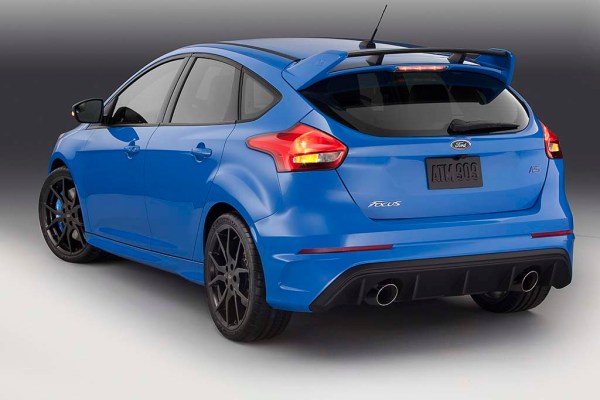 Driving Experience
Although we haven't yet driven the Focus RS, we've spent a lot of time behind the wheel of the ST — so we know where its deficits lie. Specifically, the only things we'd change about the otherwise wonderful Focus ST are its power and its torque steer. While it's high on power for its segment, acceleration doesn't quite match some of its class rivals — and the hatchback's torque steer is an issue that only a switch to rear- or all-wheel drive can solve. The Focus RS solves both of those issues, bringing more power (and improved handling) to the Ford Focus lineup.
As for handling, we already thought the Focus ST was among the best hatchbacks on the market, and we expect even better results with the RS's larger wheels, all-wheel drive and improved suspension. Simply put, the excellent Focus ST has caused us to set our expectations very high for sporty Ford hatchbacks, and the RS looks like it'll raise them even higher.
Safety
Drivers interested in safety will be happy to know that, despite the small Ford's performance potential, the Focus has earned a perfect 5-star overall rating from the federal government's National Highway Traffic Safety Administration. The car also earned good ratings from the nonprofit Insurance Institute for Highway Safety, though it fell just short of that firm's Top Safety Pick score due to a second-tier Acceptable score in the firm's challenging front small-overlap test.
As for safety features, both the RS and the ST have all the basics — side-curtain airbags, anti-lock brakes and a backup camera — but neither touts the impressive array of modern gadgets offered in some rivals, such as forward-collision warning with automatic braking, lane-keep assist or a blind spot monitoring system. We're hoping to see those features make their way into the next-generation Focus.
Conclusions
The 2016 Ford Focus RS and the 2016 Ford Focus ST are two of our favorite sporty hatchbacks. The Focus ST is an excellent car, while the Focus RS dials things up to a completely different level of power and performance. With that said, we think the ST is fine for most drivers, especially when you consider the rather large $10,000 price difference that separates the ST and the RS. We only suggest upgrading to the muscular Focus RS if you're really serious about getting the best possible performance out of your hatchback or if you're looking for a car to use on the racetrack. Find a Used Ford Focus for sale