Picture this scenario: You're on the freeway, doing 70 mph, your car traveling 102 feet per second. You've got your side mirrors properly positioned so that you can just barely see the edge of your car, but that pesky blind spot remains invisible. So you turn your head, just briefly, to make sure another vehicle isn't there. And just when you look away from the road, everyone ahead slams on the brakes. Now you have a big problem to solve in a short span of time.
Most of us have experienced this sudden horror. Some of us have gotten into car accidents as a result. But now, thanks to blind-spot monitoring (BSM) systems, the horror can be avoided.
Blind-spot monitoring (BSM) systems are one of the most important safety advancements in history. They should be standard on all new cars. But they're not. If you're unfamiliar with this technology, continue reading to learn about the different types of BSM systems and how they work.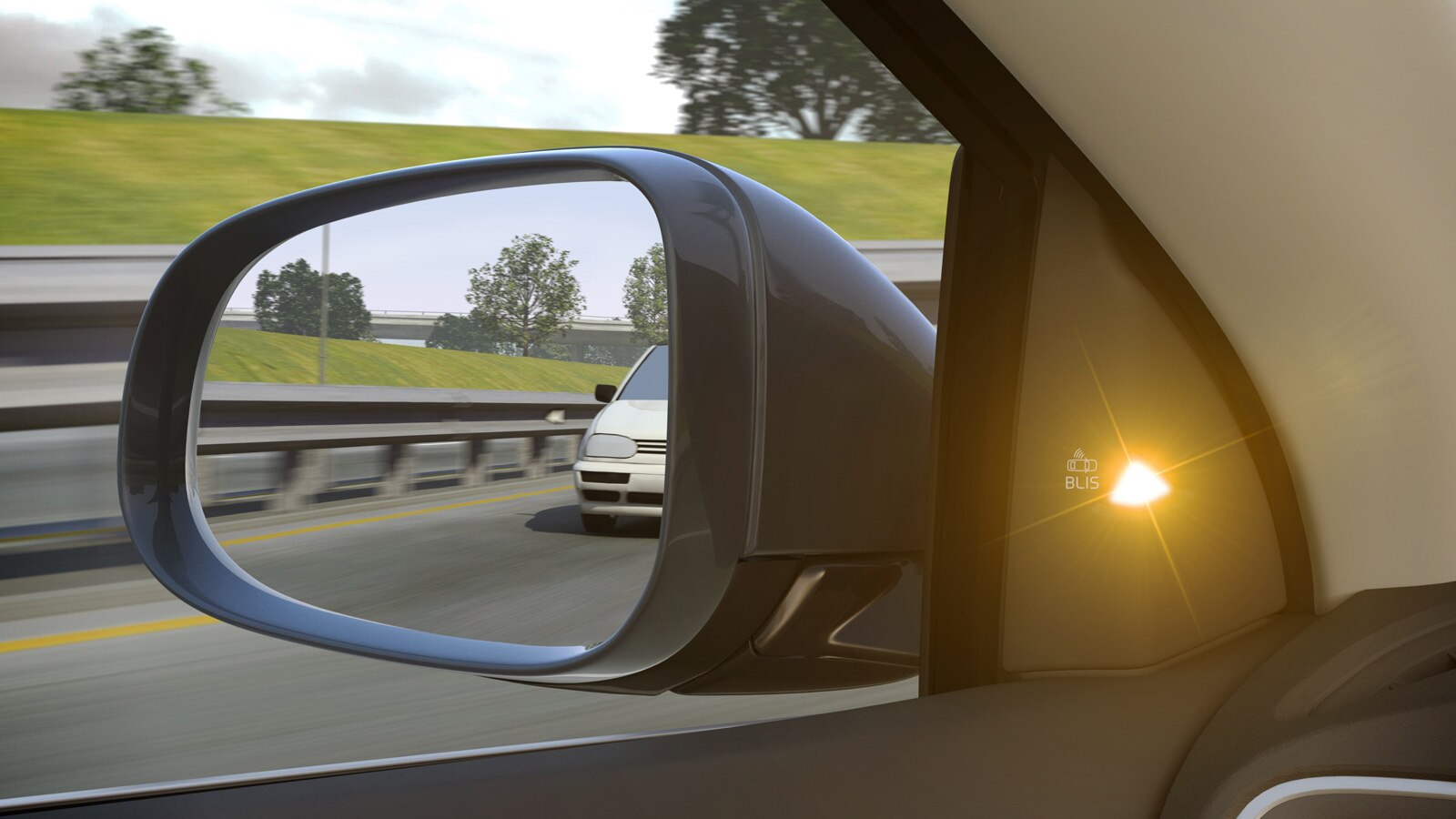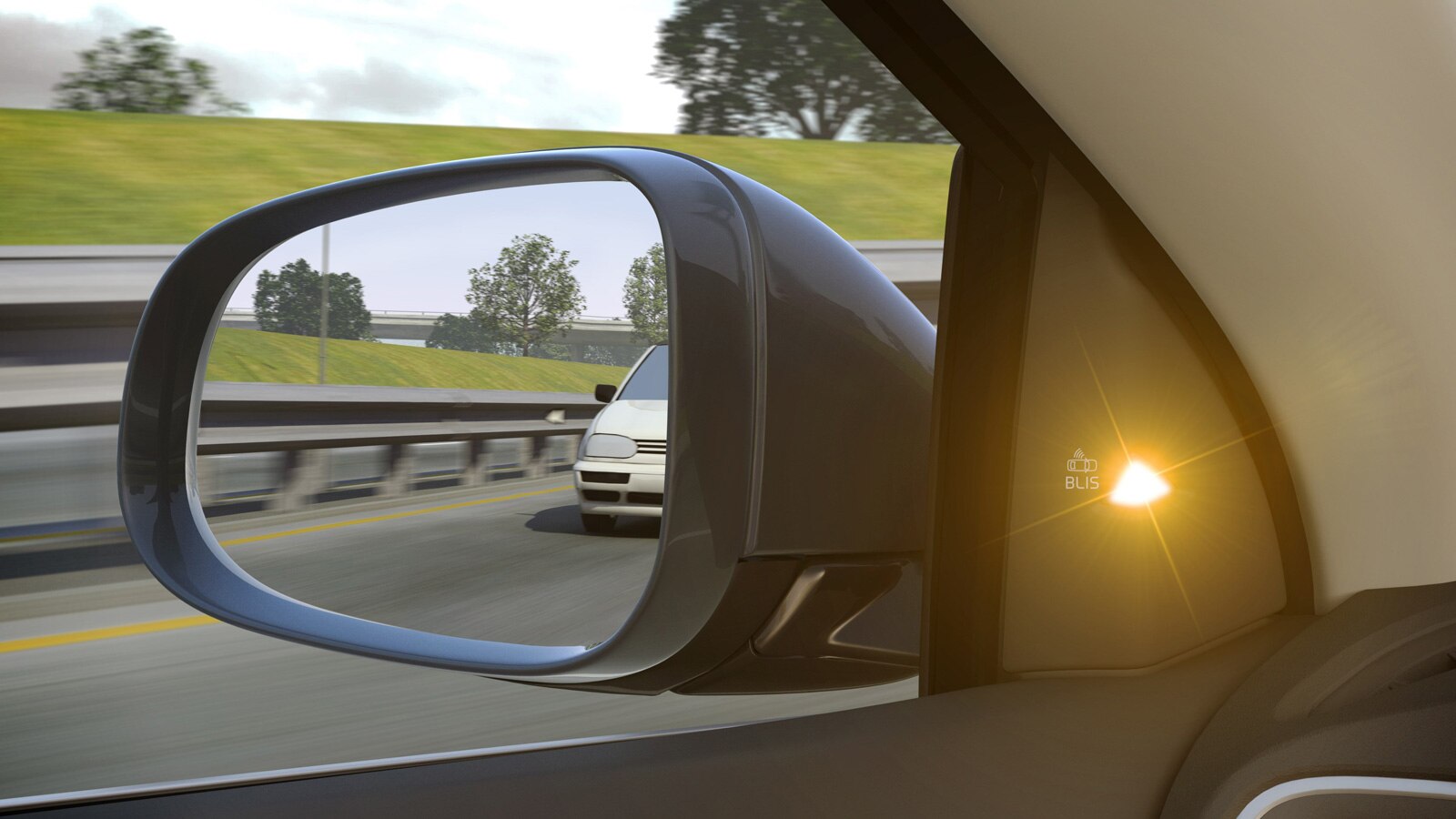 How Blind-spot Monitoring Systems Work
Most BSM systems use radar to detect other vehicles traveling in adjacent lanes. The radar is active when your vehicle is moving. That's when it activates to give notifications at a speed determined by the automaker.
Notifications are typically shown on or near the side mirror on the side of the vehicle where a threat exists. A light will illuminate when another vehicle is in your blind spot. If you signal a lane change, the light will flash and an audible alert may sound in order to get your attention. Vehicle owners can sometimes calibrate the type and intensity of blind-spot warnings through the infotainment or driver information system.
Some BSM systems use cameras. Examples include Honda LaneWatch and Hyundai Blind-View Monitor.
Honda adds a camera to a car's right mirror, showing only the right side of the vehicle on the infotainment display when the driver activates the turn signal or manually activates the camera. LaneWatch does not work on the left side of the vehicle. The camera, located on the end of the right-side mirror, is also susceptible to damage.
Hyundai's new Blind-View Monitor system uses cameras on both sides of the vehicle and supplements a traditional radar-based blind-spot monitoring system, making it a safety net of sorts. It shows what is on both sides of the vehicle on a display screen between the dashboard gauges.
Our preferred kind of BSM system is radar-based. They provide information where you're already looking (the side mirrors), and they serve as building blocks for other important safety features.

Additional Safety Features Based on Blind-spot Monitoring Systems
Radar-based BSM systems provide the foundation for rear cross-traffic alert (RCTA). This feature works when you're reversing from your driveway or a parking space and you can't see if traffic is approaching from the side.
Typically, RCTA provides an audible alert and a visual warning on your car's reversing camera, which is where you're most likely looking while you're backing up. Note that radar-based BSM systems usually, but not always, include RCTA. Sometimes, RCTA is an extra add-on.
Lane change assist (LCA) is another feature that radar-based BSM systems support. This technology warns you when another vehicle is rapidly approaching from behind so that you don't change lanes into its path. This is an emerging technology and is not included with all BSM systems.
Increasingly, automakers are offering active versions of BSM. This means that if you ignore system warnings, the vehicle will actively attempt to prevent you from changing lanes. Through the brakes and steering, an active BSM system will try to keep your car in its lane until the threat of a collision has passed. Active BSM is typically an optional upgrade.

Find Out How the BSM System in Your Car Works
As is true of all modern safety technologies, you need to understand how the BSM system in your car works, and what it can and cannot do for you.
Most important, however, is to use your turn signal when you change lanes. If you don't, the flashing lights, the audible alerts, the LCA, and the active prevention functions won't work.