Mazda dips its toe into the fully electric-vehicle (EV) realm for the first time with the all-new 2022 Mazda MX-30 EV SUV.
Roughly the size of the CX-30, the MX-30 promises a range of up to 100 miles on a full charge. Therefore, Mazda basically intends the new EV to be an urban warrior.
A key competitor, the Chevy Bolt, is priced similarly but has up to 247 miles of range.
However, for the first three years of ownership, Mazda throws in 10 days of free use of gasoline-fueled Mazda models annually.
Moreover, Mazda is also kicking in a $500 credit with ChargePoint toward charging station visits or purchasing a Level 2 in-home charger.
MX-30's SUV exterior styling is full-on Mazda. It numbers the seating at five, but the second row appears cramped, at best.
However, accessing the rear seat is made easier by rear-hinged rear doors. Consequently, when both front and rear doors are open, they create one large opening.
A top-hinged liftgate provides access to the tidy cargo area.
Comprising the cabin highlights are seat fabric and door panels containing recycled materials, real cork accents, and a floating front center console.
At its launch this fall, the MX-30 EV SUV will consist of two grades: base and Premium Plus.
Mazda promises a plug-in hybrid (PHEV) version will follow.
The MX-30 sources its thrust from a 143 horsepower electric motor motivating the front wheels. All-wheel drive (AWD) isn't an option.
With 143 horsepower, the new MX-30 isn't exactly quick, but the electric power delivery manages to be both smooth and instantaneous, and it's accompanied by a piped-in synthesized EV sound that lets you know the electric motor is working.
Also impressive is the cornering ability of this new Mazda EV, thanks in part to a center of gravity two inches lower than the CX-30. Further complementing the good dynamics of the MX-30 is a 40/60 weight balance and a by-wire braking system that blends traditional friction braking with electrical regeneration while maintaining a natural-feeling pedal.
As of now, the government hasn't released any fuel-economy estimates.
We expect a miles per gallon equivalent (MPGe) number in the neighborhood of 120. This would keep the MX-30 EV in the ballpark with rivals like the Hyundai Kona EV.
2022 Mazda MX-30 EV (starting at $33,470)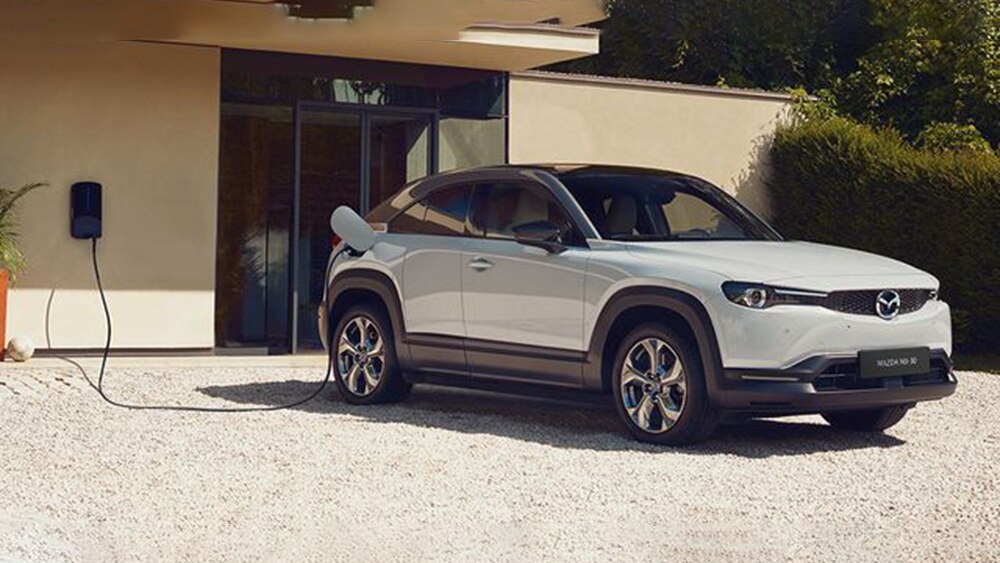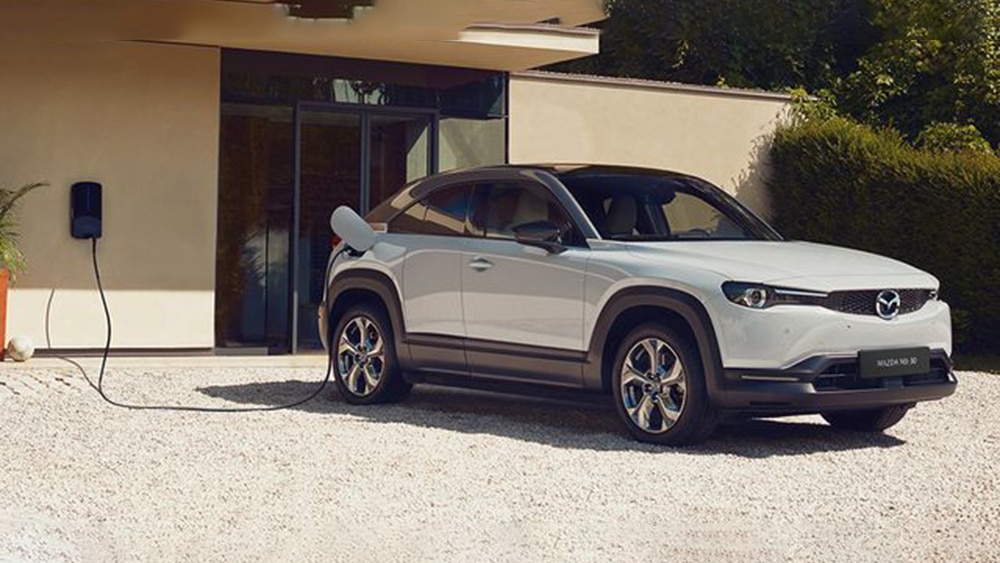 Standard fare for the base grade are 18-inch aluminum wheels and heated power-folding outboard mirrors with integrated turn signals.
An 8-way power-adjustable driver's seat and heated front seats are also included.
The other features are an auto-dimming rearview mirror, a leather-wrapped steering wheel, a 7-inch digital gauge display, a power moonroof, and more.
Within the infotainment system are an 8.8-inch touchscreen, Apple CarPlay, and Android Auto.
Standard driver aids are forward-collision warning with emergency braking, blind-spot monitoring, lane-keeping assist, lane-departure warning, and rear cross-traffic alert with emergency braking.
Adaptive cruise control, high-beam assist, rear parking assist, and driver attention alert are also standard.
Adding the $1,175 destination fee to the MX-30 base price comes to $34,645. With no money down, financing for 60 months at 3% works out to $623 per month. See 2022 Mazda MX-30 EV models for sale
2022 Mazda MX-30 EV includes:
Auto-dimming rearview mirror – Using photosensors, it recognizes bright headlights closing from behind. It then automatically dims the reflection of those lights.
Apple CarPlay and Android Auto – Allows these smartphone features to interface with your vehicle.
Blind-spot monitoring – This radar-based system warns of traffic approaching your flanks. It also includes rear cross-traffic alert to warn of vehicles crossing behind you when in reverse.
2022 Mazda MX-30 EV Premium Plus (starting at $36,840)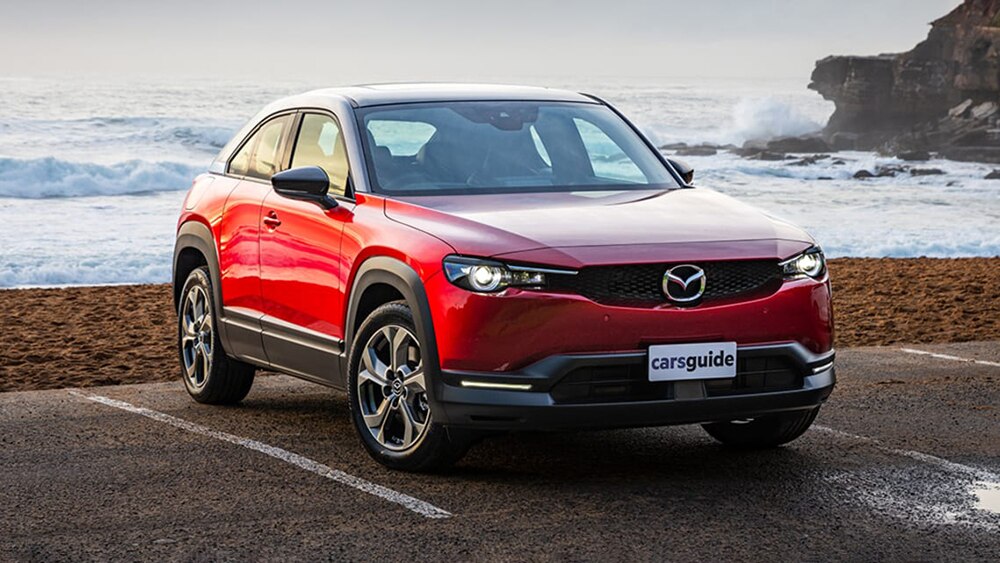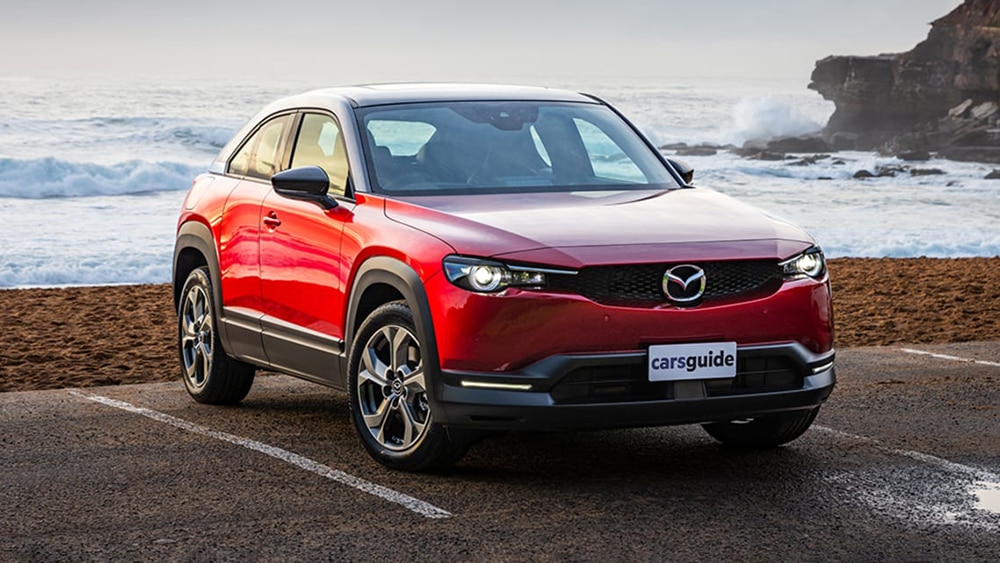 Mazda refers to this as the Premium Plus Package. However, it also shows its cost as the package price and the MX-30 EV base price total.
Brian Moody, Executive Editor for Autotrader says "The real reason to opt for the premium package is because of the interior upgrades. First, there's a 12-speaker Bose audio system and three free months of SiriusXM satellite radio. Also, that standard leather steering wheel is now heated with the premium package. A 360-degree parking camera, a cargo area light, and a frameless auto-dimming rearview mirror with Homelink give the interior a more upscale feel."
By the way, Homelink is the feature that lets you program your garage and/or automatic gate clicker into specific buttons inside the car. In this case, those buttons are on the rearview mirror.
Enhancing the driver aids are blind-spot monitoring with steering assist and front cross-traffic alert with emergency braking up to 6 miles per hour.
Adding the $1,175 destination fee to the Premium Plus base price equals $38,015. With no money down for 60 months at 3% interest, financing works out to $683 per month. See 2022 Mazda MX-30 EV Premium Plus models for sale
2022 Mazda MX-30 EV Premium Plus includes:
Bose audio system – This system features 12 speakers.
Keyless entry – If the key fob is on your person, the doors automatically unlock as you approach. Push-button start is paired with keyless entry.
Front cross-traffic alert – Alerting drivers when traffic going at least 3 mph is about to cross in front of the vehicle, this feature sounds a warning and will automatically brake at speeds below 6 mph.