Most of us do not think of General Motors as a minivan company, but a look through the automotive history books tells us we probably should. GM built a lot of minivans. Including the company's European and Asian operations, the GM lineup has included nearly 20 minivan nameplates.
Take that Chrysler!
Well, maybe not. Chrysler was the first with a modern minivan in the 1980s, and the company's lineup has not been without at least some form of van — be it a Dodge, a Plymouth, or a Chrysler — for nearly 40 years. Toyota and Honda have also been building popular vans for decades.
As recently as 2006 — OK, I realize that was over 15 years ago — you could walk into a Buick, Chevrolet, Pontiac, and Saturn showrooms and take home a minivan with sliding doors. Just three years later, GM was out of the minivan business entirely here in the U.S. You won't find a GM-badged minivan today unless you visit China, where the rather interesting Buick GL8 is an executive express for business people who prefer to be hustled around Shanghai.
GM Minivan History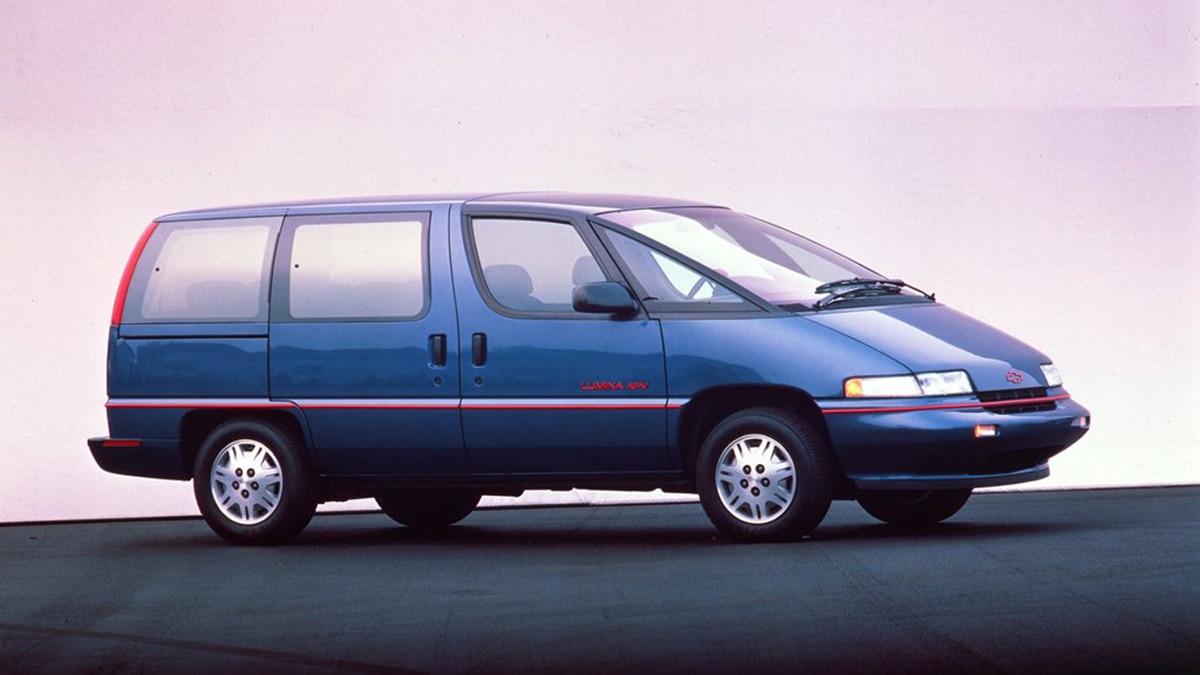 Technically, GM wasn't late to the minivan game. In 1985, the company debuted two somewhat futuristic-looking models sold as the Chevrolet Astro and GMC Safari. At first glance, they followed the minivan norm with their 2-box designs and a single sliding door on the passenger's side. But these vans rode on a ladder chassis like an SUV, which led to a literal step to climb aboard plus compromised handling and fuel economy.
They proved enduring, however, with their basic design outlasting any other van of their ilk before being discontinued in 2005. The Astro and Safari were popular with businesses who wanted a durable utility van but didn't need a big truck's heft (or price tag).
In 2005, the Astro's last year (the Safari was cut in 2004), the van started at $24,000 in passenger configuration (a cargo van was about $1,500 less), making them expensive for vans but cheap for an SUV alternative. A 3-row Chevy TrailBlazer EXT ran about $6,500 more to start.
It took until 1989 for GM to unveil its first real minivan, the Lumina APV (for All Purpose Vehicle). These vans looked the part — the part of the then-popular Dustbuster vacuum cleaners, that is. Their sloped front ends and massive windshields gave them a big styling advantage over more upright Chrysler competitors, but they suffered tremendous glare. Composite exterior panels like those later used in Saturn models meant that the vans would only rust underneath. Inside, they had a quirky 2+3+2 layout of individual seats, which meant climbing to row three was a proper challenge. However, most kids of the 1990s flopped over the second row, which meant inevitable muddy footprints on the middle seats and, probably, the headliner.
The Lumina APV spawned dressier Oldsmobile Silhouette and Pontiac Trans Sport siblings, all of which left the same scenic Tarrytown, New York, assembly plant on a bend of the Hudson River north of New York City.
They may have looked great, but ,these were not good vans in reality. Their exterior styling compromised forward visibility. That oddball seating arrangement was nowhere near as flexible as what Chrysler and Toyota (with its weird but interesting Previa) had on offer.
Enter the third try: an updated lineup of minivans for 1997. The mainstream Chevy was renamed Venture, while the Trans Sport took on a more rugged look with lots of side cladding and a heavily-marketed package called Montana designed to compete with SUVs. The Oldsmobile Silhouette stuck around as the most luxurious of the group.
Big improvements were made all around, including an optional fourth sliding door (just a year behind Chrysler and a lot better than the super-awkward extended driver's door Ford stuck on its Windstar) plus an available onboard compressor for spontaneous airing up of flat soccer balls.
The dumb 3-piece second row carried over, though individual captain's chairs were more available.
A rework for 2005 brought somewhat different styling that would carry these vans through a staggered demise beginning with the 2007 model year.
2006: The Height of GM's Minivan-ness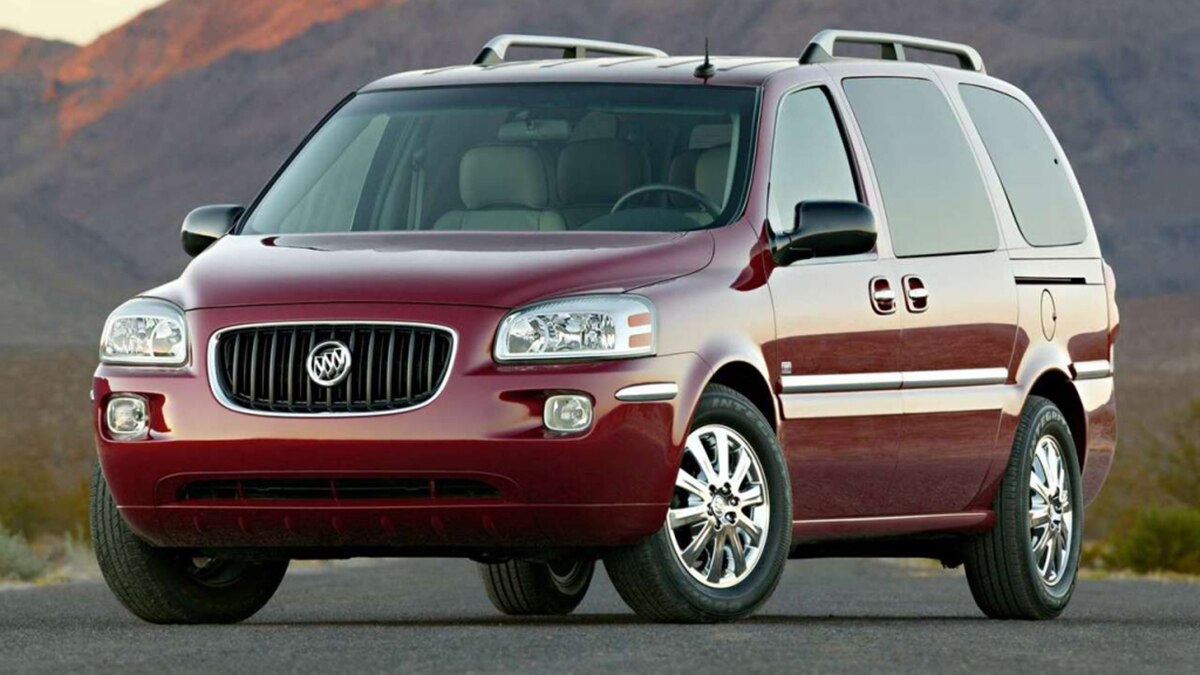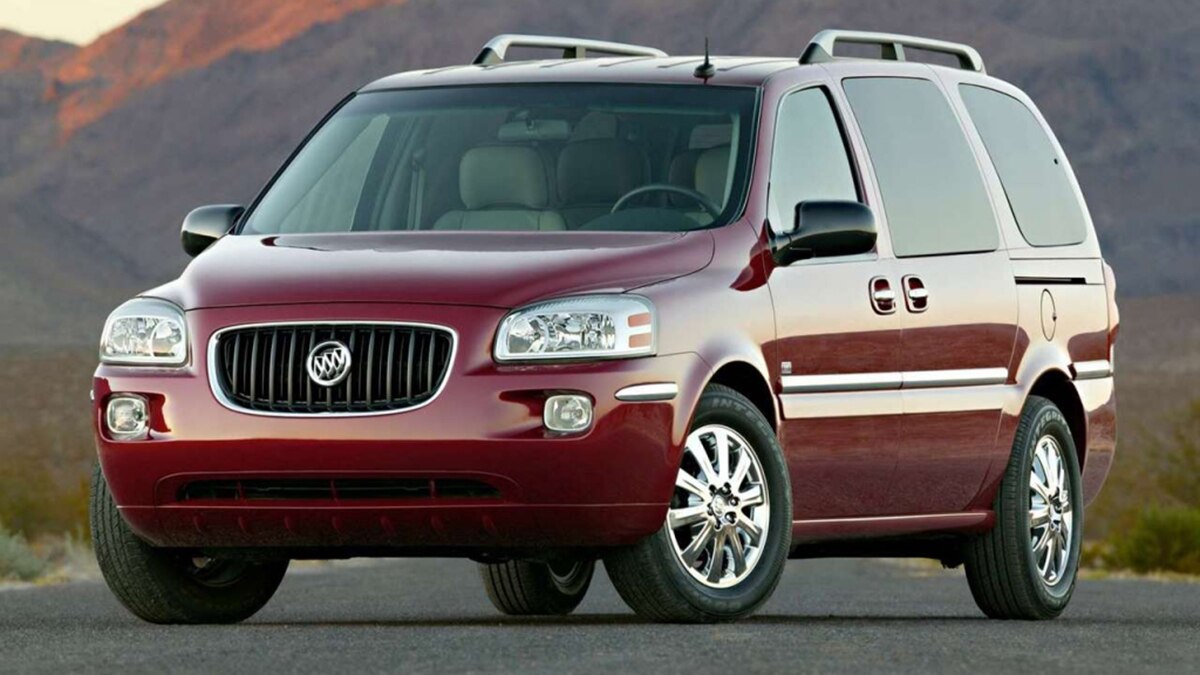 The insane lineup of GM products in 2006 directly contributed to the automaker's bankruptcy in 2009. Buick had five models, Chevrolet had 17, GMC offered five, Hummer had two, Pontiac had seven, Saab had four, and Saturn even had four. Predictably, there was an absurd amount of overlap, especially in the minivan space.
None of GM's four minivans had a distinct identity in 2006 (aside from all sharing a comically long nose), but here's roughly how they played out:
Just months after this lineup hit the market, GM said it would close the Georgia assembly plant where it built them, signaling the end of the automaker's minivan investment. See minivan models for sale
Related: