Car Cleaning Tips. If someone has scrawled "Wash me!" in the window next to the "For Sale" sign on your car, you'll likely run into some trouble selling it.
A potential car buyer typically wants a clean, reliable used car that rarely reminds him or her that the car had a previous owner? one who may or may not have had an addiction to cheeseburgers with onions and who loved to peel out through mud puddles.
If you want to sell your car, boost its appeal with a thorough interior and exterior cleaning. And do more than drive your car through a touch-free wash; scrub it yourself, and pay attention to the details when you do. More than likely, your efforts will pay off, literally.
Detail the Interior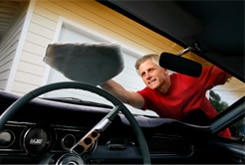 Hard-to-Reach Interior Areas: Use a high-pressure air hose (available at most gas stations) to blow debris out of crevices. Next, dip a small paintbrush in soapy water, shake off the excess and brush the areas that need cleaning. Rinse the paintbrush thoroughly and repeat.
Knobs, Gear Shifts and Buttons: Dip a cotton swab in rubbing alcohol and trace around small interior car parts to make them shine.
Interior Odors: Most people spray air freshener into the air vents, but instead, try spraying odor eliminator into the system's air intake, which are those larger vents usually located at the base of the windshield. Then run the air conditioner on high for at least ten minutes.
Leather Upholstery: Remove stains such as ink by dipping a cotton swab into rubbing alcohol and cleaning the spot. Dry the area with a hair dryer. For general leather cleaning, lather a moisturizing bar soap onto a damp, soft cloth and wash the area to remove dirt. Rinse well.
Carpet and Cloth Upholstery: Dilute about ¼ cup of laundry detergent with one to two cups warm water. Dip a clean cloth into the solution, and then squeeze the cloth out well. Scrub the dirty areas, and soak up the excess with a clean, dry cloth.
Clean the Exterior and Mechanical Components
Car Body: Using a solution of car soap (not dishwashing soap!) and water, wash your car with a clean, premium terry cloth microfiber towel in the shade, and rinse often. Note: Dishwashing soap strips the polymers off the paint surface, accelerating the oxidation process when used regularly.
Windows: To avoid streaks, use a window cleaner made for vehicles and wipe with crumpled newspaper instead of paper towels. You can also wash your windows with plain water and a clean terry cloth towel. Wipe in two- to three-inch circles.
Tires: Spray the tires thoroughly with the hose and scrub them with a stiff-bristled brush. Then wash using car soap or tire cleaner.
License Plates and Holders: Spray lightly rusted areas with WD-40 and wipe away with a clean rag. This might also prevent more rust from forming.
Difficult Exterior Stains: Use a clay-based cleanser to remove surface imperfections such as sap, bug debris, water spots, road tar and others.
Battery: Sprinkle baking soda onto battery terminals and lightly spray with water. Let this set for about one hour before wiping off with a sponge and water.
Engine: Turn your car on and let it run for about three minutes. Turn the car off. After about five minutes, pour a mixture of ¼ cup baking soda and one gallon warm water on the engine. Scrub with a thick-bristled brush and rinse thoroughly. Be careful of the heat from the engine.
Jaime Grimes is a staff writer at Autotrader.com.