We've compiled some general guidelines that can help you prepare and safeguard your interests when advertising and selling a car.
If you're thinking about buying a car, please read our comprehensive Fraud Awareness Tips.
Tips for Personal Safety
Get information about the prospective buyer, including full name, street address, phone number, driver's license number and insurance information. When you initially communicate with the potential buyer, mention that you'll need these documents before the test drive.
Scout out a logical route for the test drive in advance. Choose streets that don't have a lot of traffic, but don't venture into secluded areas.
It's best to meet in a public place, like the parking lot of a shopping center. And keep your cell phone with you.
Decide whether you're more comfortable going with your buyer on the test drive or staying behind. This is a judgment call on your part, made more easily if you have someone with you.
If at all possible, bring a friend or family member along. And make sure someone knows where you're going, the route you expect to take and when you expect to return.
If you let the potential buyer take your car by himself, ask him to leave his keys while you wait, and be very specific about the maximum length of time you expect him to be gone.
Tips for Avoiding Scams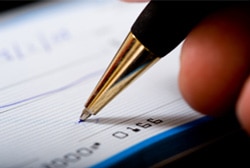 Secure payment before you transfer ownership and work only with the specific person who is purchasing your car (versus someone acting on his behalf). If you accept a check, be sure to verify it with the issuing bank — not your bank. (The easiest way to avoid problems is to go to the buyer's bank and complete the final transaction there.)
For tips on how to complete the deal, read Transferring Ownership, and review the Paperwork to Close the Deal.
Be wary of anyone who makes an offer to buy your car sight-unseen, especially buyers located overseas. This is often part of a larger scam to pass a bad check or to get the title of the car without paying for it. Always verify the buyer's street address and phone number.
An escrow service — a third party that holds the title to your car until you are absolutely certain your payment is secure — can be a good option, but only if you use a reputable bank or attorney, or a well-known, established online service. Never agree to an escrow service that the prospective buyer suggests unless you have thoroughly researched it — the Better Business Bureau is a good place to start.
In an overpayment scam, the potential buyer typically tells you that someone else owes him an amount that is higher than your selling price and he wants that person to pay you instead. He then asks you to give him the car, plus the difference in price. (Sometimes the prospective buyer will offer you additional money as compensation.) Regardless of how legitimate they seem, these situations are almost always scams to get you to part with your car and additional money.
A prospective buyer who wants to work out a payment plan for your car is likely up to no good. Autotrader.com strongly advises against agreeing to a payment plan, regardless of the terms. In these scenarios, the buyer typically gets you to agree to a payment plan, frequently with substantial interest, only to leave you with an initial payment (which may or may not be fraudulent) and disappear with your car.
Where to Report Fraud
If you suspect fraud relating to your interaction on Autotrader.com, please report it to us immediately at FraudWatch@Autotrader.com. Our Fraud Watch department regularly reviews suspicious e-mails and other activities for fraud, and works with consumers who believe they may have been victims of a scam.
In addition, if you are a victim of fraud, you should file a complaint with the Internet Crime Complaint Center, or IC3. IC3 focuses solely on cyber crimes and is a partnership between the Federal Bureau of Investigation, the National White Collar Crime Center and the Bureau of Justice assistance.
Finally, contact your local law enforcement. If there was any interaction with a scammer posing as a prospective buyer within their jurisdiction, they should take a report, plus it will help their fraud department identify trends for scams in your area.
Facts about Autotrader.com
We don't own, buy or sell vehicles listed on our site.
Autotrader.com is an online vehicle listing service that connects car buyers with sellers. We are not car dealers. Any listing information about a particular car comes directly from the seller, not us.
If you receive an email that implies Autotrader.com is selling or buying a vehicle, please report it to us and to local law enforcement. It's a scam.
We don't offer automotive warehousing or shipping services.
Any email that requests a deposit or payment for shipment of a car "stored in an Autotrader.com warehouse" is a scam. Autotrader.com doesn't own a warehouse, and we don't ship cars. Simply put, we don't get involved in transactions between buyers and sellers (see more below).
There are many reputable warehousing and shipping services that can make long-distance transactions easy. Just be sure to check out the proposed services for yourself.
If a seller recommends a bogus warehousing or shipping service, report the seller to us and to local law enforcement.
We don't get involved in transactions between buyers and sellers.
Don't respond to any email that appears to come from Autotrader.com (for example, by displaying our logo) and urges you to complete the sale or purchase of a car listed on our site. Such emails are scams.
Other signs of fraud are emails that:
Claim the security of a transaction is guaranteed by Autotrader.com.
Imply we've verified information about a particular buyer, seller or listing.
Describe a "preferred" or "pre-approved" buyer or seller program.
Autotrader.com doesn't guarantee or endorse transactions, and we don't have preferred or pre-approved buyers or sellers. We'll never encourage you to buy any particular vehicle listed on Autotrader.com or to sell your vehicle to any particular buyer. If you receive a suspicious email such as the ones described above, report it to us and to local law enforcement.
We don't ask you for personal or financial information via email.
Online fraud often begins with a spoof email requesting financial information. These spoof, or scam, emails often impersonate a reputable company such as Autotrader.com by illegally displaying a company's name, logo or trademark.
The intent is to deceive customers into revealing information such as:
Username
Password
Social security number
Bank account number
Bank routing number
Credit card number
The only time we'll ever request your credit card information is when you're in the process of purchasing an ad on our website. We will not take down your listing because you don't provide account information. If you receive an email that asks for the kinds of information listed above, don't respond. Instead, report the email to us and to local law enforcement.
Internet Fraud Resources
Internet Crime Complaint Center (IC3)
Internet Fraud Preventive Measures
Better Business Bureau (BBB)
Be a Smarter Consumer
Top Scams
Federal Trade Commission (FTC)
Practical Tips to Help You Be on Guard Against Internet Fraud
Securities & Exchange Commission (SEC)
Latest Alerts and Scams from SEC.gov
California Department of Corporations
Top 10 Tips to Avoid Online Escrow Fraud
Department of Motor Vehicles
Contact Your State Department of Motor Vehicles
Justine Petruska is a senior staff writer at Autotrader.com.