So you've placed your ad and now you're ready for buyers to start contacting you. This article prepares you for when the phone rings, and following these steps may even lead to you making more money when the deal is done.
What's In Your Ad?
Be sure to list the phone number that makes it easiest for buyers to reach you. If you're only available at certain times, clearly list when you will take calls about the vehicle. Remember, it's important to make yourself as available as possible to potential buyers. The easier you make things, the faster your vehicle will sell.
If you have an online ad, you have the added convenience of e-mail so that questions can be asked and answered at any time. This freedom helps in initial buyer/seller communications and gives you the opportunity to highlight your car's best features.
Here's an example; a buyer sends you an email asking whether your vehicle has a single-CD unit or a multi-disc unit. This e-mail gives you the chance to hook a buyer who has noticed your for-sale vehicle. Don't pass up the chance. Answer the seller's question and then you might want to mention your car's related selling points, like custom speakers or an XM radio. Respond quickly and politely and offer your phone number for a follow-up conversation.
Before The Phone Rings
Even though it happens, few vehicles are sold solely via e-mail. So get ready for the phone to ring.
The time you invested creating your ad can help you when a buyer is on the phone. Use the ad as a quick-reference sheet for the basics such as engine size, transmission type, mileage, and options.
Beyond having the ad ready to help you field simple questions, there are a few other questions you should be prepared for. Your answers can make or break the deal. Be honest and positive in your responses.
Here are some questions to expect:
Why are you selling the car?
Understand that potential buyers ask this question because they are looking for assurances that you're not selling a problem vehicle. Your answer doesn't need to be a full story, just be direct and honest.
Was the car regularly serviced and do you have the service records? Knowing (and having proof of) your vehicle's maintenance record makes your vehicle a less risky purchase for the buyer. Better maintained vehicles sell for more than those with no verifiable service history.
What is the lowest amount you'll take for the car?
If you haven't used AutoTrader.com's car values page, it can help you determine typical ranges for your car. But these tools don't reflect the particulars of your specific sale. Perhaps you must sell your vehicle quickly. Then you'd accept a lower price. If you're in no hurry to sell and you can hold out for a higher price, then that must be considered in your "bottom line." You may also benefit from understanding basic negotiating strategies.
Where and when can I drive the car?
Arranging the test drive is unique for every sale. In addition to identifying a safe meeting place, make it clear that you expect to see the potential buyer's driver's license and proof of insurance before the test drive. For more details, read Test Drives and Inspections.
How do you want to be paid?
Certainly, cash or wire transfers are acceptable, but what about other forms of payment? AutoTrader.com Fraud Expert Linda Meinzer advises that whatever form of payment you choose, secure the funds before you hand over the title."In the case of a certified check or money order, you should verify authenticity with the issuing bank or financial institution," Meinzer says. "Make sure the buyer's account has enough money and their financial institution guarantees payment." Certified checks can be cancelled, so be aware that just because you have the buyer's check doesn't mean you have the buyer's money.

If you use an escrow service, make sure you do your research with the Better Business Bureau and any licensing agencies listed on their site. You could also ask the seller to use an escrow service of your choosing.

In either case, Meinzer advises against using phone numbers or links provided by buyers to verify authenticity. For more information on fraud, read our Fraud Awareness tips.
When the Phone Rings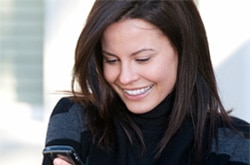 Be positive when speaking with potential buyers. As early in the conversation as possible, ask for the buyer's name and phone number. This helps make follow-up calls easier.
During the conversation, be helpful, but not desperate. Experienced buyers smell desperation and use it against sellers, resulting in a lower sale price.
Focus on answering the caller's questions and ask when they would like to see the car. Chances are, you won't make the sale without the buyer seeing the car, so be persistent about arranging a test drive.
Buyers want to know that the car they're considering is "great" in some respect. Determine where your vehicle is great, and encourage prospects to come see for themselves.
With everything you say, be accurate and honest. Remember, if you're dishonest your trustworthiness and credibility may be a turn off.
Expect calls from the used car departments of dealerships. These are legitimate. Dealers may offer you less money, but you may want to consider their offers if you need a quick sale.
Finally, be wary of buyers who want to see your car "right now." While some buyers might really need to buy a vehicle quickly, an unusual sense of urgency may signal fraud. Be skeptical and vigilant.
Regardless of how you communicate with your potential buyers, plan on taking time for this part of the process. Most vehicles don't sell themselves. Communicating with prospects takes some work, but should pay off in the end.
Rex Roy is a widely published journalist from Detroit. His work appears in The Detroit News, The New York Times, AOL, and WindingRoad.com.