From the buyer's perspective, the most important aspect of buying a car is the test drive. The test drive is more than just a nuts and bolts experience to see if the car appears to be in good working order. It's also a time for the potential buyer to see how the car feels to him. As a seller, you want to make the test drive a pleasant experience for your buyer, as well as a comfortable and safe one for you.
Advance Preparation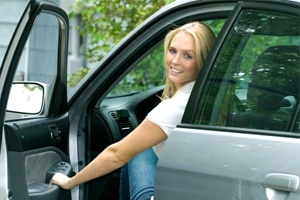 First, determine where you'll meet. If you feel uncomfortable about meeting outside your home or workplace, then choose a public place where you'll feel comfortable.
Keely Funkhouser, AutoTrader.com's Selling Adviser, met potential buyers at her house for test drives.
"It was just a gut judgment–did they sound ok?" Funkhouser says. "It's best to meet in a public place, but with my husband there I put some of my concerns aside. If I were single, I would have still met someone in a public lot. When I sold my first car, I met the buyer in a shopping center."
Once you've decided on your meeting spot, scout out a logical route. Plan a route that travels on both the highway and surface streets, no longer than 15 minutes, minimal traffic and has only right turns. This will minimize the risk of an accident and also allow the potential buyer can experience different speeds as well as braking and cornering.
After you've determined your route, test it out with a friend. Have the friend drive and make note of how long it takes. During the drive, ask your friend to point out anything about your car that might be a concern to a prospective buyer, such as a noise, vibration or other issues.
If you do find something that is a cause for concern, you may want to get a mechanic to look at it before you put the car on the market. Be prepared to explain any issues if your buyer comments on them.
The Meeting
When you meet a potential buyer, be sure to take note of his full name, street address, phone number, driver's license number and insurance information. Write this information down using the person's driver's license and insurance card. Be sure to note the expiration dates of both documents. You may want to mention you'll need these documents when you
communicate with the potential buyer
beforehand.
You'll need to decide whether you're more comfortable going with your buyer on the drive or staying behind. If you're not comfortable going alone, consider having someone else with you who would be comfortable riding along.
Make sure that someone staying behind knows your exact planned route, when you expect to return and your cell phone number. If you decide to let the potential buyer take your car by himself, ask him to leave his keys while you wait and be very specific about the maximum length of time you expect him to be gone.
You'll want to take the opportunity during the drive to note any special features or other strong selling points about your car. The test drive is a good time to talk about your car's great condition, low mileage and features.
Getting an Inspection
Some potential buyers will want to have a used car inspection by an independent mechanic before they decide to buy. It's safest if you bring the car to the mechanic, instead of the prospective buyer taking your car in alone. Stay with the car if you can, but if that's not feasible, do some investigation to make sure the mechanic is reputable, such as by calling the local
Better Business Bureau
, Chamber of Commerce and perhaps checking review services like
Angie's List
.
If the prospective buyer wants to bring the car to his mechanic in a different town and you don't feel comfortable with that, you can tell him that he'll have to choose a mechanic in your town to work with.
Often, you can avoid a used car inspection entirely by providing copies of your receipts for the buyer to review showing all the repairs and maintenance. You can also take the car to a dealer or mechanic for a car check-up right before you put it up for sale. Be sure to get a report of their findings.
Remember that buying a car is a large, important purchase for most people, so be prepared for your potential buyers to be looking for issues and asking questions about your car during the test drive to use during the
negotiation process
later. If you're prepared to address any concerns and answer questions thoroughly, you'll be relaxed during the test drive and more likely to make a sale.
Tara Baukus Mello is a freelance automotive writer whose work has appeared in numerous publications including Woman's Day and The New York Times.