To make sure you're always negotiating from a position of strength, it's important to arm yourself with as much information as you can. Selling your car can be a rewarding experience when you transform your knowledge into negotiating power.
Negotiating 101
Build urgency.
From the moment a potential buyer contacts you, the negotiation process begins. Focus on building urgency. Let buyers know that others are interested. Show potential buyers you're serious about selling the car and that you want to accommodate their needs.
Be prepared to haggle.
It's highly unlikely that a buyer will pay your asking price, so be prepared to haggle. When you haggle, know how low you are willing to go, and don't be afraid to walk away from the sale. Sometimes walking away is your best option if negotiations start to drag on unproductively.
Don't panic.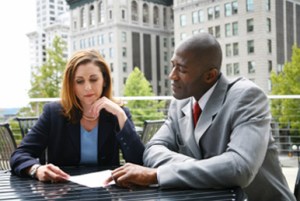 It's not uncommon for a potential buyer to hit you with a lowball offer. This is all part of the negotiating process. Use the buyer's offer as an opportunity to explain how you arrived at your price. Consider lowering your price some to show you're willing to negotiate. If a buyer is serious, he should counter with a higher offer. A serious buyer wants to purchase a car, not negotiate endlessly.
Be objective.
During the negotiation process, there's no need to be overly emotional. If you're concerned you might not be objective, bring someone with negotiating experience who isn't invested in the sale.
"You have to take all emotions out of it so you don't rush into something," says Keely Funkhouser, Autotrader.com Selling Adviser. "You can leave a lot of money on the table that you could have used to pay off your loan. There's always going to be another buyer, so don't undercut yourself."
Remember, your number one goal is to sell your vehicle for the best price that is fair to you and the buyer.
Know the Value of Your Vehicle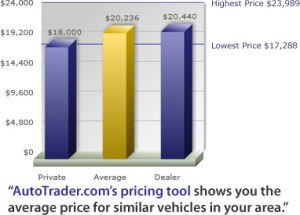 For most sellers, getting top dollar is priority number one. The key to good negotiating is knowing how to arrive at a price that you and the buyer are happy with. Knowing the value of your vehicle and how flexible you're willing to be on the final sale price is very important.
There are lots of great tools to help. Autotrader.com's pricing tool shows you the average price for similar vehicles in your area. You can also check out NADAguides.com, Kelley Blue Book or Edmunds.com. If you haven't already determined your vehicle's value, read our pricing article to find out more.
When you know your car's real value, you're less likely to be influenced by aggressive buyer negotiation tactics. Explaining that you've already factored thoseissues into the price allows you to refocus the conversation on the overall value of the car.
"You have to stick to what your price is by sticking to the facts," says Tye Frazier, Autotrader.com Consumer Adviser. "Know all the small things about your car, especially if you want an extra $500 for it compared to other cars in your area–maybe your car has a warranty or has had only one owner."
Understand Local Supply and Demand
You can get a sense of the demand for your make and model by checking ads for similar vehicles over a period of a few weeks. You can search for used cars on Autotrader and in your local newspaper. If you notice these cars are selling quickly, it may be a good sign that demand for your vehicle is high. Certain types of vehicles, like fuel efficient cars, are in demand right now, so be sure to mention if your car gets good gas mileage.
Conversely, if there are 10 other cars like yours and you see the same ads for them several weeks in a row, buyers have more options so this may affect how you negotiate. If you want to sell the vehicle quickly, you may have to stick to the lower end of your range.
Provide Paperwork
It's important to provide paperwork, including service records (and a CARFAX report if possible). Often, if these records cannot be produced, potential buyers may believe your car hasn't received proper maintenance and lose interest in the vehicle. Or they may use that information as an opportunity to negotiate the price down. For more information, see our articles on Preparing a Used Car for Sale and Getting Your Paperwork Together.
Get Your Own Inspection
A potential buyer will likely want to have your vehicle inspected by a mechanic of their choosing, which is a good sign. It demonstrates that the buyer has substantial interest. However, it's also a good idea to have your car inspected by your own mechanic before you even list your car. This gives you a baseline understanding of the health of your car, and you can use your mechanic's report to refute any findings from another mechanic that you think are inaccurate or unreasonable.
If the buyer's mechanic identifies problems with your vehicle that you think are reasonable, reduce the price appropriately. If certain requests seem unreasonable, it may be best to walk away from the deal rather than proceed.
With the power of knowledge, the negotiating process can go smoothly, and the buyer and seller can walk away knowing they both got a good deal.
Nneka Logan is a freelance writer living in Atlanta.