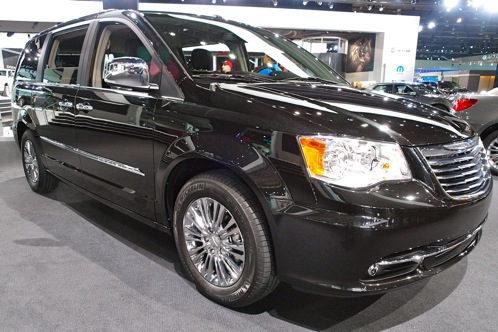 Source: AutoTrader.com
January 11, 2011
Chrysler has a new badge to represent its rebirth, or "coming back from the brink"-ness. The 2011 Town & Country, the company's best-selling seven-seater minivan, is the first of the revamped product range to wear it. Sitting just above a redesigned grille (itself styled to follow the lines of the new 300 sedan's grille), the badge is one of the few subtle changes to the exterior.
Another is the new-for-2011 liftgate with curved glass and body-colored spoiler. The wheel design is fresh too. Chrysler has also upgraded the quality of cabin materials with more soft-touch surfaces and a center stack whose ergonomics have been improved.
For the Town & Country to remain a contender, though, coming back from the brink and catching up with the competition is not enough. So Chrysler has announced a series of firsts with this 2011 model. First heated steering wheel in a minivan; first minivan to offer the Stow 'n' Place roof rack system; first minivan with Sirius Travel Link; first minivan with a "super" console to serve passengers in the rows one and two, as well as offering the first selectable fuel economizer mode.
Engine choices have been simplified down to one: Chrysler's well-regarded 3.6-liter V6. It has plenty of power and punch (283 horsepower and 260 pound-feet of torque), yet returns a decent 17 miles per gallon in the city and 25 on the highway, thanks in part to a six-speed automatic transmission.
The T&C packs the family-friendly features it should, such as standard-issue electronic stability control, blind spot monitoring, rear cross-path detection and plenty of airbags. Among the convenience features available are voice-activation of various functions, the obligatory Bluetooth, a hard drive that can store more than 6,500 songs, a DVD system, Sirius Backseat TV and Uconnect internet access.
The 2011 Chrysler Town & Country should be hitting the showrooms right now. The most basic Touring trim starts at $30,995. Touring L prices go from $32,995 and the Limited, which has pretty much all the bells and whistles, starts at $39,495. All these prices include the $835 destination charge.
COLIN RYAN has driven hundreds of cars thousands of miles while writing for BBC Top Gear magazine, Popular Mechanics, the Los Angeles Times, European Car, Import Tuner and many other publications, websites, TV shows, etc.