RESEARCH CHICAGO AUTO SHOW BY YEAR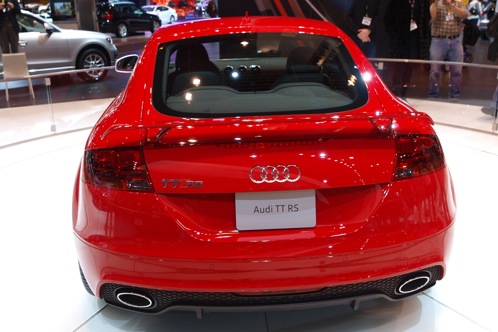 Source: AutoTrader.com
February 11, 2011
Few cars from Germany in the last 25 years have created the impact of the Audi TT. Now in its second iteration, Audi has not messed it up (thankfully).
The sheetmetal is not quite as striking as in its original form, but compensation comes through an enhanced structure (Audi's proprietary Space Frame that keeps a rein on vehicle weight) and improved chassis dynamics.
This coming fall sees the North American debut of the hottest TT, the RS. The wraps came off at this year's Chicago Auto Show, in front a select group of Facebook users who signed an online petition to bring this model Stateside.
Exterior differences from the usual version are few. In Brilliant Red (as seen on the Chicago show floor), it enhances the vehicle's lines, uh, brilliantly, and is complemented by sports seats covered in black nappa leather. Those headrests are embossed with a subtle TT RS logo.
The rear wing is the most obvious outward sign that this is something special, while a sporting stance and lowered ride height both convey and conceal the beast within: a turbocharged 2.5-liter five-cylinder turbo producing 340 horsepower.
That power is transmitted to the ground via a six-speed manual gearbox (there will be no automatic option) and an all-wheel-drive Quattro drivetrain. Sixty miles per hour arrives from a standing start in just over four seconds. A lap (as passenger) at Ontario Motor Speedway last fall showed just how enjoyable those four seconds can be.
The sad news is that only 1,000 will be made for the United States, solely in coupe form. The price has not been finalized, but Audi has hinted that it will be somewhere between $60,000 and $65,000. This combination of money, power and prestige puts it in competition with a Porsche Cayman S, which is rear-wheel drive, but another excellent machine.
There's speculation that Porsche – now in its 60th year – is considering an updated version of its venerable 356, commemorating its roots with a Volkswagen-based roadster. That's a fine idea, but for an exclamation point to the VW Group's engineering expertise within an iconic design, there is nothing finer than the 2012 Audi TT RS.
DAVID BOLDT began his automotive career in BMW and Saab showrooms in the 1980s, and he moved to automotive journalism in 1993. David has written for a variety of regional and national publications, and prior to joining AutoTrader, he managed media relations for a Japanese OEM.