RESEARCH LA AUTO SHOW BY YEAR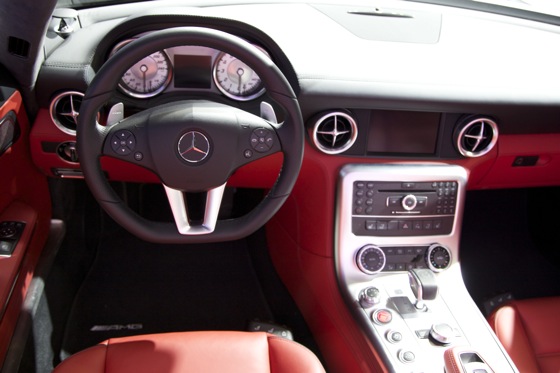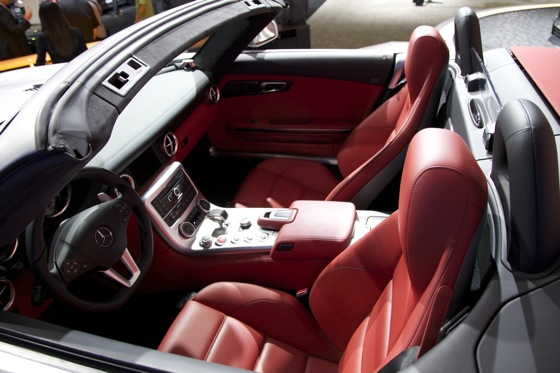 Mercedes' droptop SLS features an electronic soft top that raises and lowers in 11 seconds at speeds of up to 31 mph.
Under the hood, the SLS Roadster uses the same 563-horsepower V8 found in the coupe.
Pricing isn't official, but we expect it to hover around the $200,000 mark.



Nearly six agonizing months after we saw the first official images of Mercedes' SLS AMG Roadster, the supercar is finally making its North American debut at this year's Los Angeles Auto Show. Featuring breathtaking styling and jaw-dropping performance, the upscale exotic will begin arriving in customer hands late this year or early in 2012.
While most performance car enthusiasts know the details of Mercedes' insanely fast SLS AMG, the impressive figures are worth repeating. Under the hood is a 6.2-liter AMG V8 that produces 563 horsepower and 479 pound-feet of torque. Power is sent to the ground through AMG's lightning-fast 7-speed Speedshift dual-clutch automatic, which offers a "Race Start" function for stoplight racers and adrenalin junkies. And the supercar's top speed is just shy of 200 miles per hour.
As expected, the 2012 SLS AMG Roadster shares those remarkable numbers with its coupe sibling. In fact, just about the only thing the Roadster doesn't share with the handsome SLS AMG coupe is its top. While the coupe features a metal roof and its signature gullwing doors, the SLS AMG Roadster must make do with a soft top and traditional front-hinged doors. Although that will surely turn off some buyers who appreciate the uniqueness of the gullwings, other buyers will surely be attracted by the thrill of open top cruising - or so Mercedes hopes.
Inside, the SLS AMG Roadster's cockpit is virtually identical to that of its coupe stablemate, though Mercedes did add a few new touches to the ragtop. Leather-lined rollover bars are located directly behind both seats, while Mercedes' AirScarf heating system is standard and allows drivers to keep the top down on cooler days. But when cool turns to cold - or to rain - Mercedes says the folding soft top can be raised automatically in just 11 seconds at speeds up to 31 miles per hour. The automaker also says that trunk space is nearly identical between the two AMG models, at 6.1 cubic feet for the Roadster and 6.2 for the coupe.
Although the SLS AMG Roadster is scheduled to go on sale in the next few months, the soft top exotic hasn't officially been priced. But with the coupe starting around $185,000, we'd expect the convertible to easily top $200,000, placing it directly on par with competitors like the Audi R8 convertible and Ferrari California.
What it means to you: Mercedes' elegant SLS Roadster will be yet another elegant toy to lust after.
See moreLA Auto Show news.