RESEARCH DETROIT AUTO SHOW BY YEAR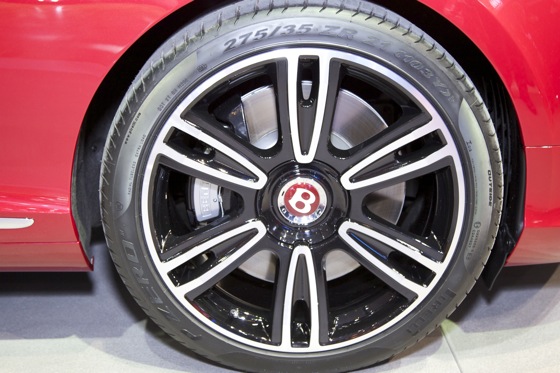 New twin-turbo 4-liter V8 produces 500 horsepower
Cylinder deactivation and direct injection boost economy
High performance aided by a new 8-speed transmission


Even ultra-luxury automakers are working to build more efficient vehicles without sacrificing performance. Bentley is the largest producer of 12-cylinder engines in the world, but their Continental GT and GTC V8 models, just unveiled at the Detroit Auto Show, mark the company's achievement to produce a more efficient drivetrain that produces fewer emissions. The new 4-liter V8 is 40 percent more efficient than the 6-liter W12, which remains available. Yet the new motor produces 500 horsepower, enough to send the coupe and convertible to a top speed of nearly 190 mph.
The efficiency gain over the W12 is attributable not only to the smaller size of the twin-turbo V8, but to additional fuel-saving technologies including variable displacement and direct injection. Variable displacement, or cylinder deactivation, allows the motor to operate as a V4 when all of the engine's power isn't necessary. Bentley says the transition from eight cylinders to four is seamless thanks to an advanced engine management system. Direct injection helps economy, too. Like cylinder deactivation, this technology is becoming more common, benefitting cars from the compact class all the way up to premium vehicles like these Bentleys.
A new 8-speed automatic transmission helps efficiency, too, and delivers quick shifts, according to Bentley. With standard all-wheel drive, the GT V8 and GTC V8 are capable of sub-5-second acceleration from zero to 60 mph.
Differentiating the V8s from the 12-cylinder models are a gloss-black grille, red Bentley "B" logos, and a new lower front bumper with body-colored strakes. Optional 21-inch, six-spoke Diamond Black or Diamond Silver wheels are exclusive to the 8-cylinder models.
Inside, new Dark Fiddleback Eucalyptus veneers provide a modern ambience, while available two-tone leather seats and door panels suggests a sporty character. A shorter center console replaces the through console of the W12 models.
Continental GT and GTC V8 pricing has not been announced for the US, but expect a starting price around $175,000 for the GT model and the GTC priced a bit higher. Combined EPA fuel economy estimates are 18 mpg for the coupe and 17 mpg for the convertible. While a lower price and better fuel economy may not put this exceptional machine in the hands of the many, it will certainly broaden the Continental's appeal.
What it means to you: V8-powered Bentley Continental GT coupe and GTC convertibles are on the way, offering a more affordable entry point and better economy, while still delivering blistering performance.