RESEARCH GENEVA AUTO SHOW BY YEAR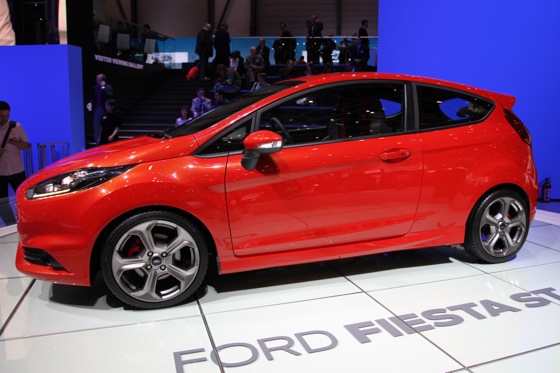 Powered by a 177-horsepower 1.6-liter four-cylinder engine
Available in Europe only...for now


Just by virtue of its geography, the 2012 Geneva motor show was always going to be a predominantly Euro-centric affair. Even for American car companies like Ford.
Ford of Europe is a giant division with plants in Britain, Germany, Spain and Belgium. It has also produced some fantastic cars over the years that any enthusiast would be happy to drive. The latest in this illustrious line is the 2013 Fiesta ST, a production version of the concept displayed at last year's Los Angeles show.
Don't laugh.
Sure, the idea of a front-drive subcompact with alloy wheels and a lowered suspension sounds a bit "boy racer." But given Ford's reputation for making seriously sporty versions of cars from humble origins, the Fiesta ST has all the ingredients to be genuinely desirable. "We believe Ford customers will be blown away by the new Fiesta ST... not only by the exhilarating performance, but by the styling and specification too," said Jost Capito, director of Ford's global performance vehicles.
Under the hood is a turbocharged, 1.6-liter, four-cylinder engine making 177 horsepower. Ford claims a zero-to-60 mph time of under seven seconds along with a top speed of 136 mph. The specially tuned chassis was developed while covering over 3,000 miles on the Nurburgring Nordschleife - that famous/infamous, 12.9-mile track in northern Germany, which has more than 140 corners and separates the man racers from the boy racers.
The 2013 Ford Fiesta ST (ST stands for Sport Technologies) goes on sale in Europe next year, but there's a strong chance it will come to the United States, since the concept received a lot of positive reaction. "We'll have more to say about our plans for other markets in the near future," said Capito. Mark Schirmer, spokesman for Ford USA, added: "If we do get it, it would be the five-door version."
Three doors, five doors... just bring it over.
What it means to you: While the Fiesta ST may not be available for purchase in the US yet, it likely will be in the future.