RESEARCH NEW YORK AUTO SHOW BY YEAR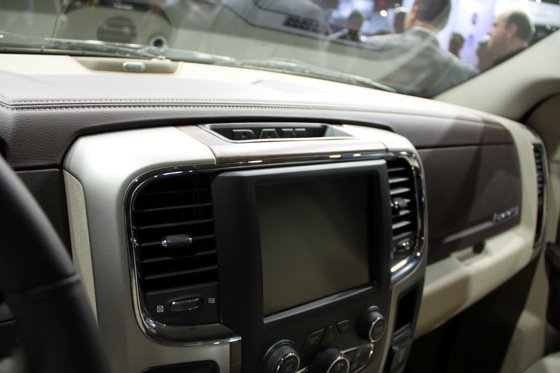 Not resting on its Laurels, the Ram 1500 receives a few upgrades
Ram reinvents the platform and interior while recycling its iconic sheet metal
Biggest news is under the hood, with more efficient engines


It seems only a short while ago that Chrysler execs were parading an all-new Dodge Ram down the streets of Detroit. At that time the new Ram incorporated some innovative thinking, including coil spring rear suspension and the RamBox cargo management system. The newest Ram has done quite well, both on the showroom and on the road. Most industry observers would agree than an all-new truck wasn't necessary. Rather, Chrysler execs mandated an aggressive massage, where functional enhancements underneath trumped expensive changes on the outside.
Ram's engineering team began with the Ram 1500 frame. Body-on-frame architecture isn't rocket science but ongoing improvement lives or dies in the details. The extensive use of high strength steel resulted in a weight savings of 30 pounds, while aluminum upper and lower control arms in the front suspension and use of an aluminum hood saved additional weight. Even more significant was the substitution of Chrysler's old, 3.7 liter lump with the new Pentastar V6 and 8-speed automatic; combined weight savings was 76 pounds.
Beyond the weight savings of the new V6 is its performance; it is both 42% more powerful (305 hp/269 lb-ft of torque) and 20% more efficient when compared to the 3.7 liter V6. Those opting for the Hemi V8 will enjoy 395 horsepower, 407 lb-ft of torque and, via cylinder deactivation and other bits of 'fine tuning', at least 20 % better fuel economy when compared to 2012. Equally significant in achieving the right balance of performance and efficiency is the addition of the TorqueFlite 8-speed automatic. More ratios provides the engineers and, by extension, the consumer an engine more often running at its optimal speed, thereby achieving optimal efficiency. For truck teams this isn't original thinking, but it still represents (in the context of 2013) fairly new thinking.
The above modifications, of course, are under the hood. While occupying the same overall width, the Ram grille is approximately one inch taller, and sits atop a new front bumper design. The Ram's headlight design offers improved light spread, pattern consistency, distance and 30% more lumens. With aerodynamic tweaking, which includes the incorporation of full-length running boards to reduce aerodynamic drag, the new regular cab Ram achieves of Cd (coefficient of drag) of but .363, which compares very favorably to the .386 figure available on the 2012.
Other highlighted changes include an available, class-exclusive air suspension, upgraded interior features, next-gen Uconnect Access and remote central locking for the RamBox cargo compartments. Mr. Diaz claims "best-in-class towing and payload, best-in-class ride and handling and best-in-class aerodynamics." With all of that, the Ram Brand and its U.S. dealers hope the Big Apple bites.
What it means to you: In a market where customers are aggressively returning to the showrooms, Ram takes a proactive approach in pursuit of its share of that market.
Check out more news from the New York Auto Show
.