RESEARCH LA AUTO SHOW BY YEAR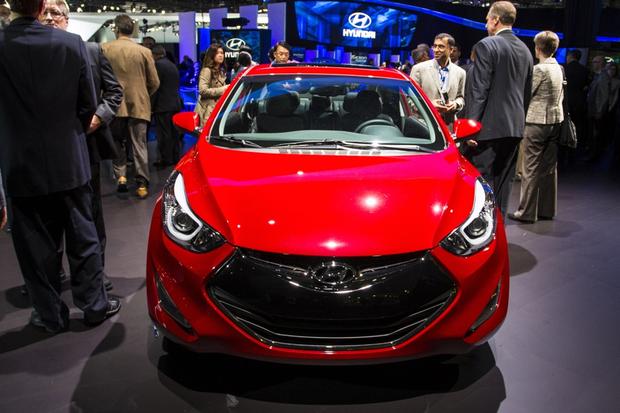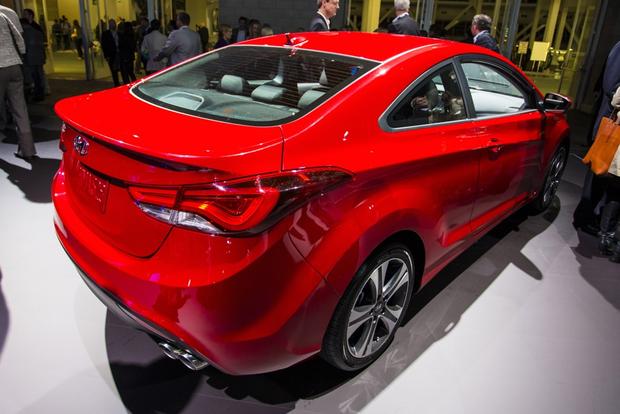 What Is It?
The 2014 Hyundai Elantra Coupe follows the same pattern of mid-generation updates and styling tweaks that have been applied to the Elantra compact sedan and GT hatchback models -- introduced to the world at the 2013 LA Auto Show.
These changes include a new nose and tail, a rear spoiler, optional LED rear lights, special-design 17-inch alloy wheels and changes in the cabin's layout. Sound deadening has been increased, ergonomics improved and the heating/air conditioning system upgraded.
Replacing the previous 1.8-liter engine is a new 2.0-liter 4-cylinder unit making 173 horsepower and 154 lb-ft of torque. That muscle goes to the front wheels through a 6-speed automatic transmission.
A sport-tuned suspension and steering system allows greater exploitation of that new engine's output and provides crisper turns into corners, an action made all the more pleasurable by a leather-covered steering wheel and gearshift knob.
Instead of being available in two trim levels like the 2013 model, the 2014 Hyundai Elantra Coupe comes as just one well-equipped version. A generous standard kit includes a cooled glove box, heated front seats, Bluetooth, iPod integration and satellite radio/CD/AM/FM/MP3 player.
How Much?
No official word yet, but the top-level 2013 Elantra Coupe starts at $20,895.
When Can You Get It?
Early 2014
Add It to Your Shopping List Because...
Standard equipment levels are competitive for the price, and interior space is generous enough for the Environmental Protection Agency to classify it as a midsize coupe.
The 2013 Elantra sedan is an Insurance Institute for Highway Safety Top Safety Pick Plus, and scored a maximum of five stars in the National Highway Traffic Safety Administration's crash-test program. The new Coupe adds a blind spot mitigation driver's mirror as standard.
Every new Hyundai model enjoys a 10-year/100,000-mile powertrain warranty.
Other Cars to Consider
2014 Honda Civic Coupe -- The Civic Coupe has also been revised for 2014. It comes with Honda's highly regarded build quality and reliability.
2014 Kia Forte Koup-- Sharing the same underpinnings as an Elantra, this may appeal to someone who prefers the Forte's styling over the Hyundai version.
Used BWM 3 Series Coupe -- One of the most desirable yet accessible coupes ever. A 2010 328i Coupe in very good condition is around $20,000.
Used Honda Accord Coupe -- A well-equipped 2011 LX example in excellent condition would come in under the Elantra Coupe's starting price.