RESEARCH LA AUTO SHOW BY YEAR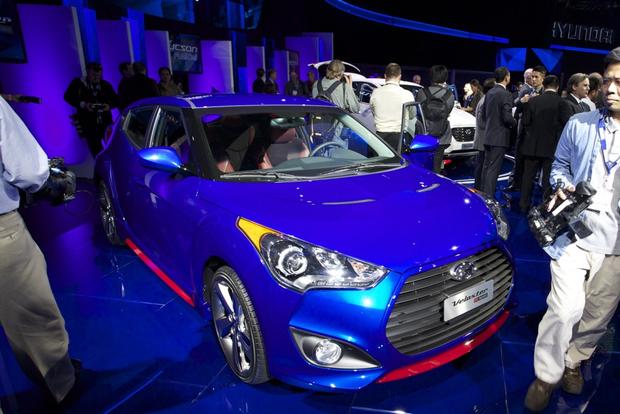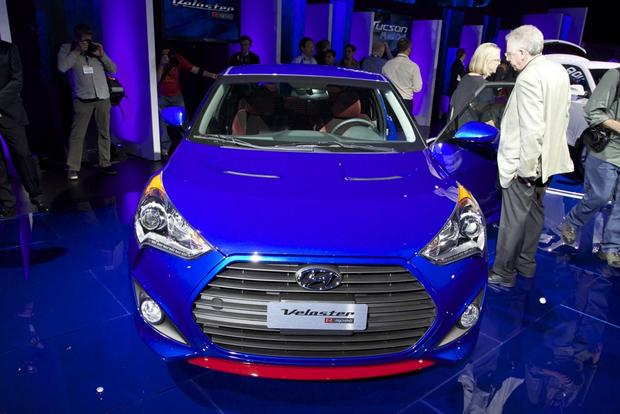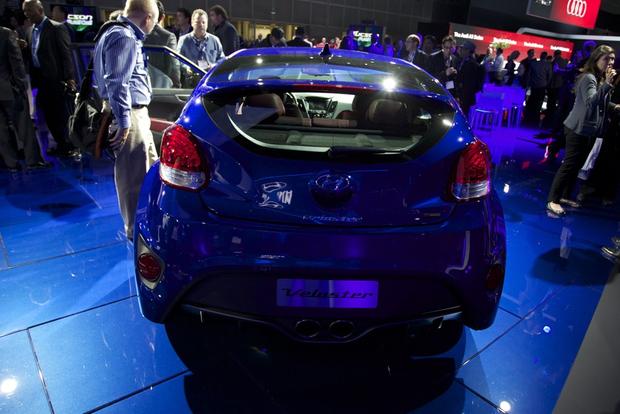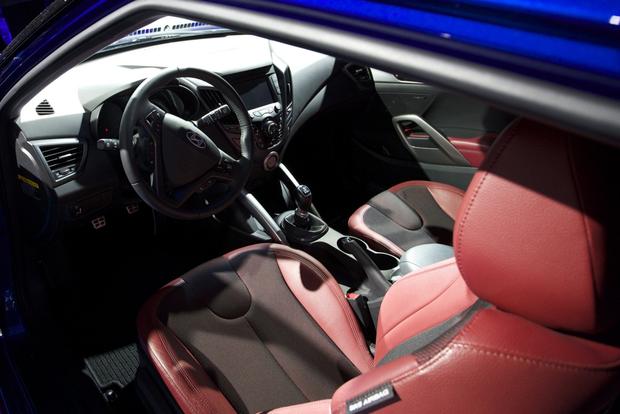 What Is It?
The 2014 Hyundai Veloster Turbo R-Spec has just been launched at the 2013 Los Angeles Auto Show. Whenever there's an R-Spec in a Hyundai car's name, it means higher performance. So the Veloster compact coupe now joins the various R-Spec iterations of Hyundai's upscale Genesis model.
There's a turbo version of the Veloster for the 2013 model year, making a cheerful 201 horsepower and 195 lb-ft of torque out of its 1.6-liter 4-cylinder engine driving the front wheels. (Full disclosure: turbocharging is an increasingly popular way of getting more power out of an engine.)
Although Hyundai stresses that this new R-Spec model's engine can be tuned by aftermarket technicians, the unit doesn't churn out any more power than the regular Turbo. However, the car has received a suspension and steering re-calibration for even greater agility, and Torque Vectoring Control (TVC) plays a starring role.
TVC is an active cornering system that combines elements of the Electronic Stability Control (ESC) and powertrain controllers to provide the right amount of engine power to whichever front wheel has the best grip and traction at the time; this can happen in fractions of a second.
Meanwhile, a short-throw sport shifter from B&M Racing (a transmission specialist company) allows quick and precise gear changes of the close-ratio 6-speed manual transmission.
There's also more eye candy of the go-faster type, such as red-and-black sports seats and R-Spec embroidered mats. And some things have been deleted for a more purist driving experience -- the keyless entry/push-button start feature and heated seats, for instance.
The 2014 Hyundai Veloster Turbo R-Spec will be available in white, black, blue or gray.
How Much?
To be announced nearer the on-sale date.
When Can You Get It?
February 2014
Add It to Your Shopping List Because...
It looks like serious fun and probably won't be seriously expensive.
Don't worry about safety. Although the feds haven't crash-tested the Veloster yet, it uses some of the Elantra's body construction, and that car is a 5-star winner.
Every Hyundai enjoys a 10-year/100,000-mile powertrain warranty.
Other Cars to Consider
2014 FIAT 500 Abarth -- With 160 hp, this feisty little FIAT falls short of the Veloster's output, but it does have charming retro style.
2014 Honda Civic Coupe Si -- Refreshed for the 2014 model year, this has all the right ingredients for some sport compact thrills.
2014 MINI Cooper S-- An all-new generation debuts for 2014, so this will no doubt be appreciably more expensive than the Veloster Turbo R-Spec. But if it goes and corners like its predecessor, it will be a great car.
Used Ford Focus ST-- Spending around $20,000 to get one of the best-handling compact cars ever is a perfectly justifiable purchase.