RESEARCH DETROIT AUTO SHOW BY YEAR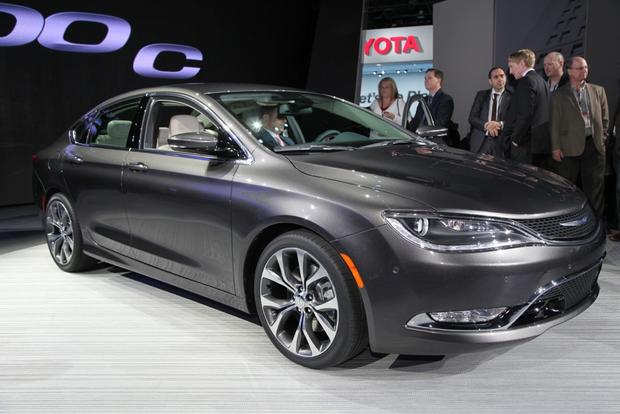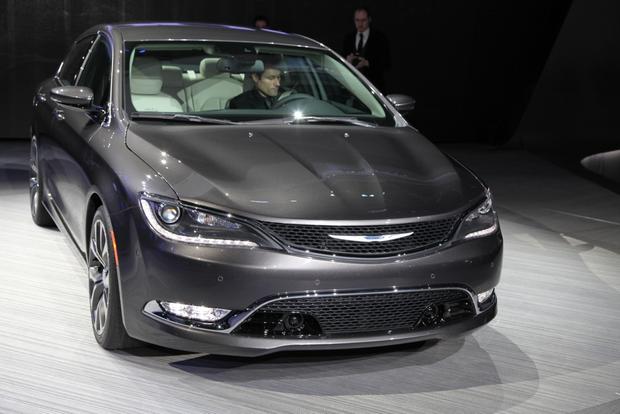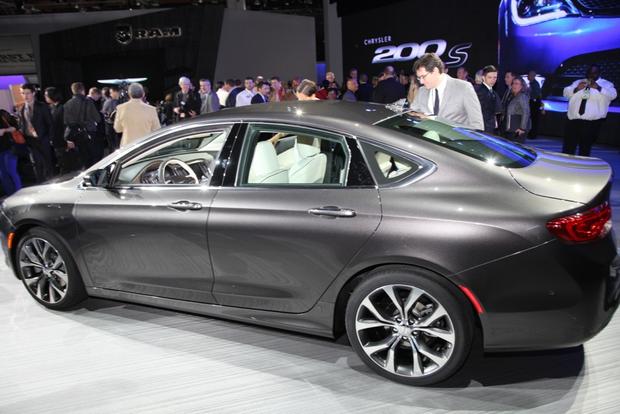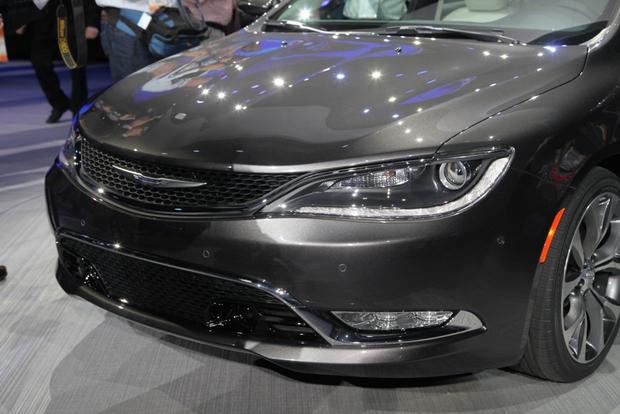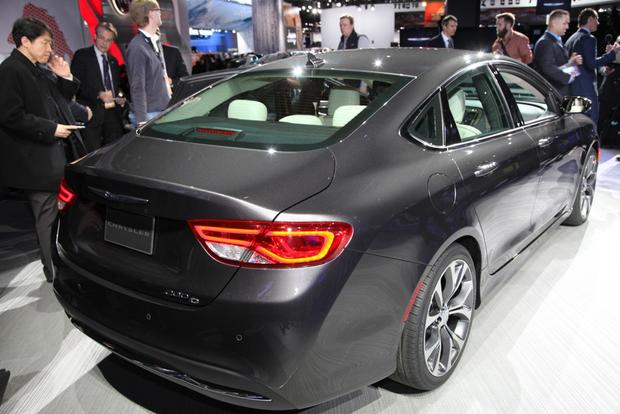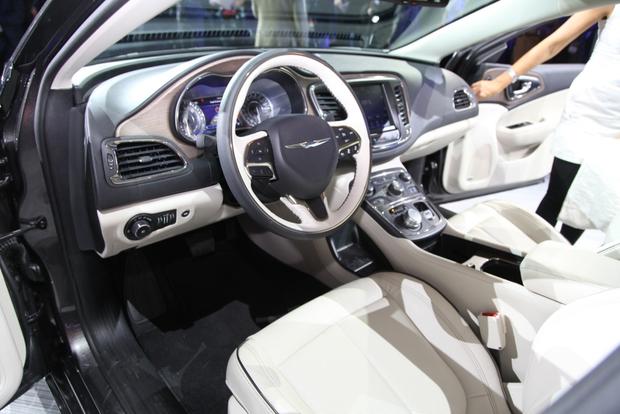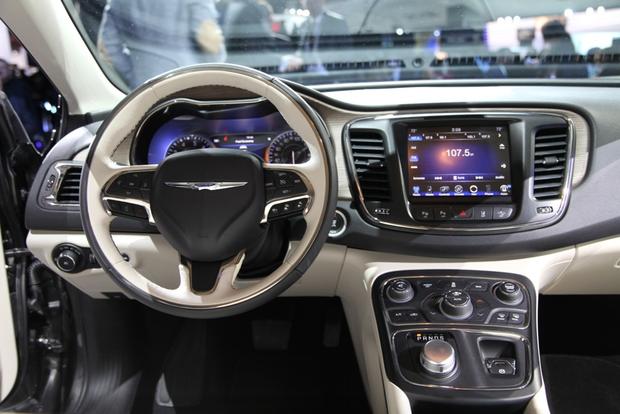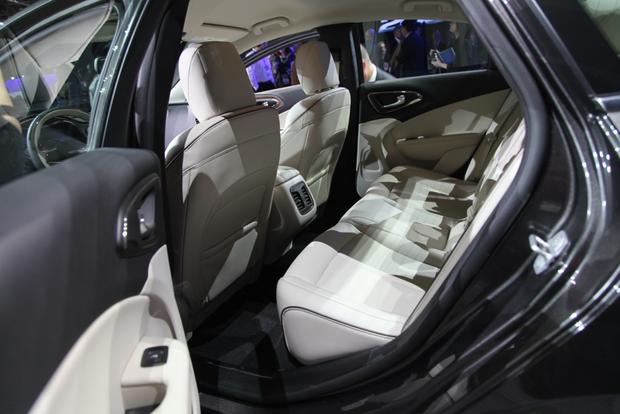 What Is It?
The all-new, stupendously sleek 2015 Chrysler 200 is the long-awaited sequel to the forgettable current model, and it's the talk of the town here at the 2014 Detroit Auto Show. Chrysler really hasn't ever had a proper entrant in the midsize-sedan category, bouncing from the oversized "cab-forward" LH-Series cars of the '90s to the rental-tastic Sebring (renamed 200 for 2011) with only limited success. But the new 200 ticks most of the right boxes -- on paper, at least. Time will tell whether Chrysler's promise to "surprise and delight consumers" with this car is on point.
First things first: If you're seeing a little Dodge Dart in the 200's slippery bodywork, you're on to something. Like the Dart and the new Jeep Cherokee, the 200 is based on the Alfa Romeo Giulietta, a European midsizer from parent company FIAT. Those hoping for a significantly larger car than the not-quite-midsize 2014 200 will be disappointed, as the new model actually has a slightly shorter wheelbase and about the same overall dimensions. In other words, don't expect a huge back seat like in the Accord or Camry. While rear legroom is up by a useful inch and a half, rear headroom has actually been reduced due to that fastback roofline, so it's still pretty intimate back there. Given that the Giulietta has a modest footprint to begin with, none of this is particularly surprising.
Happily, the new 200 otherwise seems a compelling proposition. The styling speaks for itself, right? With its aerodynamic profile and standard LED taillights, this "new face of the Chrysler brand" is striking indeed, even evoking luminaries such as the Tesla Model S and Maserati Quattroporte from certain angles. Inside, the 200 continues to please the eye, boasting a standard rotary shift knob -- a la Jaguar -- amid a rakish central control panel that's faintly reminiscent of Porsche's Panamera. Higher up, you'll find one of the two available uConnect touchscreens: a 5-inch version or the excellent 8.4-in upgrade that's offered across the Chrysler lineup. There's also a crisp 7-in LED instrument cluster with a driver-configurable information screen flanked by twin circular gauges.
Under the hood, the base 2.4-liter 4-cylinder (184 horsepower, 173 lb-ft of torque) is joined by an optional 3.6-liter V6 that pumps out 295 hp and 262 lb-ft, so Chrysler certainly provides plenty of performance for those who seek it. A novel 9-speed automatic, first seen in the Cherokee, is standard across the board. Fuel economy is said to be 35 miles per gallon on the highway with the 4-cylinder, while the V6 is a claimed 7 percent more efficient this year. That comes out to 31 mpg, a very respectable number given all that power. Both engines can be paired with an advanced all-wheel-drive system that features an automatically disconnecting rear axle, virtually eliminating the traditional fuel economy penalty in fair-weather driving.
For safety, the 200 offers several advanced technologies, highlighted by adaptive cruise control with a collision-mitigation system that includes full automatic braking. There's also lane-keeping assist (with automatic steering correction) and a self-parking system for both parallel and perpendicular jobs.
Finally, folks looking for some "imported from Detroit" flavor will find it in the performance-oriented 200S model, which is treated to an exclusive black-and-blue interior, fog lights, dual exhaust outlets, available 19-in hyper black aluminum wheels, paddle shifters and sport seats.
How Much?
The 4-cylinder 2015 Chrysler 200 will start at $22,695; expect loaded V6 versions to crest at $30,000.
When Can You Get It?
First quarter 2014
Add It to Your Shopping List Because...
Chrysler has been on a relentless self-improvement program since FIAT took over, and the 200 may be its best result yet. At this point, there's every reason to believe that the 200 will be a fully competitive family sedan, and that's a big deal for a company that hasn't had one in pretty much forever. We look forward to driving Chrysler's latest and telling you how it measures up on the road.
Other Cars to Consider
Ford Fusion -- Like the 200, the Fusion evokes high-buck luxury cars (we see a lot of Aston Martin in its front-end styling), and it has more passenger space, to boot.
Hyundai Sonata -- The Sonata still looks and feels fresh, especially with its slew of upgrades for 2014. Try the optional turbocharged engine for acceleration that rivals that of the 200 V6.
Volkswagen CC -- Although the CC doesn't offer nearly as much power as the 200 V6, it has enough turbocharged punch for most tastes, and its avant-garde styling is a match for the 200's.
Used Chrysler 300 -- If you prefer styling that has a little more American attitude, consider the brash, full-size 300, which also provides a bigger back seat. It has the same 3.6-liter V6 as the 200 and returns similar highway fuel economy with its 8-speed automatic. Interior features are comparable, as well.