RESEARCH NEW YORK AUTO SHOW BY YEAR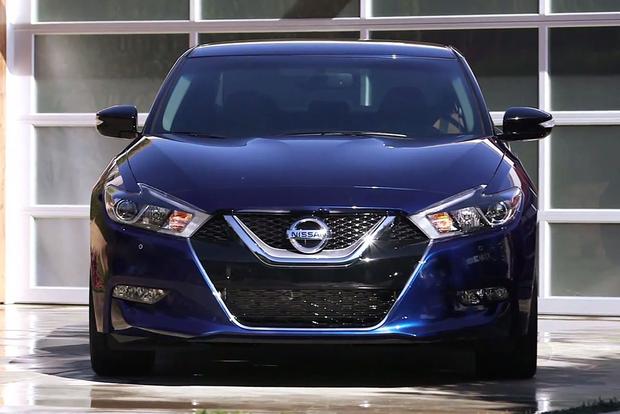 The all-new 2016 Nissan Maxima has been officially revealed in New York, heralding the arrival of the model's eighth generation. The new Maxima is a major departure from last year's model in many ways, offering totally new styling and a sporty new interior.
Points for Style
Styling is certainly the biggest news for the Maxima, as the car's new look represents a huge change compared to the outgoing model. At this point, many mid- to full-size sedans are essentially equal in terms of fuel economy, reliability and features for the money. More and more, dramatic styling will be the thing that gets shoppers to buy. While the outgoing Maxima fit the "slightly sporty" sedan mold, the new model offers bold, futuristic lines and a black-painted C-pillar treatment that helps the Maxima look like nothing else on the road. Inside, materials are improved and the sedan's dashboard offers a sportier, more modern look. The new 2016 Nissan Maxima is also longer and lower than the previous model and has a longer wheelbase.
The interior is also a huge step up. Like the new Murano, the Maxima's look and feel inside move it closer to luxury-car status without the luxury-car name or price. Speaking of price, you're likely wondering "how much is the new 2016 Maxima?" Staring price is about $33,000.
The 3.5-liter V6 stays the same, though power increases from 290 horsepower to 300 hp. A continuously variable transmission (CVT) automatic is still the sole transmission. Perhaps the most notable tech update is a suite of new safety features like forward-collision alert and adaptive cruise control.