RESEARCH DETROIT AUTO SHOW BY YEAR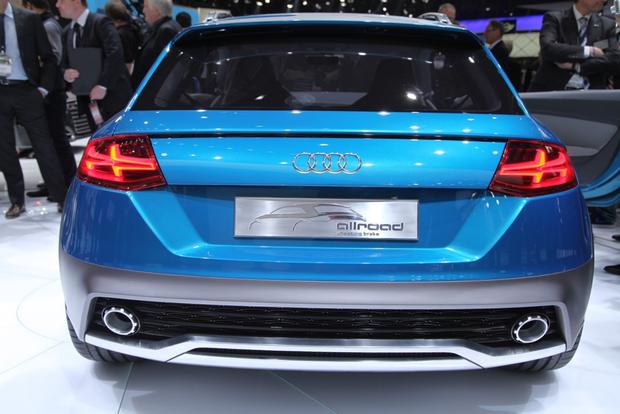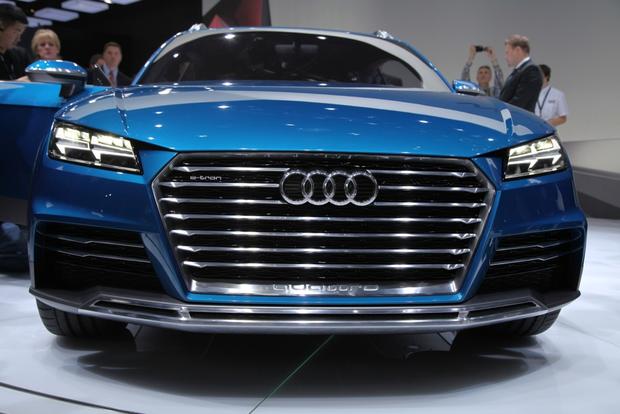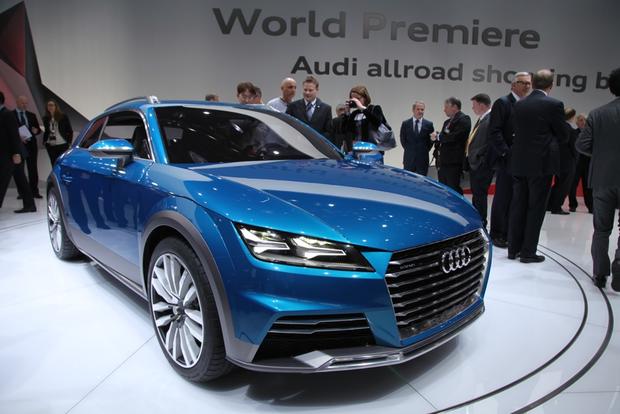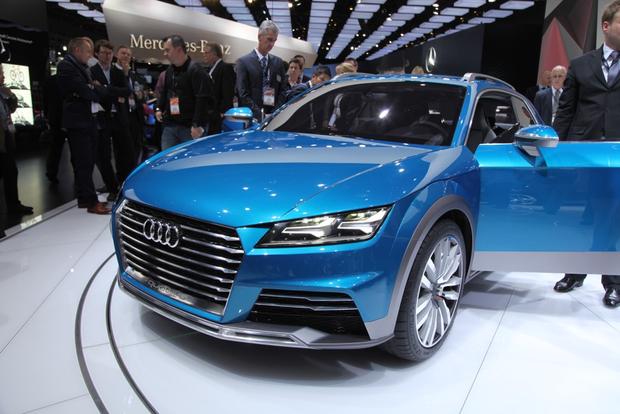 What Is It?
The Audi Allroad Shooting Brake Concept, unveiled at the 2014 Detroit Auto Show, could be approached from two different directions. Either it's a compact crossover that has shrunk and lost its rear passenger doors in the process, or it's a pumped-up coupe. Imagine an Audi TT given the Allroad treatment of greater ground clearance, roof rails and an all-wheel-drive, gas/electric plug-in hybrid powertrain.
Until now, Audi had E-tron (hybrid in Audi-speak) concepts and Allroad cars as two separate threads in its grand fabric. What this concept does is marry the two ideas. The result is a car with off-roading capability, total output of 408 horsepower and 479.4 lb-ft of torque, and average gas mileage of 123.8 miles per gallon.
It's just shy of 14 feet long, with minimal overhangs at either end (a good thing for off-roading), while aluminum guards under the body lend some degree of protection for those off-tarmac excursions. The body is made from a combination of aluminum and carbon-fiber-reinforced polymer (CFRP), both strong yet light materials.
A turbocharged 2.0-liter 4-cylinder gasoline engine powers the front wheels, while an electric motor drives the rears. Audi claims that standstill to 60 miles per hour is accomplished in a rapid 4.6 seconds.
On a side note, the New York Times defines a shooting brake as "a sleek wagon with two doors and sports-car panache."
Will They Ever Sell It?
Consider the 2014 BMW X1, the 2014 Range Rover Evoque, the upcoming 2015 Mercedes-Benz GLA250 and the2014 MINI Countryman. Little crossovers are becoming big business, so it's only logical that Audi will throw a hat of its own into the ring. It probably won't be an exact rendition of this 4-seater concept -- it packs a relatively huge amount of power, and that glass area seems rather small for real-world visibility demands -- but some ideas have a chance of making it into a production model. Audi has even stated that this concept offers "very concrete glimpses of the near future."
Why It's Important
While everyone seems to be going for small crossovers with a coupe flavor to the roof -- and the Audi Allroad Shooting Brake Concept seems a little "me too" -- at least the company's design philosophy of clean, precise lines and elegant proportions works well in this context. Audi says the vehicle "includes a host of visual elements from future sports car models." The strong implication is that the next generation of the TT could incorporate some of these elements. And we may also be looking at something that's a foretaste of an Audi Q1.