Auto Show
Honda Clarity Fuel Cell: Tokyo Auto Show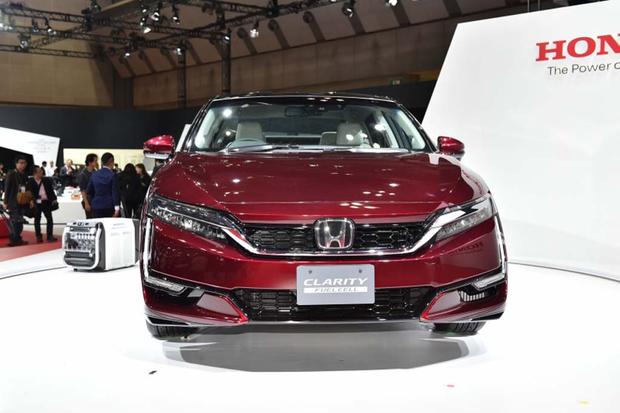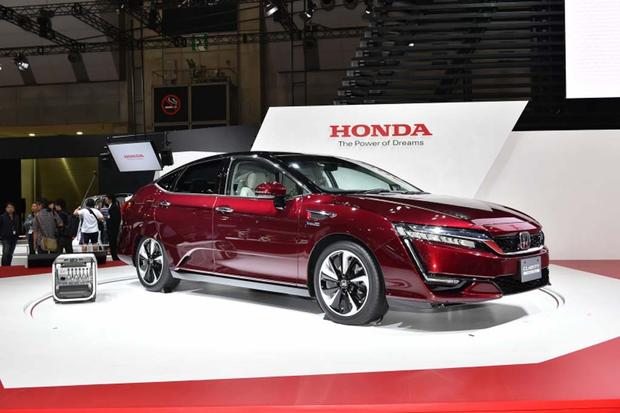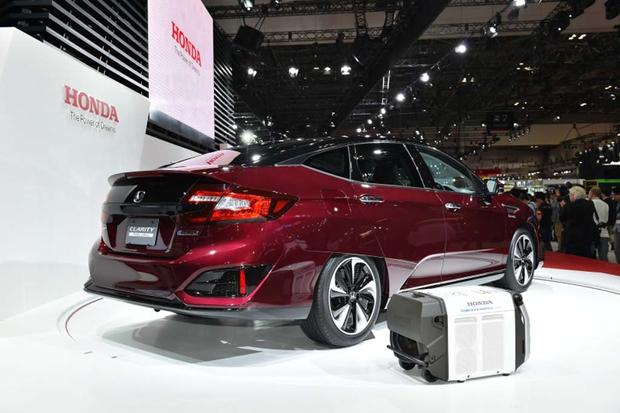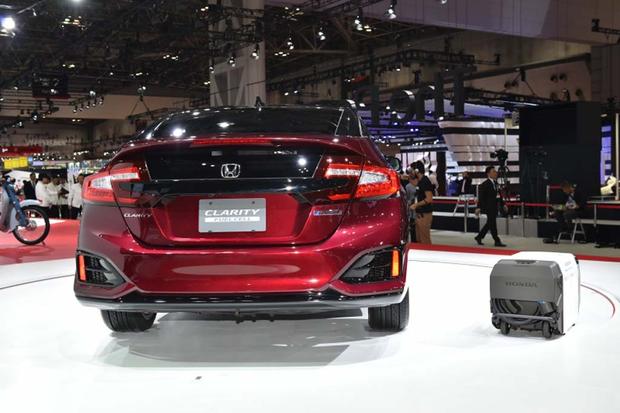 What Is It?
The Honda Clarity Fuel Cell is the latest version of Honda's hydrogen car, which has been available to shoppers in California for more than a decade. Originally called the FCX and then the FCX Clarity, the new model -- officially called the Clarity Fuel Cell -- will mark the car's third generation.
Like previous hydrogen-powered Honda models, the latest version uses an electric motor that derives its power from hydrogen fuel cells. Honda says the latest version will offer around 130 horsepower, just like the current model, but also explains that its range will increase to around 430 miles, which is a big improvement over today's 300-mile range. Interestingly, Honda says the latest Clarity also offers an external power outlet, which can turn the car into a "power plant on wheels" if a natural disaster knocks out the traditional power grid.
As for its styling, the Clarity Fuel Cell looks more like a normal car than previous hydrogen-powered Honda models, offering a more traditional design that almost reminds us of a futuristic Accord. The interior is also surprisingly conventional, with a large center-mounted touchscreen and simple controls.
How Much?
In the past, hydrogen-powered Honda models have only been available for customers to lease -- and only in California, where there are a few hydrogen refueling stations. While Honda has been hinting that this one might be available for purchase, it has not yet announced U.S. pricing -- but we expect it will start around $60,000 before rebates.
When Can You Get It?
Spring 2016. But we suspect this model, like previous hydrogen Hondas, will only be available in California.
Add It to Your Shopping List Because...
Although electric cars have dramatically increased in popularity lately, some automakers -- and industry experts -- believe that hydrogen technology is the real future of automotive propulsion. Unfortunately, that future could be years away -- especially when you consider the current lack of hydrogen infrastructure in the United States. But if you're looking to go green in an especially unique way, the Honda Clarity Fuel Cell can help you do it.
Other Cars to Consider
2016 Hyundai Tucson Fuel Cell -- The Tucson Fuel Cell is a hydrogen-powered version of Hyundai's compact Tucson crossover with a 265-mile range. It's available for lease right now -- but like most hydrogen cars, it's restricted to Southern California.
2016 Toyota Mirai -- Toyota's unusually styled fuel-cell vehicle, the Mirai, goes on sale later this year. It'll be available for purchase starting around $58,300 before rebates -- a figure that includes complimentary fuel for 3 years.
2015 Tesla Model S -- Although it isn't a hydrogen car, the fully electric Tesla Model S offers pricing that's similar to the Clarity's likely MSRP. It also boasts sleek styling, a futuristic interior and impressive performance.