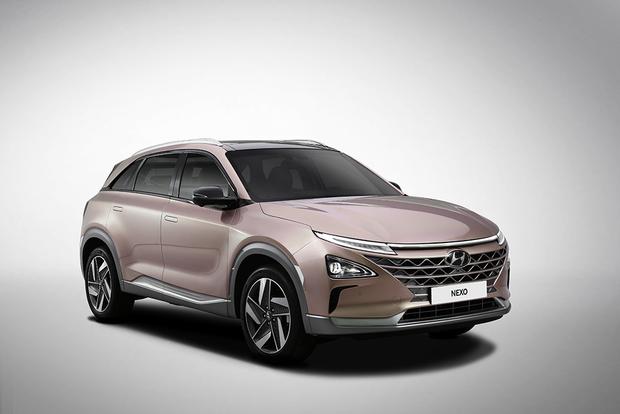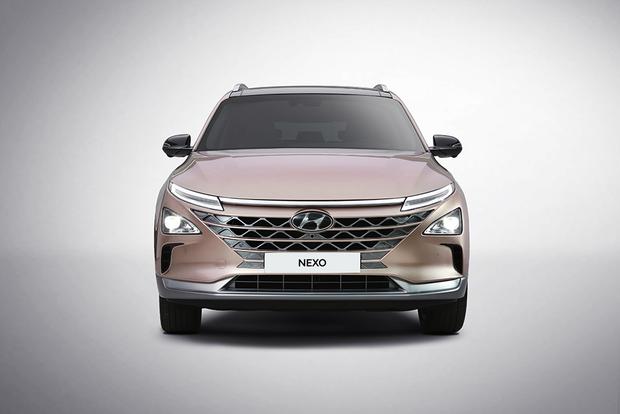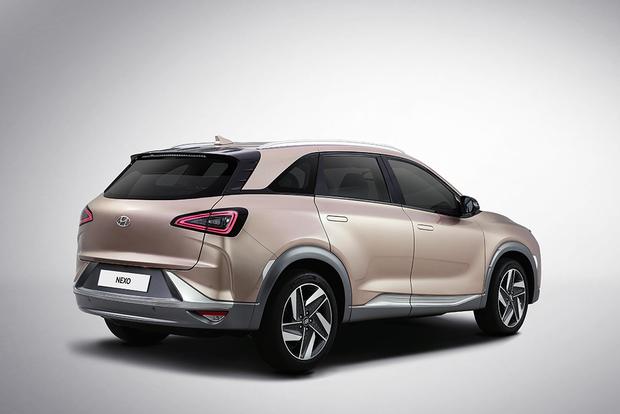 What Is It?
The Hyundai Nexo fuel-cell vehicle is a crossover that runs on hydrogen instead of gasoline. It has a range of 370 miles, and the only emission is water vapor. A fuel cell converts hydrogen to electricity, and that powers the vehicle.
This is not Hyundai's first fuel cell vehicle (FCV) available to the public. There was a version of the Tucson compact crossover. But the Nexo -- built on a dedicated platform -- is the next step in the evolution. It's bigger, lighter, faster and more efficient and has a greater range.
It also comes with cutting-edge advanced driver aids, such as wide-angle cameras on both sides to provide video images (shown in the center screen) of what's going on around the vehicle. Think of it as blind spot monitoring on steroids.
Lane-following assist and highway-driving assist are both semiautonomous features, adjusting the steering to stay in the center of the lane on city streets and freeways alike. It uses sensors and map data to know exactly where it is and can adjust speed to suit the conditions. It's essentially a computerized co-pilot that can help make driving less fatiguing for us sensitive humans.
Some of us are also sensitive regarding our parking abilities. The remote-smart parking assist in the Nexo will banish such qualms into history. The driver can sit inside or stand on the curb, press a button, and the vehicle will park itself. We've seen features like these in luxury cars; now they're becoming available in Hyundai vehicles.
How Much?
No official figures yet. For a ballpark, the Tucson FCV required a $3,000 deposit and the lease payments were $499 a month, which included all servicing and fuel costs. There might also be some federal and state incentives, but the new tax laws might have a bearing on those.
When Can You Get It?
Early this year in "select markets," according to Hyundai, meaning those areas where it's possible to purchase hydrogen and get it into the special tank. Regarding the United States, most hydrogen-filling stations are in California around San Francisco and Los Angeles.
Add It to Your Shopping List Because…
The Hyundai Nexo shares an advantage with other fuel-cell vehicles, in that it means emissions-free motoring and the ability to take on more fuel (hydrogen) within minutes instead of waiting hours for a battery to recharge.
Other Cars to Consider
2018 Honda Clarity FCV -- A midsize sedan, not a crossover. And only available in California on a lease deal. But well equipped and feels more upscale than a regular Accord.
2018 Toyota Mirai -- Available for purchase or lease in California with fuel costs as part of the deal. Another midsize sedan.