RESEARCH SEMA AUTO SHOW BY YEAR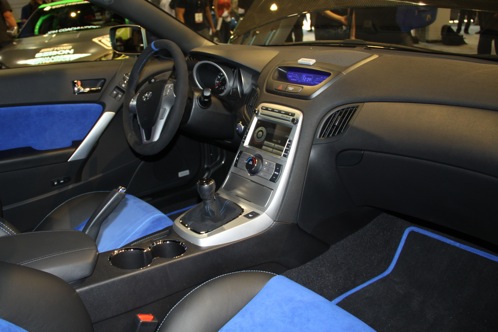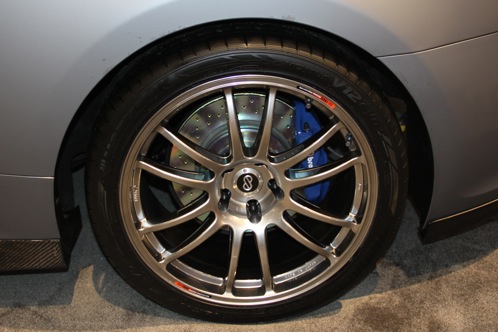 It's become something of a tradition for Hyundai to give Rhys Millen a call every year as they prepare for SEMA. Last year it was to do an Equus, which proved that having a racing star do up an ultra-luxury car can be as head scratching and well-executed as Hyundai building said car. And the previous two years saw Rhys Millen Racing do a more-expected Genesis Coupe.
This year, he will return to those roots, creating the Genesis Hurricane SC. Joining Magnuson Products, Harman International and Torvec Inc., and Hyundai America Technical Center Inc. (HATCI) - Hyundai's skunkwork branch here in the States - RMR will be putting all the knowledge gained from those years toying with the Genesis Coupe, and let's not forget racing a Veloster in rallycross.
And the result is nothing short of impressive. Courtesy of the car's namesake supercharger provided by Magnuson, the Genesis' 3.8L V-6 gets bumped from its stock 306 horsepower to an astronomical 450. To keep the engine from heating itself up to dangerous levels under this new forced-breathing setup, a Magnuson liquid-to-air front-mounted intercooler has been put to task. To help keep the car pointed forward through corners under the extra power, Torvec took advantage of HATCI's testing facilities to dial in its IsoTorque differential, which Hyundai says is good for a one-second-per-lap improvement at its own proving grounds.
But not all is mechanical. RMR took care of the aesthetics, adding a new, more aggressive front bumper, grille, and hood. Leading the eye around to the back is a set of lower side skirts, and at the end of that journey you can find a whole new diffuser under a new trunklid and integrated spoiler. Enkei 19-inch wheels swallow up Brembo six-pot calipers, and that entire assembly is hung off of a set of Bilstein coilovers tuned on everyone's favorite automotive playground, the Nurburgring.
Inside, Katzkin leather and suede seat covers have been draped over the seats, and a Harman Lexicon sound system provides the tunes.
And that's not all that RMR and Hyundai had in mind for the Genesis Coupe. If you like the sound of 450 horsepower, but prefer a big V8, have a look at the RM500 Genesis Coupe. With Hyundai's new Tau 5.0-liter V8, which was originally meant to motivate the much larger Equus luxury sedan, the big eight-cylinder engine looks right at home in between the fenders of a Genesis Coupe. Everything else sounds familiar to the Hurricane, with RMR body kit pieces, an oil cooler, and big brakes. The big difference, though, is what those brakes are made of: carbon ceramic. The material is probably a necessity in dissipating the heat quick enough after bringing the much larger lump to a halt.
See more coverage of the 2011 SEMA Auto Show.
ROSS DARBYcomes from a family that has been present in the automotive industry for generations, sowing the car enthusiast seed at a young age. When he's not tracking the industry, Ross likes to run, eat buffalo wings, play soccer and partake in the finest of brown spirits.