RESEARCH SEMA AUTO SHOW BY YEAR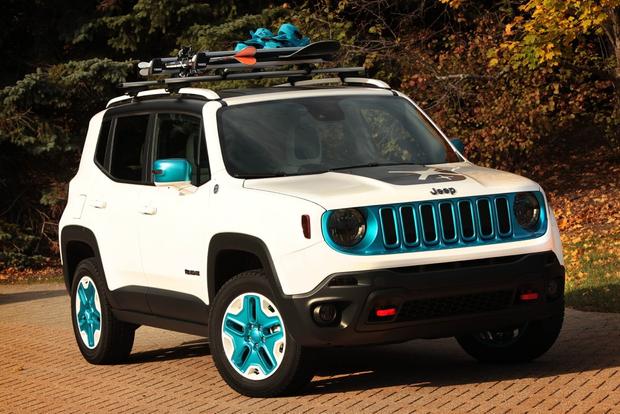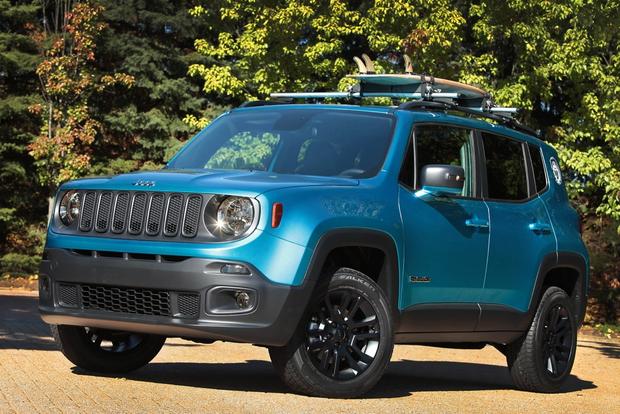 What Are They?
The Jeep Renegade Frostbite and Riptide put the all-new Renegade compact crossover squarely in the 2014 SEMA Show spotlight. Jeep's aim is to make the Renegade a highly customizable SUV, similar to the Wrangler, and the Frostbite and Riptide concepts demonstrate some of the possibilities.
Jeep Renegade Frostbite
The ski-themed Frostbite may look like an ice pop with its white paint, blue accents and white-and-blue wheels, but it's tougher than you'd think. A Jeep Performance Parts rock rail guard should help fend off whatever stands between you and a day on the slopes. The Frostbite also gets unique hood and rear Jeep Performance Parts graphics, a Mopar roof rack that can accommodate skis and snowboards, blue Katzkin seats and blue interior trim (including the gearshift and vent surrounds).
Jeep Renegade Riptide
The Renegade Riptide takes the action from the slopes to the waves. Flipping the script on the Frostbite's color scheme, the Riptide is decked out in a vibrant blue hue, although instead of white exterior trim, it gets black-painted wheels for a more aggressive look. A white Jeep Performance Parts logo appears high up on the body sides near the rear window, featuring a surfer to emphasize the theme. The grille, mirror caps and front fascia receive black satin trim, while the roof rack is surfboard-ready. Inside, blue inlays are the order of the day, with white accents here and there to brighten up the default black plastic panels. The leather seats are also black, but teak floor mats add a warm brown tone to the footwells.
Will They Ever Sell Them?
Not in the SEMA specifications, but Jeep says that many of the Frostbite and Riptide accessories are likely to show up as dealer-installed options from Mopar/Jeep Performance Parts once the Renegade gets rolling.