RESEARCH LA AUTO SHOW BY YEAR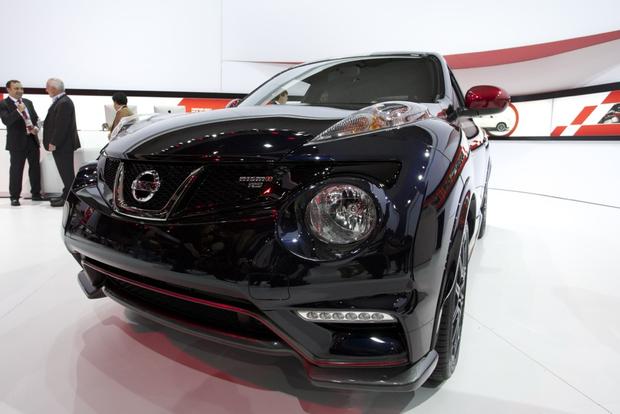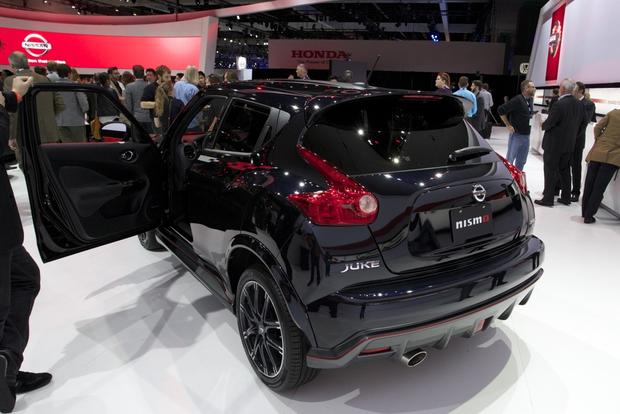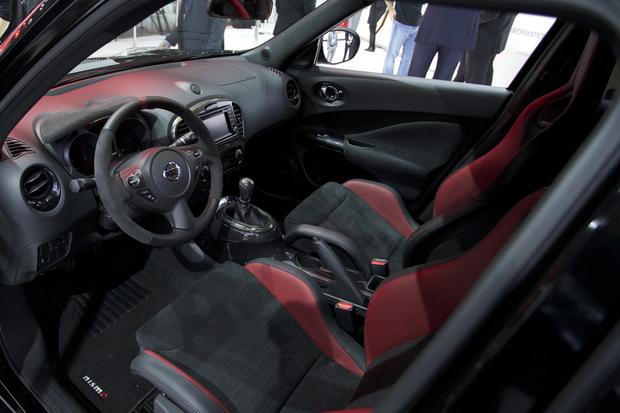 What Is It?
The 2014 Nissan Juke NISMO RS is a sporty version of the Nissan Juke compact crossover. Yes, there's already a Juke NISMO out there; it debuted for the 2014 model year. But the Juke NISMO RS improves performance even further for drivers who want to combine an exciting driving experience with the Juke's unusual styling.
Under the hood, there's a tuned version of the 1.6-liter turbocharged 4-cylinder that powers the standard Juke. It's good for 215 horsepower and 210 lb-ft of torque if you go with the standard 6-speed manual or 211 hp and 181 lb-ft with the optional CVT automatic. That's a big increase over the standard Juke's 188 hp, and even a bump over the NISMO Juke's 197 hp.
But the Juke NISMO RS is about more than power. There's a more aerodynamic front fascia, body-colored wheel arches, LED daytime running lights, 18-inch alloy wheels and a lot of red trim inside and out. The Juke NISMO RS also adds an Alcantara steering wheel, Recaro bucket seats upholstered with leather and suede and a larger exhaust to improve the crossover's sound.
How Much?
Given that the current Juke NISMO starts around $24,000 with shipping, we'd expect the RS model to come in slightly higher.
When Can You Get It?
Early 2014
Add It to Your Shopping List Because...
The Nissan Juke is already a fun compact crossover, and with the new NISMO RS model available this year, it just became even more exciting. If you're looking for a compact crossover with a distinctive look and performance to match, the Juke NISMO RS is your car. And we suspect you'll love the leather and Alcantara interior, which looks like it comes straight out of a sports car.
Other Cars to Consider
Ford Focus ST-- The Focus ST may not offer the Juke NISMO RS model's high seating position and crossover capability, but the formula is largely the same: It's a fun-loving hatchback with a turbocharged engine, quick acceleration and a sporty interior.
Kia Sportage -- The Sportage is one of the few compact SUVs that can match and exceed the Juke's performance, thanks to a 256-hp 4-cylinder in the SX model. However, the Sportage SX's base price of nearly $28,000 exceeds the Juke's.
Volkswagen GTI-- Like the Focus ST, the GTI can't touch the Juke NISMO RS model's crossover capabilities. But if you're buying this car for performance -- and we suspect you are -- the GTI deserves a look.
Used Jeep Grand Cherokee SRT-8 -- If you want a performance SUV, why not go for the ultimate? Jeep's Grand Cherokee SRT-8 may be a gas guzzler, but it'll have you on the edge of your seat. Look for a used one if you want to keep the cost similar to that of a Juke NISMO RS.