RESEARCH SEMA AUTO SHOW BY YEAR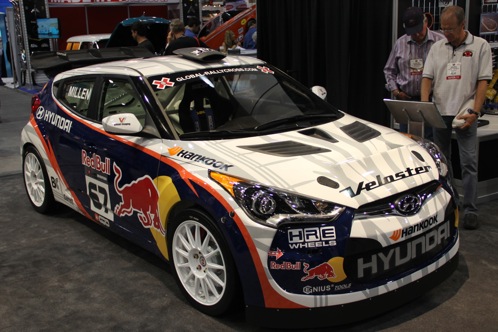 Rhys Millen is no stranger when it comes to off-road racing. In fact, Rhys Millen's father, Rod Millen, isn't even a stranger to off-road racing. The Millen family has been piloting cars off the tarmac for years, and it seems like there's no stopping any time soon for Rhys. As Formula Drift champion, Red Bull Drifting World Champion, and perennial competitor in the Rally Cross Championship Series, Millen certainly has the experience to compete very well when the surface gets loose or slippery, but does he have the car to back it up?
This year attempting to fill that role will be a 2012 Hyundai Veloster, modified to take on the challenge, of course. What that entails is yanking the 2.0-liter Theta II Turbocharged engine from a Genesis coupe, upping the output to 300 horsepower, and stuffing it in the front of the little hatch. Getting that power to the wheels is Hyundai's six-speed automatic transmission with Shiftronic, and tasked with putting that power to the ground is a set of 18" custom HRE wheels and Hankook rally tires. Should things go wrong, pair of Sparco Pro 2000 seats with full harnesses and a full safety cage are in place to protect Rhys and navigator. But with the 13" brake rotors and Brembo calipers, it won't likely come to that.
Of course, the car looks somewhat like the stock Veloster, but we all know that comes with a giant asterisk attached. All the bodywork is custom-made by Rhys Millen racing out of lightweight materials, and we're willing to bet that, among other things, having no headlights isn't exactly street legal.
You can see this car with Rhys behind the wheel competing in the U.S. Rallycross Championship, and come this summer, watch your TV for it at the Summer X Games.
See more coverage of the 2011 SEMA Auto Show.
ROSS DARBYcomes from a family that has been present in the automotive industry for generations, sowing the car enthusiast seed at a young age. When he's not tracking the industry, Ross likes to run, eat buffalo wings, play soccer and partake in the finest of brown spirits.