Because of the high price of most new luxury cars, many luxury shoppers look to the used car market. The main drawback to buying used, though, is the absence of a full manufacturer warranty, which is especially troubling because of the mechanical and technological sophistication of luxury vehicles. The bottom line here is that repairs can be expensive. That brings us to our latest list: the best certified pre-owned luxury cars for 2019.
Below, we've highlighted 10 CPO luxury cars that are very similar to their new counterparts — that is, these vehicles are "as good as new" in that they look just like the new version and are backed by a manufacturer warranty. Also, most luxury brand CPO programs include perks like roadside assistance and a free trial period for satellite radio. You can often get new car financing terms if you go through that brand's finance division.
We've chosen to only include vehicles from manufacturers that offer a warranty that's good for, at a minimum, 6 years and 100,000 miles from the original purchase date in this list. This excludes brands like BMW and Mercedes-Benz, whose certified pre-owned warranties don't provide this level of security.
The vehicles on this list below represent a considerable value relative to their brand-new counterparts while offering the same styling and, for the most part, the same peace of mind. The price of vehicles eligible for our list is also capped at $65,000, although most of our selections can be had for far less than that.
Altogether, this list is made up of luxury vehicles with the latest designs and modern technology, available at prices well below those of their brand-new counterparts, with generous warranties resulting in great peace of mind. It's essentially the ultimate automotive win-win.
Kelley Blue Book Fair Purchase Price was used to come up with the average CPO values listed below. Vehicles are listed in alphabetical order.
10 Best CPO Luxury Cars for 2019
1. Acura MDX (2014–2018)
2. Cadillac Escalade (2015–2018)
3. Chrysler Pacifica (2017–2018)
4. Infiniti QX60 (2014–2018)
5. Jaguar F-Pace (2017–2018)
6. Jaguar F-Type (2014–2018)
7. Kia Cadenza (2014–2018)
8. Lexus RC (2015–2018)
9. Porsche Macan (2015–2018)
10. Volvo XC90 (2016–2018)
1. Acura MDX (2014–2018)
The Acura MDX is one of the most trusted three-row luxury SUVs on the market, offering a potent V6 engine, room for seven and solid reliability. A front-wheel drive 2019 MDX starts at $44,300, with options taking that price even higher. A nicely optioned MDX can exceed $55,000, and many examples do. Therefore, buyers will want to consider a certified pre-owned example. Acura's CPO program offers one year of additional overall coverage and up to 7 years and 100,000 miles of powertrain coverage. The average CPO 2014-2018 MDX is valued at around $33,000. That's a really nice luxury SUV for about the same price as a new Honda Accord. Find an Acura MDX for sale near you
2. Cadillac Escalade (2015–2018)
The Cadillac Escalade is one of the automaker's strongest sellers, not to mention one of the biggest names in the full-size luxury SUV segment. Offering V8 power, ample space and the benefits of truck-based construction and all-wheel drive, it isn't hard to see why the Escalade is such a desirable vehicle. With new examples running between $76,000 and $98,000 though, a used example starts to look appealing to anyone in search of one of these luxury behemoths on a budget. Luckily for buyers, the Escalade has hardly changed since it was last fully redesigned for the 2015 model year. Cadillac's CPO warranty is one of the best in the industry, offering 6 years and 100,000 miles of coverage from the original sale date. The average value of a 2015-2018 certified pre-owned example is $58,200. Find a Cadillac Escalade for sale near you
3. Chrysler Pacifica (2017–2018)
Introduced as a replacement for the Chrysler Town & Country in 2017, the Chrysler Pacifica hasn't changed much in its short time on sale, and it's still one of the best family-haulers on the market today, offering upscale style along with immense practicality. A new 2019 Pacifica starts at around $28,000, while a fully loaded example reaches around $47,000 when factoring in additional fees, making a used example a great value for a young family. Chrysler's certified pre-owned warranty helps with this, offering 7 years and 100,000 miles of powertrain protection from the date the vehicle was purchased new, along with 3 months or 3,000 miles of bumper-to-bumper coverage starting the day of your purchase. According to KBB, the average new Chrysler Pacifica sells for around $40,000, while a certified pre-owned 2017 or 2018 model is valued at an average of $26,300. Find a Chrysler Pacifica for sale near you
4. Infiniti QX60 (2014–2018)
The Infiniti QX60 offers just about everything a family could want from a luxury SUV: three rows of seating, modern technologies like a 360-degree surround view camera, car-like driving dynamics and a potent V6 powertrain. However, with a starting price of $45,000 and nicely-optioned examples exceeding $65,000, many families are priced out of the QX60. That is, unless they look to the used market, where qualifying certified pre-owned vehicles are eligible for up to a 6 year or unlimited mileage powertrain warranty from the original date of purchase. The average CPO 2014-2018 model is valued at $32,600. Find an Infiniti QX60 for sale near you
5. Jaguar F-Pace (2017–2018)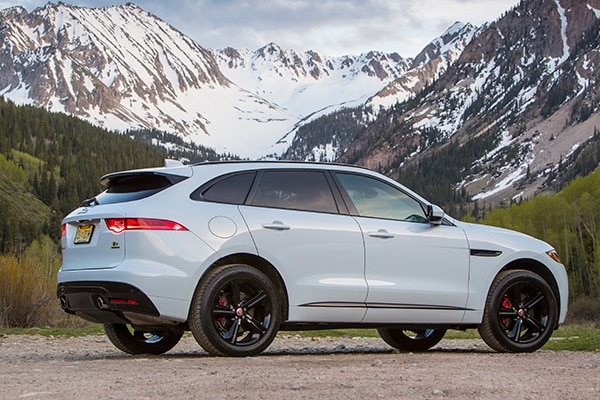 Jaguar's first SUV, the "F-Pace," was formally introduced for the 2017 model year and has been met with favorable reviews. A variety of powertrains are offered, from a humble 247 horsepower 4-cylinder, to a turbodiesel, to the high-performance 550-hp SVR model, which results in a pretty wide price spread across the model line. For 2019, base models start at around $45,000, while fully-loaded high-performance SVR examples exceed $80,000 — a steep price to pay for a two-row SUV. This will send many prospective buyers looking to the used market, where Jaguar offers an excellent 7 year and 100,000 mile certified pre-owned warranty. Depending on the specific vehicle, that's better than the 5 year and 60,000-mile warranty you get with a new model. As unproven nameplates tend to depreciate faster than their more established competitors, a certified pre-owned F-Pace is likely the way to go. The average transaction price of a new F-Pace is $57,410, while the average 2017 or 2018 certified pre-owned model is valued at around $48,900. Find a Jaguar F-Pace near you
6. Jaguar F-Type (2014–2018)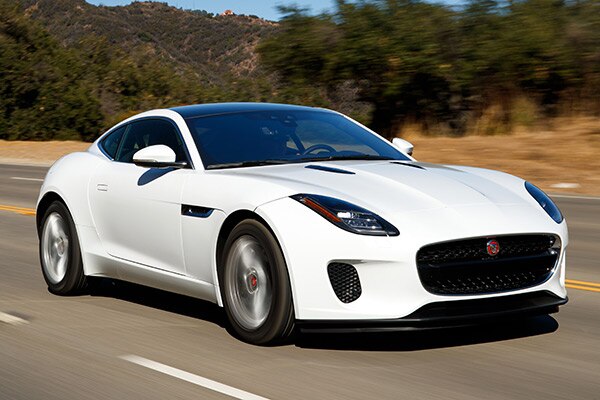 Introduced for the 2014 model year, the F-Type is the purest sports car offered by Jaguar in decades. A variety of engines are offered, as are two body styles: a coupe and a convertible. A 4-cylinder F-Type coupe, which is the least expensive offering, starts at around $61,000, while supercharged V8 examples carry a price of well over $100,000. Used F-Types carry far more reasonable pricing, and make for a great option when coupled with Jaguar's 7 year and 100,000 mile certified pre-owned warranty, which in some instances is even better than the 5 year and 60,000-mile warranty offered with a new model. Regardless of powertrain, the average value of a CPO F-Type is $60,166. Find a Jaguar F-Type for sale near you
7. Kia Cadenza (2014–2018)
The Kia Cadenza is a comfortable FWD luxury sedan that has quietly been on sale since the 2014 model year, and has, for the most part, been underappreciated. Despite its lack of name recognition, the Cadenza represents a great value compared to other FWD luxury sedans, and used examples serve to emphasize this point even further. Kia's certified pre-owned warranty offers 10 years and 100,000 miles of powertrain coverage, along with 12 months and 12,000 miles of limited bumper to bumper coverage — better than what you'll get from most other manufacturers. While the average brand new Kia Cadenza sells for $37,800 according to KBB, the average 2014-2018 certified pre-owned model is valued at $22,200, representing considerable savings. Find a Kia Cadenza for sale near you
8. Lexus RC (2015–2018)
Introduced for the 2015 model year, the Lexus RC is a sports coupe offering bold styling, a high quality, livable interior and refined driving dynamics, along with typical Lexus dependability. The RC starts at around $42,000 and reaches close to $60,000 fully loaded, excluding the high-performance RC F. If this is too much for you, a certified pre-owned example should be a no-brainer, given Lexus' reputation for quality. Lexus certified pre-owned vehicles come with a limited bumper-to-bumper 6 year and 100,000-mile warranty that starts from the vehicle's original purchase date. The average CPO 2015-2018 model is valued at about $40,900. Find a Lexus RC for sale near you
9. Porsche Macan (2015–2018)
In the time since the Porsche Macan went on sale for the 2015 model year, it's quickly become the brand's best-selling vehicle. This shouldn't come as a surprise, as it offers SUV practicality mixed with a driving experience you can only get with a Porsche. Despite being the brand's entry-level vehicle, the Macan still carries a hefty price, with new examples ranging from $50,000 for a base 4-cylinder model up to over $100,000 for the top dog Macan Turbo. The Macan does receive a mild update for 2019, but the changes are minimal, and a well-maintained pre-owned example will still look and feel brand new. Used examples become even more appealing when you consider Porsche's certified pre-owned program, which adds two years and no mileage restriction onto the original warranty, or from the date of sale if the original new vehicle warranty has expired. In addition to other benefits, Porsche's warranty also includes two years of roadside assistance, making the Macan one of the more appealing CPO luxury cars on the market. The average nicely-equipped 2015-2018 CPO model is valued at $56,907. Find a Porsche Macan for sale near you
10. Volvo XC90 (2016–2018)
The Volvo XC90 is one of the most desirable luxury crossovers on the market thanks to its attractive styling and forward-looking interior tech. It also boasts room for seven, a comfortable ride and excellent safety features. The XC90 isn't cheap, with new examples starting at around $50,000, while upper trims will exceed the $80,000 mark. Volvo's CPO program is typically one of the best among luxury automakers making a used XC90 attractive though, offering coverage for five years and unlimited mileage starting from the original sale date. The warranty is also full transferable and can be extended to up to 8 years. The average 2016 to 2018 CPO XC90 is valued at around $51,100. Find a Volvo XC90 for sale near you