Whether you're shopping for a new SUV, sedan or truck, there are a few new cars for 2019 that really stand out as something special. Our staff has spent the last year driving just about every new car available and we've narrowed them all down to the 12 best new cars of 2019. Every car on this list is completely redesigned or an all-new model for this year. They all bring something fresh and innovative compared to their competitors and all have some combination of impressive tech, surprisingly good driving dynamics, strong value or just getting the details exactly right.
Our 12 best new vehicles of 2019 were carefully evaluated by our editorial staff, which includes executive editor Brian Moody, associate editor Rob Nestora, content specialist Tommy Flanagan, manager of content strategy, Ben Cheney and senior data specialist Dwight Cunningham. They've unanimously agreed that all 12 of these cars, trucks and SUVs belong on this list and are worth buying because of the way they shake up their respective segments all in their own unique way.
Without further ado, here are Autotrader's 12 best new cars for 2019.
2019 Acura RDX
If anyone has accused Acura of getting boring and forgetting its roots, the RDX is here to silence them. No longer just a luxury Honda CR-V, the all-new third-generation Acura RDX now has its own dedicated platform and engine, not to mention a great new look. Dwight calls the RDX "one of the best-looking SUVs of the year" and says that it "stands out in a crowded field sameness, especially with the A-Spec model." Brian gives this Acura high praise saying that "the new RDX is a full-fledged luxury/sport utility vehicle that runs with Europe's best" and echoed Dwight's admiration of the A-Spec trim. Brian also noted "You don't need the flashy A-Spec version to get a great luxury SUV. No matter which one you get, the turbocharged engine is quick, responsive and efficient with an estimated 28 miles per gallon on the highway." Rob summed up the new RDX nicely by saying that "if this is what Acura has in store for the future, I'm buying." The 2019 Acura RDX starts at $37,400. Find an Acura RDX for sale
2019 Ford Ranger
After a long hiatus that enraged Ford truck fanboys and confused everyone else, the Ford Ranger has finally returned to the U.S. as a 2019 model and we're happy to have it back. The midsize pickup segment has been heating up over the last few years with attractive offerings like the Chevrolet Colorado and the Toyota Tacoma with Ford mysteriously absent until now. "The new Ranger is a competent and agile little brother to the well-established Ford F-150," Brian said of the Ranger. "Ultimately, the Ranger is the right amount of work-ready and everyday usefulness for the needs of most Americans." The Ranger isn't meant to be the toughest or most capable pickup on the road or even at the Ford dealer. It's just for anyone who wants a truck but doesn't need all of the capability of an F-150. The Ranger hits that sweet spot just right. The 2019 Ford Ranger starts at $24,300. Find a Ford Ranger for sale
2019 Genesis G70
Many have failed and few have survived in challenging the Germans in compact luxury sport sedan supremacy. A newcomer to this competitive segment comes from an unlikely corner of the automotive world, Hyundai's luxury brand Genesis. The all-new G70 is the rookie of the year in a segment dominated by the likes of the BMW 3 Series, the Mercedes-Benz C-Class and the Audi A4. Brian called the G70 "shockingly good" and goes on to say that "the G70 packs a lot of fun into a tidy package and does it for a reasonable price." "It's got style, substance, tech, and a version with the Stinger's turbocharged V6 engine," Rob said of the G70. Tommy was impressed by the car's interior quality and performance even from the base 4-cylinder, noting that "you really don't need the 6-cylinder if you want a fun and quick sedan." Dwight said he "expected a gussied-up sedan with no real power or finesse" and was delighted to be proven so wrong calling the G70 "the surprise vehicle of the year." This unanimous level of enthusiasm among our staff is a sign that the Genesis G70 is really something special. The 2019 Genesis G70 starts at $34,900. Find a Genesis G70 for sale
2019 GMC Sierra 1500
Both of the full-size trucks from General Motors were updated for 2019, but we found the new GMC Sierra 1500 to be especially compelling. This new generation of the Sierra isn't just a different looking Silverado. Yes, it has a much different look but also includes a few exclusive features. The most notable of which is the trick MultiPro tailgate, which we found to be more than just a gimmick. Brian says the new multi-function tailgate "adds several new levels of usefulness and 'wow' to something we've taken for granted for 100 years." Dwight says that this tailgate along with the running boards are features that "are great for the small business owner to the weekend DIY warriors." Even Rob, who is self-proclaimed as not being a truck guy, was impressed saying that "the Sierra feels way too nice to be as capable as it is." The 2019 GMC Sierra 1500 starts at $29,600. Find a GMC Sierra 1500 for sale
2019 Honda Passport
On its face, it might appear to just be a Honda Pilot with a new skin, but there's more to the all-new Honda Passport than that. It does share the Pilot's strong V6, which is a good thing, and on top of that, it offers a new level of off-road ruggedness that's uncommon for Honda. However, it doesn't sacrifice its road-friendliness as it still has roomy seats, a handsome interior and lots of advanced safety tech available. Something it doesn't have is a third row of seating. "This is one of the few SUVs where the 'sport' and 'utility' totally and tangibly make sense in the same vehicle," Brian said of the Passport. "We like the Passport because of its rugged look and just the way it comes off like a younger, feistier version of the Honda Pilot." If you're shopping for a Passport, we recommend springing for the optional AWD to give it the off-road chops that its adventurous attitude implies. The 2019 Honda Passport starts at $31,990. Find a Honda Passport for sale
2019 Jaguar I-Pace
Even if it had a regular gas engine, the Jaguar I-PACE would be an impressive luxury compact SUV for its spacious, elegant cabin and its edgy exterior. However, its amazing electric drivetrain with an impressive 240 miles of range, 394 horsepower, 512 lb-ft of torque and tremendous acceleration make it not only good but arguably revolutionary. No, it's not the first all-electric luxury SUV, but it takes the growing segment to new heights by combining thrilling driving dynamics with a quiet ride plus all the luxury we expect from a Jaguar. "If people are going suddenly start buying electric cars based on things like attractiveness, fun and rewarding driving experience, the I-PACE is the EV to get them there," Brian said of the I-Pace. "Tesla started the luxury electric car revolution, but Jaguar takes it to a whole new level." Oh, and did we mention it's quite a bit more affordable than a Tesla Model X? The 2019 Jaguar I-Pace starts at $69,500. Find a Jaguar I-Pace for sale
2020 Mercedes-Benz GLE 450
The luxury crossover has been around for quite some time now with Mercedes-Benz being one of the original pioneers of the idea, but the 2020 GLE 450 just might have perfected the art of combining luxury car class with SUV versatility. Brian went so far as to call the new GLE-Class "likely the world's perfect car" going on to say that it's "a luxury SUV that pulls no punches — filled with useful but forward-thinking technology, the GLE is also capable off-road and serene on-road." Lots of SUVs claim to do it all and the new GLE actually does, and it does it all very well. It's also notable for being the first midsize Mercedes-Benz SUV available with three rows of seats, which is surprising considering the brand's expansive portfolio of SUVs. The midsize luxury SUV segment is undoubtedly crowded and it doesn't look like it will thin out any time soon, but this fresh offering from Mercedes-Benz is a clear leader in a class where it's hard to stand out. The 2020 Mercedes-Benz GLE 450 starts at $61,150. Find a Mercedes-Benz GLE-Class for sale
2019 Nissan Altima
From the outside, the new Nissan Altima might look like little more than the next step in the life of an average midsize sedan. But as soon as you dig deeper, it gets more interesting. "Nissan has moved to improve the Altima by adding some innovative features, while keeping the shell of the car very familiar," Brian said. The new Altima impresses us with a premium interior that makes you feel like you're in a much more expensive car, especially in the higher trims. It also has available all-wheel drive, making it stand out compared to the Toyota Camry and the Honda Accord. Another thing that makes the new Altima special is the available VC-Turbo variable compression engine, which delivers more power when you need it and more efficiency at cruising speeds. "A new high-tech turbo engine, the option of all-wheel drive and a host of driver assist are part of the reason we added the updated Altima to our list this year," Brian said of the Altima. The 2019 Nissan Altima starts at $23,900. Find a Nissan Altima for sale
2019 Ram 1500
Have you noticed that 2019 was a big year for trucks? Replacing the old Ram 1500 that was a decade old and even predated the Ram brand itself, the all-new 2019 model was worth the wait. "I can't say enough good things about this truck. It has to be the most well thought out truck ever created," Tommy said of the thoroughly updated Ram. "With a 12-inch infotainment screen, reclining rear seats and a multi-function tailgate [referring to the available barn-door tailgate], this truck is the new standard of what a pickup should be," Tommy went on. Dwight commented on the truck's versatility saying that the Ram 1500 is "a true luxury truck that likes to play in the dirt." "Plush, capable and smooth-riding, the Ram 1500 is a worthy alternative to some better-known pickups," Brian said. A couple of things that stood out with unanimous praise were the fantastic interior both in terms of comfort and features and the massive 12-in infotainment system that's available on the higher trims. The 2019 Ram 1500 starts at $31,795. Find a Ram 1500 for sale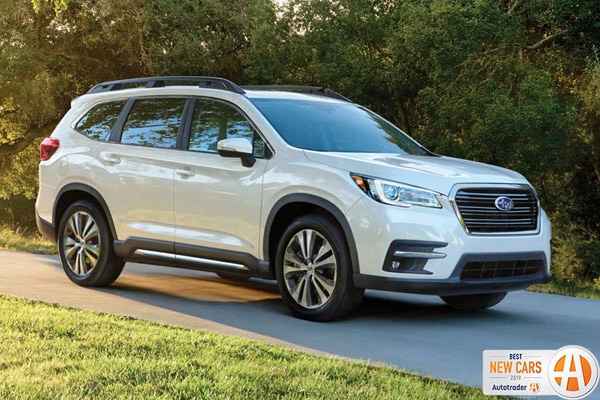 2019 Subaru Ascent
Subaru never got the 3-row crossover quite right until now. Forget the old Tribeca and say hello to the new Ascent, which is full of super-sized Subaru charm. In a way, the Subaru Ascent is great because of its lack of surprises. "The Ascent takes what's great about smaller SUVs like the Forester and the Outback and just makes it bigger," Tommy said. "It's a no-nonsense SUV, with plenty of great features, excellent build quality and road manners. I would have no problem recommending the Ascent to anyone looking for a midsize to large SUV." Brian also praised the Ascent for being exactly what we hoped for calling it "a 3-row SUV that allows growing families to stay in the Subaru family." Rob is a big fan of the Ascent as well praising its functionality as a big family crossover while strongly maintaining the Subaru brand identity. "The turbocharged engine is punchy and stout, and the EyeSight suite of safety features is a must-have for any family vehicle. Plus AWD, three rows and cup holders out the wazoo. This one's a no-brainer," Rob said. The 2019 Subaru Ascent starts at $31,995. Find a Subaru Ascent for sale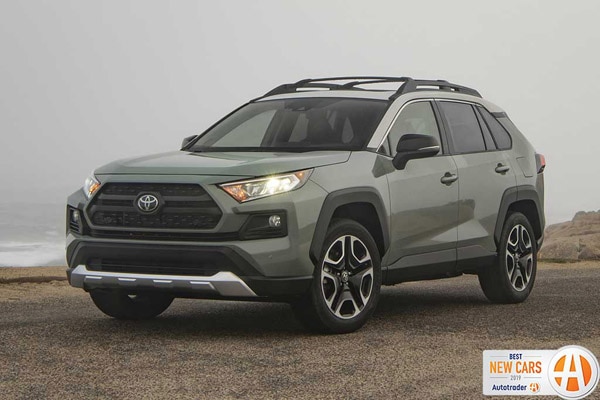 2019 Toyota RAV4
The Toyota RAV4 is one of the vehicles that helped invent and popularize compact SUVs and it's been a class leader ever since its introduction. The new RAV4 manages to take everything that people loved about it like its practicality, efficiency and value and take it all a step further. "The RAV4 isn't just redesigned, it's reinvented," Brian said of the new Toyota, which has much more than just a new aesthetic. "Not only is the look more dramatic and maybe even a little more masculine, the RAV's character has changed as well. Take it off-road and you feel how engineers intentionally fused fun into the RAV4 formula. Roomy inside and reasonably priced, the RAV4 is an excellent compact SUV." The RAV4 has gone a little bit back to its roots as a pint-size off-roader without losing any of the excellent road manners that have helped make it such a hit. With a wide variety of trims within the new model range, there's a RAV4 for everyone whether you're looking for luxury, off-road character, value or just about anything in-between. The 2019 Toyota RAV4 starts at $25,500. Find a Toyota RAV4 for sale
2019 Volvo XC40
We've seen some pretty mixed results any time a luxury brand moves down market. Volvo has been impressing us with its latest SUV offerings in recent years and the new compact XC40 is one of the best among them, which is saying a lot. "The interior and driving dynamics are unique to the XC40 and it feels far more premium than the under $40,000 price suggests," Brian said. "We also like Volvo's forward-thinking subscription plan that extends the Volvo vibe to the entire purchasing, ownership and exchange experience." Value is the name of the game with the XC40 with a luxurious look and feel while undercutting many of its rivals in price. "It's got tons of great features, technology and smart storage," Rob said of this Volvo. "Even better is that it's easy and fun to drive around and looks great too." Dwight likes the many ways the XC40 stands out in a crowded segment. "This is a true entry luxury vehicle that doesn't feel like a slightly upgraded base economy car," Dwight said. "This vehicle stands out with the optional two-tone paint scheme, 9-inch touchscreen, and comfortable seats." The 2019 Volvo XC40 starts at $33,700. Find a Volvo XC40 for sale
Editor's Note: All pricing is listed without shipping and handling, which is required but varies from brand to brand.