If you're like me, your knowledge of Canada is limited to a few things. It's cold. It's above America. The people are very polite. And each winter, every single Canadian drives to Naples, Florida, in a recreational vehicle the size of a Rite Aid.
But I recently learned something else about Canada that I didn't previously know: They get a bunch of cars that Americans don't. Now, before you go starting a revolution, planning a move north or at least writing your congressperson and suggesting that we explore the possibility of teaming up with our neighbors to the north to create one giant supercountry, it's worth noting that none of these cars are very good.
But they exist, and they're cruising around up there, away from us Americans where we can't experience them, drive them or see them — unless it's November and they're being towed behind an RV called "Leisure Lover" heading south on Interstate 95.
Anyway, here are seven of my favorites.
Acura CSX and EL
A few years ago, Acura started selling a luxurified version of the Civic, called the ILX, in the United States. But this was hardly news to Canadians, as Acura had been selling a luxury Civic up there for nearly 20 years. Initially called the EL and then the CSX, the Canada-only luxury Civic has gone through three generations, each with slightly more upscale interiors and minor styling revisions compared to their Honda counterparts.
At 2 a.m., I sometimes find myself on Syracuse Craigslist looking for one. Find an Acura for sale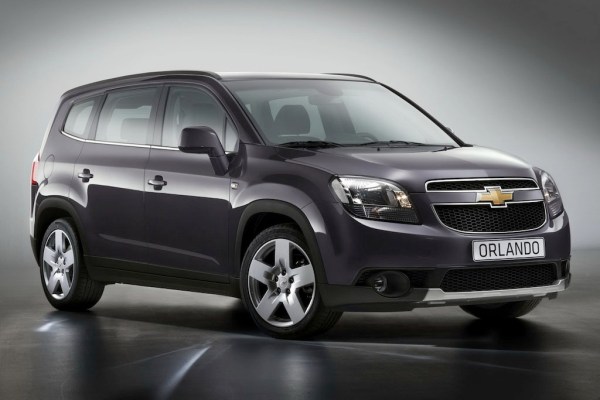 Chevrolet Orlando
The Chevy Orlando is a 5-door hatchback that sort of looks like a minivan, sort of looks like an SUV and sort of looks like a toaster. Available in a wide range of countries throughout the globe, the Canadian version of the Orlando seats seven, offers 56 cu ft. of cargo space and boasts a 174-horsepower 2.4-liter 4-cylinder engine. It also boasts fuel economy ratings as high as 6.9 liters per 100 kilometers, which has absolutely no meaning to me. That could be good. It could be bad. We'll never know.
What we do know is that the Orlando was a sales flop in Canada: Despite going through the trouble of bringing the van/SUV/toaster all the way to North America just to sell it in Canada (and not the U.S.), Chevy canceled it after only a few model years. Find a Chevrolet for sale
Kia Rondo
If the Kia Rondo name sounds familiar, that's because it was once available in the United States. The hatchbacky-van thing was sold here from 2007 to 2009, at which point it was canceled because we didn't like it very much. But apparently they love it up in Canada, because it's now in its (rather handsome) second generation, which is described on the Kia Canada site with the pronouncement that "versatility is the 2016 Kia Rondo's middle name."
So what is it like, the Kia Versatility Rondo? Well, it has a rather roomy interior, a nice infotainment system, a lot of equipment and a 164-hp 2.0-liter 4-cylinder engine that boasts excellent fuel economy ratings of up to 27 cubic millimeters per farthing. As a result, we think it seems pretty decent, but in the interest of journalistic ethics, we can't say for sure until we see it driving around South Florida in February with Quebec plates. Find a Kia Rondo for sale
Mercedes-Benz B-Class
Yes, it's true: Mercedes-Benz now sells the B-Class here in the United States. But while we get a fully electric version, Canada gets the ultra-beefy, gas-powered one that boasts up to 208 hp (vroom, vroom!) and a slightly quicker 0-to-60 time than a Chrysler minivan. Canada also gets the B-Class (called simply the B250 up there) with available all-wheel drive, while we must merely make do with front-wheel drive like second-class citizens. Find a Mercedes-Benz B-Class for sale
Nissan Micra
Yes, there is a Nissan below the Versa. It's called the Micra, and it's sold in Canada, where it starts at — this is entirely true — $9,988 Canadian. That translates to $7,600 in U.S. dollars.
Oh, sure, it's true that the base model comes with a stick shift, power nothing, illuminated nothing, keyless nothing, automated nothing and an option group worryingly called the INTENSITY PACKAGE (capitalization and all). But who cares when you're talking about a new car for $7,600?!
Not surprisingly, the Micra is tremendously popular in Canada — except in the extreme northern parts, where a regulation-sized moose could eat a Micra in one sitting. Find a Nissan for sale
Nissan X-TRAIL
In America, we had the Nissan Xterra. In Canada, they had the Nissan X-TRAIL instead. The purpose was sort of the same: a boxy off-road SUV that offered more capabilities than you could expect from your typical Murano or Rogue. The major difference is that the Xterra lasted well over a decade in America, whereas the X-TRAIL failed after only a couple of years in Canada during the mid-2000s.
Every so often, you still see an X-TRAIL on the streets in Canada and you think to yourself, "What is that weird-looking CR-V?" Find a Nissan for sale
Pontiac Sunrunner and GMC Tracker
The Pontiac Sunrunner and the GMC Tracker are my all-time favorite Canada-only cars — because they have absolutely no business existing.
What happened was this: They came at the height of the rebadging era, when General Motors was renaming everything, including office chairs in their headquarters ("We'll call this one … the Pontiac DeskMate 1000"). So they thought to themselves, "We already sell the Geo Tracker in America. Why not sell it in Canada as a Pontiac and a GMC?"
And so came the Pontiac Sunrunner, which wore a circular badge in front instead of the usual arrow-shaped Pontiac badge so that General Motors didn't have to create a new grille for it. And then they rolled out my personal favorite: the GMC Tracker. Yes, that's right: The company of Professional Grade trucks, full-size SUVs and heavy-duty hauling once offered a 2-door convertible SUV with 80 hp. Oh, how far we've come. Find a Geo Tracker for sale
MORE FROM OVERSTEER