Americans love dogs, and dogs love to go for a ride. According to the American Veterinary Medical Association (and they ought to know), 38.4% of U.S. households include at least one dog. In their most recent report (2017-2018), the AVMA announced the U.S. dog population at 76,811,305 – an increase of almost 7 million wet noses since the 2012 survey. Shelters report a significant increase in adoptions during the COVID-19 pandemic from 2020 to 2022, so expect the AVMA's next survey to show even more dogs taking the passenger seat.
Autotrader conducted a survey of 600 dog owners over the age of 18 and discovered:
43% of dog owners have two or more dogs. 57% only have one dog.
90% of dog owners consider their dog their best friend.
68% of dog owners take their dogs on a car trip at least once per week.
66% of dog owners believe their dog enjoys car trips.
25% of dog owners have taken their dogs on road trips over 250 miles.
We've been making lists of the best cars for dog lovers for years here at Autotrader, and this year's list feels even more necessary. "Our list of the best cars for dog lovers starts with those brands we know have a commitment to pet-friendly accessories and causes," said Brian Moody, Autotrader's Executive Editor.
Key Features in the Best New Cars for Dog Lovers
Durable seats -- Vinyl, leather, and faux leather are the preferred seating materials for dog lovers, thanks to their durability and easy cleaning.
Low cargo floor – Even a big dog can be intimidated by a tall cargo floor. A low floor makes a vehicle accessible to small dogs and those with mobility issues.
Rugged interior – Even the best-behaved dogs can accidentally cause damage to delicate surfaces. A rough-and-ready interior can better stand up to dog nails (and slobber).
Accessories – Several manufacturers include dog accessories, like pet screens, in their catalogs. The aftermarket also supplies great harnesses, kennels, and other pet travel essentials. Some are universal, some are model specific.
Cargo tie-downs -- Automotive pet accessories are much more secure when using cargo tie-down hooks.
Here, in alphabetical order, are 10 vehicles dogs and their owners will love. There are no alpha dogs here – just an array of great choices for you and your 4-legged friend.
1. 2022 Chrysler Pacifica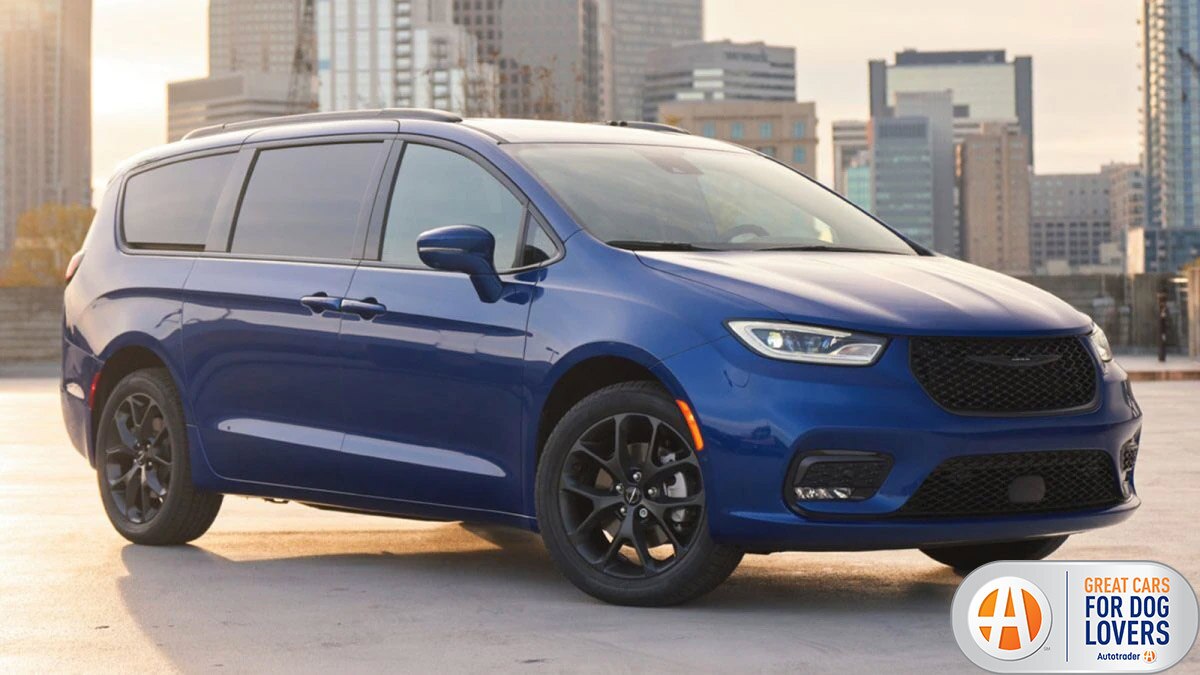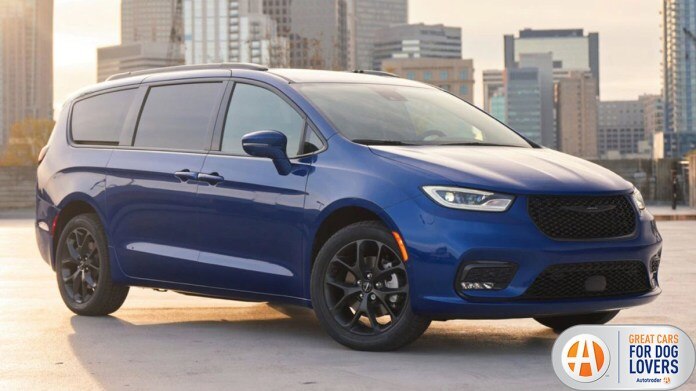 Minivans make great sense for families and work well for dogs. Small and large dogs alike will appreciate the low load floor and easy entry via the available power sliding side doors of the 2022 Chrysler Pacifica. The second and third rows of seats fold flat with available Stow 'n Go seating. You can customize the airflow throughout the cabin by zone. The dogs will help keep crumbs and dropped snacks from gathering in the Pacifica, and the available Stow 'n Vac built-in vacuum will help manage the inevitable dog hair. The available plug-in hybrid powertrain can add more miles of fun to your dog's travel dollar. See 2022 Chrysler Pacifica models for sale
2. 2022 Ford Bronco Sport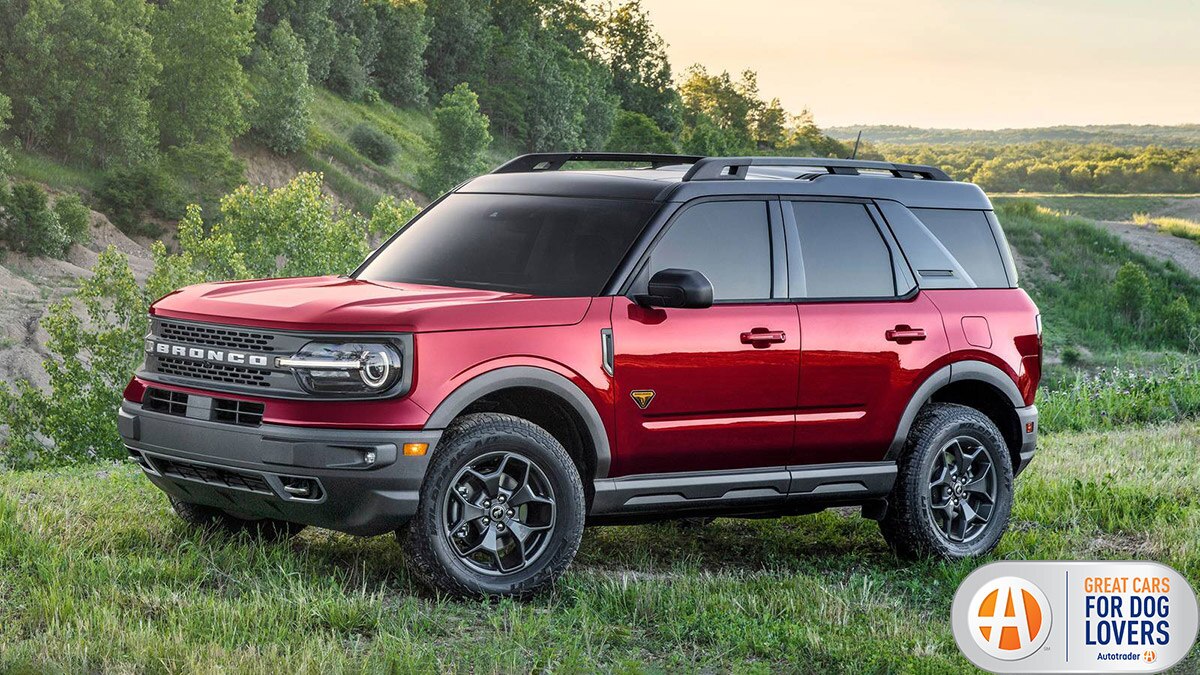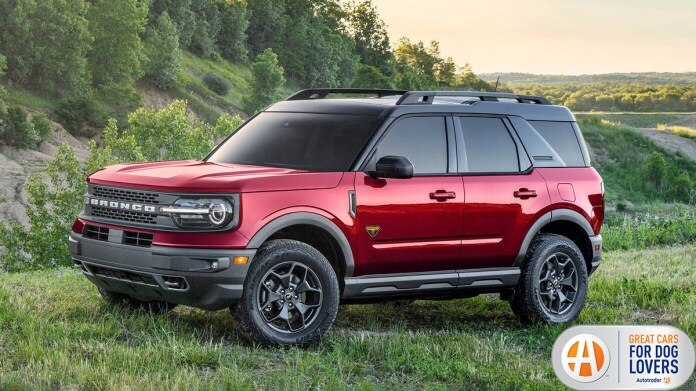 While its big brother, the Ford Bronco, has snagged many headlines, the 2022 Ford Bronco Sport is more canine-friendly (and a lot less expensive). Ford advertises the Bronco Sport's "safari-style roof even gives you enough cargo room to fit two bikes standing up." Leave the bikes in the garage, and load the Labradors. The Bronco Sport's rugged interior is just what the doggie ordered, designed to be resilient and hose-out easy to keep clean. We also like the soft-sided doggie carrier Ford has as an accessory for the Bronco, Bronco Sport, and Escape. See 2022 Ford Bronco Sport models for sale
3. 2022 Hyundai Santa Fe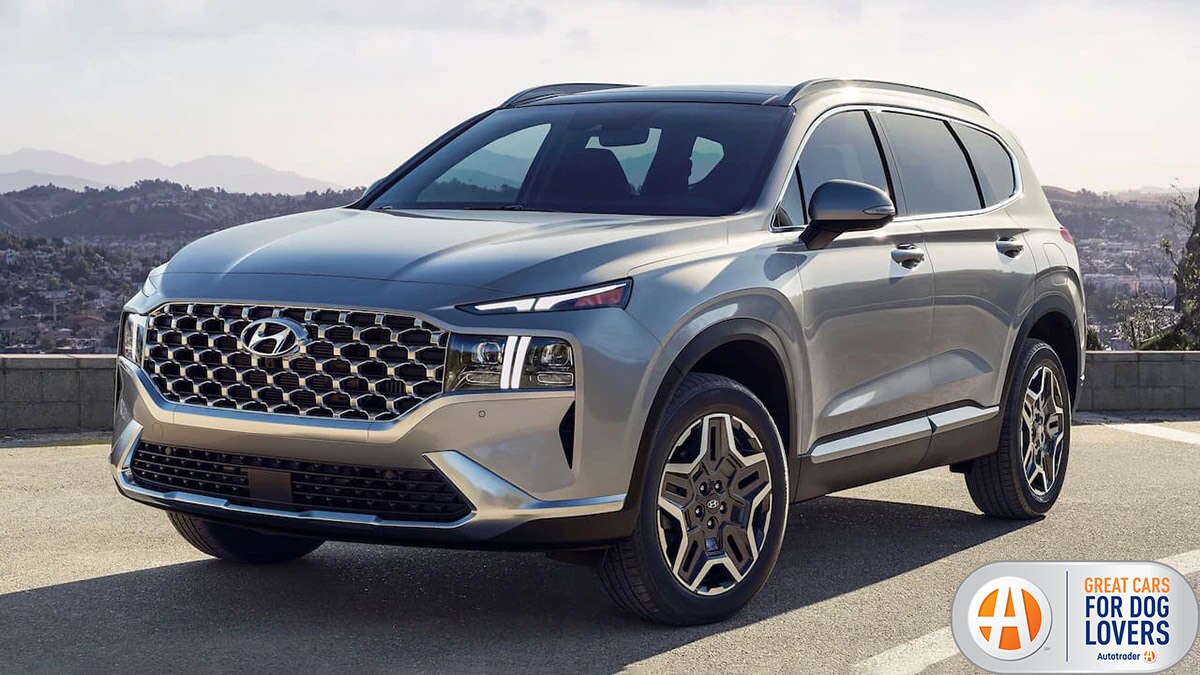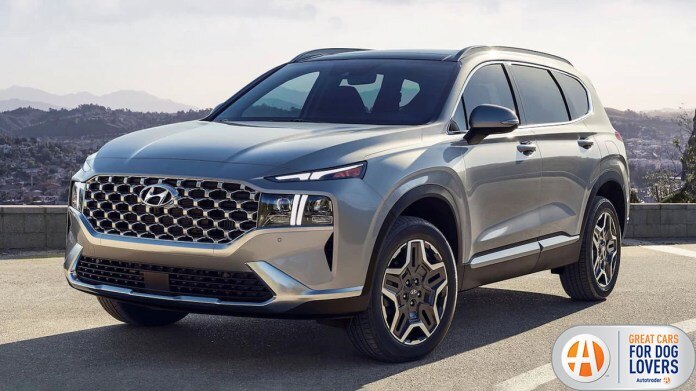 With gasoline only, hybrid gasoline-electric, and plug-in hybrid powertrains available, the 2022 Hyundai Santa Fe gives dog lovers the choice of how efficient a dog taxi their SUV will be. SE, SEL, and XRT models come with stain-resistant cloth seats, while Limited and Calligraphy models get durable leather. An available hands-free liftgate is a magical dog option, allowing your athletic pooch to make the reasonable leap onto the cargo floor for safe transport. See 2022 Hyundai Santa Fe models for sale
4. 2022 Jeep Wrangler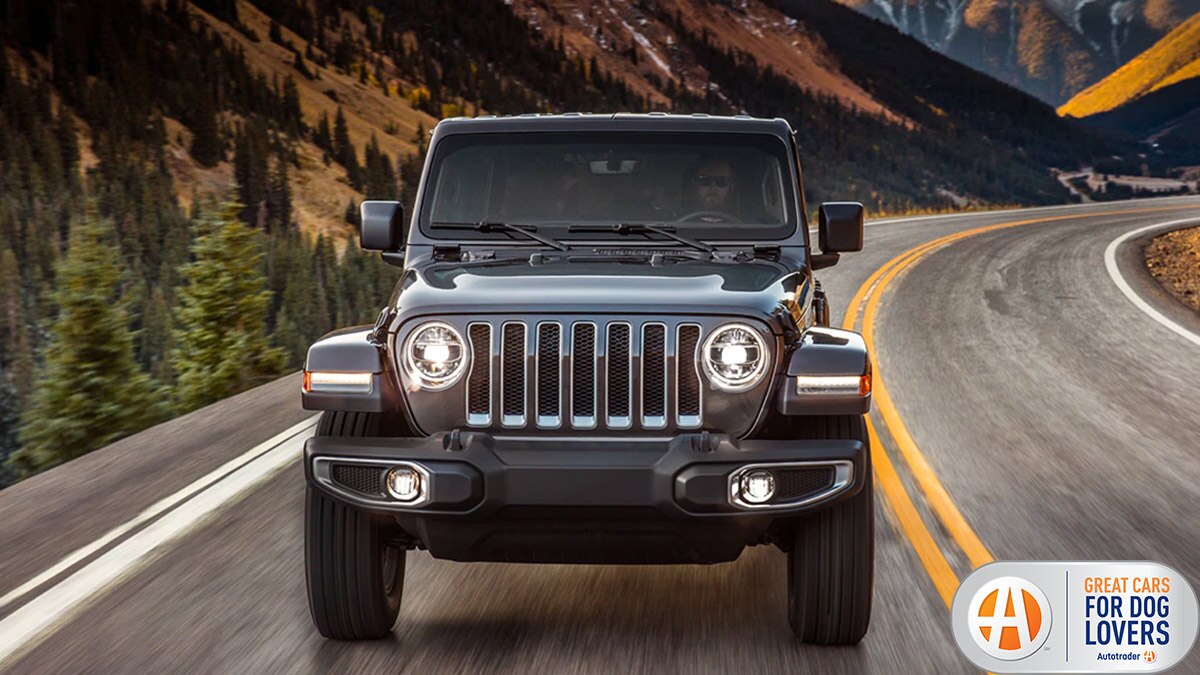 Whether you choose the 2-door or 4-door 2022 Jeep Wrangler, you'll get a dog-friendly off-roader ready to carry you and your best friend to the ends of the earth — and then climb over. Jeep offers a deep catalog of accessories for the Wrangler, including many pet-care options. The aftermarket takes over where the official roster leaves off with Wrangler pet specialty items like harnesses, crates, bandanas, and dog goggles. Enhance your dog's experience by selecting a plug-in hybrid Wrangler 4xe model, and enjoy some electric-only time on the trails together. See 2022 Jeep Wrangler models for sale
5. 2022 Kia Soul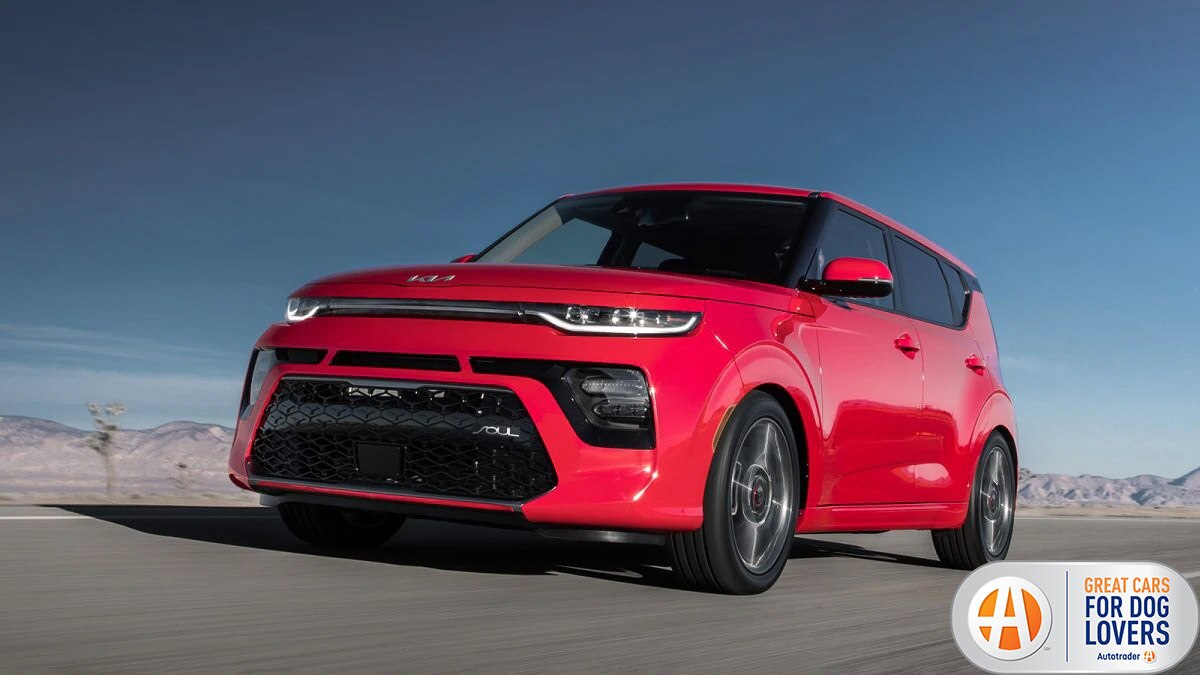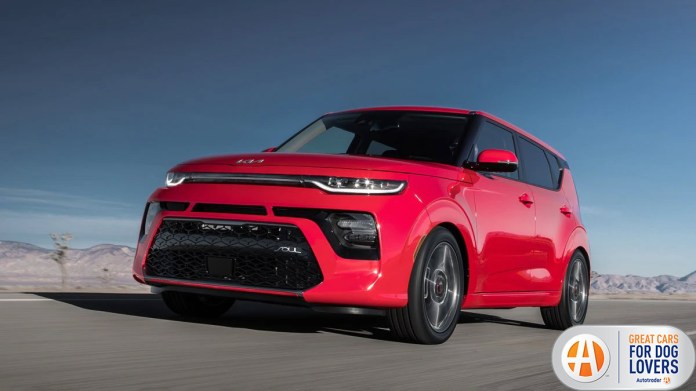 Is the 2022 Kia Soul a hatchback? Is it an SUV? Your dog doesn't care, and neither should you. The Soul has been a popular entry in Kia's lineup for years, thanks to its tall greenhouse and flexible interior layout. Small and big dogs alike will feel at home in the Soul. You'll appreciate its affordable price, spunky handling, and quirky good looks. With a starting price of around $20,000, the Soul is also the most affordable vehicle on our list. See 2022 Kia Soul models for sale
6. 2022 Ram ProMaster City Wagon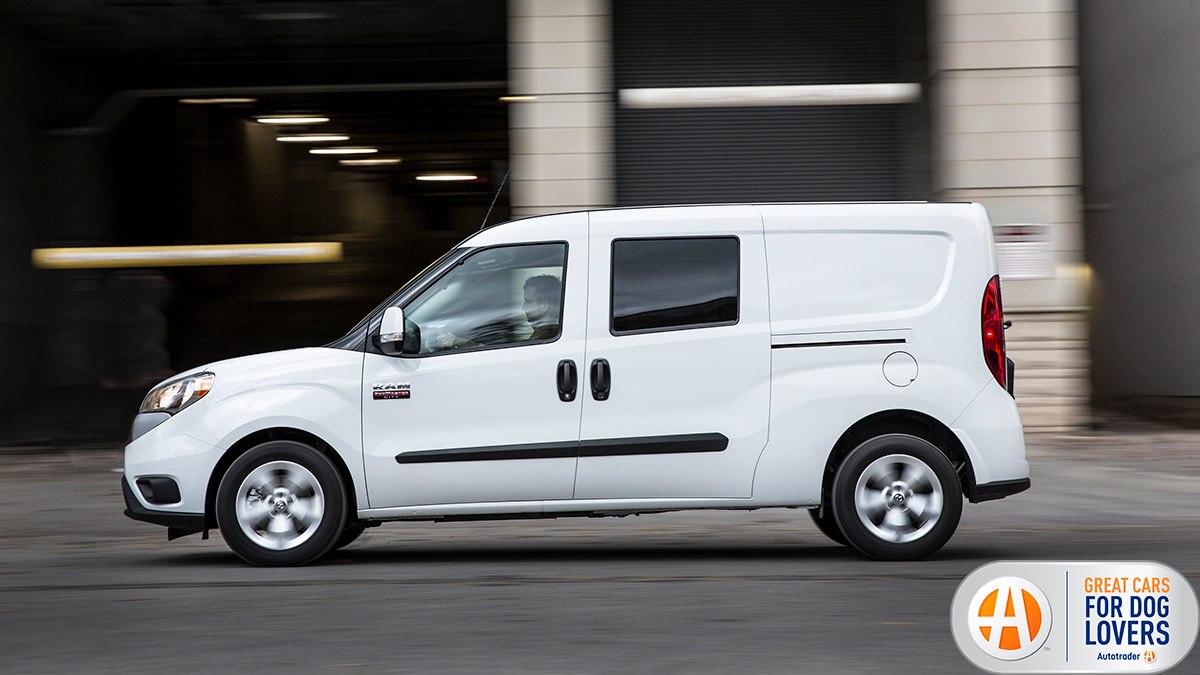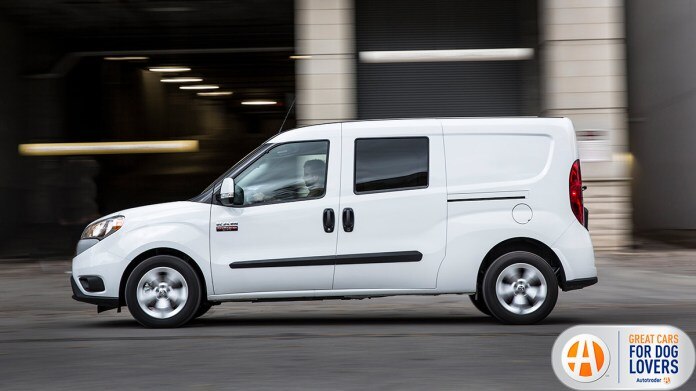 Best known as a commercial runabout, the 2022 Ram ProMaster City Wagon is a fantastic dog lover's vehicle. It has a comfortable front row and a second-row bench seat that can flip and fold forward, leaving a large, flat load floor in a simple, unadorned cargo area. The cargo hold is accessible via dual-side sliding doors or big swinging rear doors. Ram bolts four D-ring tie-downs to the load floor, which is low enough for a big dog to step into without jumping. Strap a crate in the back or toss a couple of dog beds on the floor, and you've got the ultimate dog van, no matter how your dogs like to roll. See 2022 Ram ProMaster City Wagon models for sale
7. 2022 Subaru Outback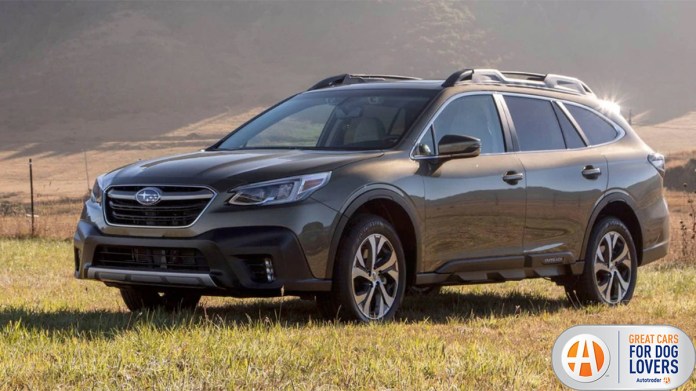 Subaru loves dogs and shows it through their corporate giving. Dogs love Subaru, too, especially the 2022 Subaru Outback. If you and your dog are into overlanding, hiking through the wilderness, or any adventure travel, you've probably encountered tons of Subaru dog cars along the way. Because dogs and adventure go so well together, Subaru has many pet accessories for the Outback and has designed the cargo area for safe and comfortable dog travel. See 2022 Subaru Outback models for sale
8. 2022 Tesla Model 3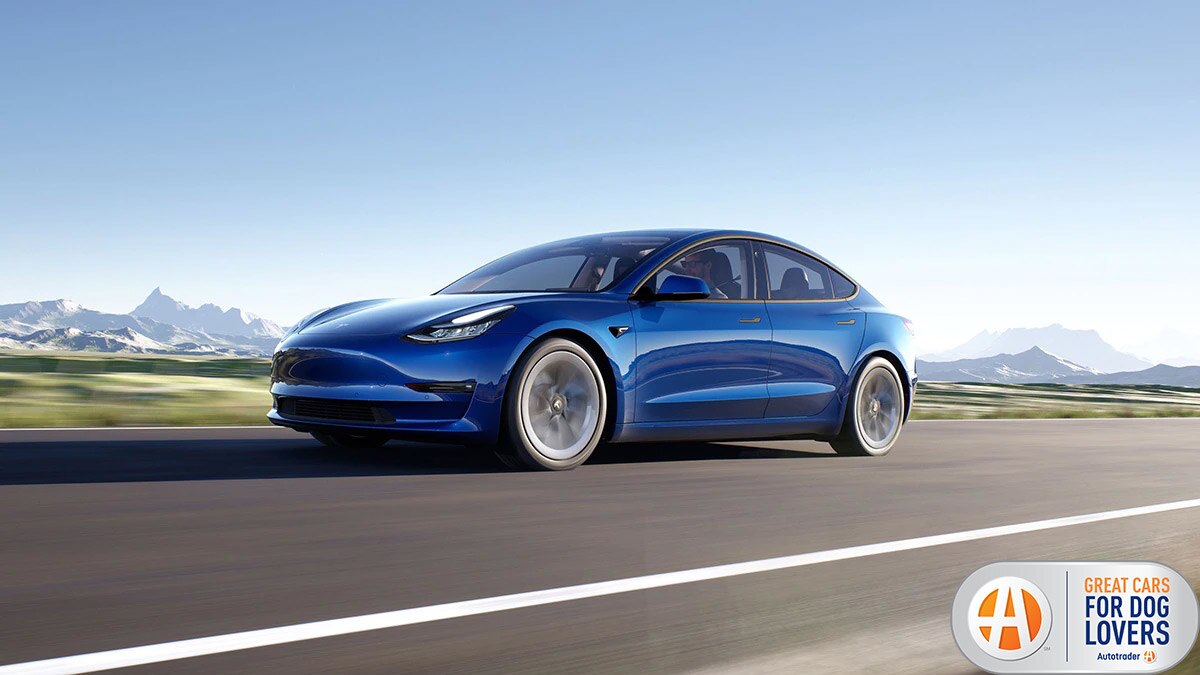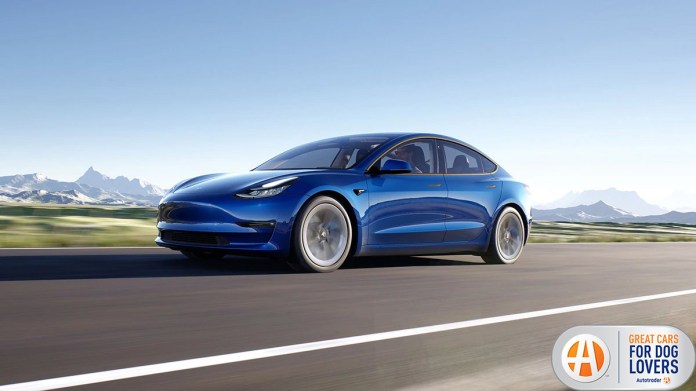 The 2022 Tesla Model 3 might be an unexpected addition to this dog lover's list, but it hits many high points for our 4-legged friends. Dogs love the environment — they live in it, after all. So, electric vehicles appeal to them. They also appreciate leather or faux leather seating surfaces, so their hair and dirt can be easily cleaned away. But the Model 3's secret weapon for dogs is the big glass roof, which makes the cabin feel as big as the great outdoors. Dogs will feel less confined and may be more relaxed in a Model 3 on the way to the dog park or other adventure. Plus, there's just no beating Tesla's "Dog Mode." This feature lets you set the interior temperature so your dog will be comfortable, even if you must step out for a minute. As an added safety measure, a message appears on the vehicle's screen saying, "My driver will be back soon. Don't worry, the air-conditioner is on and set to 68 degrees." See 2022 Tesla Model 3 models for sale
9. 2022 Toyota Sienna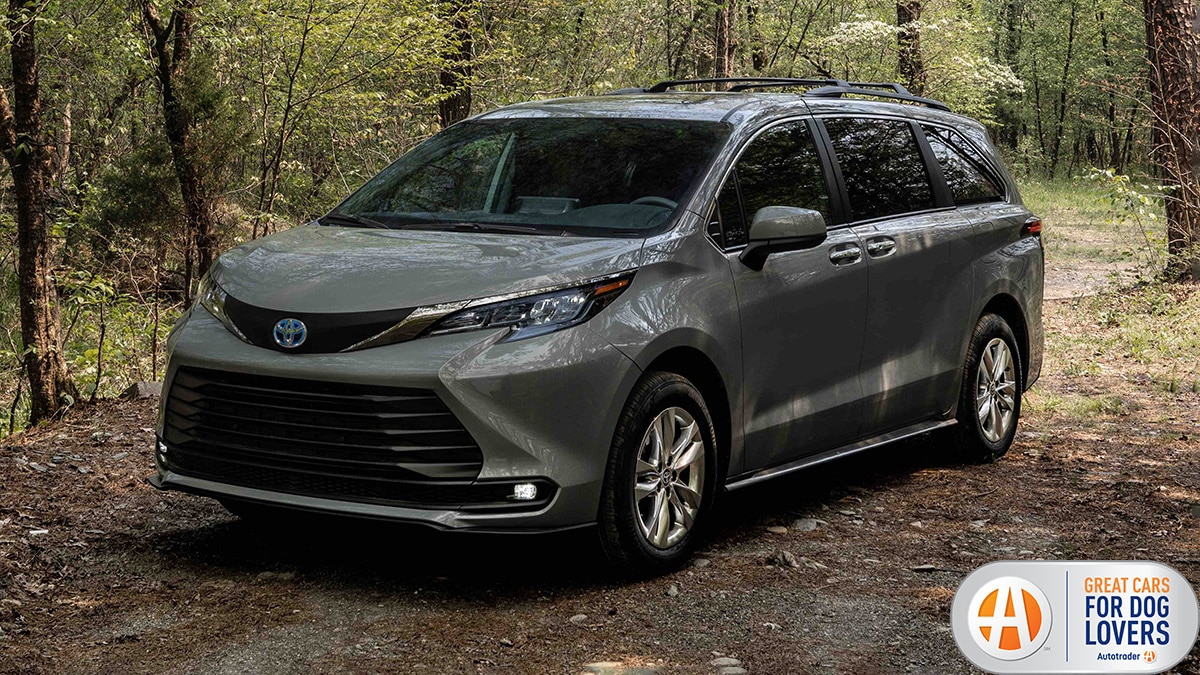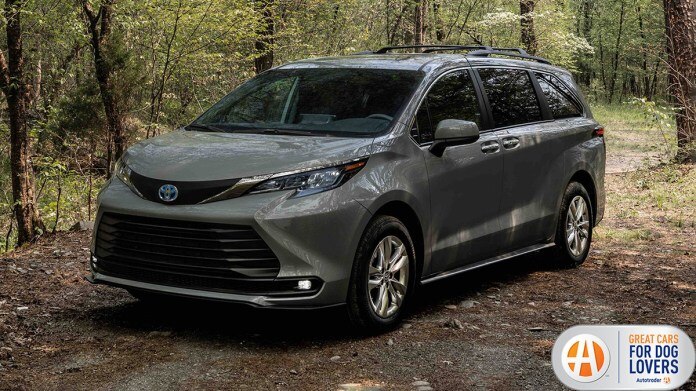 The 2022 Toyota Sienna comes with a hybrid gasoline-electric powertrain and available all-wheel drive, features that should capture the attention of all dog lovers. The minivan is renowned as a family hauler. If your family includes a dog (or two or more), the Sienna has you covered. Available power sliding doors on each side with low step-in heights make loading up your pups a breeze. The Sienna's ample cargo space and available power liftgate also ease access. This minivan has a flexible interior, with folding and sliding seats and removable consoles, and is designed for durability and ease of cleaning. What more could a dog ask for? See 2022 Toyota Sienna models for sale
10. 2022 Volvo XC60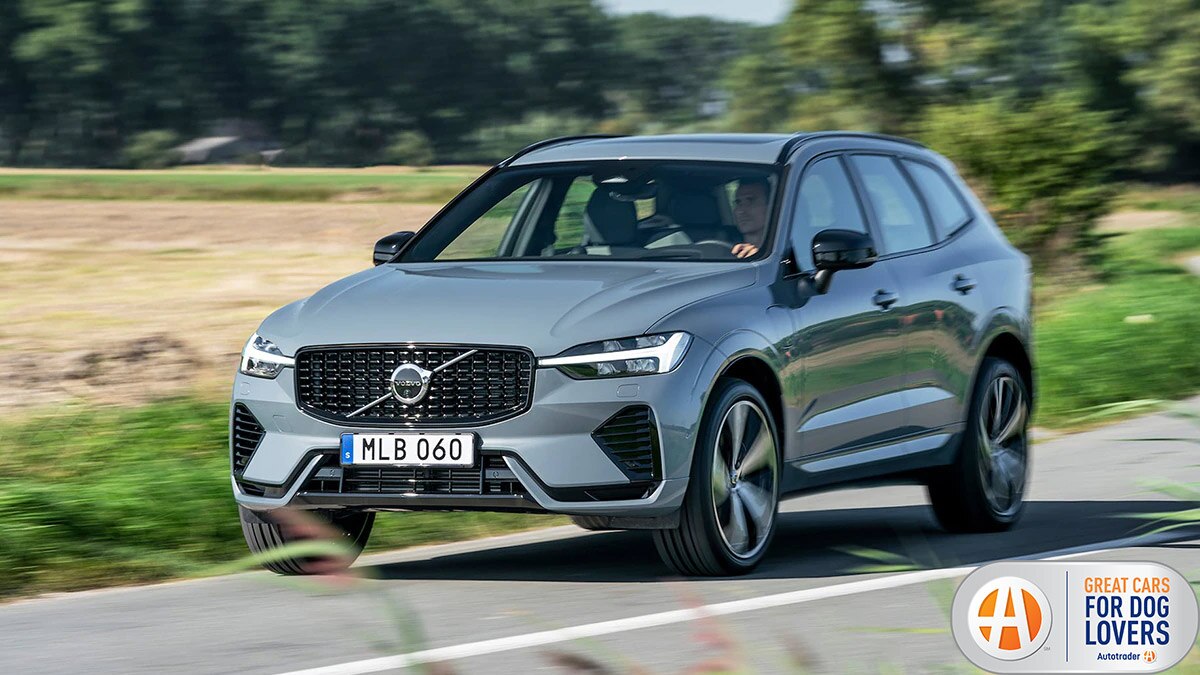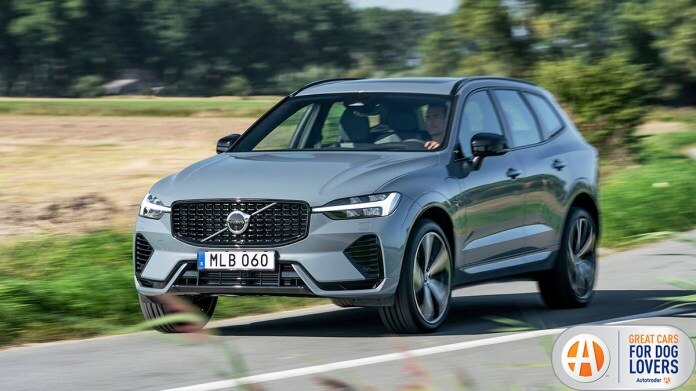 Volvo engineers its vehicles for safety. They recognize that dogs are frequent passengers in their SUVs like the 2022 XC60, and they've created accessories to make dog travel safer. The XC60 can be ordered with a protective steel barrier, which will not only keep your dogs confined to the cargo compartment while you drive, but will also keep them from becoming dangerous projectiles in the event of a collision. No one wants to think about the danger a dog can pose in an accident. Thankfully, Volvo has done the thinking for you and your dogs. Consider the XC60 Recharge for a plug-in hybrid experience to impress your dog. See 2022 Volvo XC60 models for sale
If you want more info on safely traveling with your pet, or if you're looking for another furry friend, visit Dogtrader.com
10 Best Cars for Dog Lovers
2022 Chrysler Pacifica
2022 Ford Bronco Sport
2022 Hyundai Santa Fe
2022 Jeep Wrangler
2022 Kia Soul
2022 Ram ProMaster City Wagon
2022 Subaru Outback
2022 Tesla Model 3
2022 Toyota Sienna
2022 Volvo XC60