It's getting more common for drivers to bring their dogs along for the ride. Whether you're taking your dog on a trip or you just want your furry companion to join you while you run errands, some features make some vehicles better for dog owners than others. These are usually found in SUVs and minivans, which are obvious choices for dog-friendly transportation.
Here are a few features we looked for when seeking the best new cars for dog lovers.
Durable seats — Vinyl, leather, and faux leather are the preferred seating materials for dog lovers. This is because of their durability against claws, plus they're usually easy to clean up.
Tinted rear windows — Dogs can get hot in cars, even when the air conditioning is running. Tinted rear windows can go a long way in keeping the back seats and cargo area cool. Some cars on this list also have available rear sunshades for further protection.
Low cargo floor — Big dogs can bound into the bed of a full-size truck with no problem. But if you have a smaller or medium-sized dog — or one who is older — a lower load floor will make it easier for them to jump in without you needing to pick them up.
Rear air vents — You won't find any really tiny SUVs on this list because they often don't have air vents in the back. This is a must for keeping the dog comfortable and safe.
Cargo tie-downs — If you have automotive pet accessories like harnesses or kennels, they're usually much more secure when using real cargo tie-down hooks.
Here are 10 vehicles that we think dogs and their owners will love.
1. 2021 Chrysler Pacifica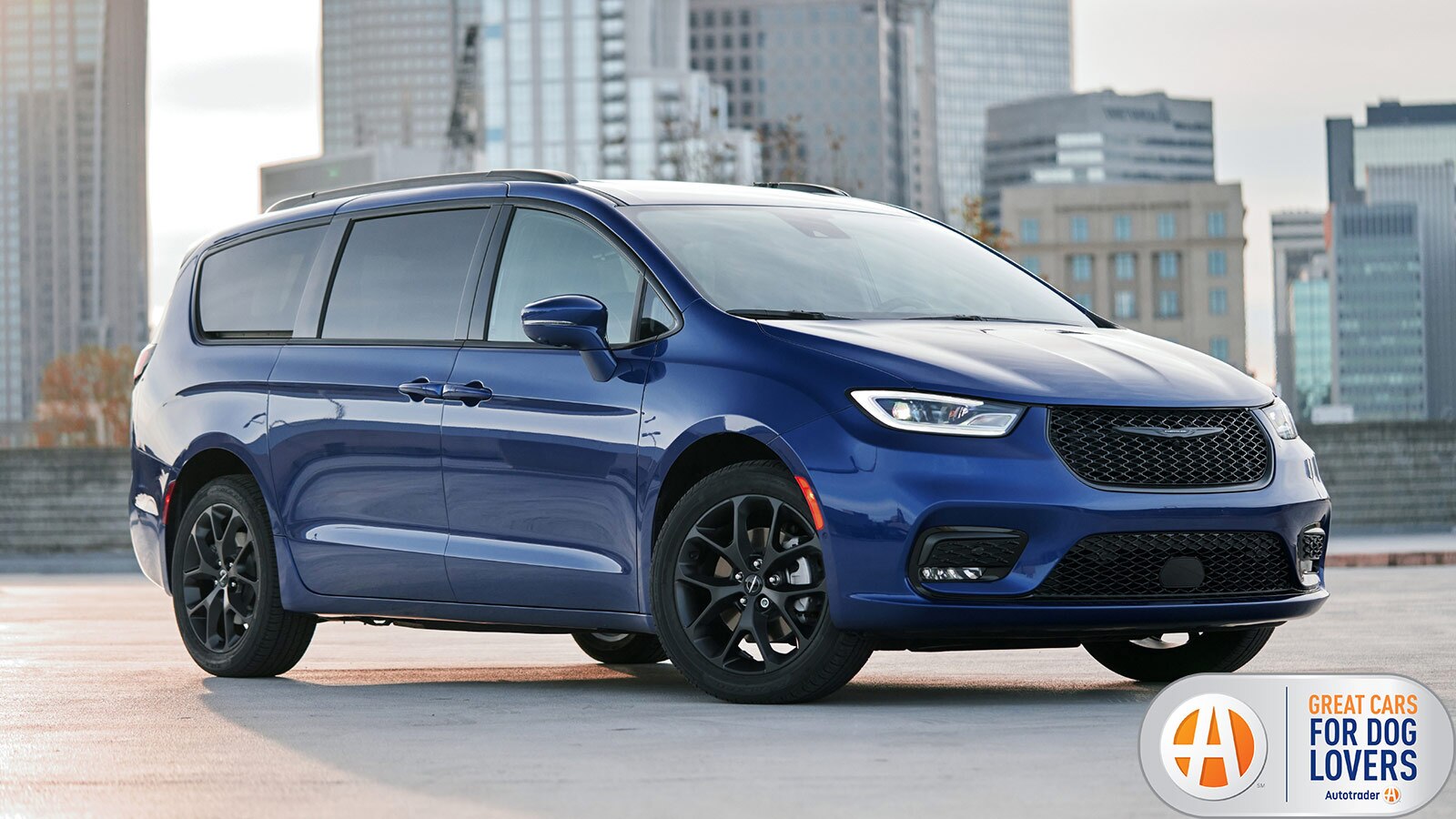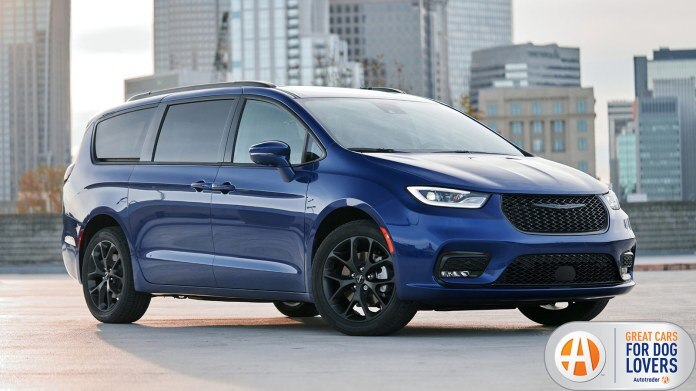 The Chrysler Pacifica with available Stow 'n Go seating is one of the ultimate dog vehicles. The second-and third-row seats can fold flat into the floor in seconds. Since it's a minivan, it also has a nice, low load floor. Another minivan perk is that it's easy to make the whole, spacious interior comfortable with generous ventilation. There's also an available Stow 'n Vac built-in vacuum that's convenient for cleaning up dog hair. See Chrysler Pacifica models for sale
2. 2021 Ford Bronco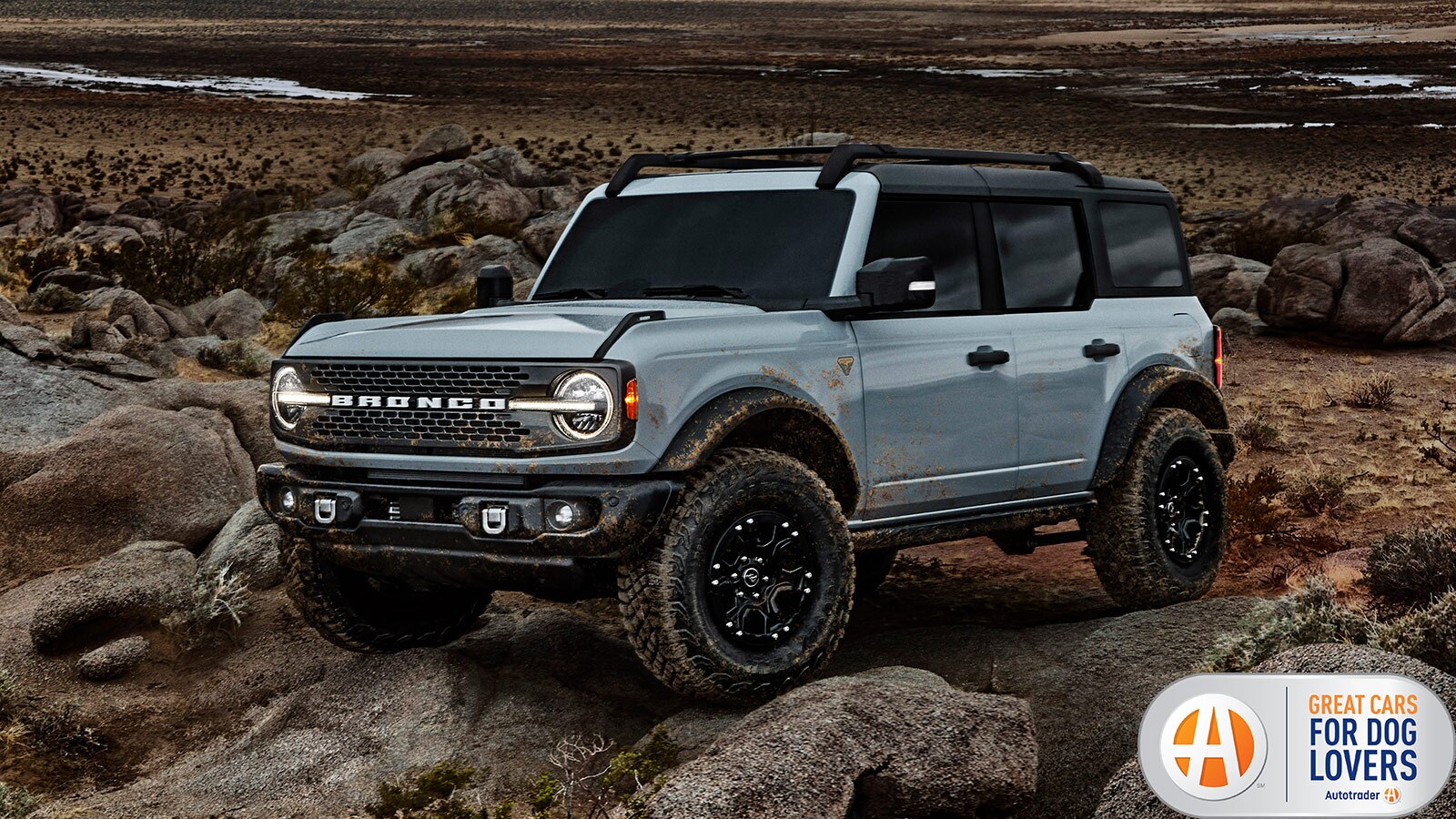 The all-new Ford Bronco has arrived, and it's instantly become a class leader in off-road SUVs. It has standard 4-wheel drive and tons of available features for improving off-road performance. A 4-door Bronco would be great for anyone who wants to bring their 4-legged friend on their off-road adventures. You can take off the roof and the doors, but make sure your dog is secured if you go topless. See Ford Bronco models for sale
3. 2021 Honda Passport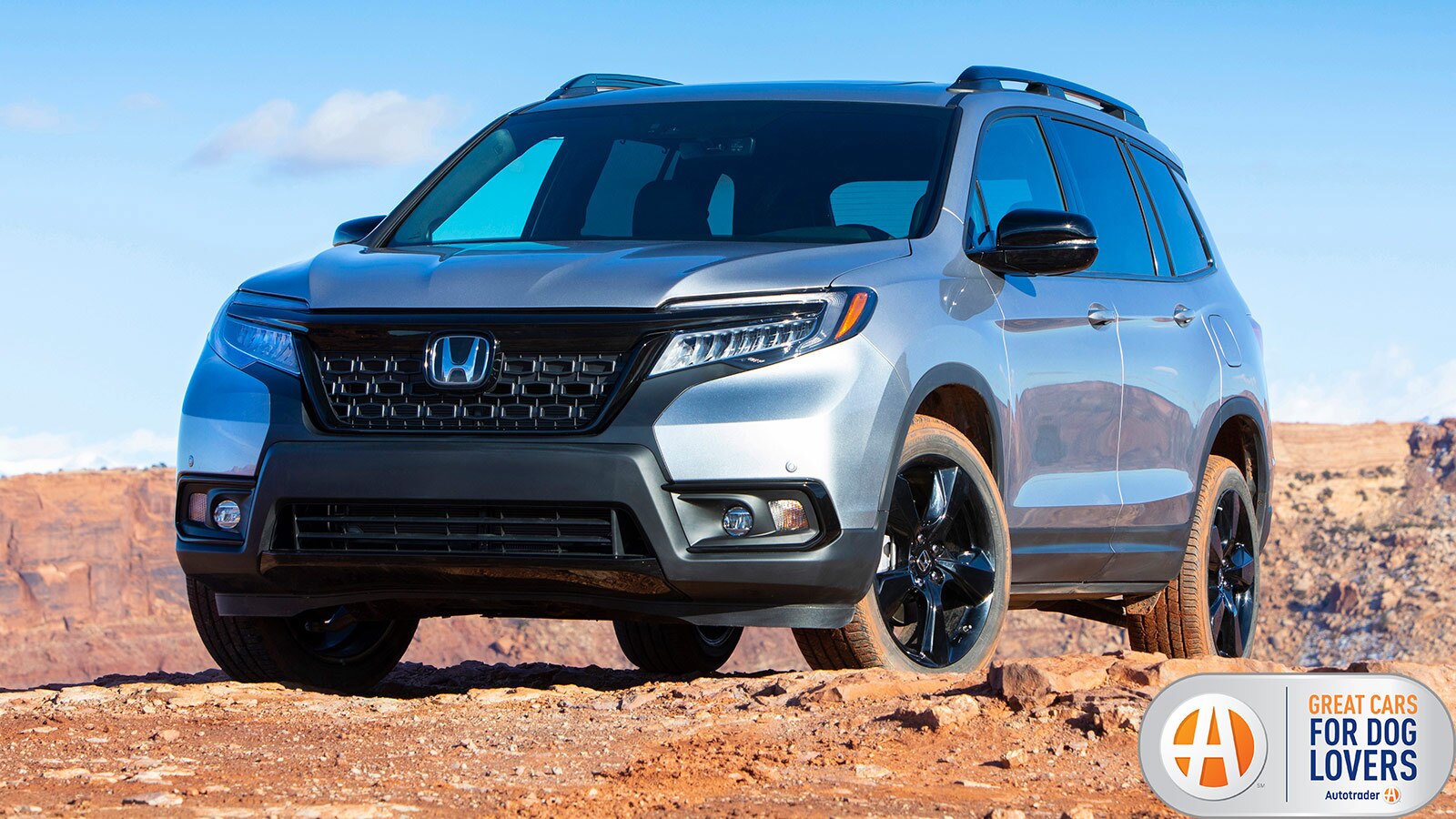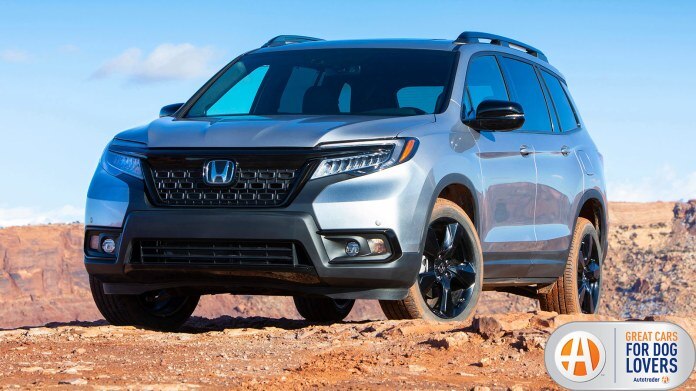 The Honda Passport is a good midsize 2-row SUV for dog lovers for a few reasons. It has over 100 cubic feet of cargo space when you fold down the back seats. It also has generous underfloor cargo storage with space for the dog's toys and supplies. The Passport is a decent off-roader when equipped with AWD thanks to Intelligent Traction Management with Normal, Snow, Mud, and Sand modes. See Honda Passport models for sale
4. 2021 Jeep Wrangler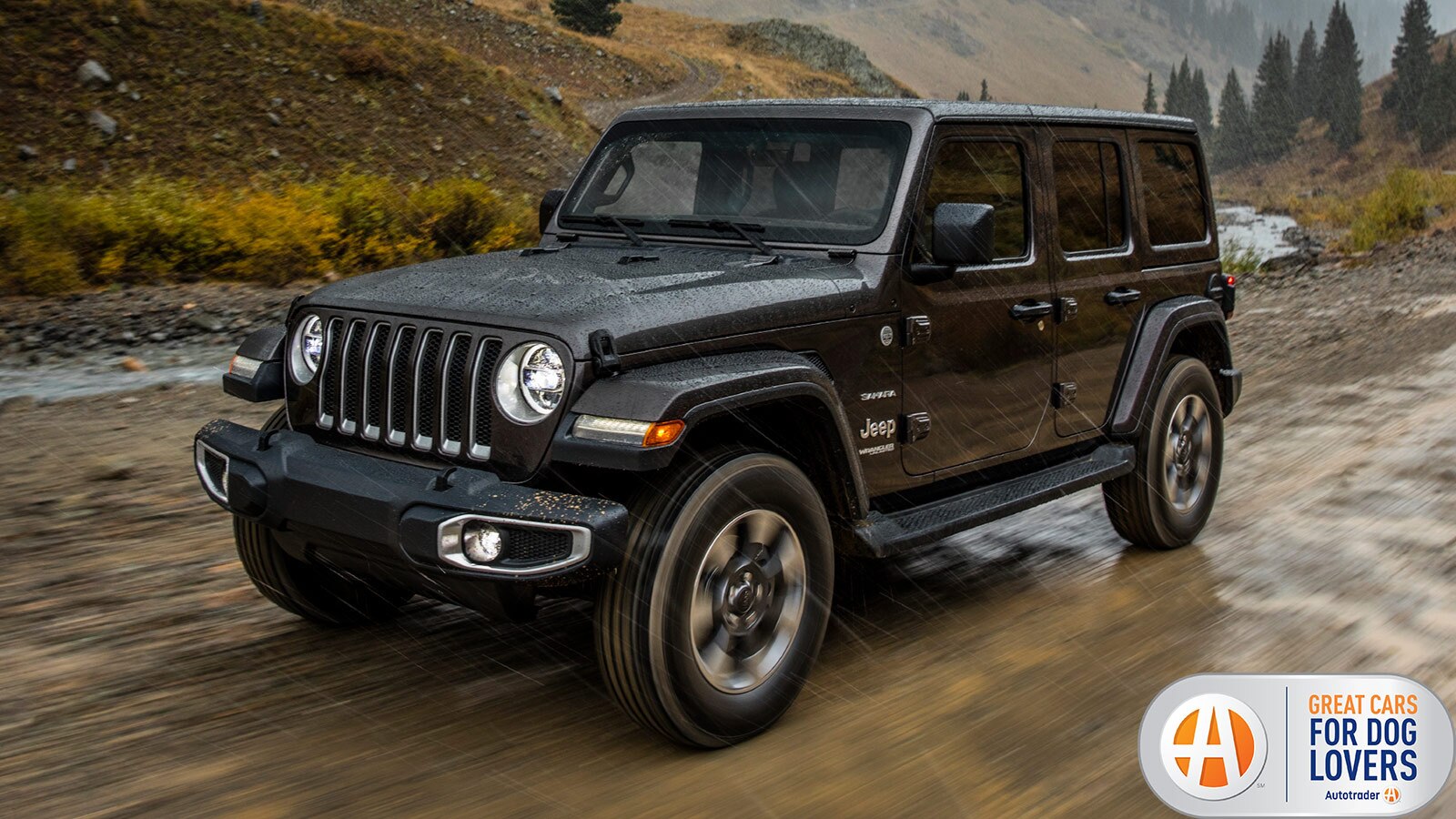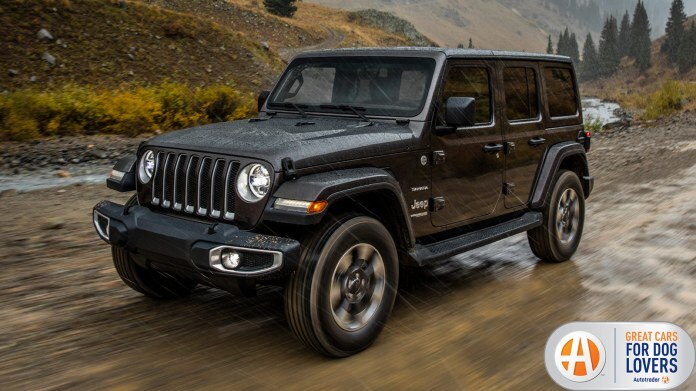 The Jeep Wrangler is legendary for its off-road chops and unmistakable styling. Many dog lovers are partial to the 4-door Wrangler Unlimited, which has much more space for dogs than the smaller 2-door model. An available Trail Rail system adds handy cargo tie-downs to the Wrangler. The top and the doors can come off, and there are tons of accessories available from Mopar and many aftermarket companies to make your Wrangler your own. See Jeep Wrangler models for sale
5. 2021 Kia Telluride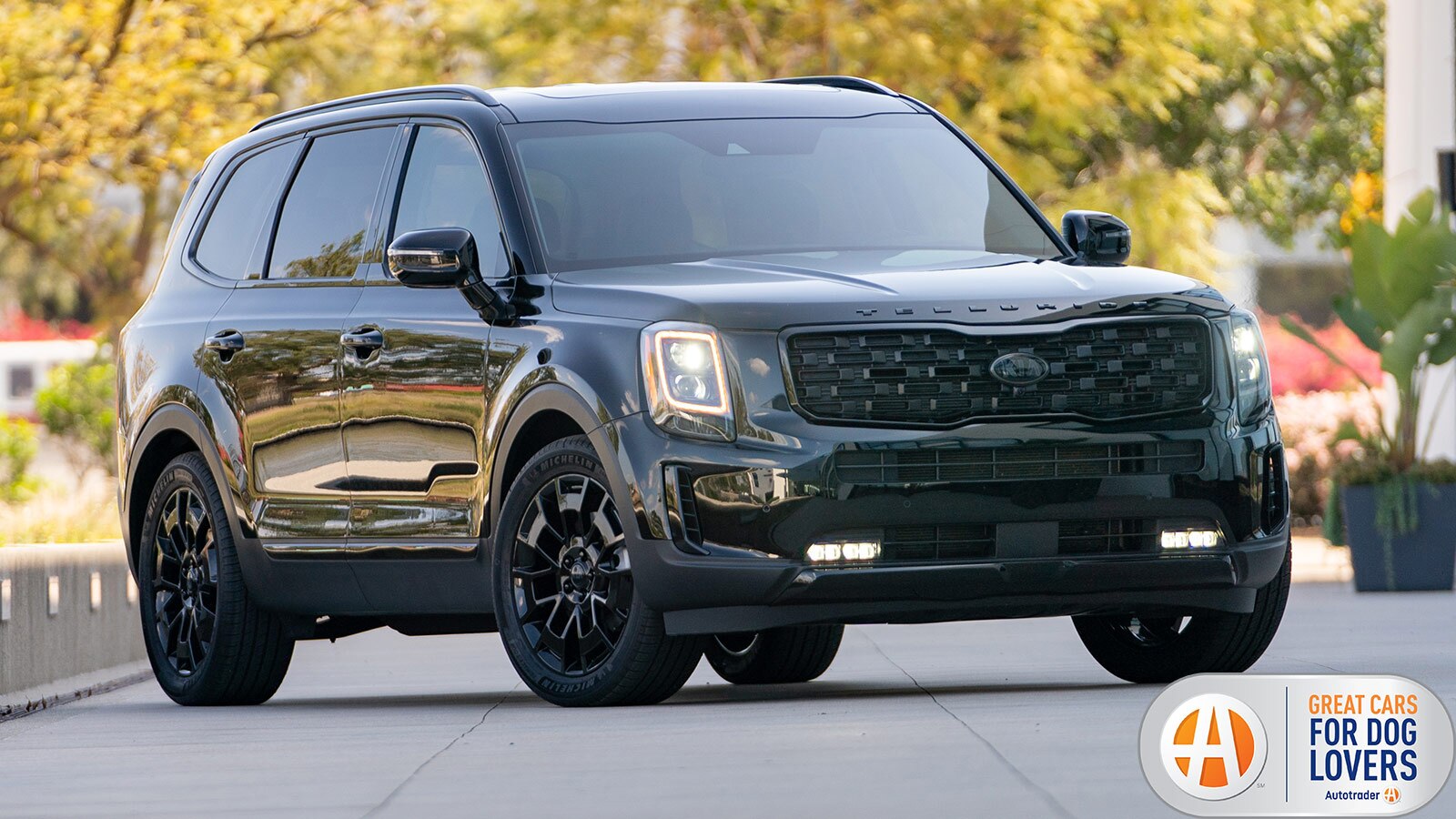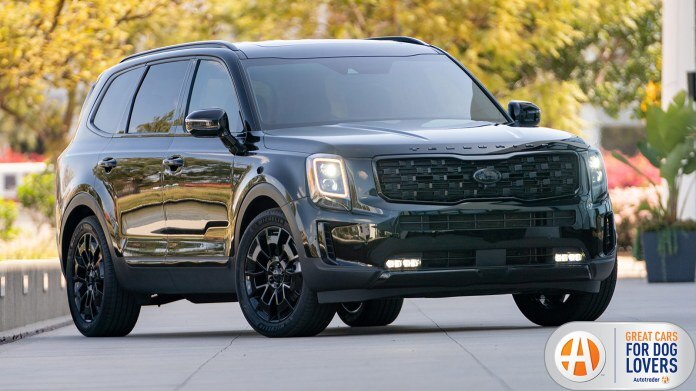 The Kia Telluride has quickly become a leader in the competitive midsize 3-row SUV class. Not only is it great for families who need a lot of seats, but the dog can jump in, too. The roomy cargo area is pretty customizable, with 50/50 split-folding third-row seats. Because of the Telluride's popularity, there are many available accessories like cargo seatback protectors and a folding cargo tray to make the interior more durable and pet friendly. See Kia Telluride models for sale
6. 2021 Nissan Rogue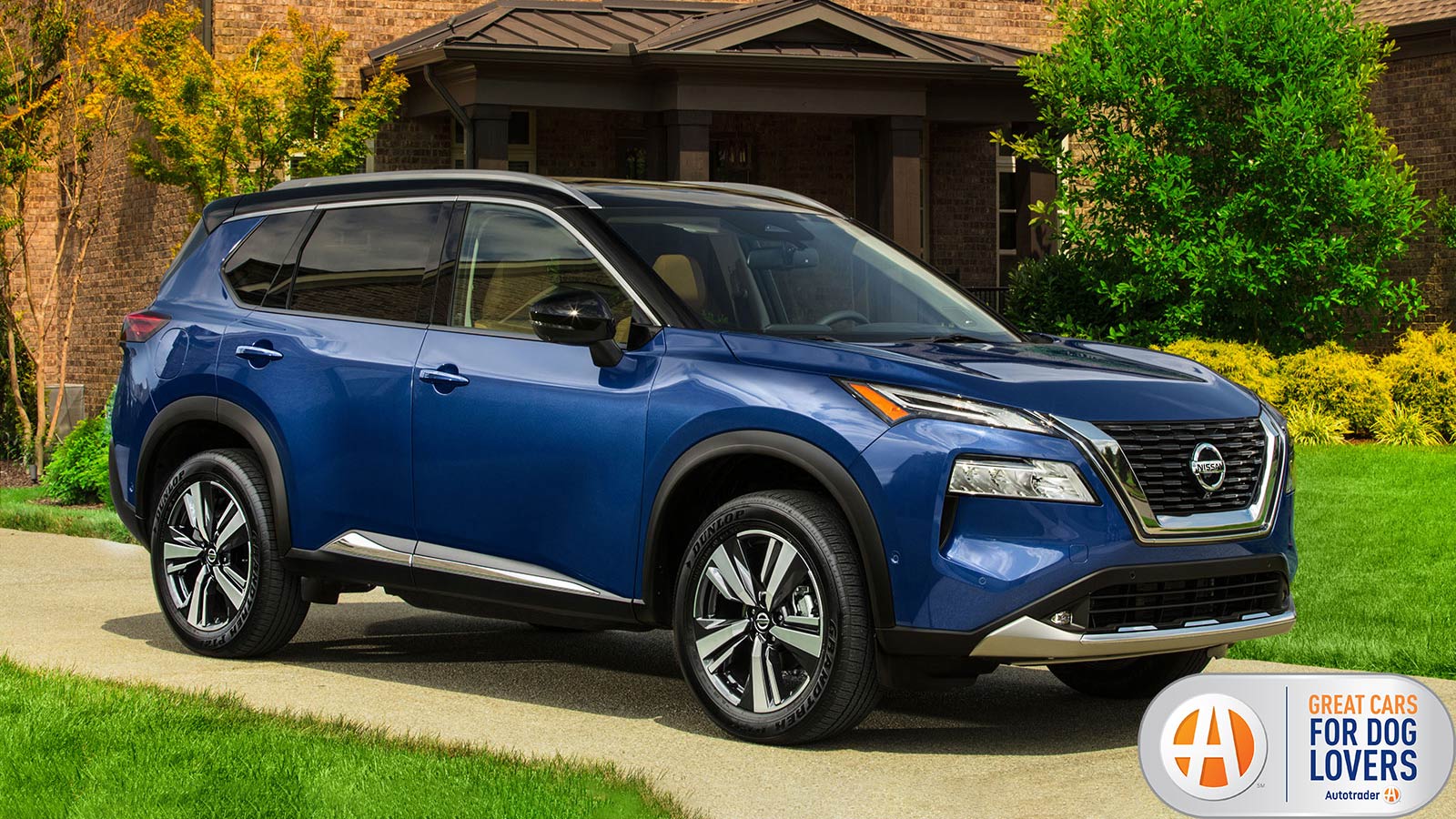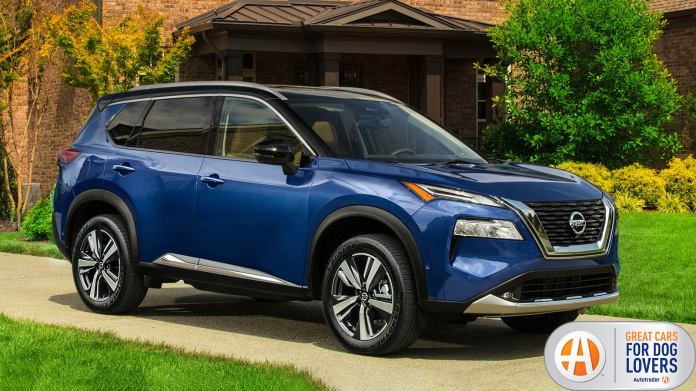 The Nissan Rogue is a totally new compact SUV for 2021. In addition to a nicer interior, and new tech features like wireless Apple CarPlay and a 12.3-inch gauge cluster, the new Rogue also has many pet and family-friendly accessories. For example, Nissan offers a family/travel cleanup kit, and an interior protection package including cargo cover and carpeted floor mats. There's also a cargo organizer, a host of genuine Yakima accessories designed specifically for the Rogue, and a rear cargo area pet barrier. See Nissan Rogue Models for sale
7. 2021 Subaru Forester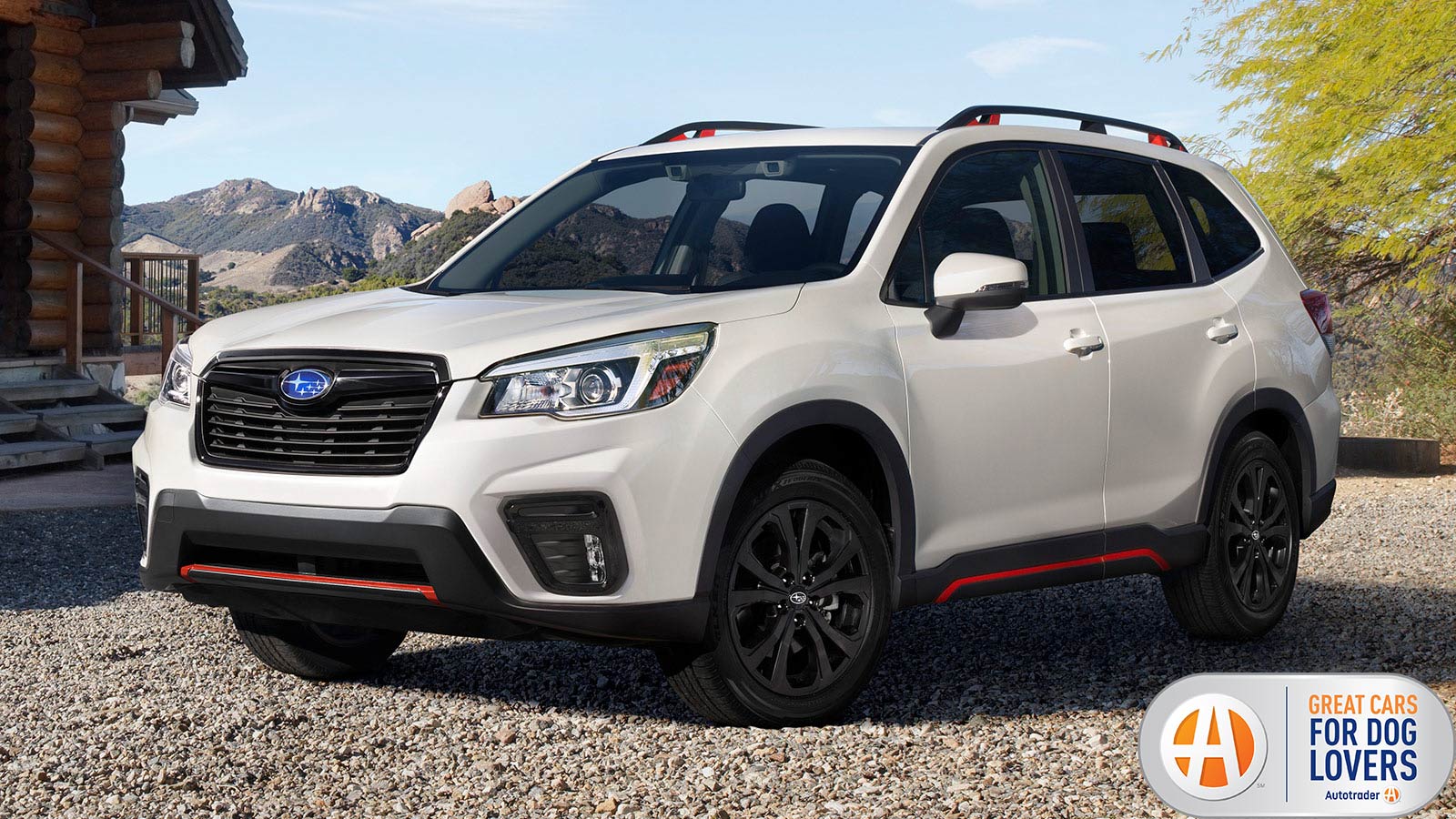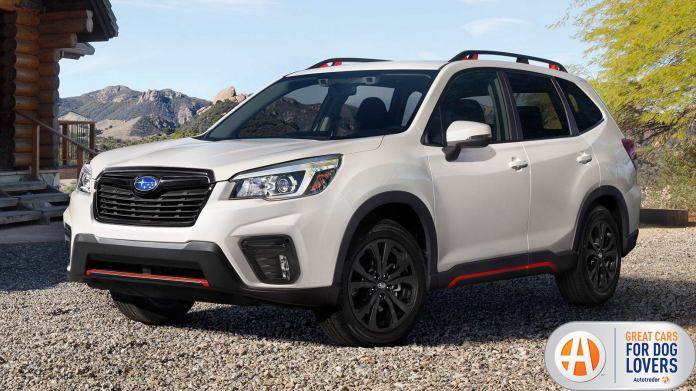 There's no question that Subaru is one of the most dog-friendly automakers. Among the many available pet-specific accessories for the Subaru Forester are a pet ramp, padded liners for the cargo area and back seats, a collapsible kennel, a harness, a pet carrier, and even a small pet travel bowl set. On top of that, the Forester is a good compact SUV with generous safety features and standard AWD. See Subaru Forester models for sale
8. 2021 Tesla Model Y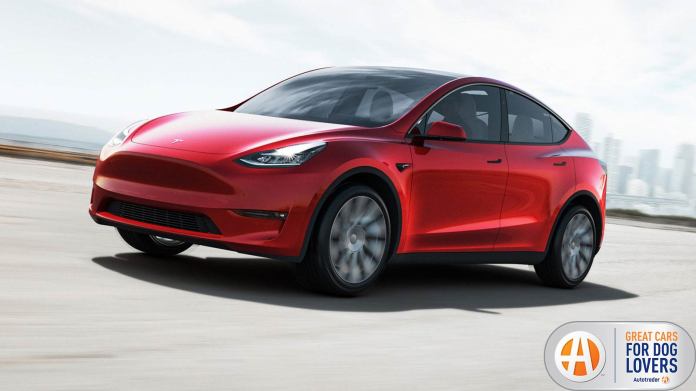 The electric Tesla Model Y has enough room to carry a dog or two comfortably, plus it has a clever Dog Mode. Dog Mode leaves the climate control system on while the car is parked. This makes it safe to temporarily leave your dog in the car while you're away. There's even a message that comes up on the infotainment screen that says "my owner will be back soon" and displays the interior temperature. Also, the vegan leather seating materials have proven to be pretty durable and easy to clean. See Tesla Model Y models for sale
9. 2021 Toyota Sienna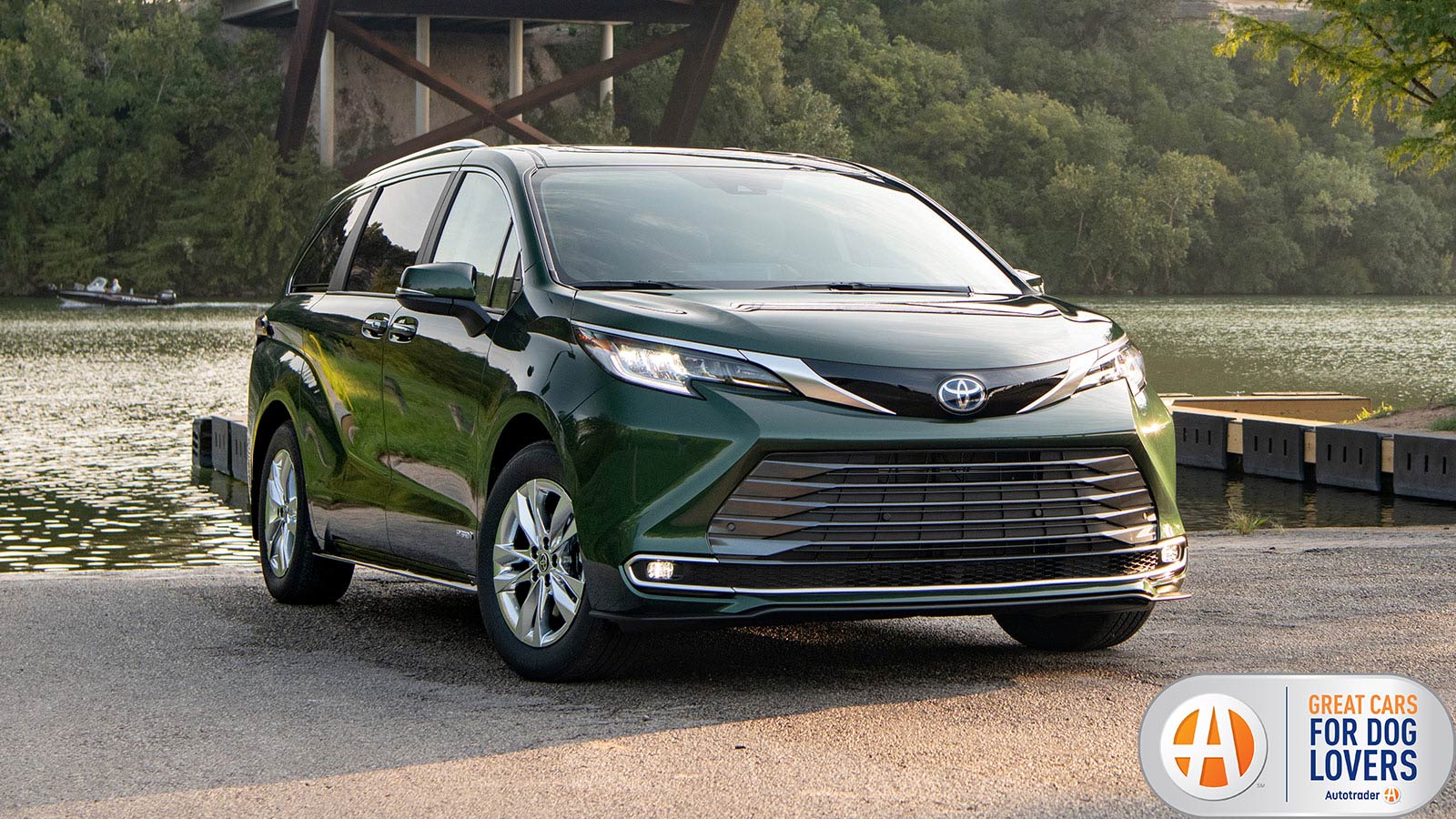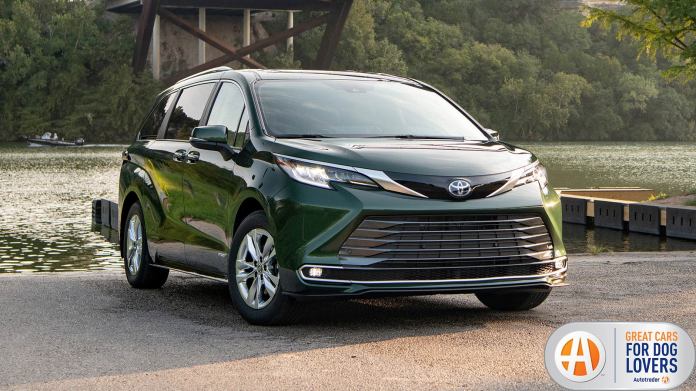 The Toyota Sienna is another minivan that's great for dogs. It's only available as a hybrid with an excellent fuel economy rating of up to 36 mpg in the city and on the highway. There are many storage options and cubbies for storing all of your dog's stuff. The available hands-free power sliding doors and liftgate are convenient whether you're loading up dogs, kids, or both. Generous ventilation and available sun shades can keep your dog cool and comfy in the second and third rows. See Toyota Sienna models for sale
10. 2021 Volvo XC60 Recharge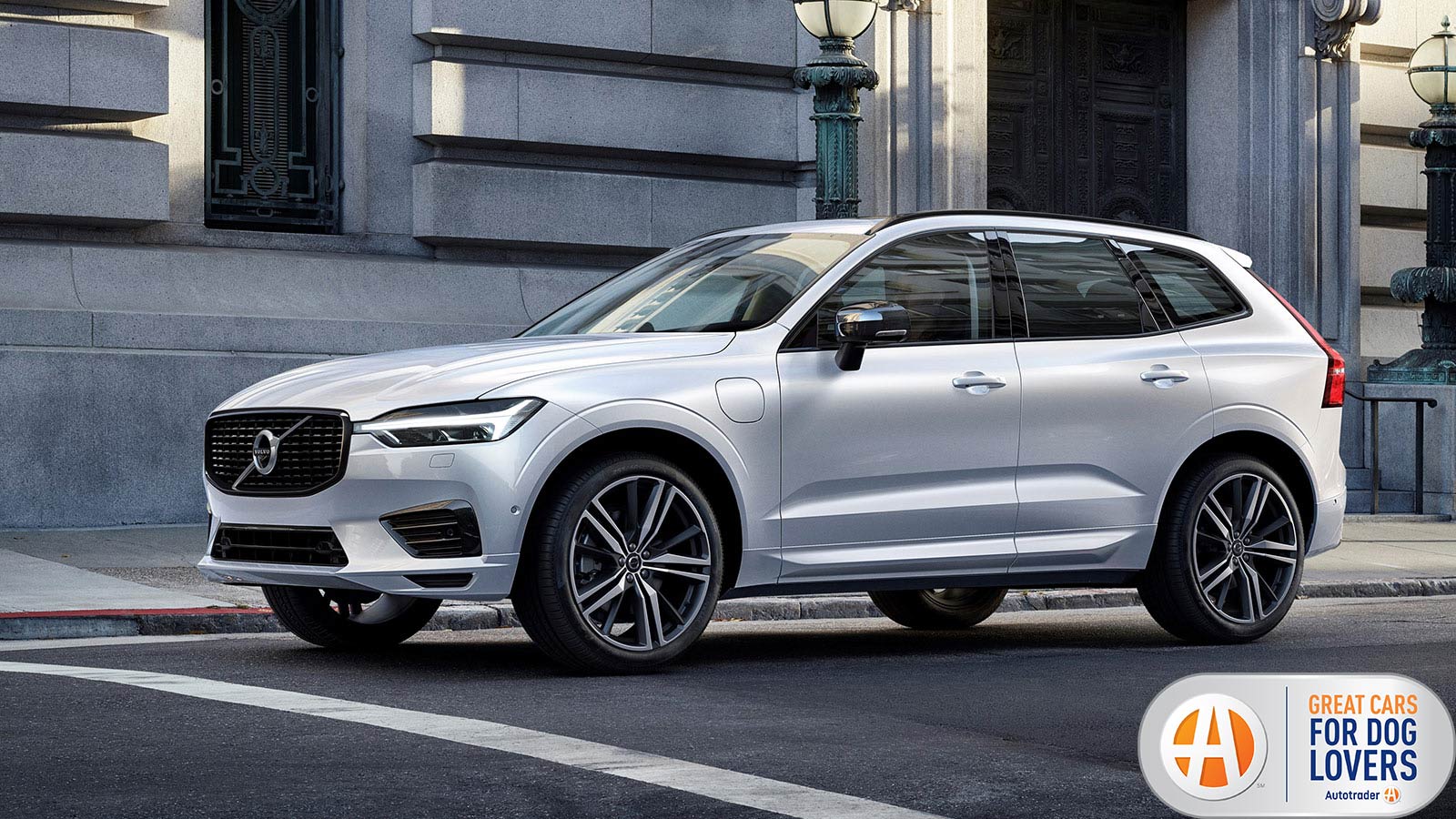 The Volvo XC60 Recharge is a compact luxury crossover with a plug-in hybrid powertrain. It can go up to 19 miles using only electricity before the gas engine kicks in. Like most Vovos, the XC60 Recharge has some dog-friendly touches like an available pet carrier, and a kneel mode lowers the SUV, making it easier for your dog to jump in. You can also get a protective steel grille inside that folds into the roof. This prevents the dog from climbing from the cargo area into the seating area. See Volvo XC60 models for sale
10 Best Cars for Dog Lovers
2021 Chrysler Pacifica
2021 Ford Bronco
2021 Honda Passport
2021 Jeep Wrangler
2021 Kia Telluride
2021 Nissan Rogue
2021 Subaru Forester
2021 Tesla Model Y
2021 Toyota Sienna
2021 Volvo XC60 Recharge