You're probably spending a lot of time in your car these days: curbside pick-up, drive-thru dinner, drive-in concerts, even some neighborhood movie theaters are converting the parking lot to an ad hoc drive-in double feature. Planning a vacation? It's probably by car this year. But what about your four-legged friends? Not all vehicles are designed around your dog's needs. With the idea of making the in-car experience, however long or short, as enjoyable for your pet as it is for you, here are the best cars with a few features we think every dog-friendly car should have.
First, no matter what brand of car you choose, look for these features to make your pet comfortable.
Leather seats are easier to clean and are a bit more durable. However, cloth seats also have their advantages. Cloth seats are less slippery under a dog's paws, making it easier for him or her to stay put when the car is cornering or braking. The cloth is also more comfortable, staying cooler in the summer and warmer in the winter. So we recommend vehicles that have leather seats available as an option, and we do not recommend suede seats.
Tinted windows help reduce heat inside your car, although please never make the mistake of thinking it's OK to leave a dog in a parked car just because it has tinted glass. The tint helps reduce heat and UV penetration while you're driving along. Most SUVs come standard with tinted rear glass, but in passenger cars, you may have to ask the dealer or local shop to add it.
A level cargo floor makes it easier for your dog to get in and out, plus it makes carrying a dog crate or a large dog bed a bit easier. For vehicles with small cargo areas, a 2nd-row seat that can fold flat is the ideal solution. If you're in the market for a new or "new to you" car, be sure to do a quick online search to be sure there are plenty of options for dog carriers and other aftermarket safety equipment.
A low cargo area makes it easier for small dogs to get in and out and is easier on the joints of older dogs. This is the main reason there aren't any large, truck-based SUVs or pickups on our list.
Rear air vents are a great way to keep fresh, cool air circulating around your dog. If you have a three-row SUV or are required to use a dog carrier, make sure those rear A/C vents cover the third row.
Cargo area tie-downs are also crucial for securing crates, attaching harnesses, and holding in place wire or mesh barriers.
In addition to comfort, safety is a primary concern. Over the years, Nissan has embarked upon several pet-safety initiatives. Brandon Sanders, product safety expert, Nissan North America says:
"Often drivers may hit the road and just have their pet jump in the back seat for the ride. For a small investment and an extra minute or two, you can take steps to help ensure your pet is secured in the car." An unrestrained pet can be a distraction and also poses a greater risk of injury to human occupants."
With all this in mind, here are 10 vehicles we think dogs and their owners will love:
2020 Audi Q5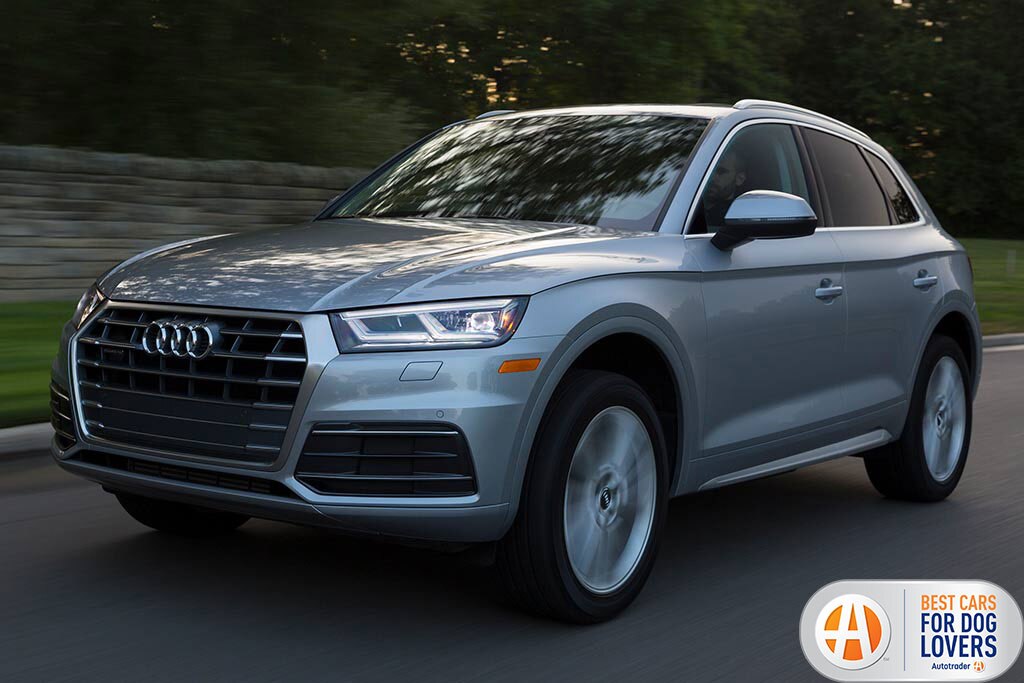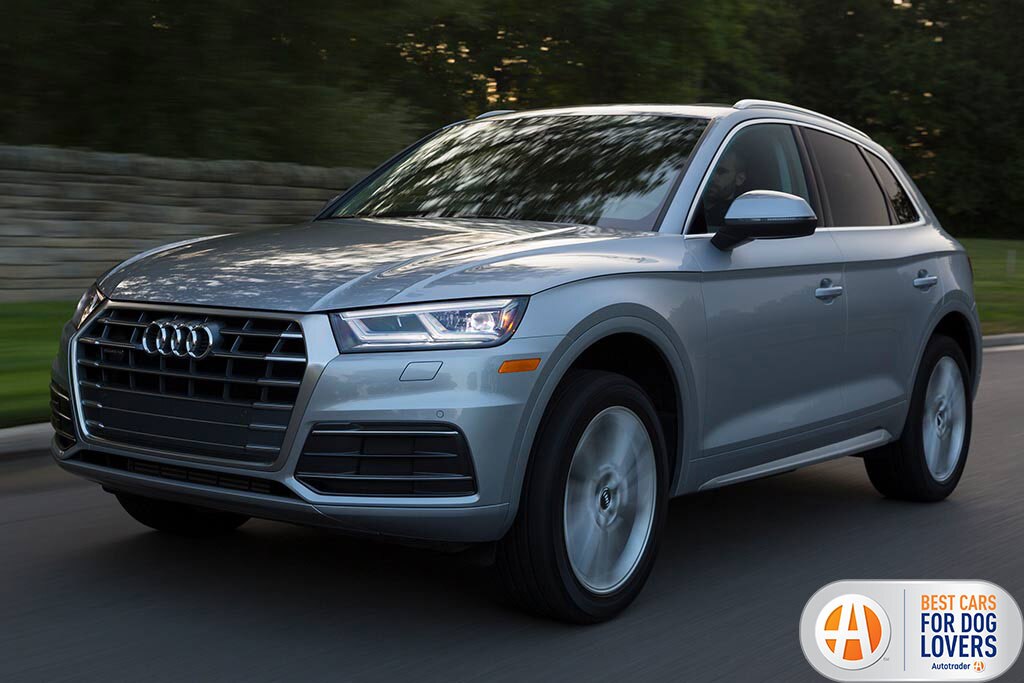 Small SUVs are very popular right now. We like the Audi Q5 because it's a great compromise between a full-size SUV and a subcompact. Leather seating is standard and Audi has some decent pet accessories like all-weather floor mats, a protective rear seat cover and dog harnesses in a variety of sizes to keep your pet safe. The Q5 is also a lot of fun to drive. Find an Audi Q5 for sale
2020 Chrysler Pacifica
The low load floor and the fact that Chrysler offers a number of pet-friendly accessories, such as a lightweight collapsible pet kennel and a carpeted mat for the cargo area. The Pacifica is also available as a plug-in hybrid, and buyers can opt for all-wheel drive on gasoline-powered models. The Pacifica also features lots of clever storage spots for hiding dog toys and accessories, including underfloor storage provided by the ingenious Stow 'N Go seating (not available on the hybrid model). Find a Chrysler Pacifica for sale
2020 Honda Fit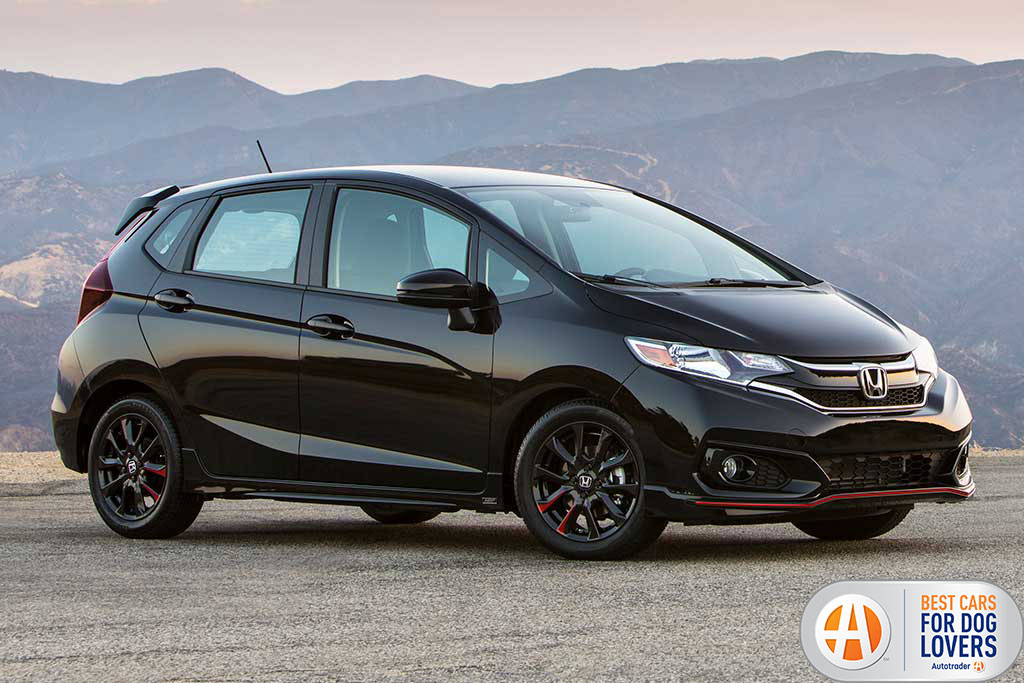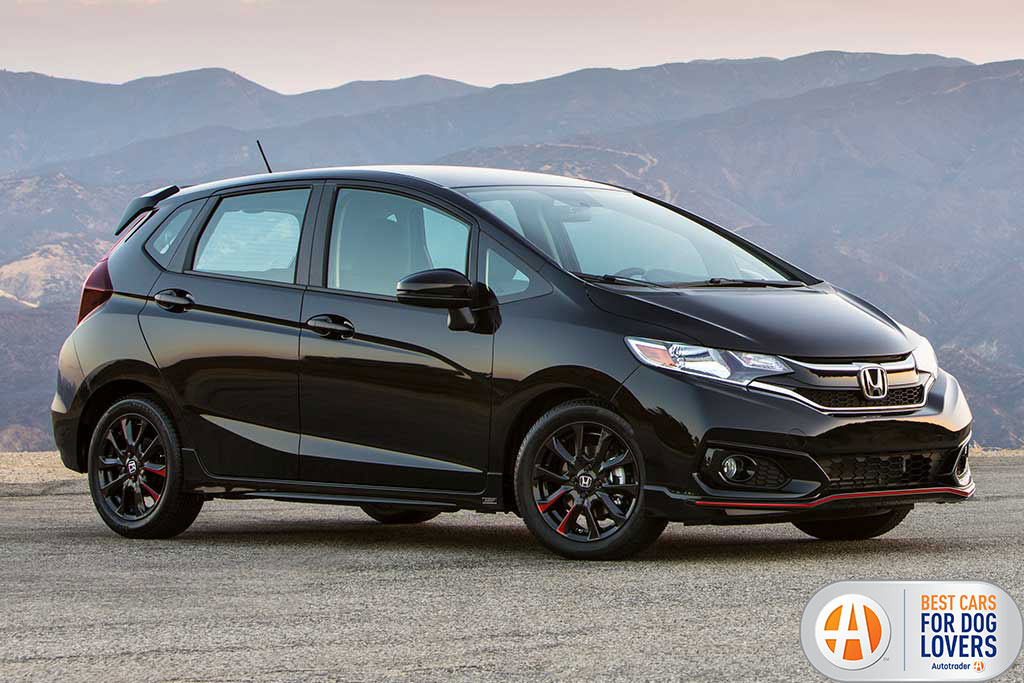 The Fit checks all the boxes from our pet-friendly wish list. It has a low load floor/cargo area, the rears seats are surprisingly big for a subcompact, leather seats are an option, large hatchback-style rear door, a tall roof wagon type setup. In addition, the 60/40 split rear seats are reconfigurable to make carrying people, cargo, or canines or any combination easy. Plus, there's the Fit low base price – under $18,000. Find a Honda Fit for sale
2020 Hyundai Kona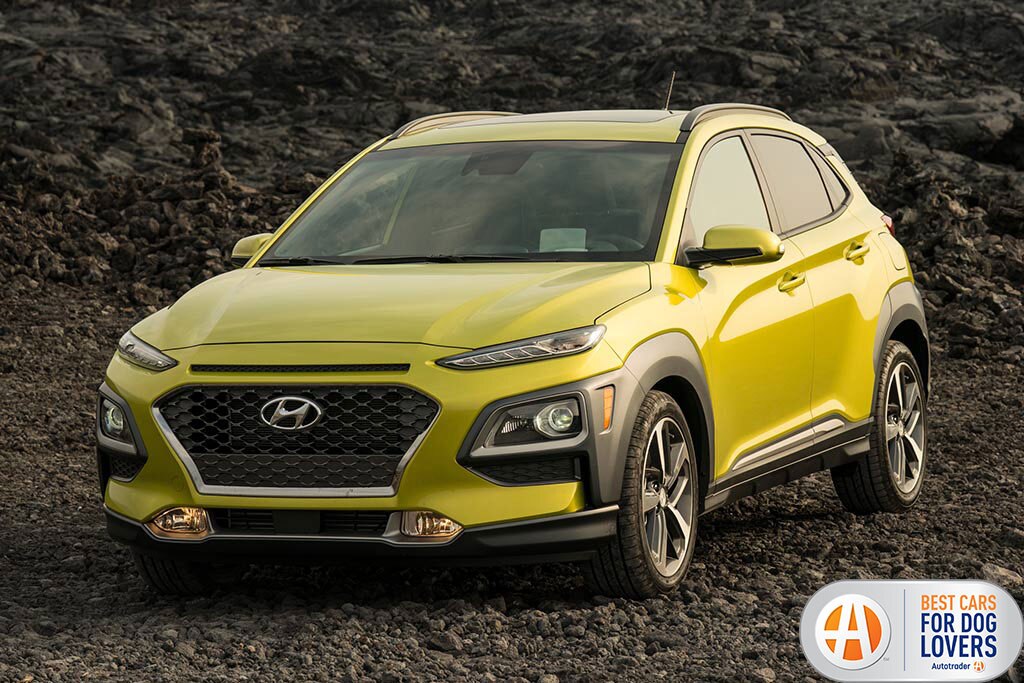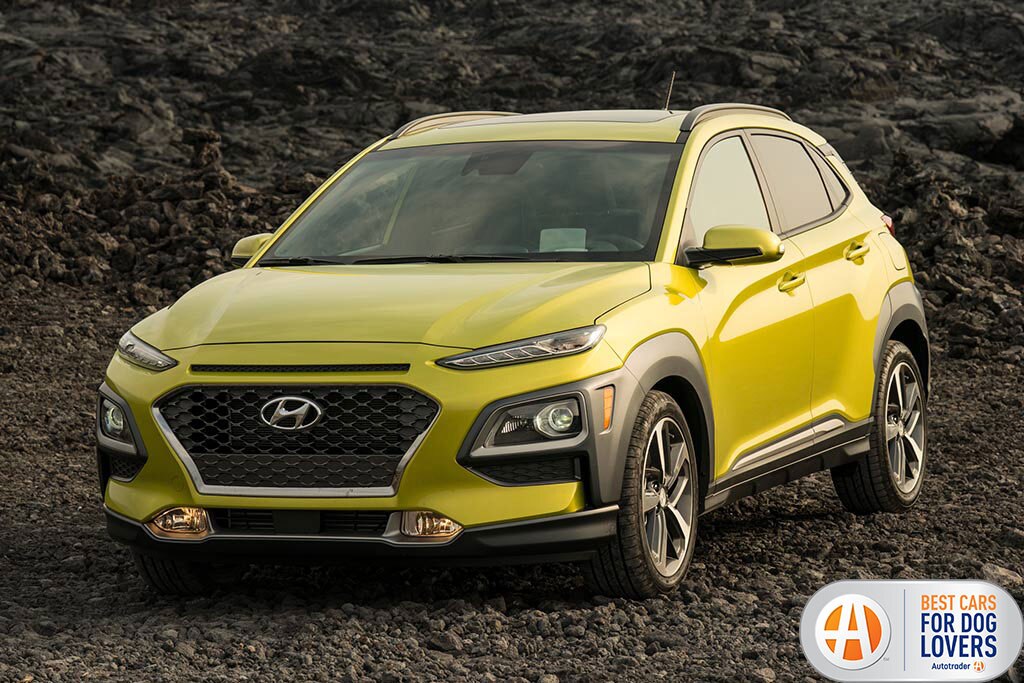 This is one of those vehicles where we just keep finding new things to like. It's new, so if you've never heard of the Hyundai Kona, we wouldn't be surprised. Not only is a great little car-based SUV, but it's also good for dog owners thanks to accessories like a variety of floor mats and cargo liners, a doggy water bottle, and Hyundai will sell you a back seat protecting "pet hammock." In addition to the typical features that serve man's best friend well, it has a $20,000 based price, offers all-wheel drive, is available as all-electric, and wireless phone charging is available. Find a Hyundai Kona for sale
2020 Kia Soul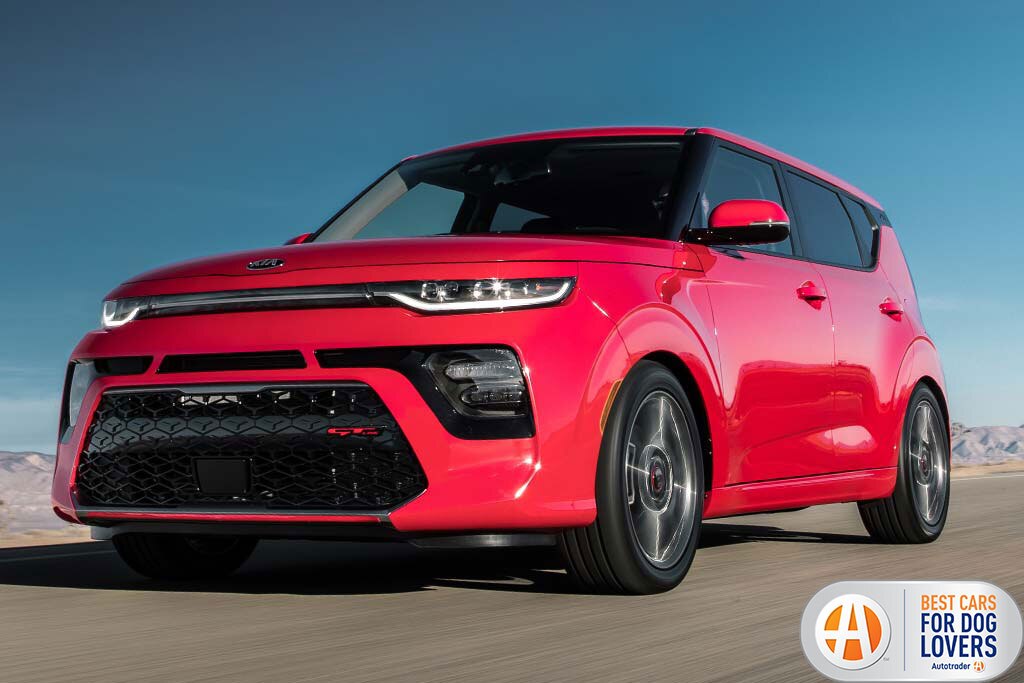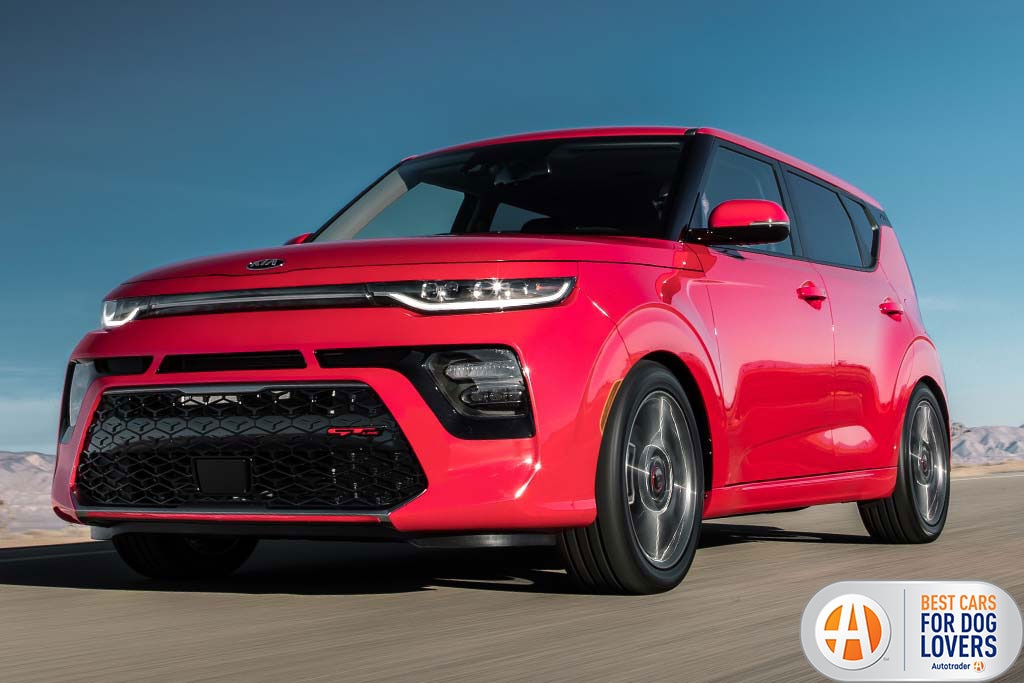 This one kind of checks all the boxes – the 2020 Kia Soul has a low load floor, hatchback door, available leather seating and it's moderately priced. We also like the Kia Accessory cargo tray and portable organizer as well as the dual-level cargo floor. Unlike some of the other vehicles on our list, the Soul isn't a serious off-roader but it is surprisingly fun to drive around town. Find a Kia Soul for sale
2020 Jeep Wrangler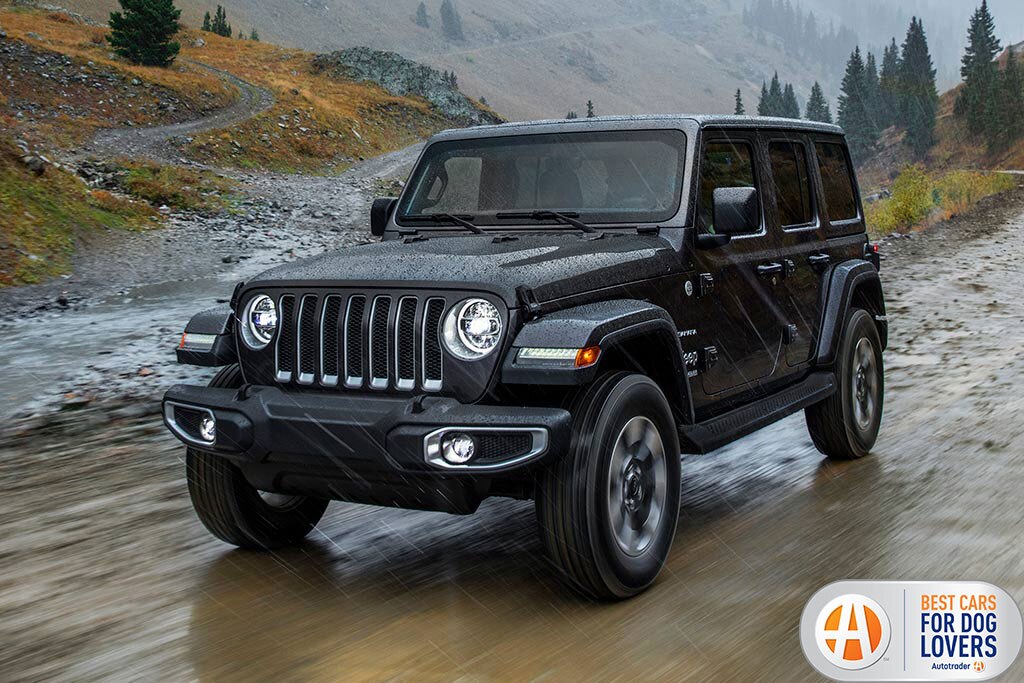 We like cars for dog owners that sit lower to the ground. The Jeep Wrangler definitely isn't one of those – it sits high off the ground but everything else about the wrangler is perfect for dog owners – the Mopar accessories, available collapsible dog kennel, TONS of aftermarket products and the ability to go just about anywhere with your pet. The Wrangler's removable top and doors allow your dog the ultimate "head out the window" experience, but you'll absolutely want to purchase some aftermarket safety harnesses like these Jeep dog safety harnesses on Etsy to keep Fido safe and secure. Also, it's not safe to let your do stick its head out the window but the open-top Jeep can duplicate that feeling safely. Find a Jeep Wrangler for sale
2020 Subaru Outback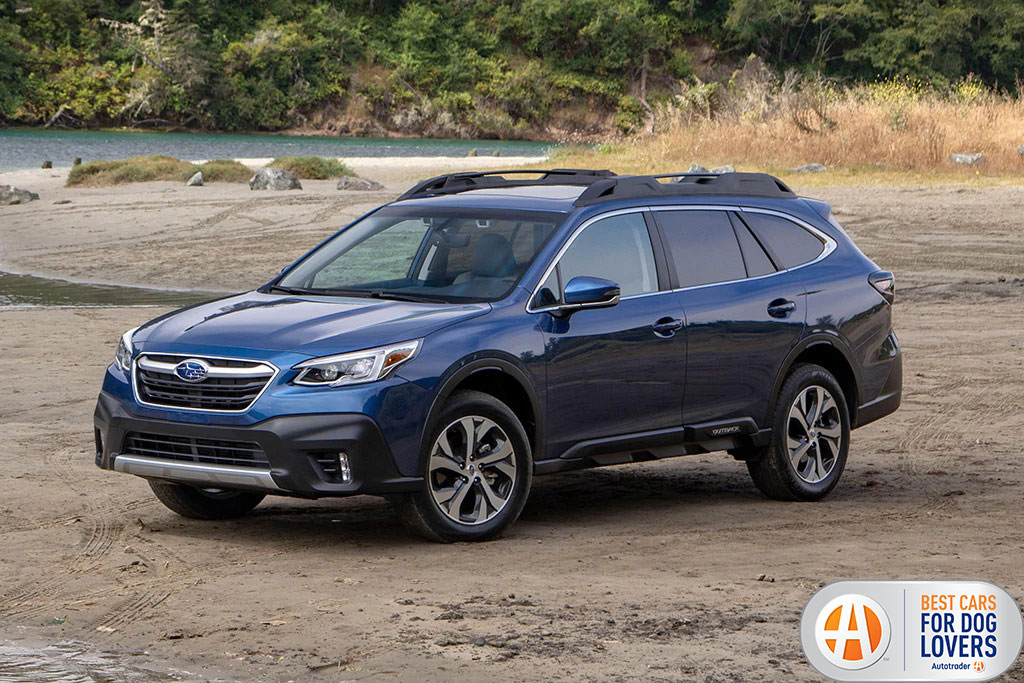 The 2020 Subaru Outback has matured to the point where it makes a great family car no matter where you live or your stage in life. There's a good, basic version and there's a fancy Touring model. But no matter what version you get, Subaru totally has your back with TONS of great pet accessories. It does sit a little higher off the ground than other midsize cars but the Outback's spectacular versatility on and off-road mean you and your furry buddy will have many adventures. Find a Subaru Outback for sale
2020 Tesla Model Y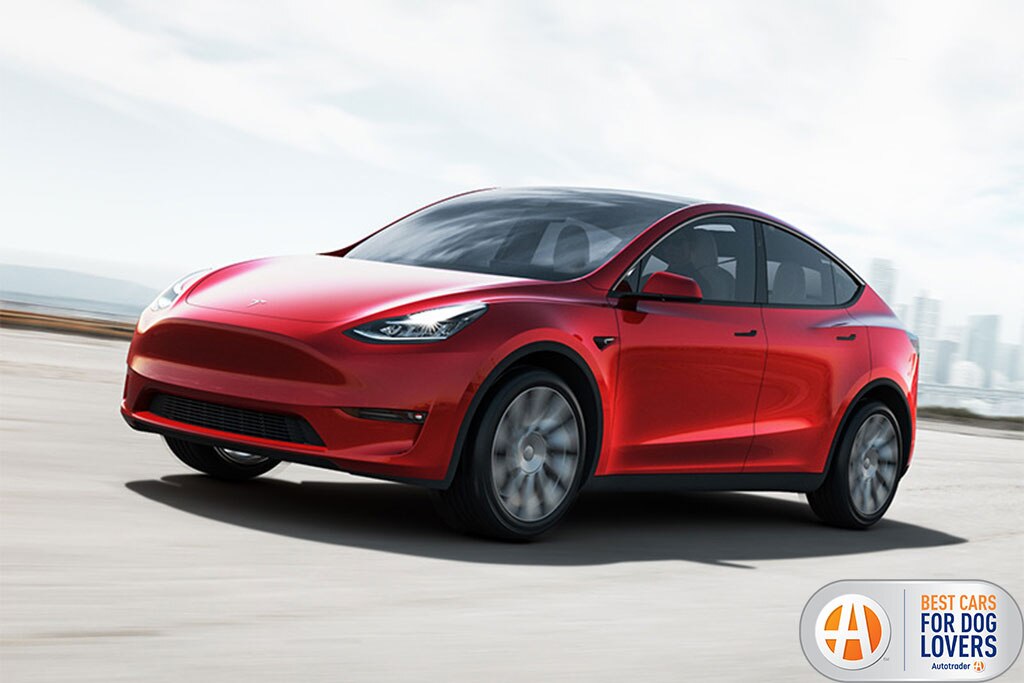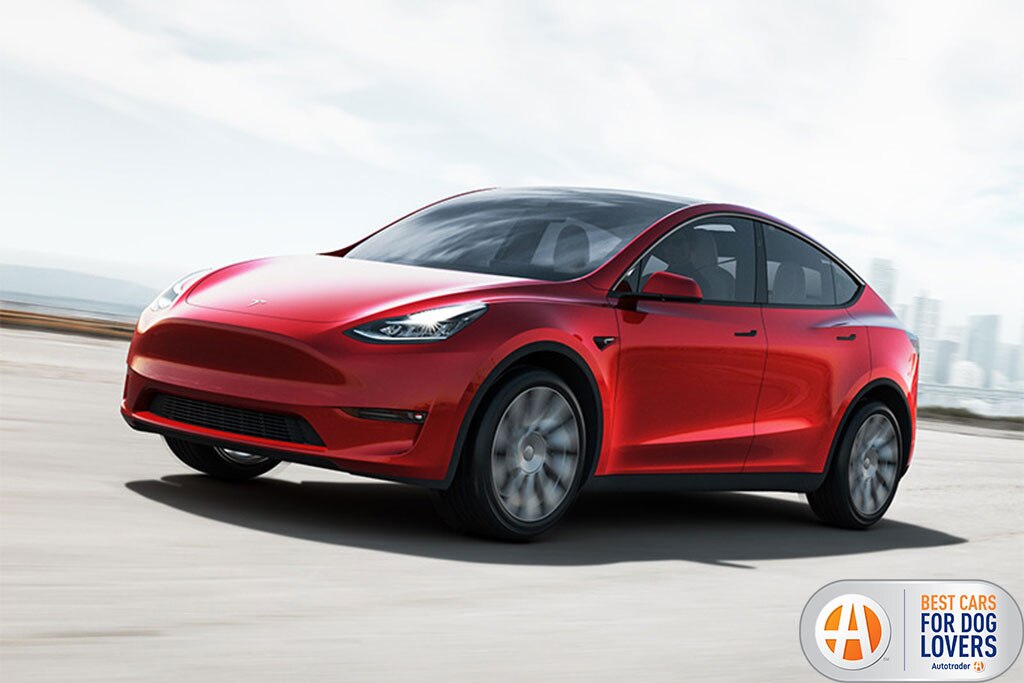 Last year, we picked the Tesla Model 3 based almost entirely on "Dog Mode." We admit, a sedan isn't best for dogs but that one feature is pretty compelling no matter what version of a Tesla you get. The Model Y is better in that it has a large hatchback-style rear door, it relatively low to the ground. Plus, like the Model 3, it includes Dog Mode. Dog Mode allows you to lock your car, keep in on, and set the interior temperature – it even has a message on the large display screen that tells concerned passersby that your puppy is safe. Add to that durable faux, animal-free "leather" interior and the Model Y is a winner for dog lovers. Find a Tesla Model Y for sale
2021 Toyota Sienna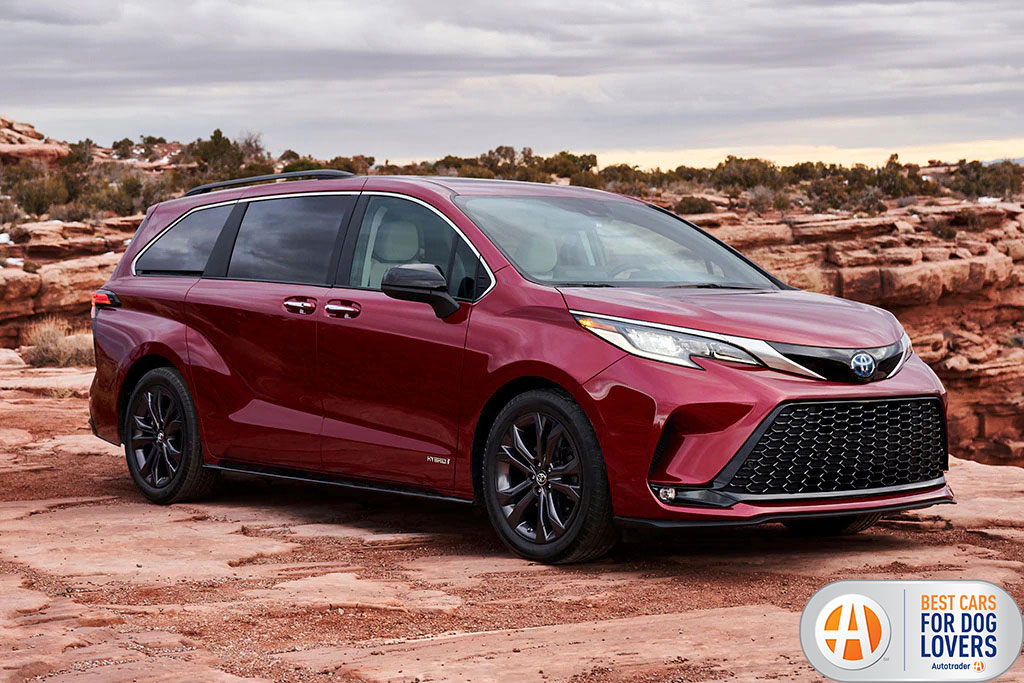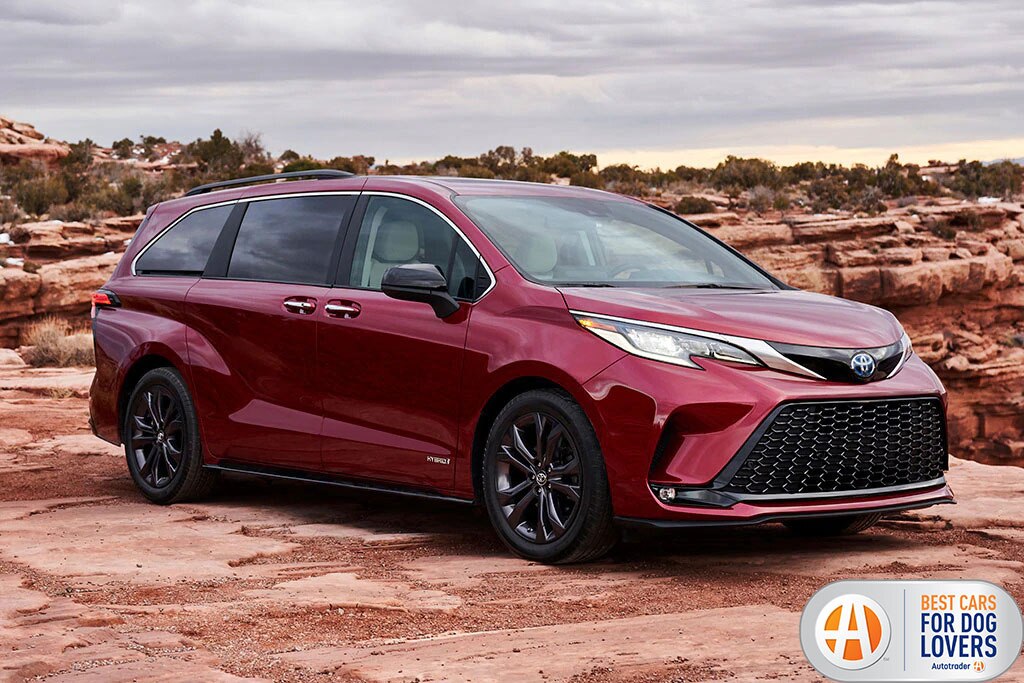 There's a reason two minivans are on this list. If you have kids and dogs, there's no way around how much a minivan will improve your quality of life. But the new Sienna has a twist, all Toyota Sienna minivans for 2021 are hybrid. In addition to the low load floor, large power sliding side doors, available all-wheel drive, and a big rear hatch style door, Toyota also offers plenty of dog-friendly accessories to make life with Fido hassle-free. Well, maybe just a little less hassle. Find a Toyota Sienna for sale
2020 Volvo V60
Like Subaru, Volvo has a TON of great pet-related features you can get right from the dealer. Also, they offer a very classy pet barrier solutions including a soft nylon partition or a more robust piece with steel bars separating the cargo area from the passenger area. Add to that the hatch-style door, low load floor, and comfy but durable leather inside and the 2020 Volvo V60 makes a PAW-werful argument for you and your dog's next ride (see what we did there?). Find a Volvo V60 for sale