Commercial vans might not be glamorous, but they get the job done. The right commercial van can improve your business by making it easier to serve your customers. The idea of a cargo van might be simple, but not all are created equal and there might be more variety in this segment than you think.
As a business owner, you know how important it is to have the right tool for the job. Here are some of the top cargo vans for your business in 2019.
Ford Transit
America's favorite full-size cargo van is the Ford Transit and it's not hard to see why. This hard-working van, which has replaced the tried and true Ford E-Series offers a more car like driving experience than the old truck-based Econoline while still offering a tremendous level of utility.
The Ford Transit is a very flexible van with several different configurations available. It can be had with two wheelbases, three lengths and three roof heights. You even have a choice of different cargo doors of either dual sliding doors on the sides or 60/40 hinged doors on the passenger side.
The Transit is available with three different engines: two gas-powered V6 engines and one inline five turbodiesel. The base V6 is adequate for what most drivers need, but upgrading to the turbocharged EcoBoost V6 gives you more power and a lot more torque, meaning better capability. The PowerStroke diesel is an efficient, high-torque engine that can tow up to 7,500 pounds. The maximum payload capacity for the Transit is 4,650 pounds. Starting at $33,135, the reasonably-priced Ford Transit has a lot that it can offer your business. Find a Ford Transit for sale
Mercedes-Benz Sprinter
The Mercedes-Benz Sprinter has been sold under many different brands in its history in the U.S., but today it only comes from Mercedes-Benz. You might think of Mercedes as just a luxury car manufacturer, but it also has a long history of building commercial vehicles like the Sprinter full-size van. Despite coming from a luxury brand, the Sprinter carries a reasonable starting price of $33,790.
The Sprinter is all-new for 2019 with a new look and new tech. Like the Transit, the Sprinter is available with multiple configurations. It can be had in three lengths, two wheelbases and two roof heights so you can customize it just how you want it. As of this writing, the only engine option in the new Sprinter is a 6-cylinder diesel with an impressive maximum payload of 6,206 pounds and maximum towing is at 5,000 pounds. MB says an efficient 4-cylinder gas engine is coming soon. The Sprinter has the distinction of being the only full-size cargo van available with 4-wheel drive.
A few nice perks of the new Sprinter that set it apart from the competition are innovative safety features like active brake assist, blind spot assist mirrors, attention assist, which monitors your driving patterns for signs of fatigue telling you when to take a break, a 360-degree camera, traffic sign assist and much more. For the most modern technology in a workhorse van, the new and improved Sprinter is a great choice. Find a Mercedes-Benz Sprinter for sale
Ram ProMaster
The Ram ProMaster might look like any other cargo van, but it actually offers something a little different in a segment dominated by standard rear-wheel drive. The ProMaster has the distinction of being the only full-size van with front-wheel drive providing better traction in snowy climates than RWD. Ram also claims that since FWD has fewer parts to maintain than RWD, it translates to a lower lifetime cost of ownership than competitors like the Transit and the Sprinter.
The Ram ProMaster boasts best-in-class turning diameter making it easy to maneuver in tight spots and best-in-class standard cargo height of 65.4 inches. All of these features combined with its affordable starting MSRP of $29,295 make the ProMaster a strong value proposition in its competitive class of full-size commercial cargo vans.
The Ram ProMaster only has one engine available, a gas-powered 3.6-liter Pentastar V6. It delivers solid performance of 4,440-lb max payload capacity and maximum towing of 5,100 pounds, making it similar to the Ford Transit in terms of capability. The ProMaster is available with three wheelbases, four lengths and two roof heights making it just as customizable — if not more so — than the competition. Find a Ram ProMaster for sale
Ford Transit Connect
The compact Ford Transit Connect is a smaller alternative to the full-size Transit and it gets a face-lift for the 2019 model year. Being smaller makes it more affordable, more efficient and more maneuverable, which are big perks if you don't need all of the space and power of a full-size van.
The new Transit Connect has a refreshed look making it surprisingly stylish for a commercial van. It has three different powertrains available: a 4-cylinder gas engine, a fleet-only 2.5-liter gas engine that can be outfitted to run on natural gas or propane and an efficient 1.5-liter EcoBlue diesel is on the way.
What the Transit Connect lacks in towing and hauling muscle it more than makes up for in versatility and technology. This van comes standard with pre-collision assist with pedestrian detection, wind stabilization, a backup camera and a built-in 4G LTE modem to keep you connected while you're on the job. As for its versatility, it's available with either a rear lift gate or swing-out barn doors in the back and it's the only van in this class with two available wheelbases.
Starting at just $24,100, the Ford Transit Connect is one of the best values in commercial vehicles today. Find a Ford Transit Connect for sale
Mercedes-Benz Metris
The midsize Mercedes-Benz Metris resembles a traditional minivan, but it's made for work. Like the bigger Sprinter, the Metris has some cool standard technology like attention assist, crosswind assist and even a rescue assist QR code, which first responders can scan to see where batteries, airbags and other important elements are located.
The only engine available in the Mercedes-Benz Metris is a 2.0-liter turbocharged inline four engine which is more powerful, but less efficient than the base engine in the Transit Connect. If you need a midsize van to do some heavy lifting, the Metris is a good choice with its maximum payload capacity of 2,425 pounds and maximum towing of 5,000 pounds.
With a starting price of $26,570, the Mercedes-Benz Metris gets a little close to full-size van pricing, but it's a midsize van that's capable of some full-size work. Find a Mercedes-Benz Metris for sale
Ram ProMaster City
Another strong competitor in the compact cargo van segment is the Ram ProMaster City, which is similar in size and capability to the Ford Transit Connect. Where the Ford competes on technology features, the ProMaster City competes on value and capability.
This little Ram starts at $23,995 and boasts best-in-class max payload, cargo capacity, horsepower and torque, while matching the Transit Connect's max towing capacity of 2,000 pounds. The sole engine option in the ProMaster City is a 2.4-liter Tigershark Multiair 2 inline four, which isn't quite as fuel-efficient as the base engine in the Ford but does make more power and torque.
If bang for your buck is what you're looking for in a small cargo van, then the Ram ProMaster City is a strong value. Find a Ram ProMaster City for sale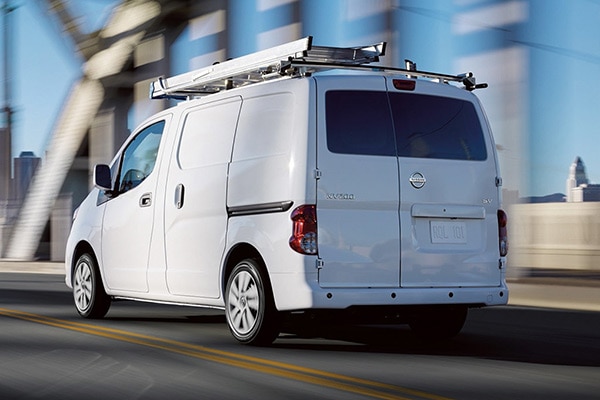 Nissan NV200
Speaking of value, the most affordable van on this list is the Nissan NV200, which might not be very flashy at the base level, but it has an attractive starting price of just $22,200. The NV200 competes heavily on value not only with its starting price, but by claiming to have America's best commercial van warranty at 5 years/100,000 miles, while the industry standard is 3 years/36,000 miles.
Adding to the NV200's value proposition is its 2.0-liter inline four engine, which is tied with the Transit Connect for best-in-class combined fuel economy. This humble Nissan doesn't have many best-in-class bragging rights or industry exclusive features, but if all you need is an affordable work van with a good warranty, the NV200 could be perfect for your business. Find a Nissan NV200 for sale