With winter on its way and end-of-the-year incentive programs in full swing, now is a great time to replace the old family car with a new one that can tackle the harsh conditions of winter driving. We've compiled a list of some of the best family cars for inclement weather, bearing in mind competitive pricing, safety features and some goodies that will make both kids and parents happier on the road.
Chevrolet's midsize Equinox crossover was redesigned for 2010 to include revised styling, larger dimensions and a newly available 264-horsepower 3.0-liter V6. Updates for 2012 include GM's new MyLink infotainment system and an available hard drive-based navigation system that replaces last year's DVD-based unit. The Equniox has garnered positive reviews for its car-like ride and voluminous interior, and with a starting price of under $25,000 with all-wheel drive, it offers a great deal in the midsize crossover segment. Additionally, through the end of the year, the Equinox is available with zero percent financing for up to 36 months, providing just one more reason to add the SUV to your holiday shopping list.
If you're not interested in an SUV or minivan but still need to transport the whole family through snow and ice, the all-weather capabilities of Chrysler's large 300 sedan may surprise you. That's because the 300 offers all-wheel drive on all trim levels except the base model and high-performance SRT-8, meaning you don't have to sacrifice the performance of Chrysler's muscular "Hemi" V8 to get the safety of all-wheel drive. Better yet, all-wheel drive starts at just over $34,000 in the large sedan, which was fully revamped both inside and out for the 2011 model year.
It's easy to see why Ford's handsome new Explorer has been a smash hit since its debut late last year. With a starting price of around $30,000 including all-wheel drive, the SUV offers a generous list of standard features that includes curtain side airbags, an antiskid system with rollover sensors, steering wheel audio controls and remote keyless entry – plus an all-important third row of seats. Also included is a robust 290-horsepower 3.5-liter V6 capable of up to 25 miles per gallon on the highway, and – through the end of the year- $1,000 cash back on all 2012 models or 2.9 percent financing for up to 48 months for qualified buyers.
The Legacy and Outback are perfect winter cars for families who don't want to make the switch to an SUV or minivan. With starting prices of around $20,000 for a Legacy sedan or just over $23,000 for an Outback wagon, the Subarus don't carry any premium over rivals like the Honda Accord or Toyota Camry. But they do include the year-round benefit of all-wheel drive, which Subaru combines with increased ground clearance to ensure drivers will never have a problem in any weather condition. The Legacy and Outback also offer generous list of standard features and reasonably priced options, meaning drivers don't have to make sacrifices for all-weather capabilities.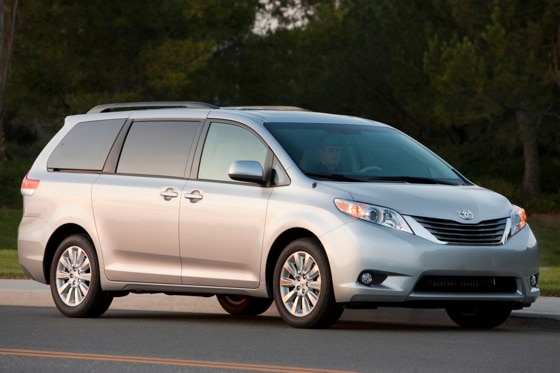 Despite increasing demand for all-wheel drive, Toyota's popular Sienna is the only minivan that offers the feature. That's good news for minivan-seeking families, though, because the recently redesigned Sienna happens to be one of the best vans available. Its muscular 266-horsepower 3.5-liter V6 – the only engine offered in all-wheel drive models – manages to deliver up to 22 miles per gallon on the highway, while standard features include power sliding doors, steering wheel audio controls, Bluetooth, satellite radio, 18-inch alloy wheels and even a rearview camera – all for around $32,000. That makes the Sienna a great alternative to an SUV for families worried about harsh winter weather.
In addition to all-weather capabilities and a stylish exterior, Volkswagen's midsize Touareg SUV offers two exciting new powerplants designed to improve fuel efficiency and speak to the sensible, economical side of any family. Starting around $46,000, the 225-horsepower Touareg TDI boasts up to 28 miles per gallon thanks to its diesel powertrain. At around $60,000, the Touareg Hybrid offers a muscular 380 horsepower and combined city and highway fuel economy of around 22 mpg. Of course, the popular SUV also offers a traditional V6, which produces 280 horsepower and comes with a starting price tag of around $43,000.
What it means to you:
Many of today's popular family cars are highly capable in cold, snowy climates.