Like prices for muscle cars a few decades ago, prices for boxy, old-school 1980s SUVs are on the rise. This is largely due to the fact that members of the generation who grew up riding in the back seats of these burly vehicles now have the funds to purchase them for themselves — trucks like the Chevy Blazer, the Dodge Ramcharger, the Ford Bronco and the Toyota Land Cruiser are now commanding as much as 5-10 times the price they did just a few years ago, and as a result, a new genre of collector vehicles is being born. Here are a few of the coolest 1980s SUVs currently listed for sale on Autotrader that fall into this category.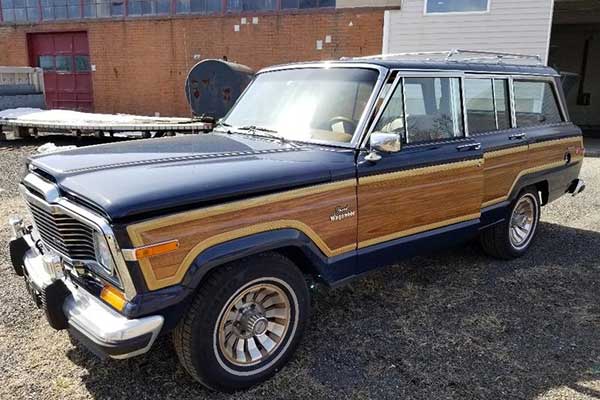 1984 Jeep Grand Wagoneer – $23,000
While it was built from the 1950s all the way through the early 1990s, the Jeep Grand Wagoneer was most popular during the 1980s, and nice examples with clean paint and wood paneling like this one can sell for a lot. According to the private seller, this 1984 Wagoneer is currently registered, and it's driven 'once in a while' — whether or not that's often enough to keep its components in working order is something that should likely be investigated further. Either way, clean, low-mileage Grand Wagoneers like this one are becoming more and more difficult to come by, and while it may seem like a lot, a $23,000 asking price for a vehicle of this caliber is relatively fair, given the current market. This Grand Wagoneer is located in West Haven, CT and comes with 80,000 miles on the odometer. Find a Jeep Grand Wagoneer for sale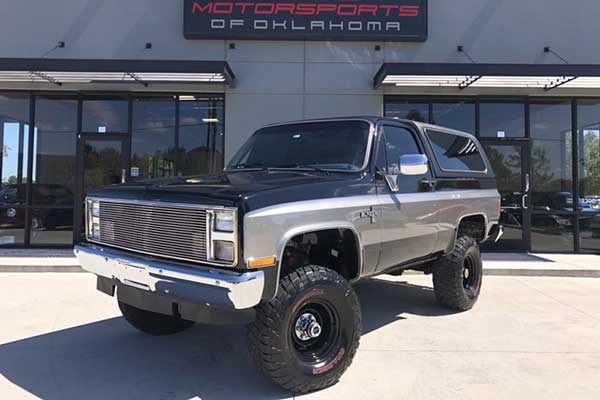 1988 Chevrolet Blazer 4WD – $24,500
The boxy 1980s Chevrolet Blazer was known as the 'K5.' This one has been modified and comes with a chrome mesh grille, knobby mud-terrain tires, black wheels and a lift. According to the listing, it also comes with a brand new 5.7-liter V8 engine and was recently given a fresh paint job. A variety of components were also replaced, like the AC compressor, driveshaft, radio, fuel pump and more. It's offered with 97,000 miles on the odometer by a dealership in Edmond, OK. Find a Chevrolet Blazer for sale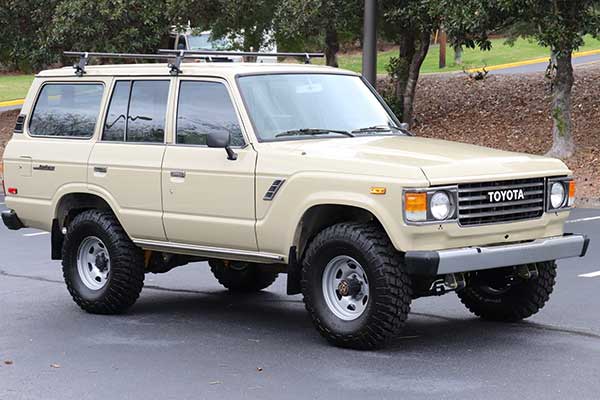 1986 Toyota Land Cruiser – $25,999
Toyota Land Cruisers are known to run forever without needing a major mechanical overhaul, and with just 125,900 miles on the odometer, this one is just getting broken in. It's an FJ60 model, better known as a '60 Series' and comes with an inline 6-cylinder engine paired with a 4-speed manual transmission. Land Cruisers (especially earlier ones) aren't known for having the same huge power as their American counterparts, but they make up for it by being functional, reliable and oh-so-cool.
This one comes with front bucket seats, air conditioning, 33-in mud-terrain tires and, like most Land Cruisers, a highly-functional split rear tailgate. Also, while it isn't a full restoration, the ad describes new paint and a variety of new components. Find it in Birmingham, AL with an asking price of $25,999. Find a Toyota Land Cruiser for sale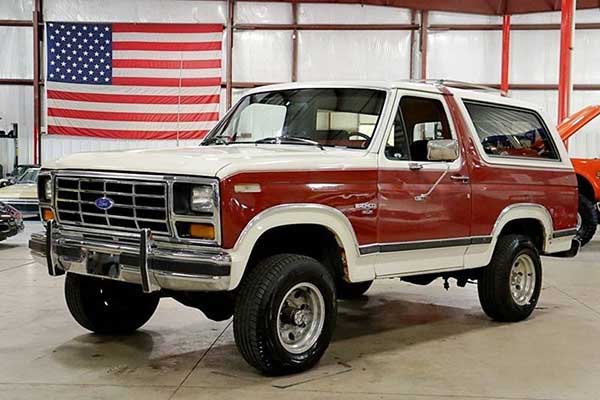 Since the nameplate is set to make its return next year in the form of an all-new off-roader from Ford, old Broncos are destined to become even more popular than they already are. Appearing in some shape or form since the mid 1960s, the Bronco has been offered in three basic body styles. There was the original, sold from 1966 to 1977 and designed to compete with the Jeep CJ-5 and International Scout, the full-size F-Series pickup-based Bronco, first introduced in 1977 and sold in a few different generations through 1996 and the compact, Ranger-based Bronco II, which was offered from just 1984 through 1990.
The 1986 Bronco highlighted here hails from the full-size Bronco's second generation and is offered on consignment in Grand Rapids, MI with just 44,000 miles. While it isn't a full-on restoration, the owner states that the truck's 5.8-liter V8 engine was recently rebuilt and that the truck spent its life in Arizona and therefore displays no rust. Oh yeah, the top's removable too. Find a Ford Bronco for sale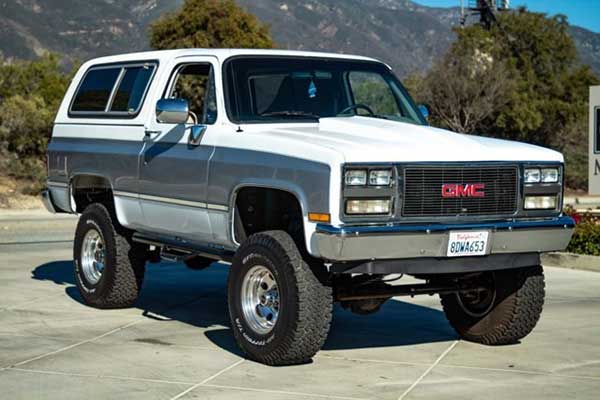 Mechanically identical to the Blazer, the 'K5' GMC Jimmy was sold in this body style from 1973 all the way through the 1991 model year before it was replaced by the two-door Chevrolet Tahoe and GMC Yukon twins. While K5s from the 1973-1975 model years came with a removable roof, 1976-and-later models had a fixed roof, though workarounds existed. The seller advertises this one as having a removable roof.
The vehicle comes fully restored and is completely spotless underneath. The listing advertises a rebuilt fuel-injected 350 V8, updated upholstery, a 4-in suspension lift and 35-in all-terrain tires. Located in Upland, CA, this 62,000-mile Jimmy has an asking price of $36,900, which is in line with what you'll pay for a fully-restored 1980s SUV. Find a GMC Jimmy for sale
MORE FROM OVERSTEER
Remember When Car Seats Were Plush Couches?
5 Great Old Police Cars for Sale on Autotrader
Autotrader Find: Very Shiny 2016 McLaren 675LT in F1 Chrome