Top Cars
8 Most Fuel-Efficient Midsize Sedans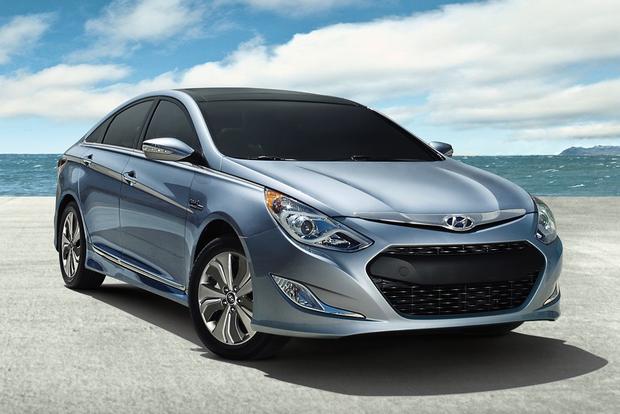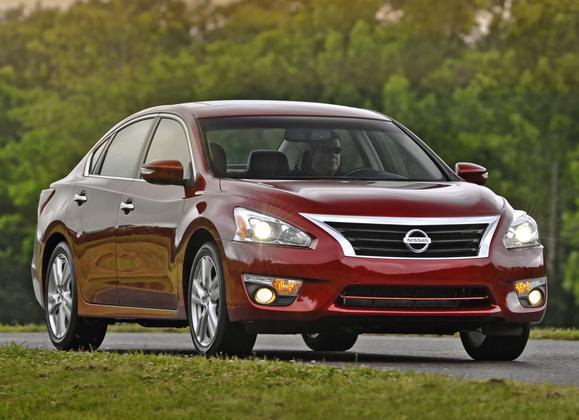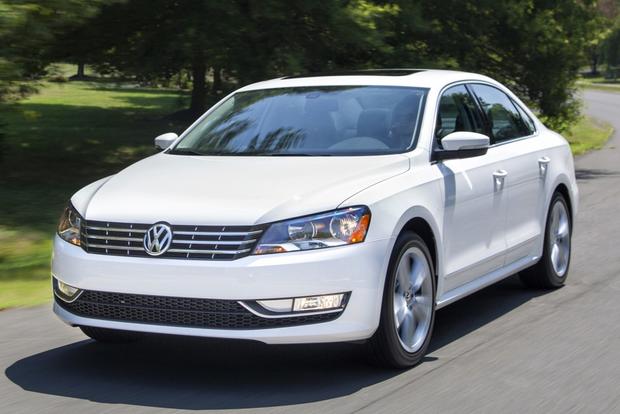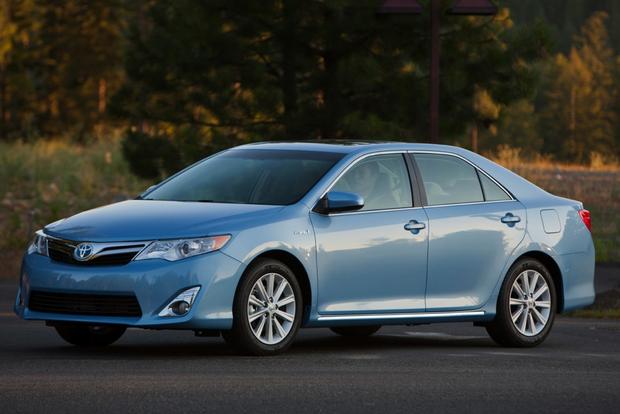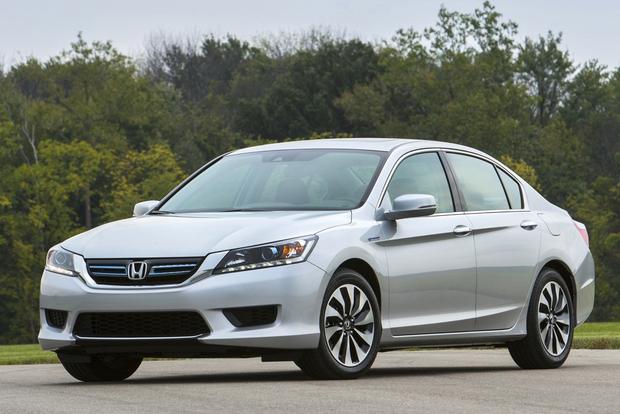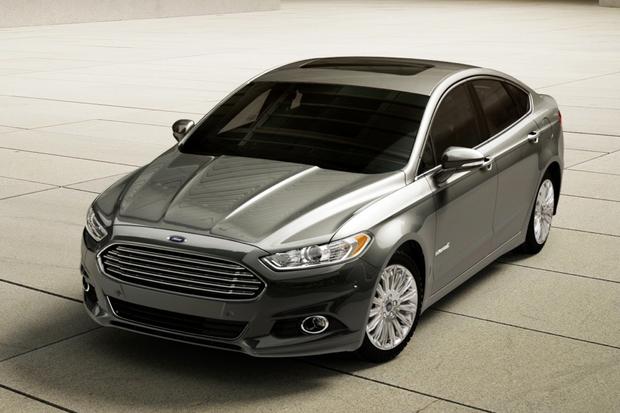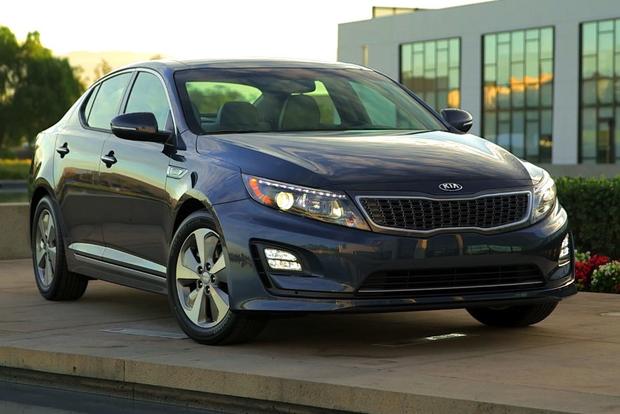 If you're interested in buying a new midsize sedan that'll save you money at the pump, you've come to the right place. We've rounded up the top eight most fuel-efficient midsize sedans you can buy right now, according to the Environmental Protection Agency's (EPA) fuel economy ratings. We've also listed a few of our favorite things about each one to help you decide which model is right for you.
1. Honda Accord Hybrid: 47 miles per gallon
The Honda Accord Hybrid is the most fuel-efficient midsize sedan available today that doesn't need to be plugged in, though Honda also offers a plug-in model if you prefer. Capable of an impressive 47 mpg combined (and 50 mpg in the city), the Accord Hybrid is almost more efficient than the gold-standard Toyota Prius despite a larger interior and more power. The Accord Hybrid also fits an impressive array of features into its base price of $30,100 with shipping, including dual-zone automatic climate control, 17-inch alloy wheels, Honda's LaneWatch blind spot monitoring system, an 8-in center screen, keyless ignition and entry, and Bluetooth.
2. Ford Fusion Hybrid: 42 mpg
The Ford Fusion Hybrid offers handsome styling, ample power, and a lot of room for cargo and passengers alike. Best of all, the Fusion Hybrid boasts impressive fuel economy numbers of 44 mpg in the city and 41 mpg on the highway -- especially excellent figures when you consider its reasonable base price of around $27,300 with shipping. Standard equipment is good too, with even base-level S models including dual-zone automatic climate control, automatic headlights and Ford's SYNC cellphone interface. We also like the long list of available safety features, with options such as driver-drowsiness detection, rear cross-traffic alert, and forward-collision warning with automatic braking.
3. Toyota Camry Hybrid: 41 mpg
Although Toyota's midsize Camry Hybrid is a little older than rivals from Ford and Honda (with a design dating back to 2012 rather than 2013), the sedan still packs an excellent punch when it comes to gas mileage. EPA says that the Camry Hybrid returns up to 41 mpg combined in LE trim or 40 mpg in SE or XLE guise -- big numbers for a car that starts around $27,100 with shipping. Like rivals from Ford and Honda, the Camry Hybrid also offers a long list of standard features -- including automatic headlights, dual-zone automatic climate control and a 6.1-in display -- along with a series of high-end options such as a JBL sound system, Toyota's impressive Entune navigation system and heated front seats.
4. Hyundai Sonata Hybrid: 38 mpg (tie)
Like its Kia Optima Hybrid mechanical twin, the Hyundai Sonata Hybrid boasts excellent fuel economy: up to 38 mpg combined and 40 mpg on the highway. Unlike the Optima, however, the Sonata features an especially distinctive package that includes unique hybrid wheels, unique badging, and even unique headlights and taillights, which help the Sonata Hybrid stand out from the standard model. The Sonata Hybrid boasts a long list of standard equipment that includes heated front seats, a backup camera, automatic headlights, dual-zone automatic climate control and alloy wheels.
Find a Hyundai Sonata for sale
4. Kia Optima Hybrid: 38 mpg (tie)
Although it shares most mechanical parts with the Hyundai Sonata Hybrid, Kia's midsize Optima Hybrid sedan has a few tricks up its sleeve. The most important is styling: While the Sonata offers sweeping lines meant to create a luxury image, the Optima offers a bolder, more aggressive look. Otherwise, the two cars are quite similar, right down to the 38 mpg combined fuel economy rating, the $27,000 base price with shipping, and the long list of standard features that includes dual-zone automatic climate control, automatic headlights and Kia's UVO infotainment system.
6. Volkswagen Passat TDI: 35 mpg
The Passat TDI is the only car on our list that comes standard with a manual transmission; it's a gearbox that's worth a try, considering that it adds 1 mpg in the city and 3 mpg on the highway over the automatic Passat TDI. While the Passat TDI's 35 mpg combined can't quite equal fuel economy ratings of a few top hybrid rivals, the midsize Volkswagen does offer a comfortable ride and excellent interior room. Pricing starts around $27,700 with shipping, but its offered content is a bit low when you consider the features that certain hybrid-powered rivals include as standard equipment. Drivers who spend a lot of time on the highway, though, will find that there's little substitute for the Passat's pleasant demeanor and its ability to cruise for long distances at well above 40 mpg.
7. Mazda6 With i-ELOOP: 32 mpg
The most efficient midsize sedan that doesn't require hybrid power or a diesel engine is Mazda's sporty Mazda6 sedan with the brand's optional i-ELOOP energy storage system. The system -- which harnesses energy created when braking -- stores that energy for accessories such as the air conditioner or interior lights, thus removing strain from the engine. The only catch? You can only get the feature on the Mazda6's top-level Grand Touring trim, which starts around $30,700 with shipping. The good news is that Grand Touring models feature a luxury-car-like level of equipment, including leather upholstery, heated front seats, a power sunroof, rain-sensing wipers, and a forward-collision alert system with automatic braking.
8. Nissan Altima: 31 mpg
Although we're still waiting for a hybrid-powered Altima to return -- the previous hybrid version was last available for 2011 -- the automaker's current gas-powered sedan offers surprisingly strong fuel economy among traditional 4-cylinder midsize sedans. According to EPA, that fuel economy ranges as high as 31 mpg combined -- a figure made up of a 27 mpg city/38 mpg hwy rating. Pricing is also a strong suit, since the 2014 Altima starts at just $23,100 with shipping -- far less than most hybrid rivals. The only drawback is that you'll have to add many options to equip an Altima like its hybrid-powered rivals, so it's best to consider the midsize Nissan as a budget-friendly alternative to more efficient competitors.