Yes, the picture above is of an all-wheel-drive 2003 Honda Element. This is the story of its beautiful and unlikely transformation into a self-described post-apocalyptic off-roader. His creation would be known as the Honda Hack.
Back in 2016, ControlBob of the Element Owners Club forum decided that, after 11 years of ownership and almost 240,000 miles, it was time to transform his family's car into something spectacular. After driving all over the country with his daughters in the back, it was only fitting to make it into something awesome, as opposed to trading it in for something newer. He started off by removing the doors, gutting the interior, and stripping it of all of its trademark exterior plastic cladding, before cutting off the roof.
The roof added considerable rigidity to the Element's frame, so a roll cage was in order. ControlBob and a few fellow forum members created a seven-piece roll cage, and welded it to the floor, windshield frame and rear sills. Just looking at it, it's doubtful that it will actually keep anyone safe in a roll-over, but it will probably keep the Element from feeling like a wet noodle. ControlBob then added a front brush guard with a series of aftermarket lights, which really helped nail the off-road look. He then added aftermarket door mirrors for a Jeep, and he ordered some more aggressive off-road tires before painting the whole vehicle a nice matte black.
By this point, the Honda Hack certainly looked the part (as seen in the headline image), and it would have worked quite well as a fun off-roader for driving around your property. But ControlBob wanted it to be road legal, and his inspection sticker was just about up. To pass Pennsylvania's inspection, he needed to give it doors (which were long gone by this point), so he sourced some from a Honda Accord. To keep the same vibe he had going, the doors were cut in half, but it was still enough to make the Element road legal. He re-titled it as a reconstructed vehicle, but after several months of waiting for the paperwork to go through, he was forced to ditch the taillight guards and remove the wraparound part of the brush guard because it blocked the turn signals — although he was able to figure out later how to make the brush guard work.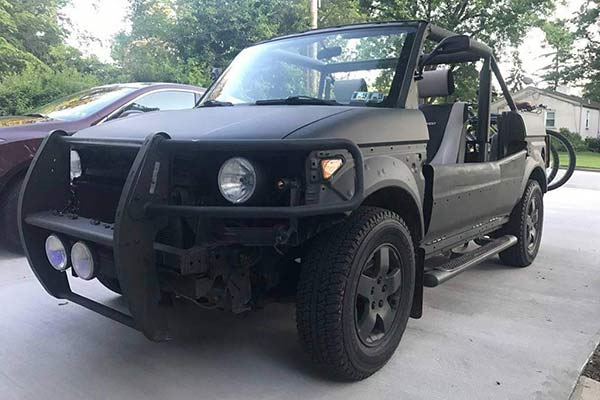 Even though it was slightly neutered, it's awesome that the Honda Hack actually passed inspection and was allowed to be on the road. As far as I can tell, ControlBob is using it to carry kayaks and bikes, along with using it to experience general driving joy. It's a fantastic modification to a car that seems like a thoroughly on-road vehicle, but the end results speak for themselves. All in all, I'm highly impressed.
For the full build, check out the build thread in the forum linked above. There's also a YouTube video that documents the whole process here. Check it out below.
MORE FROM OVERSTEER:
Video | Hoovie and Doug: What's Your Favorite Car You've Ever Owned?
Autotrader Find: 1987 Chevy Corvette With 330,000 Miles
Video | I Bought a 2005 Ford GT