If you're willing to consider a vehicle without a a warranty — and I'm not saying you should — you can enter the world of high end luxury sedans fairly inexpensively. So while I appreciate my colleague Mr. Brandt's enthusiasm about lining up a pre-owned Rolls-Royce Silver Shadow, I do not have the guts for that. Instead, I was thinking of top-of-the-line options like the Mercedes-Benz S-Class and BMW 7 Series. There are some amazing bargains in the used market, if you're willing to risk some out-of-warranty maintenance.
Now before we begin, a quick word about my search methodology. While I fully embrace the craziness of buying something like this, I recognize that not everyone is likely to go full Tyler Hoover and buy the cheapest model on Autotrader. So, I searched for what I considered reasonable options: cars with less than 100,000 miles in the 10-12 year old range. What could go wrong?
2009 Mercedes-Benz S63 AMG – $18,570
The Mercedes-Benz S-Class is an amazing machine — a benchmark in the automotive world. So I had to start here, with its impressive features and equipment that you won't see in your plebeian automobile for several years. New, a "base" S 450 sedan starts at just over $91,000. $3,000 more gets you 4MATIC all-wheel-drive. $7,000 more on top of that gets you an S 560 and 463 horsepower. Another $3,000 for 4MATIC and you're at a $104,350 MSRP. An additional $45,000 is needed to get into AMG territory with the AMG S 63 Sedan. $83,000 more and you're at the top of the heap, the mighty 621 horsepower AMG S 65 Sedan.
In case your math is as bad as mine, that's a $232,550 starting MSRP. In case your budget is more "auto journalist" than "auto executive", I've got you covered. Check out this 2009 S 63 AMG down in Sarasota, Florida, offered for just $18,570! It's got 518 horsepower from a 6.2L V8 plus a clean Carfax all for less than the price of a new Honda Civic? Baller! Find a Mercedes-Benz S63 for sale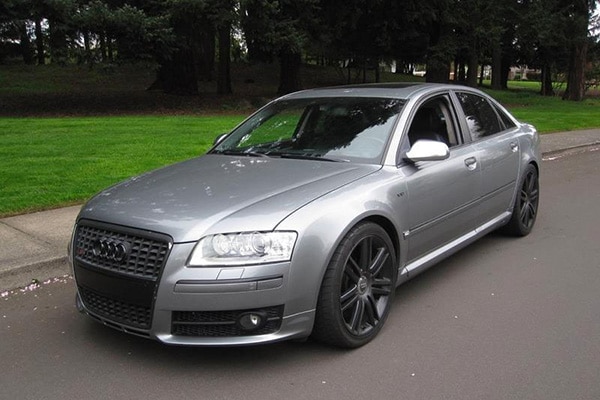 2007 Audi S8 – $13,995
The 2019 Audi A8 starts at $83,800. What about the S8, you ask? Well, there isn't one for sale at the moment in June of 2019 — and used 2018s and 2017s are still fetching top dollar on Autotrader. In fact, the last model year that the S8 was offered (2018) featured a 4.0L twin-turbo V8 with 605 horsepower. That's pretty impressive — but you know what else is impressive? A V10 engine! This 2007 S8 came with a 5.2L V10, albeit with a more modest 450 horsepower. Still, rolling up to your destination in what was once the top of the line from Ingolstadt is pretty great. Oh, and it'll only cost you a mere $13,995. Find a Audi S8 for sale
2012 BMW 750i xDrive – $24,997
I have always seen the BMW 7Series as being in the same league as the Mercedes S-Class. Perhaps it's not known for quite as many innovations, but it's the flagship sedan of a major German automaker, so it's close enough. Show up in a nice 750i and people will definitely give you the "not bad" nod. With a 4.4L twin turbo V8 it's a pretty impressive ride. This one, for sale in Rockville, MD outside of D.C., can be yours for just $24,997. Find a BMW 750il for sale
2002 Bentley Arnage T – $19,250
OK, this may be about as ludicrous as Brandt's Rolls — but if you really want to arrive in style, you have to go old school British luxury. The 2002 Arnage T was one of the early fruits of labor bore from the marriage between Bentley and Volkswagen. At the time, it was the most powerful road-going Bentley ever with 450 horsepower. It was also the fastest sedan on the road, and cost well over $200,000! You got a lot for the money: the massive 6.75-liter V8 had twin turbos and 645 lb-ft of torque! How much to relive that glory now? Well, it's $19,250 according to this private seller, and claimed 2nd owner in San Diego. Perhaps this would make a great addition to Doug's garage! Find a Bentley Arnage for sale
2005 Maybach 57 – $39,998
How do you top the automotive benchmark that we started with the Mercedes S-Class in AMG guise? Oh, right a Maybach! I went full Tyler Hoover with this one, as this is the cheapest Maybach currently for sale on Autotrader. Available in Orlando, Florida for the incredibly reasonable price of $39,998, this 90,000 mile, twelve cylinder, Maybach 57 could be yours for the price of a loaded Camry! Game over, you win. Maybe.
So, there are five amazing luxury sedans. Cars that rewrote the super sedan rule book. Cars that would have cost you close to $1,000,000 total to buy new, and they now cost a cumulative $116,810 before tax and tags. But to paraphrase the great Dr. Malcolm from Jurassic Park: don't get too preoccupied with whether or not you could. Make sure you stop to think if you should. Especially if you don't have your own Car Wizard. Find a Maybach 57 for sale
MORE FROM OVERSTEER:
Video | The Hummer H1 Alpha Is the Ultimate $200,000 Off-Roader
Video | Here's Why the 2020 BMW 750i Is an Ultra-Luxury Sedan
Autotrader Find: Shockingly Good Lamborghini Diablo Replica