In the United States, Memorial Day exists as a remembrance of those who died in active service in America's armed forces, but culturally it also signifies the beginning of summer. In the moneyed beach enclave of The Hamptons, Memorial Day means the start of the summer driving season, when all sorts of classic cars awaken from their winter slumber and take to the idyllic country roads. While this is my third summer in The Hamptons, the cars that are driven and shown off in a smoke 'em if you've got 'em manner never cease to amaze me.
Sitting in traffic on the 90-mile trip from New York City to my summer digs in Amagansett (which, on a bad day, can take 4 hours to complete), I saw my first classic supercar of the summer in bumper-to-bumper traffic. Crawling down the single lane of the Montauk Highway, I spent nearly an hour behind a black Lamborghini Countach. Although it was being transported on a flatbed and I couldn't enjoy the sound of its roaring V12, it was the earliest Countach, a LP400 "Periscopio" — one of only 158 models produced between 1974 and 1977. I really appreciated the original wheels and the lack of a spoiler, which highlight the beauty and simplicity of the Bertone-designed supercar. The Countach was unbelievably clean underneath — and it likely sees only a handful of miles on the road per year before being meticulously cleaned and stored away again.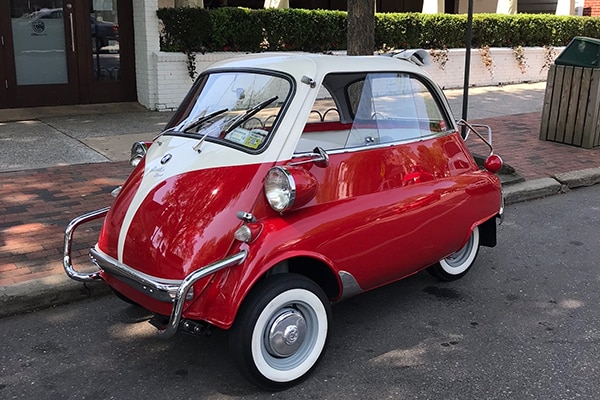 Parked outside of Scoop Du Jour, a mainstay ice cream parlor and fast food joint, I saw an Isetta — BMW's funky Italian-designed microcar from 1953. Originally designed and manufactured by Italian motorcycle maker Iso, this microcar was licensed and manufactured in limited number by small European automakers. However, it was produced in greatest number by BMW, with 161,000 models from 1956 to 1962, making it the most popular single-cylinder car ever produced.
While originally beginning production with Iso using a 236cc two-stroke engine, BMW made a number of mechanical improvements to the Isetta. This model pictured is an Isetta 300, the ultimate Isetta. BMW introduced a 300cc engine in response to changing licensing regulations that had previously limited the car to 250cc. While the top speed remained the same, at an undoubtedly terrifying 53 mph, drivability is said to have improved with this model. I had never seen an Isetta in person and was amazed by its hilariously small size and its front-opening door with its attached, pivoting steering column designed for ease of entry into its egg-shaped chassis. In popular culture, the Isetta also appears in the TV series "Family Matters" as Steve Urkel's car.
I saw a Nissan Figaro on Shelter Island, a small island located between the north and south forks of Long Island, accessible only by a 5-minute ferry ride. The Figaro was manufactured for model year 1991 in Nissan's Pike factory, alongside the Pao and S-Cargo, the latter of which was briefly owned by our editor, Doug DeMuro before being famously sold to a pizza shop. The Figaro is an elegantly styled, retro-revival convertible coupe only sold in RHD to Japan and the U.K. markets.
Only 20,000 were produced — and while they're somewhat common overseas, the Figaro is incredibly rare in the United States. While fairly new in comparison to the other cars I saw over Memorial Day Weekend, there's a lot of old-school fun inside the Nissan Figaro, like rack-and-pinion steering, no airbags and a manual-folding softtop, along with some newer tech like air conditioning, front disc brakes and a tiny turbocharger.
(Image: Dan Meeks/Borders Framing)
Over the holiday weekend, friends of mine spotted two classic Ferraris worthy of sharing. The first is a black Ferrari 250 California SWB. If it were red, you may recognize this car from the seminal film "Ferris Bueller's Day Off." Although a replica was used in the film, (spoiler alert: it gets destroyed magnificently), the 250 California is quite elegant in person — and in my opinion, it's one of the most beautiful convertibles in existence, next to the BMW 507. The second Ferrari is from the same era as the California, a 1969 365 GT. It's a nice, original 2+2 grand tourer, and also currently for sale on Autotrader Classics for $355,000. All in all, a wonderful Memorial Day weekend in The Hamptons.
(Image: Jordan Smith)