Have you heard? There's a new Civic Type R! Unfortunately it's not as fast as a Focus RS or WRX STI, nor is it as nice inside as a Volkswagen Golf R. If your budget starts with a "2" instead of a "3" that is all a moot point anyway. However, dear Oversteer reader, I am here for you. If you find yourself re-reading your old Sport Compact Car magazine and looking to relive the glory days of the 1990s, have no fear. Here are six awesome sport compact bargains that you can find right here on Autotrader for under $30,000.
Volkswagen GTI
The Golf R is spectacular; I once drove it from DC to New Orleans in one day. 1200 miles over 17 hours and the R was a treat. While the R is expensive new, you can get a deal on a used R: Keep the mileage under 75,000 and you can still find a sweet 2013 4-door for a mere $21,000. But since that long drive in the R, I've been wondering if I would have been just as comfortable in a GTI. From a daily driver perspective, they're pretty fantastic, and according to our man Kinton, they're good on the track, too. So, if you want to forego the R badge, you can have a pretty-nice-looking certified pre-owned 2016 GTI like the one above for around $17,000! Want something newer? Certified 2017 base-model GTIs with a manual are hovering around $20,000. That's bargain sport compacting right there. Find a Volkswagen GTI for sale
FIAT 500 Abarth
No, seriously, hear me out. Have you driven one of these? They're surprisingly fun. There isn't a ton of power, but the sound of the Abarth exhaust is almost worth the price of admission. OK, so they're also Italian, which is even scarier than German, so maybe buy a new one to take advantage of a full warranty? The pretty white one above is brand new and listed for under $20,000. If you're brave enough to open it up to used options, you can snag one under $10,000! Find a FIAT 500 for sale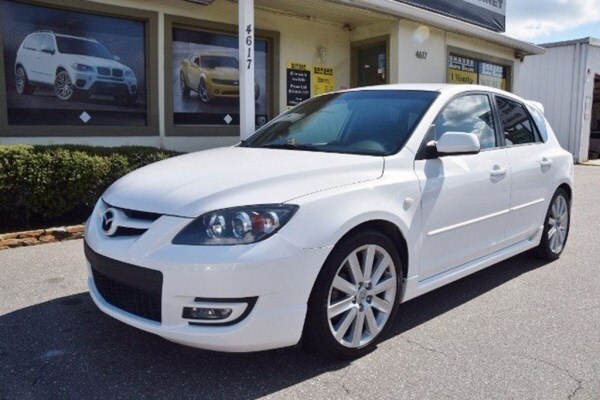 Mazdaspeed3
The Mazda Mazdaspeed3, or Speed3 as the kids call it, was a great car out of the gate. While it never got the level of respect that the GTI or more modern Focus and Fiesta ST cars have received, it was a lot of fun. For the purposes of this Autotrader search, let's pretend that the second generation 2010-2013 doesn't exist. Call it personal preference, but I never liked the ear-to-headlight grin on the second generation. But just look at that pretty 2009 Mazdaspeed3 up there. Head down to Tampa, and it's yours for a mere $10,495 with just two owners and a clean Carfax. And if you aren't as anti-second-generation as I am, you can get a "pretty" 2013 for under $20,000. Find a Mazdaspeed3 for sale
Honda Civic Si
Ah, Honda, the previous sport compact king. I cut my automotive teeth in a fifth-generation Prelude, which was preceded by the ubiquitous Civic. The Civic was an EX, and it was my first car out of college. I always had a thing for the Si, though — especially in blue. Want a new Si? They start around $22,200 right here on Autotrader. That's not bad — but if you go used, specifically certified used, well … they're actually a bit MORE expensive than that. But heck, this is a Honda, so maybe you can skip a warranty? That sweet-looking 2015 up there is only $15,990. I always liked that generation. Find a Honda Civic for sale
BMW 135i
Big engine, small car: It's a recipe for fun that's as old as time. The BMW 1 Series M has held its value incredibly well, with used examples still hitting the $45,000 mark. The 135i hasn't done too bad in that area either, but you can find a 2013 model for around $28,000 — meaning you're still $7000 in the black compared to a new Type R or Focus RS. That'll leave you some cash in case, ahem, something goes wrong. Find a BMW 1 Series for sale
Focus ST
OK, I know: This obvious suggestion is obvious, and you knew the ST was coming. But it's for good reason, as the Focus and Fiesta ST are both spectacular cars. I should know — I've owned one, a 2014 Focus ST. So I kept this search to the Focus, as it's a bit larger and more practical, and maybe a tad less fun to drive than the smaller Fiesta. You should have no trouble finding a used one — even one with a certified pre-owned warranty — for around $15,000. Not much less cash than the new car. What a time to be alive. Find a Ford Forcus for sale
So there it is: So many fun sport compacts are on the market right now that it's like the 1990s all over again.
MORE FROM OVERSTEER:
Here's Why the Lexus LC 500 Is Worth $100,000
Autotrader Find: 2015 Terradyne GURKHA RPV
Ferrari Portofino: Frankfurt Auto Show