Remember the Hummer H1? It was pure ridiculousness, which is part of the reason why it's one of the most interesting vehicles of all time. Unfortunately, however, the H1 seems to have peaked just before the dawn of the internet era — and there doesn't seem to be a huge Hummer H1 enthusiast community, so online resources covering the vehicle's production figures and bodystyle history seem to be a little scarce. When it comes down to it, the H1 seems about as elusive and enigmatic to me now as a 29-year-old adult as it did when I was a truck-obsessed kid just learning how to use dial-up internet. Below, I'm going to try to do my part to rectify this by providing some high-level Hummer H1 production figures.
The absurdity of the civilian H1 is made evident by the fact that so few of them were actually sold. Of the relatively few civilian-spec Hummer H1s in existence, though, there was an oddly diverse range of body styles and cab-configurations offered. I've gathered the figures into a spreadsheet, thanks to this epic database compiled by Adventure Accessories, a company that used to be affiliated with one of the top Hummer dealers in the nation and now specializes in Hummer parts and accessories.
First, a note on the H1 name. From 1992 to 1999, when AM General offered the Hummer as a stand-alone product unaffiliated with any major automaker, the vehicle was known simply as, well, the Hummer. After buying the Hummer brand in 1999, GM began phasing in the '"H1″ moniker, establishing a hierarchy that would eventually include the H2 and H3. For the sake of simplicity in this article, we'll just refer to all of them as "H1."
Altogether, a total of 11,815 civilian-spec H1s were built between 1992 and 2006 at the AM General plant in Mishawaka, Indiana.
There were five main body styles. In order from highest to lowest production, they were: wagon, soft-top, hardtop, pickup and the ultra-rare slant back — and these were the production figures: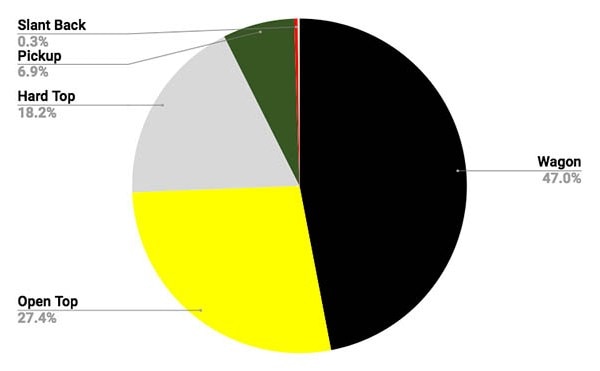 From the chart, it isn't hard to see that almost half of all civilian Hummers produced were of the wagon variety. The pickup and slant back body styles are the rarest. While you hardly ever see civilian Hummer H1s to begin with, you will pretty much never see a slant back or pickup, even in print or online media. In fact, up until now, the only reason I even knew the pickup body style existed as a civilian model is thanks to the one featured in the 2001 remake of "Gone in 60 Seconds." As far as slant backs go, it appears that aftermarket conversions were offered, making the body style seem a little more common — although the straight-from-the-factory slant back is exceptionally rare.
While the above table represents the main H1 body styles, other minor variations include slight differences in pickup cab size, as a longer cab offering more cabin space was introduced for 1994. Additionally, a version of the open top model was offered with frameless half-doors from 1992 to 1996. There were also a number of H1s sold as fleet vehicles and likely configured to a customer's desired specifications.
Finally, we should look at production of the elusive H1 Alpha — the ultimate H1 — which did away with many of the compromises involved in getting behind the wheel of a Hummer from previous model years. Offered only for 2006, the H1's final model year, the Alpha employed the 6.6-liter Duramax V8 used in the heavy-duty Chevrolet Kodiak and GMC Topkick chassis cab trucks. The engine made 300 horsepower and 520 lb-ft of torque and was paired, for the first time, with a 5-speed automatic transmission. This resulted in a significant performance improvement over previous iterations of the H1, and an improved interior and updates to other mechanical components resulted in a vehicle that was far more livable day-to-day.
Despite these improvements, only 693 H1 Alpha models were built: 417 wagons and 276 open tops. Currently, there are roughly 40 different 2006 H1 Alpha models listed for sale on Autotrader, all of which are offered for well in excess of $100,000. Needless to say, the H1 Alpha is both rare and desirable — the ultimate version of perhaps the most ultimate vehicle of all time.
Chris O'Neill grew up in the rust belt and now lives in Salt Lake City, Utah. He worked in the auto industry for a while, helping Germans design cars for Americans. Follow him on Instagram: @MountainWestCarSpotter.
MORE FROM OVERSTEER:
Video | The Volvo XC40 Is the Quirkiest Volvo in Decades
Lexus Once Had a "Pebble Beach Edition" Trim Level
Video | A $25 Part Fixed My Broken Rolls-Royce Phantom