Later today, I'm reviewing the new Maserati Levante, which is a crossover sport-utility vehicle primarily known for its lease deals. But before that, I'm going to show you the most interesting Maserati models currently listed for sale on Autotrader — and you're going to like it. Do you hear that, people? You're going to like it. Or else.
Anyway, after an exhaustive search of Autotrader, these are the most interesting ones I could find. Enjoy!
The Cheapest: 2005 Maserati Quattroporte – $13,500
The cheapest Maserati on all of Autotrader is this 2005 Quattroporte, which is offered by a private seller in Irmo, South Carolina, a suburb of Columbia. Finished in dark blue over an interior described in the listing as "orange," this 2005 Quattroporte is available for just $13,500 — cheap, but well within the market price area considering relatively high mileage of 56,000. Unlike the cheapest Maserati sports car, listed below, this Quattroporte has a clean Carfax report and a clean title, and it's always lived its life in the Southeastern United States. Find a Maserati Quattroporte for sale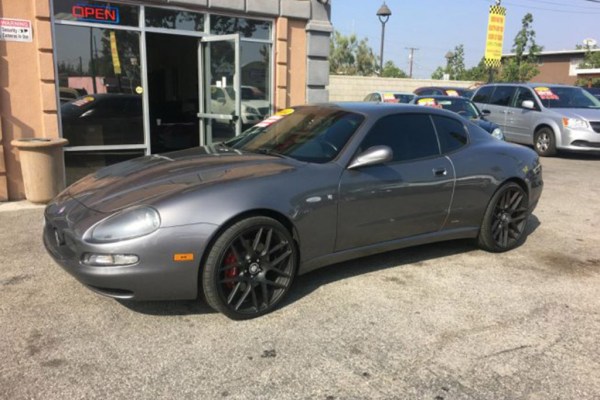 The Cheapest Sports Car: 2004 Maserati Coupe – $14,900
The cheapest Maserati sports car currently on sale is this gray 2004 Coupe Cambiocorsa, which is listed incorrectly as a Coupe GT; the difference is that the "GT" was a 3-pedal manual. Then again, at this price point, it doesn't really matter how it's listed — the point is, it's cheap. This Coupe is offered for just $14,900, which seems amazingly cheap for a fairly modern Maserati. Yes, it's an early model; yes, it has fairly high miles (46,000) and yes, it has a rebuilt title. But it's cheaper than a Nissan Versa! It's offered by Hawthorne Motors Express in the Los Angeles suburb of Hawthorne, California. Find a Maserati Coupe for sale
The Most Expensive: 2018 Maserati GranTurismo – $175,340
The most expensive Maserati on Autotrader is this 2018 GranTurismo, which is listed for $175,340 — right about the same price as the other most expensive Maserati models on Autotrader (and a figure that proves there's no MC12 on the site). As you might expect, this GranTurismo is brand new. It appears to have a wide range of options, though I'm not exactly an expert on the GranTurismo lineup considering there have been too many variations of the vehicle for one standard human being to keep up with. Either way, this one is being offered by Maserati of Palm Beach, and it seems like a lovely example of Maserati's best car. Find a Maserati GranTurismo for sale
The Cheapest Ghibli: 2014 Maserati Ghibli – $29,975
It's almost hard to imagine, but the Ghibli is now in the $20,000 range. Admittedly, it's not exactly "in that range," as there's only one single Ghibli for sale on Autotrader for under $30,000, and this is it. But this isn't exactly some beat-up salvage title car: It's just a standard, high-mileage Ghibli offered by one of the Maserati dealerships near New York City. More importantly, there are several Ghibli models listed on Autotrader for just over $30,000, suggesting this is no anomaly. I famously ripped up the Ghibli in a review last year, but I've got to admit: For $29,975, it's starting to become a bit more appealing. Find a Maserati Ghibli for sale
The One to Buy: 2004 Maserati Spyder, Manual – $28,500
Although I'm not exactly Maserati's biggest fan, if you're going to get one, this is the one you want. It's a 2004 Maserati Spyder, which, in itself, is a good thing. I always felt the Spyder looked better than the Coupe from this era, as the Spyder ditched the Coupe's unusable back seats in favor of a shorter wheelbase and cleaner lines. More importantly, it ditches Maserati's horrible Cambiocorsa automated manual transmission in favor of an excellent 3-pedal stick shift, which is highly desirable and far more reliable. The best part? It's a 385-horsepower, manual Maserati roadster … for $28,500. That's Toyota Camry money for a gorgeous car with a gorgeous engine note. If you're buying a Maserati, this is the one to get. Find a Maserati Spyder for sale
Doug DeMuro is an automotive journalist who has written for many online and magazine publications. He once owned a Nissan Cube and a Ferrari 360 Modena. At the same time.
MORE FROM OVERSTEER:
Here's a Tour of the Flagship Mercedes S-Class From 1991
Autotrader Find: 2008 Lamborghini Gallardo With 1,800 Horsepower
Here Are All the Mercedes-Benz S-Class Models Ranked From Best to Worst