Up until the Jeep Wagoneer was introduced in 1962, the off-road brand's myriad models were all closely related to the original military jeeps that more than proved their mettle in World War II. How quickly the brand's focus would change.
With the Wagoneer, Jeep moved in a decidedly different direction. Jeep parent Willys-Overland merged with Kaiser-Frazer in the 1950s, and chief among their intentions was a plan to create a vehicle that would provide good on-road comfort while maintaining off-road durability. Prior to this, the Willys Jeep Station Wagon merely delivered a relatively weathertight body on a chassis best described as agricultural.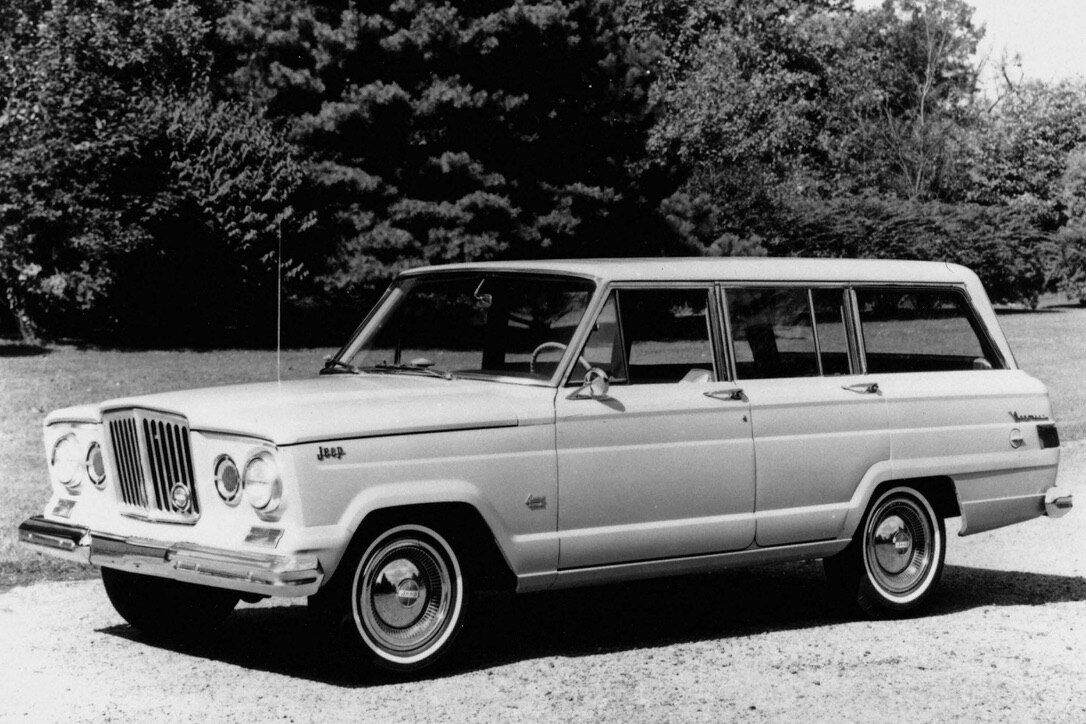 When the Wagoneer debuted in late 1962, it was anything but agrarian. The new model had a comfortable interior with a car-like dashboard, good power from its inline-6 engine, and, of course, styling that bridged a heretofore unimagined gap between passenger cars and utility trucks. The Wagoneer was penned by legendary designer Brooks Stevens, whose myriad creations that left his Wisconsin studio included the Miller Brewing logo, the Harley-Davidson Hydra-Glide, various railroad observation cars, and even the Oscar Mayer Wienermobile.
That hot dog on wheels is certainly his most enduring icon, but the Wagoneer may be a close second. The earliest versions boasted a tall and narrow grille flanked by round headlights and tin headlight imitation panels. Along its sides, the Wagoneer had sculpted lines that would eventually lend themselves to various patterned stripes and, of course, woodgrain trim.
The Wagoneer got off to a solid start, though a short-lived independent front suspension on primarily rear-wheel-drive models aimed at providing car-like handling proved problematic. The vast majority of Wagoneers to leave the company's assembly plant in Toledo, Ohio, instead used solid axles suspended by leaf springs. Despite this seemingly archaic setup, the Wagoneer provides a relatively plush, land-yacht-like ride.
A companion to the Wagoneer was the Gladiator pickup, a regular-cab truck available in a couple of wheelbase lengths. The Gladiator, which was renamed the J series in 1971, stuck around into the 1980s. Jeep of course revived the Gladiator nameplate for the 2020 model year on a Wrangler-based pickup.
Early Wagoneer models were updated regularly, with a V8 borrowed from American Motors — which would soon buy Jeep — arriving in 1965. With as much as 270 horsepower (a number admittedly obtained using a standard not used today), this pre-emissions-era V8 would prove the Wagoneer's most powerful choice for more than 55 years.
AMC took over Kaiser Jeep in 1970 and the company's deeper pockets allowed for far more development aimed at refining the then-aging Wagoner. Little did original designer Stevens know that his Jeep had two more decades to go.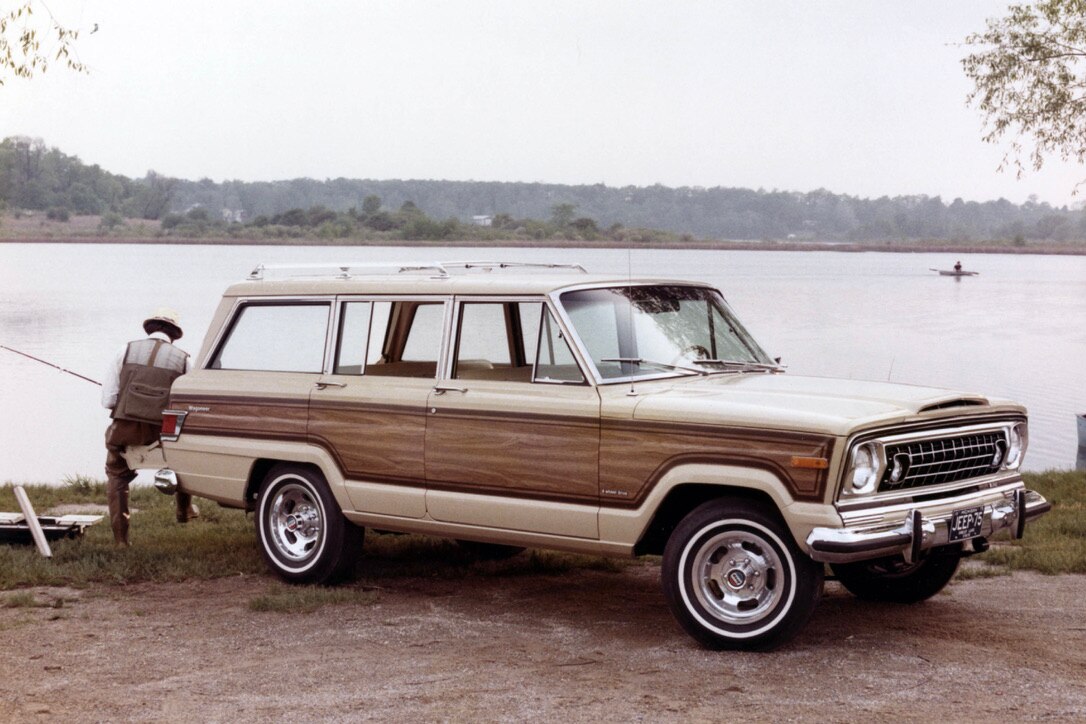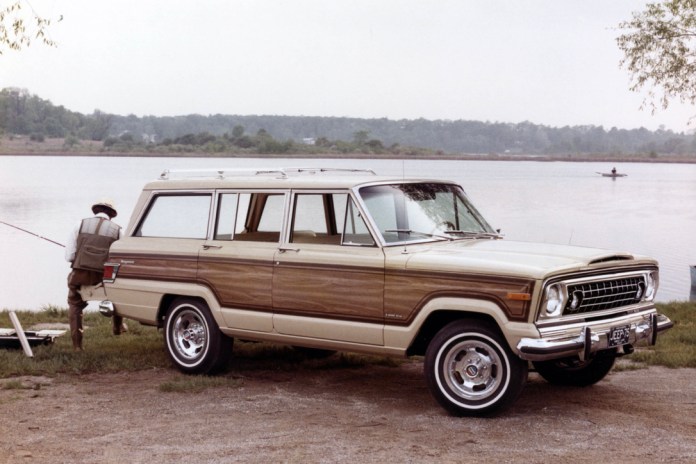 Shift Upscale
Jeep expanded the lineup in 1974 with a rebooted 2-door version it called Cherokee. Eventually, a 4-door version was added, and it was this model that really allowed the Wagoneer to climb upward.
Through the 1970s, AMC's 5.9-liter and 6.6-liter V8s became available, though an inline-6 was periodically offered as a base engine.
Testing the waters as early as 1975, Jeep offered a Wagoneer with plenty of power features as well as leather seats and woodgrain stickers applied to its sides. That latter addition was an obvious nod to both traditional "woodie" wagons built into the 1960s with real wood, as well as upscale versions of station wagons. For many, the woodgrain-style trim would prove to be the most enduring — not to mention endearing — aspect of this classic Jeep.
The Wagoneer and Cherokee lines entered the 1980s with even more choices, including a Wagoneer Brougham that offered aspects of the Limited with thinner fake wood trim and a lower price point. A literal shift in a more comfort-oriented direction included the introduction of a new 4-wheel-drive system with a vacuum-assisted dash lever that allowed drivers to engage all four wheels at the tap of a switch.
The Final Years
Arguably AMC's most important product ever was the 1984 Jeep Cherokee, a new, smaller vehicle with boxy lines and unibody construction. This new model delivered superior on-road handling with impressive off-roadability, but it didn't spell the end of the line for the Wagoneer.
Instead, Jeep renamed the Wagoneer Limited to Grand Wagoneer and its price continued to creep upward to nearly $20,000. A base Cherokee, which was indeed rather spartan, cost about half as much. Jeep briefly offered a lower-cost version of the Wagoneer but it proved unpopular and for 1985 only the megabuck Grand Wagoneer was offered as the brand's anachronistic flagship vehicle with a carbureted V8, 3-speed automatic transmission, and fully leaf-sprung suspension that stood in marked contrast to the smaller Cherokee's available fuel injection, 4-speed automatic gearbox, and front coil springs.
Jeep updated the Grand Wagoneer for the last time in 1986 not long before Chrysler became the fourth company to own the off-road brand. For this final update, the Grand Wagoneer gained a new grille and a revised dash, but beneath these updates the basic design was now nearly 25 years old.
Jeep even briefly offered a Wagoneer version of its smaller Cherokee with wood paneling, but the retro-style looks didn't lure buyers and it was soon discontinued.
Still, the Grand Wagoneer endured. Sales remained remarkably strong, buoyed in part by one of the toniest automotive images ever. Nearly 35 years later, you'll still find single-family Grand Wagoneers roaming the privileged streets of Aspen and Nantucket.
With 1990s fuel economy and safety standards looming, Jeep finally bid adieu to the gas-guzzling, 1960s-era Grand Wagoneer in 1991. The automaker offered Final Edition dash badges but otherwise there was little fanfare at the time.
Stumble and Rebirth
For 1992, Jeep's lineup inched decidedly downscale without a true flagship, though in January of that year a new, larger SUV called Grand Cherokee burst through plate glass to debut at an auto show in Detroit. It was the most sophisticated Jeep ever, but Chrysler envisioned a much broader lineup spanning base models for frugal buyers all the way up to plush leather-clad Limited versions.
Just as the Grand Cherokee arrived in dealers in late 1992, Jeep announced a revival of the Grand Wagoneer nameplate — this time as a woodgrain-clad 1993 Grand Cherokee with puffy leather seats. Almost nobody was convinced, and the slow-selling model wasn't renewed for 1994.
It took another 27 years for the Grand Wagoneer name to make a return. Sure, there are some similarities between the 2022 Grand Wagoneer and the 1980s model, at least on paper. For instance, the Grand Wagoneer is once again Jeep's range-topper, with a price that starts around $60,000 and can climb into six figures. Additionally, the new model rides on a separate ladder frame shared in part with a pickup (Ram's 1500, this time around). But don't look for that iconic woodgrain exterior trim. You won't find even the narrowest band of it. Find a Jeep Grand Wagoneer on Autotrader