As you can probably tell from my content, my daily driver — a 2012 BMW E92 M3 — is my personal muse for automotive content. It has appeared as the subject of a bunch of articles across the web, and when not the subject, it's been used as a stock image for others. Particularly here on Oversteer, I have written about the quirks of owning an E92 M3, what it has been like to own for 3 years and some of the things that annoy me about my prized possession. But this time, I am going to tell you about how well it has held its value.
Writing about cars and creating car content is actually my second full-time job. My first mortgage-paying full-time job is basically playing "Jack Ryan" for a very well-known online financial company, so this is one unique case where my knowledge of finance and numbers collides with cars.
Why Am I Doing This Now?
I recently sent out the payoff payment, and my car's title arrived in the mail, so it is officially mine. After doing the article on what it has been like to drive my E92 M3 daily, I thought now — post-payoff — would be a great time to run the numbers and showcase what kind of value still remains on the car.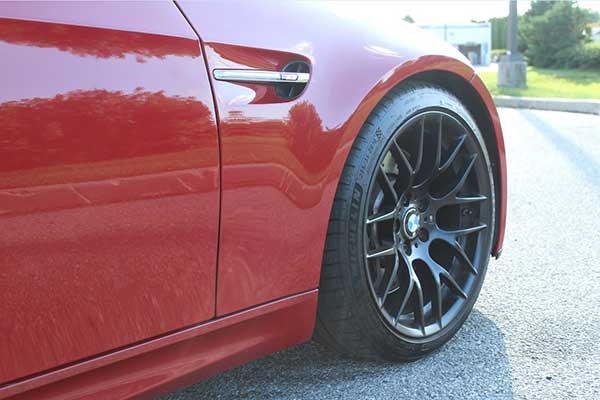 Calling Out Some Key Things
As I have mentioned in previous content, I bought the car used from CarMax back in February 2016. I am a little particular about sharing exact personal finance numbers, but I will share that it was very close to the first Kelly Blue Book (KBB) values logged on the spreadsheet you will soon see.
I believe the most important thing to call out is KBB. This is what I used to log the values. It is a very useful tool in giving you an idea of what your vehicle is worth so that you do not get ripped off.
The first thing you may notice when you see the numbers is that, early on, I was checking multiple times a month to catch any consistent value dropping, but eventually, I backed it down to checking once a month.
It's All Good
When I bought my this car from CarMax, it was a quality example, but I didn't believe it was a pristine specimen or the worlds best E92 M3 — I knew better. For the purposes of logging KBB values, I always chose "Good" as the KBB condition.
Along with selecting "Good" as the condition on the KBB site, I select that my car is a 7-speed dual-clutch model with the optional and often wanted Competition Package. And don't forget — race red.
Now, lets get to those numbers.
The Numbers
Here is direct access to my Google Sheet, where you can see all of the data for yourself: http://bit.ly/e92m3data
As you can see, my first logged KBB value put my the car between $35K-$38K at 34K miles. So, I started with a $37K-ish worth M3 with 34K miles, and right now after getting the title and paying it off, I have ended up with a $25K-ish worth M3 with 67K miles. Regarding depreciation, you can instantly tell that enjoying my car for 33K miles has cost me $12K in value, but looking at depreciation that way is not that simple.
As seen on the chart above, the value obviously decreases overall. I am not going to claim that a BMW E92 M3 is going to appreciate in value — or at least not yet. Fingers crossed that my daily driver turns into an enthusiast investment.
In cell K1 on the spreadsheet, I logged the average change. There are some significant drops from month to month. Take, for example, November 2016 in cell G29, where the value dropped $2600, but the average change was only just under $200 — hence, that steady, slow, downward slope. A bunch of positive-value months helped chew away at those high value-drop months.


That Is Odd
One thing you can see, regardless of the mileage (which climbed like a mountain), is that the value from when I first purchased the car it took a slow, flat-hill ride down.
The winter value drops are well known. If you want to buy a performance car, you should probably do it in the middle of the winter. You might save a thousand or two just based on the month you purchase — until spring rolls around and your winter value discount disappears.
One unexplained oddity from my data is that, for the last two years (2018 and 2019), around July in the red boxes in the image above, there was a slight drop in value before going back up in August and September.
I shouldn't sell my M3 in July — got it.
What Does This Actually Show You?
So, this data is cool and all, but what can you actually ascertain from this dump of data?
Well, the first thing to note is that a 7-year-old M3 with near 70K miles is still going to cost you darn near the price of a new V8 muscle car. If that isn't holding some sort of value, then I don't know what is.
Regardless of holding value, what I wanted to do was just log a performance car's value in a way that I have not seen before. You see plenty of videos, articles and content that says "I bought it for X with Y miles, and now it's worth A with B miles," but you never fully see the road to those values month by month. I hope this gave you a greater insight into how well a daily driver E92 M3 holds its value. Find a BMW M3 for sale
Do you nerd out on numbers and the value of your car, too? Send it over.
For more of his automotive exploits, you can follow Danny on Instagram (@DKorecki) and check out his YouTube channel.
MORE FROM OVERSTEER:
The Early Jeep Cherokee Will Become a Major Collectible
Remember When Mercedes-Benz Had Cute Little Antennas To Help You Park?
Video | The Pagani Zonda Is an Insane $6 Million Supercar