In reality, most "rare" cars are not really that rare. There are around 1,300 Ferrari F40 models left, a total of 450 Bugatti Veyron models were built and 18 Koenigsegg Agera Rs are known to exist. Those are, relatively speaking, commonplace. The Lane Motor Museum in Nashville, Tennessee, has several ultra-limited cars that could be considered much rarer than any hypercar on the market. Out of this collection of crazy cars though, one really stands out: the manual transmission Brabus Smart fortwo.
The third-generation Smart fortwo is a rare sight. While not as rare as the aforementioned exotics, very few were sold in the U.S. Cabriolet fortwo models with gasoline engines were only sold from 2016 until 2017, when all non-electric Smart models were discontinued. But even rarer is the Smart fortwo Brabus, modified by the famed Mercedes tuner, which features a 109-horsepower, 0.9-liter turbocharged engine connected to a 6-speed "twin clutch" automatic transmission. While that performance might not sound like a lot, it's certainly plenty in a 107-in vehicle that weighs 2,200 pounds.
But the Lane Motor Museum's Smart is rarer than them all — and you discover why as soon as you go to put it in gear. This is the only manual transmission Smart fortwo Brabus in the world, and the story behind it is quite cool.
This "one of one" was special ordered by the product management team at Mercedes USA for promotion of the Smart brand in the U.S. It was driven by members of the media, as well as customers at events. It was later decided that the manual transmission would not be an option — and instead of sending the Smart to the crusher, it was donated to the Lane to join their unique collection.
Two years after it left the media rotation, it is still serving its intended purpose, as the Lane allowed me to borrow the Smart for a run down the street to check it out. The Smart is, unsurprisingly, an amazing car around town. The five speed delivers the 109 hp to the ground quite well — and it allows you to really use the size to your advantage while darting in and out of traffic. The clutch doesn't grab very hard, allowing for smooth takeoffs and easy shifting, while the gearbox itself is easy to use, like in other modern German cars. The color is quite eye popping, but it works on a small car like this.
It's actually quite a shame that most people don't know what a rare car this is. Almost every car at the Lane Motor Museum is easily driveable and registered, but the Smart fortwo is based on a car that is pretty common to see out on the road. In fact, this car sits in the basement of the Lane because staff like driving it so much it rarely sees the actual museum floor. That's partly because of how new it is, but more so because it's just a great car to drive.
With that in mind, and seeing how much car enthusiasts love manual transmissions in small cars, I think this is one of the few cars that would have actually sold better had they offered the 5-speed. I wish more people could experience the joy of easily rowing your own gears, even in the city environment where these tend to find a home.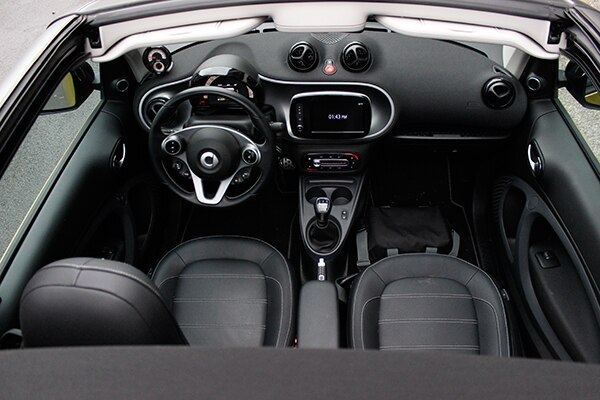 If you're like me and love these quirky cars that happen to be more rare than most supercars, please check out the Lane next time you are near Nashville. It is an incredible place with great staff — and I promise you will see things you have never seen before.
MORE FROM OVERSTEER:
The Rolls-Royce Drophead Coupe Is the World's Most Opulent Convertible
Here's What Happens When Project Cars Go Completely Wrong
Killing the Original Jeep Grand Wagoneer Was a Big Mistake — Or Was It?