In the 1980s, the Detroit automakers were getting trounced by import brands, mainly from Japan, who offered better cars for the same price. General Motors recognized that part of the reason why it had trouble keeping pace was its overinflated corporate culture, firmly entrenched in a "this is how it's always been done" mentality. To beat Japanese automakers at their own game, GM created an entirely new division: Saturn. Furthermore, GM split off the new division named after the ringed planet from the rest of the company, giving it true independence — rather than making it yet another badge on a generic GM platform.
After years of research and innovation, Saturn's first car, the S-Series, debuted as a 1991 model. It was a compact car with then-futuristic styling, and it was nothing like anything an American brand had ever produced before. The body panels were plastic, rather than metal, enabling the car to absorb runaway shopping carts (and even minor parking lot bumps) undamaged. The body was a spaceframe design, which was both lightweight and strong. The S-Series was initially available as a practical sedan, as well as a swoopy coupe with pop-up headlights, because all real sports cars of the time had pop-up headlights.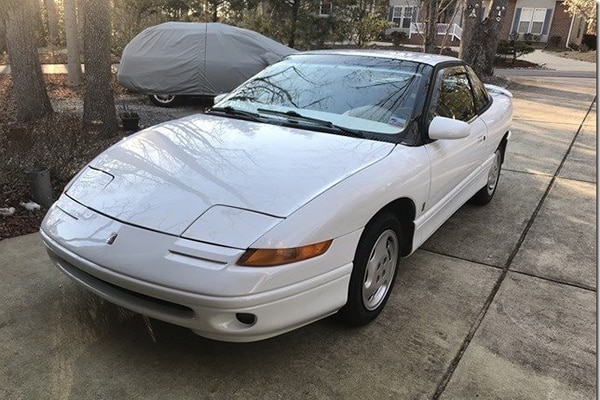 Two versions of the 1.9-liter 4-cylinder engine were available. More economy-minded versions, such as the SL and SL1 sedans, received a single overhead cam version of this engine. It produced 85 horsepower, which is meager by today's standards but on par with the 88-hp Ford Escort LX of the time. The higher-level SL2 and the sporty SC coupe received a dual overhead cam engine, with a bump to 124 hp. This was significantly more than the 105 hp of the 1991 Honda Civic Si, and these engines produced more torque, as well. Saturn had successfully figured out how to make a better car than the Japanese, just as GM has set out to do.
These cars were well-received in the early 1990s, both on their own merits and because they were all built in Spring Hill, Tennessee, rather than far away in Japan or Germany. In 1993, a wagon was added to the S-Series range, as well as a version of the coupe with the less powerful single overhead cam engine. This engine's output was increased to 100 hp in 1995, which was also when the S-Series interior was given a significant makeover.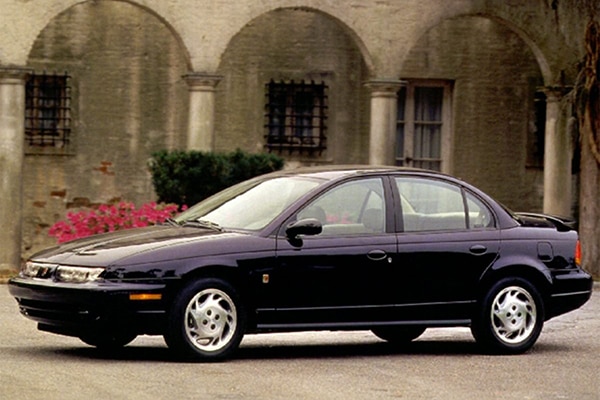 S-Series sedans and wagons were given an exterior makeover in 1996, followed by the coupes in 1997 (sadly losing the pop-up headlights). Unfortunately, this makeover went only skin deep, with little more than minor changes under the new plastic skin. This was a problem, as Honda's quality always significantly improved with each generation. By now, the Civic Si made 160 hp, far beyond anything available in the top-of-the-line SC2.
The company was getting into trouble in the big picture, as well. The 1990s were when SUVs boomed in popularity, and it would have made great sense for Saturn to get in on the game. But GM insisted on only giving the brand a small car — a type of vehicle that wasn't selling as well as it used to. It wasn't until 2000 that the brand was allowed to have more than one model in its lineup, when the L-Series came out. While still not an SUV, the L-Series was a midsize sedan — a good step up from the S-Series. But while the S-Series was an original in-house design by Saturn engineers, the L-Series was little more than a badge-engineered Opel Vectra. The Vue SUV that followed in 2002 shared its platform with the Chevrolet Equinox and the Pontiac Torrent. GM was rapidly assimilating the sixth planet back into its collective, and resistance was futile.
Meanwhile, the S-Series received another facelift for the 2000 model year — but although this is considered the third generation of the S-Series, it was still fundamentally unchanged from the original 1991 car. The model lingered on until 2002 when it was finally replaced by the Ion, another badge-engineered model. The S-Series was discontinued a full eleven years after it was introduced. Honda had produced three entire generations of the Civic during the length of the S-Series production run.
One good thing about such a long production run, however, was that parts were plentiful and highly interchangeable. For example, the exhaust manifold from 1992-1993 twin-cam models was essentially a tubular header, replaced by a more traditional and more poorly flowing exhaust manifold in later years. These early headers would bolt right onto a later model for a small power gain. Internal engine components evolved slightly over the years but remained highly modular. One of the four S-Series cars I've owned was an SL2 with a twin-cam engine with mixed-and-matched factory parts from different years to produce a more powerful engine than the factory ever delivered. It was no Civic Si, but it turned quite a few heads on the autocross course — and earned a few trophies, too.
It was sad when Saturn was among the nameplates dropped during GM's 2008 reorganization. By then, the brand that had billed itself as "a different kind of car company" was little more than a product line of rebadged Opels. GM failed to learn the lessons it had originally spun Saturn away to go learn. This is even more unfortunate because, at least in the beginning, Saturn accomplished what it had set out to do — and offered a car that was equal to or better than the formidable Japanese competition. Had the brand been allowed to continue innovating like it did with the S-Series, rather than becoming just another GM badge, we might still have polymer dent-resistant body panels and free doughnuts with our oil changes today.
MORE FROM OVERSTEER:
The Early Chrysler LX Cars Aren't Aging Well
Video | Here's Why the BMW i3 Isn't Worth $50,000
Here Are the Cheapest Electric Cars For Sale on Autotrader