As you know, I'm committed to bringing you the strangest and most unusual vehicles currently listed on Autotrader. Today, I've decided to fulfill this commitment in the form of one of my most exciting lists yet: a listing of the seven highest-mileage exotic cars currently listed on Autotrader.
Now, just to be clear, these aren't the exact seven highest-mileage exotic cars, but rather the seven exotic cars of each type with the highest mileage — otherwise this would just be a listing of seven Maserati Quattroporte sedans. Instead, this list is highly varied, and — if you're anything like me — quite surprising. Here goes.
1991 Bentley Turbo R – 184,431 Miles
The highest-mileage car on our list is also the one you'd immediately assume to be the least reliable. It's this 1991 Bentley Turbo R, and it's covered an almost unbelievable 184,431 miles since it was sold new in California more than 25 years ago. The Carfax report shows that the original owner kept mileage fairly low, taking it to just 42,000 miles by August 2004 — but then a second owner bought it and apparently used it as a daily driver for more than a decade. It's currently offered by Woodland Hills Quality Motors in the Los Angeles area for $15,995. Find a 1991 Bentley Turbo R for sale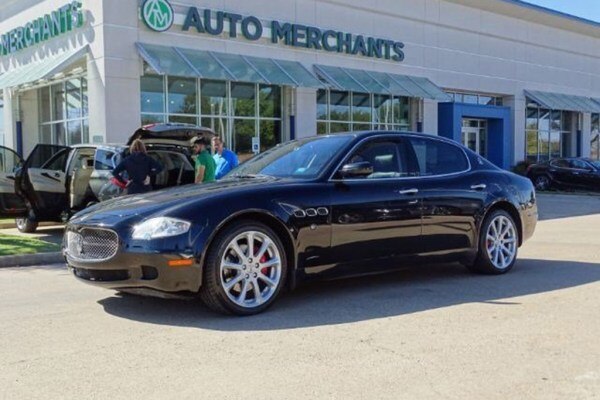 2008 Maserati Quattroporte – 161,010 Miles
Certainly one of the most impressive cars on this list is this 2008 Maserati Quattroporte, which has covered an unbelievable 161,010 miles since new — indicating that it was almost surely driven daily. Currently offered by Auto Merchants in the Dallas area for $16,999, the Carfax report on this Quattrporte is very impressive: The first owner drove it 40,000 miles in the first three years — above average, but not unusually so. The second owner bought it in January 2012 and drove it approximately 24,000 miles a year until recently giving it up. That has to be a record — and I'd love to keep tabs on this car and find out where it ends up. Find a 2008 Maserati Quattroporte for sale
2002 Porsche 911 Turbo – 115,615 Miles
Although the "996" version of the Porsche 911 Turbo is highly drivable, it's not often that you see one with miles like this. This 996 Turbo has covered 115,615 miles in the last 15 years, suggesting it was likely used as a daily driver by at least one or two owners throughout its life. Offered by a private seller in the San Francisco Bay Area exurb of Danville, California, for $35,750, this 996 Turbo features a Tiptronic automatic transmission — likely useful in Bay Area traffic — and boasts a surprisingly nice condition, save for some greater-than-usual wear on the driver's seat. Find a 2002 Porsche 911 for sale
1995 Dodge Viper RT/10 – 96,000 Miles
While this 1995 Dodge Viper RT/10 doesn't quite have the high mileage of some of the other models on this list, its 96,000-mile odometer reading is still highly impressive — and I speak from experience, because I own a '97 Viper. It's not comfortable, or practical, or easy to drive, so I can only imagine racking up so many miles in a Viper — especially as the seller says he drove it daily for the last four years. This Viper looks white, but that's actually a wrap — the original color is Emerald Green, and it's currently offered by a private seller in the Seattle suburb of Auburn, Washington, for $18,500. Find a 1995 Dodge Viper for sale
1993 Lotus Esprit SE – 94,000 Miles
When I searched for a high-mileage Lotus, I wasn't expecting to find anything over 50,000 or maybe 60,000 miles — largely because Lotus models can be difficult to drive and temperamental to own. I was shocked to find this 1993 Esprit SE with a whopping 94,000 miles, located in Palm Beach County, Florida, where it's offered from a private seller for $19,000. The exterior looks fairly nice for the mileage, though there's substantial wear on the seats — to be expected of a 25-year-old British exotic car. Someone drove this car a lot, and I wouldn't be surprised if it's the seller — after all, the car's current vanity plate reads "LV 4 LIFE." Find a 1993 Lotus Esprit for sale
2007 Aston Martin V8 Vantage Roadster – 79,339 Miles
This is the highest-mileage Aston Martin on Autotrader. It's a 2007 V8 Vantage Roadster, wrapped in an eye-catching shade of light blue — and it's covered 79,339 miles since new. Offered by a private seller in the San Diego suburb of Chula Vista, California, for $39,850, this Vantage uses the car's SportShift transmission, which was newly optional for 2007. Underneath the wrap, the car is said to be dark blue — and its interior is "cream," with surprisingly little wear for nearly 80,000 miles. The Carfax report shows four owners, all in California, and no accidents. Find a 2007 Aston Martin V8 Vantage for sale
1997 Ferrari 550 Maranello – 73,760 Miles
Most Ferrari models see about 1,000 to 2,000 miles a year, which means the average mileage for a 20-year-old Ferrari, like this 550 Maranello, is usually somewhere in the 20,000 to 30,000 range. But this particular example, offered by a private seller in Columbia, South Carolina, for $88,000, has a whopping 73,760 miles on the odometer. While the market for 550 Maranello models has shot up in recent years, this one isn't as pricey as other examples, largely due to that odometer reading — and the fact that it's originally a European car, converted to U.S. specifications. Still, it looks like it's in excellent condition, and the seller says it's the most trouble-free Ferrari he's ever owned. Find a 1997 Ferrari 550 Maranello for sale
Doug DeMuro is an automotive journalist who has written for many online and magazine publications. He once owned a Nissan Cube and a Ferrari 360 Modena. At the same time.
MORE FROM OVERSTEER:
Which Used Land Rover For $70,000? Range Rover vs. Defender
The Mercedes SLR Is the Forgotten $500,000 Supercar
Was I Smart to Pour Money Into My $300 Jeep?